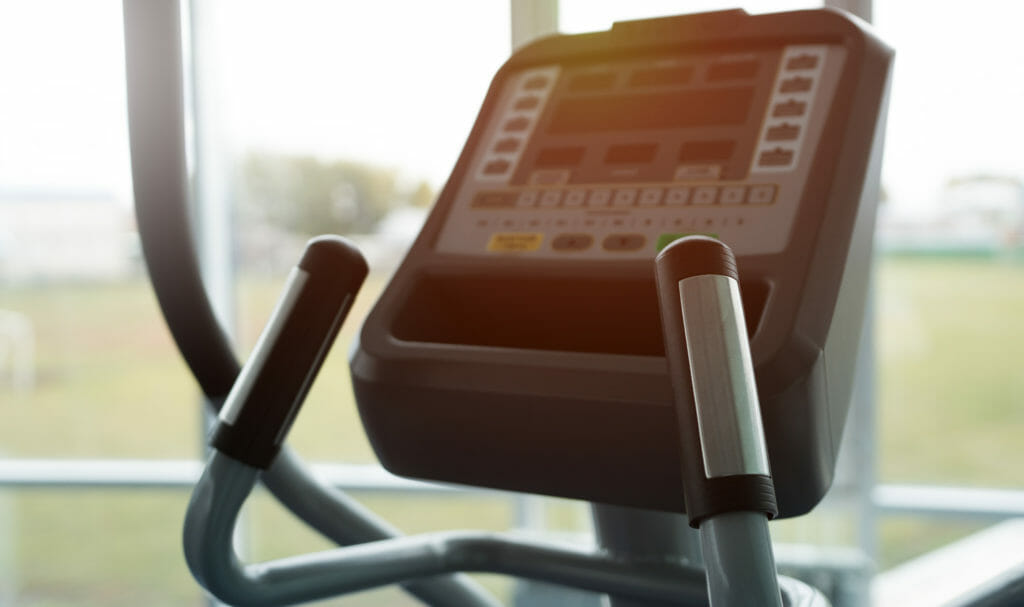 The 520 E is the most affordable elliptical in ProForm's Endurance series. With a large, adjustable stride length, power adjustable incline, and a boatload of programs, the 520 E has a lot to offer for such an affordable elliptical.
It also comes with a decent console, a durable frame, and is iFit compatible (giving you access to on-demand workouts). All this for an asking price right under $1000.
But in a market full of affordable ellipticals, does the 520 E have what it takes to stand out from the pack?
This review will provide an in-depth look at this machine in order to help you make that decision.
We'll take a look at all the important features to consider. After reading, not only will you know whether or not this is the right option for you, but you'll know what to look for in any elliptical you're considering.
Let's start with a quick intro to ProForm.
The ProForm Endurance 520 E Elliptical Trainer
ProForm is a popular home fitness brand. They're easily one of the most recognizable brands around and they've been dominating the market for a few decades now. 
They produce a little bit of everything home fitness-related. Although ProForm is most well-known for their treadmills and HIIT trainers, their elliptical machines deserve recognition too.
When it comes to their ellipticals, ProForm has organized their lineup according to specific features. They've created 4 different series: Endurance, Pro, Hybrid, and CSE. 
The Endurance series is known for having the resistance systems upfront instead of at the back of the machine. Models under the Endurance group take up less room, without cutting down on the potential stride length. 
The 520 E, which we are reviewing in this post, lists under the Endurance series. It's the eldest of its line, with the 720 E and 920 E as its younger siblings. As expected, the 920 E unit is the most advanced. 
The Pro family is more powerful than the Endurance, being significantly heavier to support the smoother motion and to offer a greater challenge in terms of strength-training. 
As for the CSE series, their units are rear-drive, so they usually require more floor space than front-drive trainers, but these ellipticals are actually foldable. They're seen as the ideal machines for beginners or for people with limited workout space.
Half recumbent bike, half elliptical, ProForm also has a Hybrid series that consists of 2 double-duty trainers.
Now that you know the unique highlights of each series, let's focus on the elliptical we're all here to learn about- the 520 E.
Pros
19″ stride length

18 levels of magnetic resistance

20 levels of power incline

18 workout apps

iFit-enabled

Pulse grip sensors

Integrated tablet holder

Transport wheels

300 lb weight capacity

Good warranty
Cons
Lighter flywheel

No telemetry heart monitoring feature
Stride Length
A lot of people may be excited to start talking about flywheel weight whenever they're looking into ellipticals, but personally, I like to put stride length on the top of my list.
I think it's the quickest way to spot a lower quality elliptical from a mile away.
Stride length is how far your feet are allowed to move apart (front to back) during use. Sub-par trainers will have a short stride length. Good quality ones should have a longer stride length. 
High-end ellipticals will have 19-20″ stride lengths. This is one reason why more expensive machines feel more comfortable to use.
What's the ideal stride length you might ask?
Nice ellipticals usually come with a 20″ stride length. It's the standard length used by commercial and home use machines because it's been shown to comfortably fit most users.
Stride lengths less than 16" are probably going to be uncomfortable and feel less natural. If you are 5'3″ or shorter, it may be fine, but most of us will feel cramped. For 6-foot users, you should aim for machines with a 20" stride length.
The 520 E has a 19" stride length. Being the cheapest model in the Endurance series, it's a revelation knowing it comes with a generous stride length. 
ProForm advertises that this elliptical has an "adjustable" stride length, but that's not really the case. It's true adjusting the incline angle will technically change your stride length a little, but it's not like you can hit a button and adjust the stride length to your liking (like you can on the Sole E95S).
This elliptical has a max stride length of 19″- meaning that adjusting the incline might change this a little, but it won't get any longer.
When it comes to the frame, the 520 E has a 300 lb max user weight. It's a common offering for this price range, but it's still strong enough to know that you are standing on a pretty solid piece of equipment. 
In a nutshell, the 520 E scores pretty highly with its decent stride length and solid frame. Taller users may want to consider an elliptical with a longer stride length though.
Flywheel
Much like spin bikes, when it comes to elliptical flywheels, heavier is better.
Flywheels are responsible for the resistance you get as you pedal. It has to do with momentum. Heavier flywheels build more momentum as they spin, providing a smoother feel. 
Some also notice that heavier flywheels provide quieter operation, but there are noiseless machines out there with lighter flywheels too, so this isn't always a given. 
Budget ellipticals usually come with lighter flywheels. We're talking in the 14-20 lb range.
The 520 E comes with a 15 lb flywheel, which is right in the middle of this range we usually see for budget ellipticals. 
Personally, I'd recommend going with an elliptical that has at least a 20 lb flywheel or heavier. These flywheels should be capable of providing a seamless feel. 
Anyway, it comes with an SMR™ Silent Magnetic Resistance. Most users agree that even with a lighter flywheel, they can still enjoy the 520 E's 18 levels of resistance with a smooth, frictionless, and silent ride.
The 520 E comes with an adjustable power incline that can range anywhere between 0 and 20°. Inclines are great for targeted muscle toning. It's also adjustable, which isn't a given for ellipticals in this price range. That's clearly a nice feature to see here.
With its quick touch buttons, it's very easy to instantly set your incline and resistance. This convenience sounds great, especially if you like to do interval training.
Overall, the 520 E has a pretty light flywheel. It's a quiet machine during operation and the power incline levels are nice, but more advanced athletes might want to consider an elliptical with a heavier flywheel for more intense training.
Features
The ProForm Endurance 520 E comes with the following features:
5″ backlit LCD: It's not really that fancy, especially if you're used to seeing large, touchscreen displays. However, it's backlit and does its job well if you wish to check your workout programs and other progress parameters. 
18 workout programs: The 520 E is loaded with effective workout programs that are designed by professional trainers. Having this many training options is a solid alternative if you decide against the optional iFit subscription.
iFit compatibility: iFit is a fitness app that gives you unlimited access to exercises led by virtual coaches. This lets you track all your workout data, access scenic trails, and more. If you end up buying the 520 E, you get to enjoy a free 1-year iFit subscription. After that, you'll have to pay a monthly subscription fee to access.
Again, the iFit is an optional feature. You can still use the machine even without the iFit integration.
EKG pulse grip sensor: It comes with a conventional heart rate monitoring feature. You can get your pulse readings by gripping its handlebars. Now, this can be inconvenient, and in many cases, inaccurate.
It would be awesome if this machine is telemetric. This should give you a better range of motion with precise readings. But we can only see the telemetry features on higher-end models, and not on budget-friendly units like the 520 E.
Adjustable pedal angle: They are oversized and cushioned for a more comfortable workout session. The adjustable angle lets you enjoy a number of foot positions to target different muscle groups and improve comfort.
Adjustable leveling feet: This keeps your machine stable on uneven surfaces.
Water bottle holder: It makes hydration easier for users- always a plus.
Dual 2" speakers: The port is compatible with most MP3 players and other devices, and the dual speakers come with volume. You can play your favorite workout tunes for a more entertaining experience.
Integrated tablet holder: It also has a tablet holder located on top of the console so it won't cover the display and other buttons. You can multitask with the 520 E, like watching a video or checking your social media conveniently.
Assembly
ProForm designed the 520 E to require minimal assembly. All the instructions are easy to understand and the parts are identifiable.
The manual suggests that it is a two-person job, but one person can get the job by themselves (depending on that person's skill set of course).
You're basically responsible for attaching the stabilizers, the console, and making some attachments between the pedals and handles. The manual does a good job with their written descriptions and images for each step.
Overall, you shouldn't have any problems putting this elliptical together. Expect to spend an hour or so getting the job done.
Warranty
The 520 E comes with the following warranty:
Frame: 10 years

Parts: 2 years

Labor: 1 year
It's a respectable warranty offering for this price range, but if ProForm can stretch their warranties a bit longer, it would definitely be a game-changer. 
There are better warranties out there, even on budget machines. I'm a fan of Sole Fitness because they offer some of the best warranties out there on all their products (check out Sole's ellipticals to see what I'm talking about).
Final Thoughts
After going through all the specs and features, it's easy to see why the ProForm Endurance 520 E is a popular model.
It has high-quality tech features and comes with plenty of respectable performance specs. These are the perfect combinations to enjoy a challenging, smooth, and comfortable workout.
The 520 E also has a ridiculous library of workout programs to choose from. You can either use the iFit app or its dedicated built-in programs. If you're looking for an elliptical that fits your workout needs and budget, the 520 E could make sense.
But with the smaller stride length and light flywheel, I think this model is best suited for people in the beginner to intermediate range of fitness levels.
More advanced users will likely prefer a heavier-duty elliptical (check out our budget elliptical guide for some great ideas).