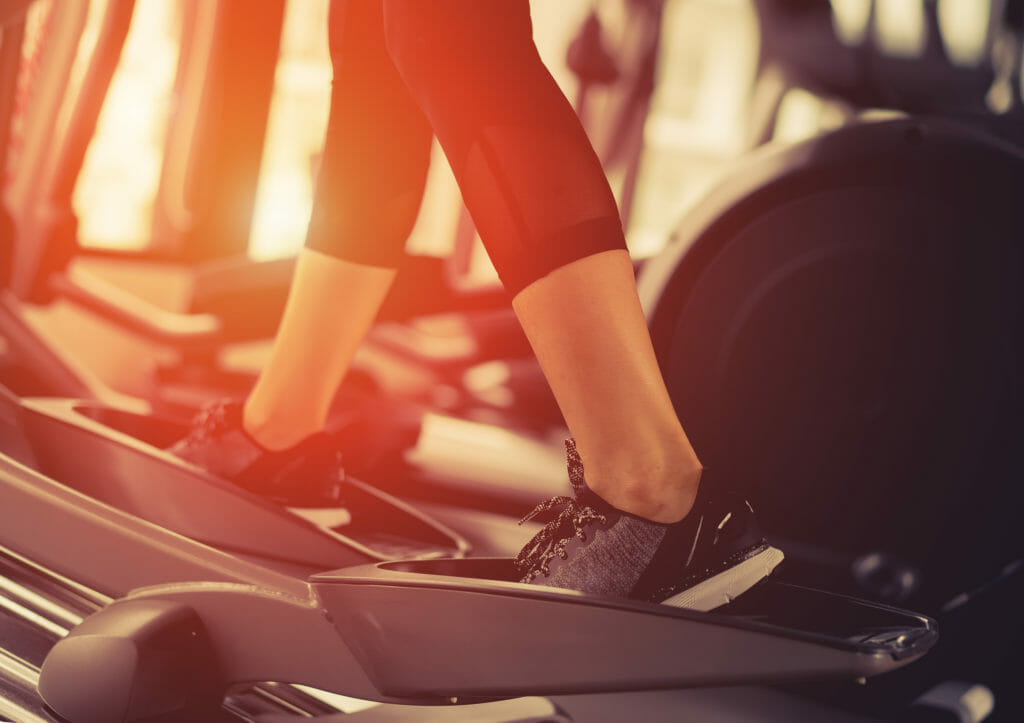 The 720 E is ProForm's mid-level elliptical trainer under its Endurance series. And for the price, it comes with some very pleasant surprises. 
It has a 19″ stride length, 20 lb flywheel, and power adjustable resistance and incline. It's also loaded with enough workout programs to keep ya busy for some time.
If you're looking for a budget elliptical that doesn't feel like you're cutting down on quality, the 720 E might be a smart choice. But this review is here to help you figure that out.
Throughout this article, we'll discuss everything this elliptical has going for it (and what it's lacking) in order to help you decide whether or not this is the right choice for your home gym.
Let's get rolling.
The ProForm Endurance 720 E Elliptical Trainer
ProForm is one of the world leaders when it comes to fitness machines. 
When you think about the name ProForm, you may think of their cool treadmills or their array of other feature-rich equipment.
And that's because they've earned a stellar reputation for being in the industry for over 30 years. That type of duration should say enough because you won't last long in this industry with mediocre standards.
ProForm is owned by ICON Health & Fitness company. It's a huge multi-brand organization based in Utah, United States. They're also the parents of other fancy fitness brands like Weider and NordicTrack (which also happen to be the tough competitors of ProForm).
Interestingly, ICON is also behind the famed iFit app. At this point, it's crystal clear why all ICON-owned fitness brands have iFit-compatible machines.
ProForm is popular for their treadmills and HIIT trainers, but their bikes and ellipticals are a hit too.
As for ProForm's ellipticals, they're categorized into 4 different series for easier shopping. Each has its unique selling points, like in the Endurance series that focus on upfront resistance systems and more compact units.
Under their Endurance series you'll find the 520 E, 720 E, and 920 E. The youngest is the 920 E that offers impeccable specs, an upgrade from its predecessor, the 720 E.
ProForm puts a $1299 full retail price tag on this elliptical, but you should be able to find for as low as $799 via third-party sources (and I like it a lot better at this price point).
Pros
19″ stride length

20 lb flywheel

24 levels of magnetic resistance

20 levels of power incline

24 workout apps

iFit-enabled

Pulse grip sensors

Integrated tablet holder

Transport wheels

325 lb weight capacity
Cons
No telemetry heart rate monitoring feature

The warranty could be longer
Stride Length
If you've read any of my previous elliptical reviews, you should know by now that I like to start my discussion with stride lengths.
The stride length measures how far your feet move front to back during the elliptical's motion.
If you're shopping for ellipticals, you should prioritize looking into stride lengths as they can make or break your workout experience. 
If the stride length is too small, it's going to feel like you're marching in place. If it's too long, you'll feel stretched and off-balanced. 
But how long is good enough?
Well, the optimal stride length for most users is 20″. At this length, it should accommodate most users who are somewhere between 5'3″ to 6'0″ tall.
Shorter folks may do fine with smaller stride lengths, but when in doubt, 20″ is a great starting point.
You see, there's no universal stride length. It's just a matter of finding the perfect stride length that matches your height (for more info on how to do this, check out our stride length guide).
The 720 E has a 19″ stride length, which isn't too far off that 20″ gold standard. This is pretty good for a budget elliptical. Speaking of which, a lot of these more affordable ellipticals come with stride lengths in the 13″-18″ range.
P.S.- seeing a tiny stride length is a great way to spot a lemon from a mile away.
ProForm likes to say that their ellipticals have "adjustable stride lengths", but they're really just talking about the small changes that occur in the stride as the incline changes.
There aren't many home ellipticals that have a truly adjustable stride length, especially in this price range. Sole's E95S does, but it'll cost ya a bit more.
The 720 E has a sturdy steel frame to ensure a stable, durable workout. This frame can handle users up to 325 lb, which is pretty impressive for an elliptical in this price range.
Many decent home ellipticals have weight limits of 300 lb. Knowing that the 720 E offers more at this price point is a plus for me.
Overall, the 720 E scores pretty high with a 19″ adjustable stride length and a 325 lb weight capacity. 
Flywheel
Another important elliptical spec you should consider is the flywheel weight. 
Ellipticals give resistance to users using its perimeter weighted flywheel. As you pedal, your flywheel spins and creates your resistance with its magnetic system.
As a rule of thumb, heavier is better. That's because the extra weight builds more momentum and gives a smoother and quieter feel. 
When talking flywheels, there's no rule written in stone regarding how heavy is heavy enough, but generally speaking, anything around 20 lb or heavier is likely going to provide a smooth workout.
That said, the 720 E comes with a 20 lb flywheel. It has enough mass to get that wheel spinning smoothly. It's a respectable flywheel weight for a machine in this price range. Other budget ellipticals often come with flywheels weighing 14-18 lb.
With its 20 levels of resistance, you will have a lot of control over the intensity of your training with the 720 E. If you ask me, more control is a good thing because it gives you plenty of room to fine tune your workouts.
It also offers 20 levels of power incline, giving you the ability to make your workouts as intense as you want.
ProForm also added quick touch buttons to the console, allowing you to instantly adjust the incline and resistance settings with the push of a button. It's a very convenient feature.
To sum it up, the 720 E has impressive standards under the flywheel category. It has a heavy flywheel and plenty of resistance and incline capabilities to fine-tune your workouts. It should be robust enough to handle most users.
Features
The ProForm Endurance 720 E elliptical trainer comes with the following features:
5″ HD touchscreen display: It's a decent screen size for an affordable elliptical. It neatly displays your progress metrics, like heart rate, speed and incline, miles, time, total distance, and etc. 
Although we won't be enjoying any touchscreen display with the 720 E compared to the more advanced models nowadays, its backlit screen is still a saving grace. Many cheap alternatives offer neither touchscreen nor backlit displays.
It pairs perfectly with iFit, although it works equally as well with all the other built-in workout programs.
24 built-in programs: Its boatload of 24 programs will give you tons of fun challenges, making it easy to efficiently target your speed, calorie, endurance, and distance goals. They are also designed by a certified personal trainer, so you can be sure they're effective.
Other machines in its price category offer around 20 workout programs. It's fantastic that the 720 E offers a bit more.
iFit compatibility: You can sync your fitness data, access unlimited exercises, attend virtual workout classes, choose a workout path with Google Maps, or invite another iFit user for a friendly match. You can watch video workouts with celebrity personal trainers or choose trails from Google Maps™. 
The iFit is a very cool fitness technology, and it's awesome that you can enjoy plenty of interactive workouts with the 720 E. The catch is that you have to pay a monthly fee for the iFit subscription. 
Subscribing to iFit is based on your preferences. I believe anyone can exercise and burn tons of calories without the app. But it's really a refreshing option if you like taking on new adventures.
EKG pulse grip sensors: The 720 E has 2 grip pulse sensors located on the handlebar. This feature is a great way to easily monitor your heart health as you exercise. It's pretty generic for this price range.
However, the problem with handgrip sensors is that it's difficult to get an accurate reading. You have to hold on to it quite a while and watch the readings change.
Wireless monitoring is always better. It's more accurate and offers more range of motion. Telemetry is often seen in more advanced and sophisticated models, but this feature is lacking in this model.
Audio auxiliary port: It's compatible with most MP3 players. You can hook your device to play your favorite workout tunes for a more entertaining experience.
Dual 2″ Speakers: Exercising isn't as fun as listening to the sweet sound of motivation. The 720 E comes with dual 2-inch speakers. 
The included audio auxiliary port allows you to listen to your entertainment at a higher volume. You'll be able to hear your music or videos with less complication. 
Adjustable pedal angle: The pedals of the 720 E are oversized and cushioned for a more comfortable workout session. The adjustable angle lets you enjoy a number of foot positions to target different muscle groups.
Cooling fan: It comes with 2 settings to keep you cool and comfortable. Many users say they provide significant cooling power. 
Tablet holder: It's located on top of the console. You can read or watch movies conveniently without blocking the LCD screen.
Assembly
The assembly process on this elliptical is a little more labor intensive than some of ProForm's other models, but I still think most users will be able to get the job done fairly smoothly.
ProForm does a nice job with their instruction manuals. There are clearly written instruction and helpful images for each step along the way.
The main housing for the flywheel comes preassembled. You'll be responsible for attaching everything to the frame, including the stabilizers, console, and handles.
All necessary hardware and tools are included.
Most people should expect to spend 1-2 hours to get this machine up and running.
Warranty
ProForm backs their 720 E with the following warranty: 
Frame: 10 years

Parts: 2 Years

Labor: 1 Year
Given the price, well, the sale price, this warranty isn't bad. I'd like to see a lifetime frame warranty, but again, this is a budget elliptical.
The parts and labor guarantees are par for the course for this price range.
Overall, not bad.
Final Thoughts
The ProForm Endurance 720 E elliptical trainer has received generous feedback from its customers, and it's clear to see why. 
This elliptical is sophisticated for this price range and provides a nice combination of performance specs and tech features. The stride length and flywheel are large enough to offer a decent workout and there are a ton of workouts to choose from whether you opt for iFit or not.
The only thing missing is the telemetry heart rate monitoring.
Overall, this is a pretty solid elliptical. I think it would work best for beginner to moderate level users. Advanced users will likely prefer a larger, more powerful elliptical (like ProForm's Pro 9.9).
For more great budget friendly elliptical options, check out our budget elliptical guide.