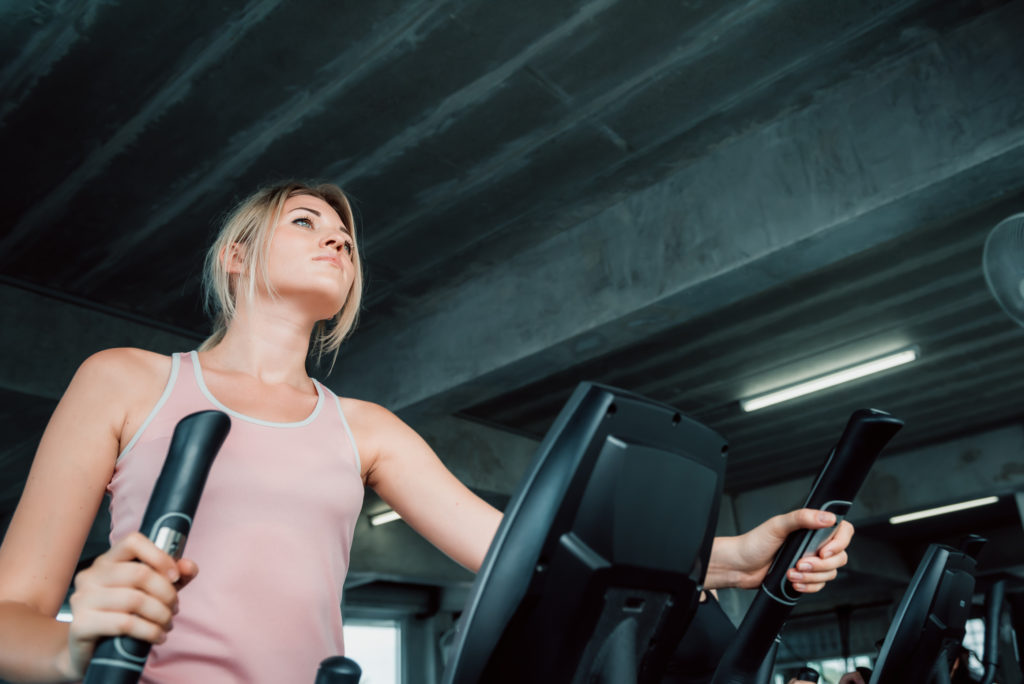 The ProForm SMART Pro 16.9 elliptical trainer boasts an impressive array of performance, comfort, and tech features. 
This impressive elliptical comes with many perks to keep you motivated with every ride, like its large HD touchscreen and a vast workout library.
Other highlights include a 20″ stride length, a 32 lb flywheel, and 20 levels of resistance (not to mention an adjustable incline). 
But is the Pro 16.9 elliptical worth taking home with a price tag that falls just under $1800?
To cut to the chase, yes. This model is quite a catch and one of the best in its class. But if you want to know why, then you'll have to keep reading.
This review will tackle the ins and outs of the notable Pro 16.9. After reading this article, you should have a clear understanding as to whether or not this elliptical is the best fit for your home gym.
Without further ado, let's jump right in.
The ProForm SMART Pro 16.9 Elliptical Trainer
ProForm is one of the popular brands in the world of home fitness. If you fancy feature-rich machines, this company should be at the top of your list. They're famous for their hi-tech machines that perform admirably and they have models to fit any budget.
ProForm is under the ICON Health & Fitness company, a large multi-brand organization from Utah that also owns other famous brands like Weider and NordicTrack.
This same company owns the iFit brand. Now it seems clear why all of their machines are iFit-enabled.
Having over 30 years in the business, ProForm has proven themselves worthy of becoming one of the most popular names in the industry.
One of the reasons why many users worship ProForm is because of their budget-friendly machines. You can bring home their high-end devices for prices that are fair.
This brand is well-known for their treadmills and HIIT trainers, but their ellipticals are just as awesome.
ProForm has 4 different series for their ellipticals: Endurace, Pro, CSE, and Hybrid. Each offers different specs and features, but let's focus on their Pro Series since the 16.9 elliptical belongs to this family.
In a nutshell, the Pro Series is their most advanced lineup, coming with heavier-duty components and more advanced features. Its amazing roster includes the Pro 9.9, SMART Pro 12.9, and of course, the SMART Pro 16.9.
The price range for machines in this series starts at roughly $1000. It's very reasonable if you'll factor in the awesomeness offered by these trainers.
Take for instance their Pro 16.9 elliptical:
Pros
20″ stride length

32 lb flywheel

26 levels of magnetic resistance

20 levels of power incline

35 workout apps

Quick touch resistance/incline settings

Dual 2" speakers

iFit-enabled

Chest strap heart rate monitor included

Integrated tablet holder

Transport wheels

375 lb weight capacity
Cons
Stride Length
The stride length of an elliptical is comparable to the running surface of a treadmill. In both cases, these are the specs I recommend you consider first and foremost because they contribute the most when it comes to comfort during use.
On an elliptical, the stride length is defined as the distance the 2 pedals move front to back during use. It's measured in inches. 
It relates directly to the level of comfort a machine can give you during your exercise, so it's a good idea to start here when researching new ellipticals.
Using an elliptical with a short stride length can feel choppy and uncomfortable. If you're tall, it can make you feel like you're marching in place. Longer stride lengths are better because they feel more natural as if you're walking or even running.
Simply put, the longer, the better.
But how long is long enough?
The benchmark for home ellipticals is 20". At this length, the machine can comfortably accommodate people of most heights.
The Pro 16.9 hits the jackpot with its 20″ power adjustable stride length. This should let you stretch out freely as you exercise and not worry about shortening your stride.
The stride length is "adjustable" in the sense that elevating or lowering the incline will adjust your stride length a little during use- 20″ is the max stride length this model offers (unlike the Sole E95S that has a truly power adjustable stride length).
The Pro 16.9 comes with a heavy-duty frame that can safely hold users weighing up to 375 lb. 
Weight capacity is also a good measure of frame integrity. The heavier it can accommodate, the better. Many elliptical trainers can only hold up to 300 lb, so knowing that the Pro 16.9 goes way beyond the standard scores highly for me.
Ellipticals take up less room than other fitness equipment. They're a wise choice for your home storage solutions. If you're space-conscious, you'll like the Pro 16.9 even more with its convenient storage design.
It has built-in transport wheels so you can roll your elliptical into any corner of your home after working out.
To wrap it up, the Pro 16.9 has very competitive and comfortable specs. Its stride length of 20" is perfect for most users and can be adjusted a little by changing the incline angle. I also like that this model comes with such a heavy-duty frame.
At this point, I'd give the Pro 16.9 two-thumbs up.
Flywheel
Another elliptical feature you should consider is the flywheel.
Just like in spin bikes, the flywheel is responsible for creating the resistance you work against. This is the part of the elliptical that spins as you pedal. 
Most home ellipticals use a weighted flywheel to provide resistance. Heavier is better because the extra weight builds more momentum as the flywheel spins. It results in a smoother feel and more overall resistance.
However, this doesn't mean that lighter flywheels are necessarily bad. They can still offer you a smooth and effective workout if the quality of the machine is high.
But if I were to choose between a lighter and a heavier flywheel, I'd go with the heavier one.
Pushing more weight with every pedal brings a more challenging and effective routine.
A good home elliptical trainer should have a flywheel weight of at least 20 lb to ensure a smooth and comfortable ride.
The Pro 16.9 hits it big with its 32 lb inertia-enhanced flywheel. It exceeds our 20 lb gold standard. This should offer plenty of mass for a more awesome workout. 
Based on the reviews, users have agreed that the Pro 16.9 has a silky smooth experience while running. It's also almost silent, with no squeaks, creaks, or noises. 
The Pro 16.9 gives you complete control over its heavy flywheel with its 26 levels of magnetic resistance. This elliptical can give you a variety of training intensities. It has more muscles under the hood to challenge talented runners.
Pairing that with its power incline of up to 20°, and you got a pretty solid trainer for your home gym. You can adjust the incline of the Pro 16.9 for you to target different muscle groups, like your glutes, quads, and calves for added variety. 
Just to give you an idea, increasing the incline angle lets you target your glutes and hamstrings more. Having a wide range of incline possibilities offers more ways to condition your body.
Simply push the button and this ramp will automatically adjust your incline level.
Overall, the Pro 16.9 has many impressive perks. Its 32 lb flywheel, 26 resistance levels, and up to 20° incline options make it an effective machine for any of your workout needs.
This trainer can serve well for light to intense training for people at all ability levels.
Features
ProForm is known for having an arsenal of feature-rich machines, so let's see if their Pro 16.9 elliptical trainer lives up to their name:
10″ smart HD touchscreen: It's large and has bright readout displays. This makes it easier for you to watch and swipe through your training parameters like speed, time, distance, inclination, heart rate, scan mode, and calories burned. 
It works very well with the iFit app. You can comfortably follow your online coaches or enjoy the guided sceneries with Google Maps.
35 workout apps: The Pro 16.9 has a vast workout library. You get plenty of training varieties, from the basic to the more challenging routines. It's designed by a professional coach for a more impactful workout. You can efficiently target your speed, calorie, endurance, and distance goals.
Many ellipticals carry around 20 onboard programs, so it's amazing that the Pro 16.9 goes beyond the average.
iFit-enabled: The Pro 16.9 is compatible with iFit, so you can easily sync your fitness data and access unlimited training options with the machine.
iFit Coach is a paid service. But if you do buy a Pro 16.9, you'll have a free 1-year iFit membership. 
Having the iFit membership is a personal choice, and it could be beneficial to your routine. You can have full access to an ever-growing library of limit-pushing workouts led by elite trainers. You can enjoy training with some celebrity coaches, have custom-tailored personal training, or use Google Maps workouts that control the machine's incline to mimic the terrains.
EKG heart rate monitor: The handlebars of the Pro 16.9 have contact pulse sensors built-in, allowing you to keep an eye on your heart rate during your workouts. This elliptical also has a wireless heart monitoring feature. In case grabbing ahold of the handles makes you uncomfortable, you have the option to track your heart rate hands-free.
Most machines that are telemetric don't provide chest straps. But with the Pro 16.9, you won't have to buy the chest strap separately as it's already included in the package. Cool.
2" speakers: You can listen to your favorite workout playlist or listen to that extra push from your trainer via the iFit app.
Tablet holder: There's a built-in tablet holder conveniently located above the console. This makes fitness time multi-tasking time. It gives you access to all your training tools and entertainment must-haves.
Cooling fan: It comes with 2 settings to keep you cool and comfortable. It also has a water holder to make hydration easy.
Assembly
Unboxing time is pretty darn exciting, and ProForm doesn't want to kill the hype by making you spend hours putting your brand new machine together. 
Their Pro 16.9 elliptical is engineered with out-of-box easy assembly.  
About 85% of the machine comes pre-assembled. It's heavy, so I suggest you ask your family or friends to help you in putting up the trainer. 
The rest of the assembly is easy and straight forward. You have to attach the front and rear stabilizers, secure the upright, and make a few attachments with the handles and console. 
Overall, it's really straightforward and I think most people should be able to assembly themselves without paying for professional assistance.
I'd estimate most users will have this elliptical up and running within 30-45 minutes.
Warranty
The Pro 16.9 comes with the following warranty:
Frame: 10 years

Parts: 2 years

Labor: 1 year
At this price point, I'd like to see a lifetime warranty on the frame. Many other ellipticals of equal price (and cheaper) offer this.
Two years on parts is also a bit short. Based on the price and quality of this model, I'd expect between 3-5 years on parts (Sole ellipticals offer 5 years on parts, fyi).
A year on labor is pretty standard, although some brands are offering 2 years these days.
Overall, not an awful warranty, but it could definitely be better.
Final Thoughts
ProForm's SMART Pro 16.9 elliptical trainer is definitely packing some respectable numbers when it comes to the specs. It shouldn't come as a surprise at this point that I'm a fan of this model.
It got me hooked from the get-go with its long stride length and heavy flywheel.
But it's also got a lot going for it in the tech department. The large HD touchscreen display pairs perfectly with iFit and this model is loaded with workout programs.
The only real complaint I have is the warranty, which could definitely be better.
But overall, the Pro 16.9 is a smart buy if you're looking for a comfortable, hi-tech elliptical for your home gym. It has the durability, performance, and sophisticated features to keep you motivated for years to come.