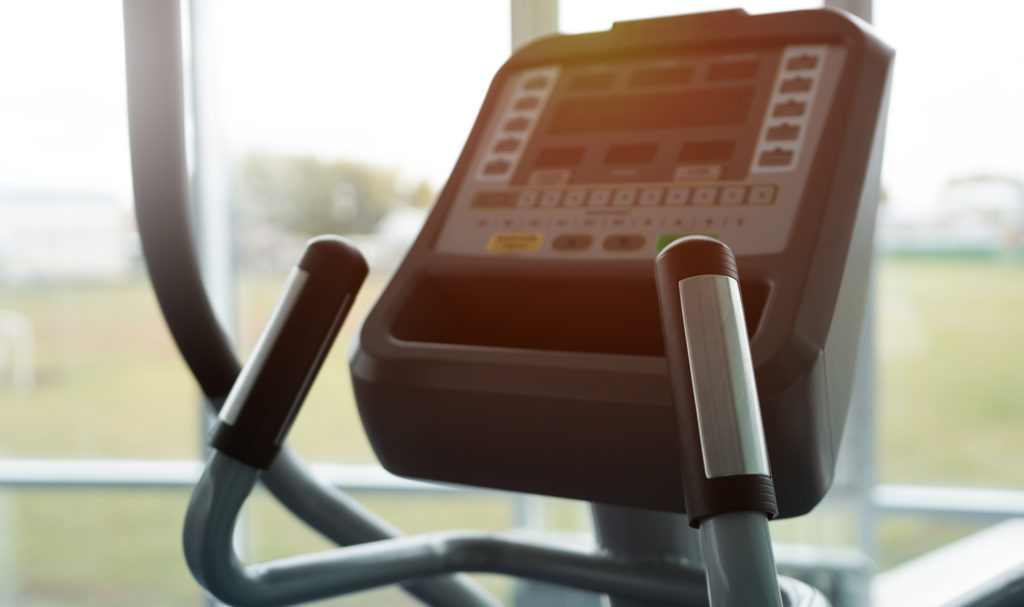 The Pro 9.9 is ProForm's most affordable elliptical in their Pro series, which includes their highest-end models. With a large, adjustable stride length, heavy flywheel, and awesome warranty, the Pro 9.9 may be a real contender for best-in-class home elliptical.
It also comes loaded with over 30 workout programs and quick touch buttons for both speed and incline. All this for an asking price right under $1000.
But I get ahead of myself.
This review will provide an in-depth look at everything the Pro 9.9 has to offer. After reading, you'll know everything there is to know about this lovely home elliptical.
Let's start with a quick intro to ProForm.
A Quick Intro To ProForm
ProForm is a popular home fitness brand that's been around for over 30 years. As one of the most recognizable home fitness brands around, they've made a name for themselves by providing high-quality budget to moderately priced machines.
And when I say budget, I mean equipment in the $500 – $1000 range, not the $100 – $300 range. You know, budget equipment that actually resembles something you might see in a club gym.
ProForm is part of the ICON Health & Fitness family- a large multi-brand company that includes other popular brands like NordicTrack and Weider.
Their fitness equipment is popular because ProForm designs their products with strong frames that last and more sophisticated software than you usually see in this price range.
Speaking of software, you might notice that pretty much all NordicTrack and ProForm models are iFit compatible- this is because ICON owns the iFit brand too (but more on that in a little bit).
Another great thing about ProForm is that they are known for offering great warranties on their equipment- even their budget models.
I'm a stickler for warranties, so I'm always drawn to brands that back their products with great guarantees.
ProForm offers a little bit of everything cardio related, but they're probably most well known for their treadmills and HIIT trainers.
Their ellipticals are equally as impressive though.
Long-story-short: ProForm is an awesome home fitness brand.
The ProForm Pro 9.9 Elliptical
At just under $1000, I consider the Pro 9.9 to be a budget elliptical. But based on the impressive specs and long list of features, you wouldn't know it.
I mentioned this is the most affordable model in the Pro lineup, which also consists of the Smart Pro 12.9 and Smart Pro 16.9. The more expensive models come with upgraded screens, heavier flywheels, and more workout variety (better warranties too).
Pros
Adjustable stride length (18-21″)
Commercial grade, steel frame
28 lb flywheel
24 levels of digital resistance
0-20° adjustable power incline
32 built-in workout programs
Chest strap heart rate monitor compatible
Multi-grip handlebars
iFit compatible
350 lb weight capacity
Easy assembly
Great warranty
Cons
No bluetooth speakers
ProForm pushes iFit too hard
Stride Length
The ProForm Pro 9.9 comes with an adjustable stride length, meaning you can change the length of the stride length depending on the height of the user. This is a cool feature a lot of ellipticals don't offer, but it ensures a better fit, especially for shorter users who don't want to stretch out to an uncomfortable distance.
The maximum stride length on the Pro 9.9 is 21″, which is awesome. The gold standard for home ellipticals is 20″- with a stride length this long, most users can comfortably use it.
I believe the minimum stride length is 18″. Shorter users will appreciate being able to actually reduce the stride length.
We often think about taller users not being able to stretch out for a comfortable stride, but shorter users have just as much of a problem with stride lengths that are too long.
The position of each pedal can easily be adjusted by pulling a little handle on each pedal.
The Pro 9.9 is built with a commercial grade steel frame that can safely handle users up to 350 lb. This is a great weight capacity for any elliptical, but for one in this price range, it's especially remarkable.
Having a weight capacity this high shows us how well built the frame is. The warranty does too, but we'll get to that down below.
Overall, the Pro 9.9 scores highly when it comes to the adjustable stride length and durable frame. With a 350 lb weight capacity, this elliptical can accommodate larger users safely.
Flywheel
The Pro 9.9 comes with a 28 lb flywheel, which is incredibly heavy for an elliptical in this price range. Much like spin bikes, when it comes to elliptical flywheels, heavier is usually considered better.
It has to do with momentum. Heavier flywheels build more momentum as they spin, providing a smoother feel.
Budget ellipticals usually come with lighter flywheels. We're talking in the 14-20 lb range.
Personally, I'd recommend going with an elliptical that has at least a 20 lb flywheel- that should be heavy enough to provide a great feel.
At 28 lb, ProForm is going above and beyond here.
To control your workout intensity, this elliptical comes with 24 levels of resistance. ProForm's patented SMR (silent magnetic resistance) ensures each level is smooth and silent.
Having this many resistance levels gives you a lot of control over the intensity of your workouts. That said, several users have complained that the resistance is too difficult, even at the easiest level.
Turns out some users had technical issues with their machines, causing the resistance to feel too high at level one. This isn't normal and will be covered under the warranty.
The Pro 9.9 also comes with an adjustable power incline that can range anywhere between 0 and 20°. Adjustable incline isn't a given for ellipticals in this price range, so it's a nice feature to see here.
The quick touch buttons make it easy to instantly set your incline and resistance- very convenient feature, especially if you like to do interval training.
Features
The ProForm Pro 9.9 comes with the following features included:
32 workout programs- yea, that's a ton of workout options. Even if you don't want to sign up with iFit, with this many workouts to choose from, you shouldn't have to worry about your exercise routines getting stale.
iFit compatible- like I mentioned earlier, ICON owns iFit, so most of their equipment is iFit compatible. iFit is a subscription fitness app that gives you access to unlimited workouts from professional personal trainers. It does cost extra, I think around $15 a month. ProForm really pushes iFit on their customers, but you don't have to sign up! You can bypass the iFit sign up sales pitch by holding the iFit sync button until it goes away and lets you start your first workout (30-60 sec).
6″ backlit display- the display isn't fancy or anything, but it's large enough to comfortably see all your workout stats during use.
Multi-position handle bars- with several hand positions to choose from, you can customize your upper body workout to emphasize whichever muscle group you prefer.
Grip heart rate monitor- grab the heart rate monitors on the stationary handles and get an idea of what your heart rate is during your workout. The Pro 9.9 is also compatible with chest strap heart rate monitors using bluetooth (sold separately).
Fan- the built-in, 2 speed fan will help keep you cool and comfortable during your workouts
mp3 port- you can plug your phone or mp3 player into the elliptical to hear your favorite tunes played through the dual speakers in the console.
Water bottle holder- the conveniently located water bottle holder will keep you hydrated throughout your workouts
Assembly
ProForm designed the Pro 9.9 to require minimal assembly. They market this elliptical to be "fully assembled" right out of the box.
I would say it's mostly assembled right out of the box. You do still need to add a few screws and attach a few covers, but it's pretty simple stuff.
Worst case scenario, you might spend 30 minutes putting this elliptical together.
The instructions are pretty straightforward, but I will say they aren't as easy to follow as other ellipticals I reviewed in the past. The illustrations are kind of small and I prefer it when there are images of the required hardware accompanying each step.
Overall though, you shouldn't have any problems putting this elliptical together.
Warranty
The ProForm Pro 9.9 Elliptical comes with the following warranty:
Lifetime frame
3 year parts
1 year labor
This is a great warranty for an elliptical in this price range. You can't beat a lifetime warranty on the frame, although this should be expected on any high quality elliptical (even budget ones).
Three years on parts is also very respectable for an elliptical under $1000. It's really about as good as it gets in this price range. Similarly, 1 year on labor is standard. More expensive ellipticals may come with a 2 year labor warranty, but even that is fairly rare.
Final Thoughts
I'm a fan of ProForm products because they do a good job of producing high quality, budget friendly equipment. Their products often find themselves on "best of" lists in most categories because the fact is, their treadmills and ellipticals are some of the best available.
The Pro 9.9 is no exception.
For an elliptical in this price range, it would be nearly impossible to find a better combination of specs and features. This elliptical is rocking an adjustable stride length that has a maximum stride of 21″ as well as a 28 lb flywheel- both of which are quite impressive.
I also like that it has power incline. A lot of budget ellipticals don't, which sucks because the incline option can add a lot of variety and intensity to your workouts.
If you're looking for a lot of workout variety, the Pro 9.9 is a good choice- this thing is loaded with over 30 built-in workouts.
I also love the warranty ProForm backs this elliptical with. Seeing a great warranty like this gives you an idea of how much faith ProForm has in their products.
My biggest complaint with the Pro 9.9 (as well as other ProForm machines) is how aggressively they push iFit on the users. Unless you really do your homework, it will seem like you have to sign up for iFit in order to use this machine.
This is kinda shady and a lot of users complain about this. Just know that you don't have to sign up for iFit to use the Pro 9.9 (or any other ProForm product for that matter)- hold that "iFit sync" button until the registration message disappears and you will be able to start this bad boy up.
Overall though, the Pro 9.9 is a great buy and easily one of the best budget elliptical machines around. Is it the best for under $1000? Maybe- it definitely has some of the best specs I've seen.
It's certainly in the top 3 though, with the other 2 being the Sole E25 and Horizon 7.0 AE. All very comparable and excellent choices. Highly recommended.