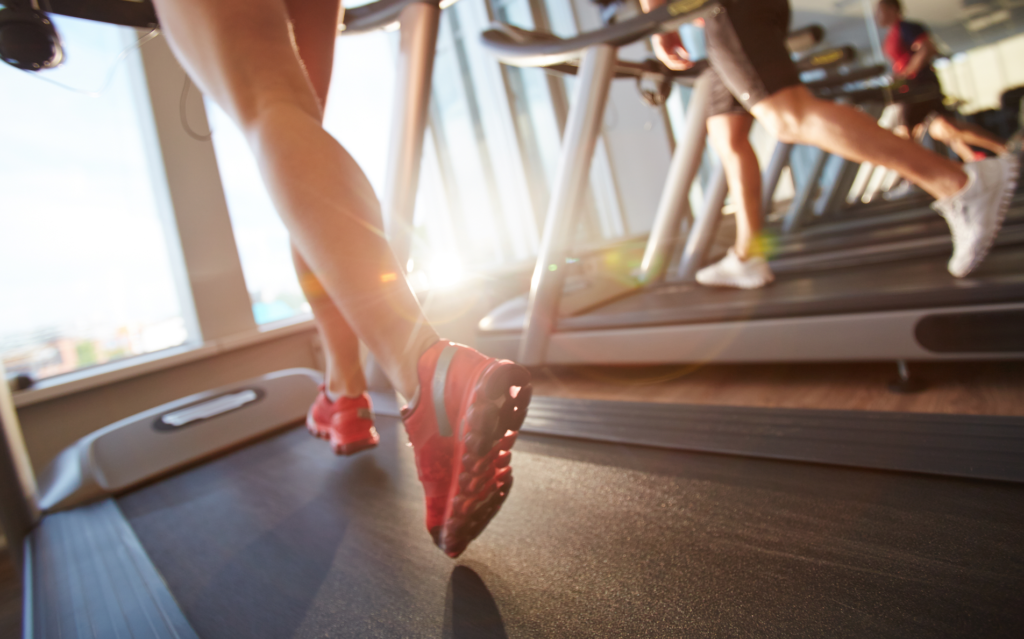 The ProForm SMART Power 1295i is a budget friendly treadmill with a surprisingly impressive collection of specs and features- especially when it comes to workout variety.
With 34 on-board training programs (and iFit compatibility), getting bored with your routines is something you shouldn't have to worry about.
Other notable features include a powerful motor, a max speed of 12 mph, and a digital incline up to 15%. 
For more challenging sessions, the Power 1295i is iFit-ready. You can train with a coach or select a terrain from Google Maps to which the machine will automatically adjust its incline depending on the topography.
Once you're done, you can easily fold up the Power 1295i, allowing it to fit most homes or apartments.
The ProForm SMART Power 1295i comes with many exciting features that are often found on more expensive treadmills, making it an excellent addition to any home gym.
But before you decide, make sure to read this review.
In this article, I'll tackle everything you need to know about this powerful piece of equipment. After reading, you'll know whether or not this is the right treadmill for your home gym.
The ProForm SMART Power 1295i Treadmill
Before we get into the good stuff, let me first introduce you to the manufacturer of this awesome machine. In fact, you've probably heard about them before. 
ProForm is a star when it comes to home fitness. They have a wide selection of high-quality machines. And much to the public's delight, their premium models are priced comfortably.
Having over 30 years in the business, they've proven themselves worthy of becoming a household name in the industry. They've released many popular machines over the years and continue to be one of the biggest names in home fitness.
But what makes ProForm different from other high-end brands like Precor and TechnoGym is their affordability. ProForm's fantastic machines are priced between $500 to $2000 — lower than many manufacturers' price points.
Not to be biased, but I'm a fan of ProForm's quality. Their pieces of equipment come with heavy-duty frames with lifetime warranties and advanced software. Hands down, they have pretty great specs in this price range.
ProForm is under the ICON Health & Fitness company, a large multi-brand organization that also owns other famous brands like Weider and NordicTrack. This same company owns the iFit brand, hence why all of their fitness machines are iFit-enabled.
ProForm is well-known for their treadmills and HIIT trainers, but they also offer interesting options for ellipticals and cardio training.
In a nutshell, their Power 1295i treadmill has the following advantages and disadvantages:
Pros
Foldable frame

Large running surface (20″ x 60″)

3.5 CHP motor

Top speed of 12 mph

Power incline of 0—15%

34 built-in workout programs

iFit Ready

Tablet shelf

7" High Contrast LCD

Smartphone compatible with port 

2″ speakers

Cooling fan

350 lb max weight capacity

Great warranty
Cons
No touchscreen LCD

No telemetry heart rate monitoring
Running Surface
I like to begin with the running surface as I see this as the most important element when choosing a treadmill.
The running surface is the belt area of the machine. From the name itself, it's the surface you will be using for running and also walking. Its actual dimensions are measured in inches (width x length).
A good running surface must be spacious enough to make you comfortable working out. If it's too small, it can make you feel cramped or too narrow that you need to shorten your stride.
Quality home treadmills should have a running surface measuring at least 20" x 60". It's the most sufficient belt area that offers more legroom for comfortable training for most users.
And the good news is that the Power 1295i comes with a 20" x 60" running surface.
Yup, this machine can let you stretch out comfortably while running at top speeds. You don't have to shorten your stride length or train in very limited motions. This should also be enough for tall users.
The Power 1295i also comes with a very sturdy frame that can safely hold users weighing up to 350 lb.
Most treadmills come with a 300 lb capacity. Although some upgraded models have a max capacity weight of up to 400 lb, most don't (especially in this price range).
Knowing that the Power 1295i offers more than the generic weight capacity is a fantastic factor at this price point.
It has a reinforced deck equipped with the brand's ProShox™ Cushioning system. This gives you a softer landing with every step.
It's said to be 28% gentler on your joints compared with training on the pavement. Thus, it's perfect for those aging trainees or with joint problems. 
With a good cushioning system, you can also enjoy longer training and faster recovery time.
When it comes to the footprint, the Power 1295i measures 35.5" wide x 81.4" deep x 66.9" tall. It doesn't qualify as a compact treadmill, but it's foldable so we don't need to worry about saving some training space.
Many users say that it's easy to store the Power 1295i. It takes a soft push to collapse your machine and fit it nicely in the corner of your home. It retains a small footprint when not in use.
Overall, I'm quite satisfied with the Power 1295i. It's an impressive machine and I'm happy that its running surface seems very adequate for comfortable training.
Topping this magnificent feature with a durable frame and a simple storage system, things are going great with the Power 1295i at this point.
Motor
Aside from checking the running surface, you also need to assess the motor specs of the treadmill. Motors hold an important role in a treadmill as it ensures a smooth and quiet exercise.
Stronger motors don't have to work as hard during use. That's why they tend to run quieter and more smoothely (as well as last longer). Treadmill motors between 3.0 to 4.0 CHP should be strong enough for comfortable running.
The Power 1295i has a 3.5 CHP Mach Z™ Commercial Pro Motor.
Most treadmills in this price category have a 3.0 CHP motor, so the 3.5 CHP motor in the Power 1295i is a solid upgrade.
You can enjoy consistent power while training, and this seems pretty great for heavy use. The motor gently raises the deck and control speeds without any pauses or hiccups.
The Power 1295i offers a top speed of 12mph. It's generic, but ProForm provides many speed options for sprints, intervals, and power surges. There are digital buttons on the console so you can easily access the machine's control speed settings.
It has an incline level of 0 to 15% which is nice. If you want a low-impact exercise while burning some serious calories, try giving the Power 1295i a brisk walk at a 10% incline. 
Some sophisticated machines like the ProFrom Pro 2000 offer improved incline and decline settings of -3 to 15%. The idea that you can train on either uphill or downhill challenges is awesome.
It offers a mix of your routine for better overall conditioning.
But the Power 1295i still has enough muscle and incline to offer folks of all fitness levels a good workout. You can combine the different inclines and multiple speed settings to reach your training needs.
To support your insane workouts, the Power 1295i has 2.5" precision-machined, balanced, non-flex rollers. They help decrease the tension as you exercise, keeping wear and tear to the belt and rollers to a minimum. 
Larger rollers are great in improving the grip and reducing noise on every performance. That's because they make more contact with the belt.
Most machines have 1.9" rollers (or smaller), so it's awesome to see that the Power 1295i comes with larger rollers.
The Power 1295i has surpassed my expectations. Its motor strength and rollers are at par with the gold standard. It also offers mad training variables with its incline settings. 
Features
7" High-Contrast Display: It's large and has bright readout displays. This makes it easier for you to monitor your training parameters like speed, time, distance, incline, heart rate, scan mode, and calories burned. 
It works very well with the iFit app (fitness streaming app with a monthly subscription fee). This should comfortably let you select any of the 34 pre-set workouts too.
While I love the large screen size, it's still better to have a touchscreen display. It's more convenient and sophisticated. Many models at this price range offer a touch display already.
34 Programs: There won't be a dull moment when working out with the Power 1295i. Its whopping 34 programs will give you loads of fun challenges, making it easy to efficiently target your speed, calorie, endurance, and distance goals. They are also designed by a certified personal trainer, so you can be sure they're effective.
Other machines in its price category offer around 20 workout programs. It's fantastic that the Power 1295i offers a bit more.
iFit-enabled: iFit Coach is a paid service. However, you'll get a 1-year free subscription if you'll purchase any of the ProForm models. Once you've subscribed, you can access the iFit directly through the Power 1295i console or with your smart devices.
It's worth mentioning that your membership could be beneficial to your routine. Having the iFit gives you access to unlimited workout variety.
You can enjoy training with some celebrity coaches, have custom-tailored personal training, or use Google Maps workouts that control the machine's incline to mimic the terrains.
Then again, it's a personal preference. Even without the iFit subscription, you can do many exciting challenges with the Power 1295i given its 34 pre-set programs and speed and incline settings. 
Bluetooth-ready: That wireless connection is very convenient for many reasons, but this machine also has ports if you want to hook up your devices.
2" Bluetooth speakers: You can listen to your favorite workout playlist or listen to that extra push from your trainer via the iFit app.
EKG Grip Pulse Heart Rate Monitor: The handlebars of the Power 1295i has contact pulse sensors. It's somehow expected for home fitness machines so users can monitor their cardio health as they train. The only downside about grip pulse monitoring is that it can be inaccurate. Wireless heart monitoring features would be better.
Cooling fan: It comes with 2 settings to keep you cool and comfortable. It also has a water holder to make hydration easy.
Assembly
The Power 1295i comes with easy assembly instructions. They are illustrated well and are pretty straightforward. 
Putting up the Power 1295i is simple. But you might need an extra pair of hands to help you since it's a big and heavy treadmill.
This may take some time before getting everything done perfectly. But if you're skillful enough, you might finish the assembly in about an hour.
Warranty
ProForm is one of the best companies if you're a fan of products with generous warranties. Their Power 1295i comes with the following guarantee:
Frame: Lifetime

Motor: Lifetime

Parts: 5 Years

Electronics: 5 Years

Labor: 2 Years
It comes with a 30-day money-back guarantee.
The lifetime warranties are magnificent. What seems to be a game-changer here is their 5-year warranties on parts and electronics and 2-years on labor. Most machines at this price point offer 2-years on parts and 1-year on labor. 
Again, the Power 1295i can protect your investment. It has surpassed the standard warranties, so it scores highly for me.
Final Thoughts
The ProForm Power 1295i treadmill is feature-rich. It's built with strong and high-quality components backed by some serious lifetime warranties. It exceeds my expectations by meeting the gold standards (and more) for a treadmill.
This machine has received generous feedback from its customers, and it's clear to see why. The Power 1295i is indeed a great investment for your home gym. 
However, there are a lot of great home treadmills in this price range ($1000-$2000). If you're not particularly interested in iFit, you might want to check out Sole's F80– little heavier duty and with better incline.
Overall though, ProForm has a nice model here.