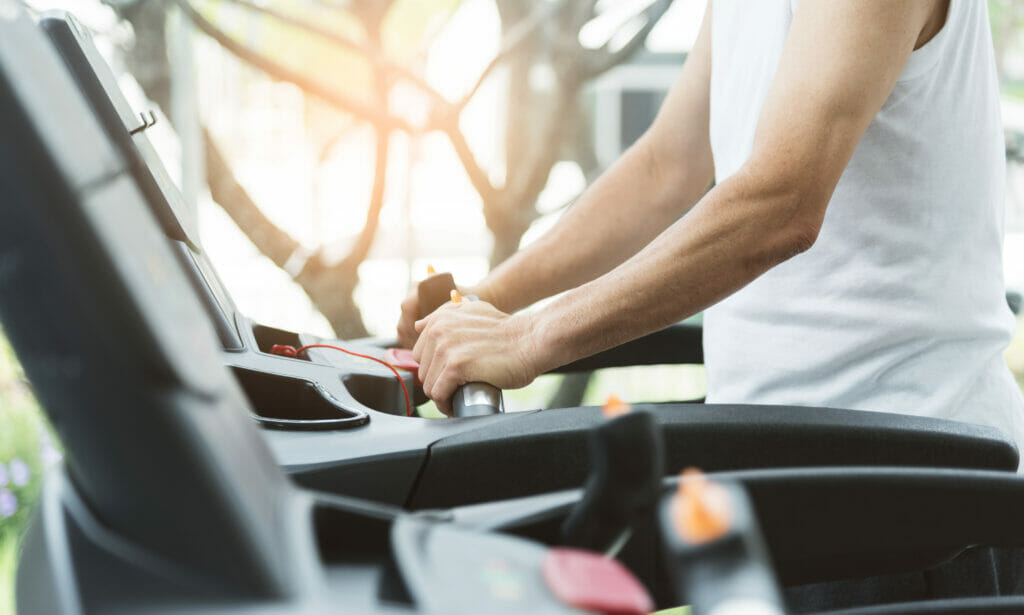 The T 8.5 S is one of NordicTrack's older treadmills, but with impressive performance specs, a 10″ HD touchscreen console, and a price under $2k, it's still very relevant today.
More specifically, this treadmill is rocking a 3.5 CHP motor, a 20″ x 60″ running surface, and comes with a 300 lb weight limit.
And even though it's designed to work with iFit, the T 8.5 S also comes loaded with tons of pre-programmed workouts, so you don't have to feel committed to pay the streaming fee if you don't want to.
The biggest downside I see is that NordicTrack's warranty is a bit short for a treadmill in this price range, but if you're looking for a solid streaming treadmill, I still think the T 8.5 S could make a lot of sense.
But I'm getting a little ahead of myself here.
In this review, I'll be going over all the specs and features this treadmill has to offer, but I'll also try to compare it to some of the other comps in its price range so you can see how it stacks up.
After reading, you'll know whether or not the T 8.5 S is the right streaming treadmill for your home gym.
The NordicTrack T 8.5 S Treadmill
NordicTrack's a respected brand, they've been around for a long time and they enjoy a pretty solid reputation.
Sure, their warranties could be longer, but when it comes to fitness streaming, they're kinda the top name in the game at the moment (sorry Peloton).
Anyway, the T 8.5 S we're here to go over now is part of their older "T Series" lineup.
NordicTrack doesn't carry this lineup directly anymore, but you can still find these models through other retailers like Amazon.
I'm not sure how much longer we'll be able to get these T Series models, but I'm hoping it's for a long while because you can get some great deals with these machines.
Like NordicTrack's T 6.5, which costs around $700 and is easily one of the best budget-friendly treadmills on the market at the moment.
There are several treadmills in the T Series lineup and it can be a little confusing discerning the differences between them.
Basically, the big differences are in the size of the consoles and the strength of the motors, but for more info, check out my complete NordicTrack treadmill guide where I compare all their treadmills.
The T 8.5 S is one of the highest-end models in the T Series, second only to the T 9.5 S, which comes with a slightly stronger motor and larger console.
At the time of writing this, the T 8.5 S is selling for around $1600.
Pros
3.5 CHP motor
20″ x 60″ running surface
10″ HD touchscreen console
Access to iFit
AutoAdjust technology (through iFit)
Tons of built-in workouts
Top speed of 12 mph
0 – 12% power incline
Quick-touch buttons
Bluetooth heart rate strap compatible
Cooling fan
Decent price
Cons
Could be heavier-duty
Short warranty
Running Surface
I always start my treadmill reviews off with a discussion on the running surface because I think this is one of the most important specs to consider before buying any treadmill.
This spec simply tells us the dimensions of the belt, but what this info really tells us is how comfortable we'll be during workouts.
In other words, if the running surface is too small for ya, you're not gonna like using your new treadmill.
This is more of a risk for taller users and runners, but it's still something we should all consider.
The length is more important because if the treadmill is too short, taller folks might find themselves having to shorten their stride while running; but having more wiggle room in the width is always a good thing too.
In this price range, most treadmills are coming with a running surface that measures at least 20″ x 60″ and that's exactly where the T 8.5 S lands.
With a running surface of this size, this treadmill is able to comfortably accommodate walkers and runners of all heights, regardless of how fast they're running.
Sure, there are treadmills in this price range offering wider, 22″ wide belts (like Sole's F80), but the T 8.5 S's running surface is still spacious enough for a comfortable workout.
So, this treadmill scores just fine in this department, but I want to take a look at its frame too.
The T 8.5 S takes up a footprint of roughly 79″ x 36″, which is pretty standard for a treadmill of this size, and comes with an in box weight of around 249 lb.
I like to know how much a treadmill weighs because this can give us a good idea as to how heavy-duty or stable we can expect the machine to feel during use.
To find this, we have to subtract a little from that in box weight (to account for the weight of the packaging) – in this case, I think 30 lb would be a conservative estimate.
So, if we subtract 30 lb from that package weight, that would put the T 8.5 S weighing somewhere in the 220 lb range, give or take a few pounds.
This is quite a bit lighter than some of the other, heavier-duty treadmills in this price range (like the F80 mentioned above that weighs about 50 lb more), but it's still a reasonable weight for a home treadmill.
And most users agree this treadmill feels solid during use.
It also comes with a 300 lb weight limit, which is pretty average for a home treadmill, but many in this price range come with weight limits in the 350 – 375 lb range.
So, it would be nice to see a higher weight capacity, but certainly not a dealbreaker for most.
Overall, I like that the T 8.5 S comes with a spacious running surface – it would be nice to see a bulkier frame and higher weight limit, but most folks should still be able to use this machine safely.
Motor
Another important spec to consider is the motor – more specifically, we're talking about horsepower here.
Having a stronger motor is always nice because stronger motors don't have to work as hard to keep up with your demand.
This means they can run more efficiently, which should theoretically allow them to last longer and maybe even a little more quietly.
It also means they'll be able to accelerate faster, which comes in handy when doing interval workouts.
Most home treadmills come with motors somewhere in the 2 – 4 CHP range and if you plan on doing a lot of running, you should consider going with a treadmill with at least a 3.0 CHP motor.
With all of this in mind, the T 8.5 S comes with a 3.5 CHP motor that can reach a top speed of 12 mph and a top incline of 12%.
With 3.5 horses under the hood, the T 8.5 S is one of the stronger treadmills in this price range (ProForm's similarly priced Pro 2000 comes with a 3.25 CHP motor).
This is plenty of power to support walking and running alike, so you shouldn't have to worry about this treadmill keeping up with your workouts.
Something else worth knowing here is that the T 8.5 S also comes with 1.9″ rollers.
The rollers are the part that the belt makes physical contact with and this is what allows the belt to glide across the deck.
Having larger rollers usually makes for smoother operation and adds to the overall durability of the machine.
Most home treadmills come with rollers in the 1.9″ – 3″ range, meaning the T 8.5 S's rollers are pretty small (especially for a treadmill in this price range).
Again, not necessarily a deal breaker – NordicTrack and ProForm use these same rollers on a lot of their treadmills, but it just means these treadmills aren't as heavy-duty as some other brands.
Overall though, I like how much power the T 8.5 S has under the hood, it's easily strong enough to handle running on the reg.
Features
The NordicTrack T 8.5 S Treadmill comes with the following features:
10″ HD touchscreen- this treadmill comes with a 10″ touchscreen console that makes it easy to view all your workouts and metrics  and even though this is pretty small for a NordicTrack treadmill, it's still big enough for comfortable on the the treadmill viewing. Which reminds me, this is one of NordicTrack's older models, so the console doesn't rotate or pivot – something to keep in mind if you plan on doing a lot of off the treadmill workouts through iFit.
iFit- this is NordicTrack's streaming service and this is what you'll use if you want to take advantage of the instructor-led workouts, metric tracking, scenic routes, etc. NordicTrack includes a free 30 day trial and then it'll cost ya around $39/month to keep using it. Just know that you don't have to sign up for iFit to use this treadmill.
AutoAdjust tech- this feature allows the speed and incline settings to automatically adjust to match what the instructors are saying during workouts. It's a cool feature, but it's only available through iFit.
Tons of workouts- if you like this treadmill but are worried about keeping up with an iFit subscription, don't worry – this treadmill comes loaded with dozens of workout profiles that are free to use whether you have an iFit membership or not.
Cooling fan- there's a built-in fan to help keep you cool and comfortable.
Heart rate monitoring- the console is compatible with bluetooth chest strap monitors, but one isn't included.
Quick-touch buttons- these handy buttons let you instantly set your speed and/or incline without having to keep pushing the 'up/down' buttons.
Integrated tray- there's a built-in tray giving you plenty of space to store personal items, like phones, remotes, keys, children's toys, etc.
Water bottle holders- there's also 2 designated water bottle holders built-into the console for easy access.
Assembly
If you decide to buy this treadmill, assembly shouldn't be too crazy, assuming you have 2 able-bodied individuals that are competent at following directions.
Like most treadmills, you'll have to snake the console cable up one of the uprights, which can be a little more tedious than it should be.
Once you get this done, just make sure you don't pinch the wires while attaching the console because that would be a real bummer.
There are several components to attach with this treadmill, including a few covers, the cross bar, and the tray.
And there's an additional step that isn't necessary on all treadmills as well, which involves connecting the hydraulic piston (storage latch) on the bottom of the deck – it isn't complicated, but some brands ship the machine out with this step already completed.
Overall, the assembly process is pretty straightforward and NordicTrack's instruction manual is pretty easy to follow.
Warranty
NordicTrack backs the T 8.5 S Treadmill with the following home warranty:
10 year frame
2 year parts
1 year labor
This is NordicTrack's standard warranty and they back all their products with it now.
It's ok for some of their more affordable models, but I think it's a bit lacking for a $1600 treadmill.
For this price range, I'd expect a lifetime frame/motor warranty and even though 2 years on parts isn't awful, 3-5 years would be better.
A year on labor is fine, that's standard operating procedure.
Overall, NordicTrack isn't known for their warranties and it's easy to see why.
Final Thoughts
Ok, I think that about does it.
Based on everything this treadmill comes with, I think the T 8.5 S is a solid home treadmill with some nice features.
In terms of performance, it's the motor that most impresses me – otherwise, this treadmill is pretty average for its price range.
The 10″ HD touchscreen console and access to iFit streaming is the real star of the show here though, so if you're looking for an affordable streaming treadmill, I could see the T 8.5 S being a good option.
That said, I would compare prices with ProForm's Pro 2000 before making a decision.
The Pro 2000 is very similar in terms of specs and it too comes with a 10″ HD touchscreen, but it can also decline to -3% (although as I'm writing this, the T 8.5 S is a little cheaper).
And if you did want a tilting console, you should check out NordicTrack's newer EXP 10i – it's 10″ touchscreen moves, but the similarly priced treadmill comes with a smaller running surface and much weaker motor.
So, there's that.
Based on what the T 8.5 S comes with and based on what these streaming comps offer, I do think the T 8.5 S is still a pretty good buy.
It's not the heaviest-duty treadmill in its class by any means, but as streaming treadmills go, it's certainly one of the strongest.