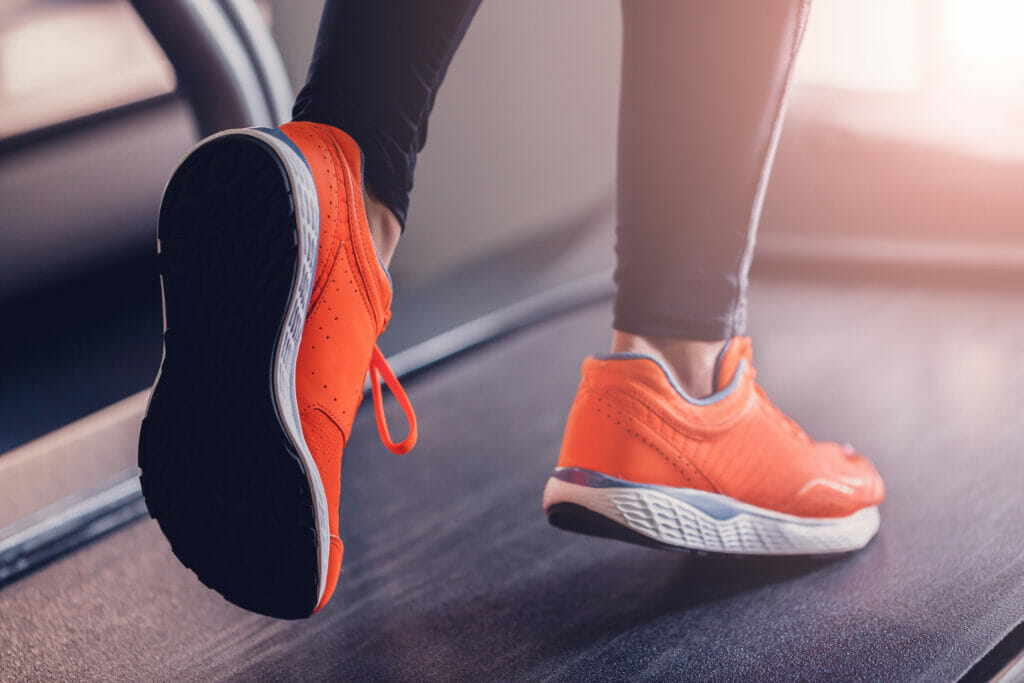 Echelon continues to expand their lineup of affordable, streaming fitness machines with their newest addition, the Echelon Stride.
The Stride is a compact treadmill designed to pair with their fitness streaming app, giving you access to thousands of on-demand and live classes.
The catch is that there's no screen- you have to use your own tablet or smart phone to access the workouts (which is how Echelon keeps costs down).
If you're looking for a treadmill to pair with a streaming app, the Echelon Stride could make sense, but I'm gonna be honest- this treadmill has some issues.
Make sure you read this review in full before deciding, because I don't think this treadmill is going to be a good fit for everyone.
The Echelon Stride Treadmill
Echelon has made a name for themselves by creating a more affordable alternative for folks looking for streaming fitness equipment.
Think Peloton, but without the luxury or extravagant price.
Echelon started out with spin cycles that you could pair your tablet with to access their on-demand workouts (like the Connect EX3).
They eventually put out the Connect EX5-S that actually came with its own HD touchscreen display, putting it in more direct competition with Peloton.
With the success of their spin cycles, Echelon decided they should start expanding their lineup. Their Smart Rower was next (which was designed as a more budget friendly version of the Hydrow) and now they're entering the treadmill game with the introduction of the Stride.
At the time of writing this, the Echelon Stride is on sale for about $1300, making it a moderately priced treadmill.
Pros
Compact size
Lightweight, easy to move with transport wheels
Folds automatically
Stores vertically, only extends 10″ from wall
Sleek, touchscreen display
Quick-select incline/speed buttons
8 built-in workouts
Bluetooth compatible
Designed to pair with Echelon Fit (1000's of workouts)
Cons
Small running surface
Weak motor
Short warranty
Running Surface
I like to start my treadmill reviews by discussing the machine's running surface. Personally, I think this is the most important spec to consider because it's going to play a big role in deterring how comfortable the treadmill is going to be during use.
Just to make sure we're all talking about the same thing here: the running surface is defined as the usable belt space available to us when walking or running on a treadmill.
This measure is typically measured in inches and written as "length x width".
Most high-quality treadmills come with a running surface of at least 60″ x 20″, with many nowadays coming with 22″ wide running surfaces.
This length of the running surface is especially important to consider because if it's too small for you, you'll find yourself having to shorten your stride.
If the width is too small, you may feel cramped and as if you don't have any "wiggle room" to your sides.
Both situations are less than optimal.
Now it's true, running surface dimensions are more important to consider for taller folks because shorter individuals are less likely to run into space issues (shorter folks can usually get away with shorter running surfaces).
With this in mind, I'd like to point out that the Echelon Stride comes with a running surface of 55″ x 20″.
The width is fine, 20″ is standard procedure for quality home treadmills, so no issues there.
But 55″ is a bit short, considering most high-end treadmills are coming with at least a 60″ running surface (especially in this price range).
At this length, folks that are 6′ tall or taller may find themselves having to shorten their stride a little when running at faster speeds. Walking or jogging at slower speeds shouldn't be an issue.
People under 6′ probably won't have any space issues, but it would still be nice to see a longer running surface on the Stride, just to make sure it can accommodate more people.
When it comes to the frame, it's fairly obvious from first glance that this is a lightweight machine. This is confirmed when we see that this treadmill only weighs 156 lb fully assembled (my Horizon 7.8AT weighs 330 lb).
Now to be fair, I think one of the biggest reasons Echelon tried to keep the weight down was to make the Stride more compact and portable- and to this effect, they were quite successful.
I like how the console area can fold down and that the treadmill folds in half automatically with the push of a lever. The Stride can be stored vertically and it's so compact it only sticks 10″ out from the wall.
But the lightweight-ness of the frame could result in the frame not feeling as stable.
The Stride does still come with a 300 lb weight capacity, which is pretty respectable for such a lightweight machine.
Put all this together, and I think the Stride is best suited for smaller users. The shorter running surface and the lightweight frame makes me think larger folks are gonna be better off with a heavier-duty treadmill.
Motor
A treadmill's running surface is very important to consider, but so is the strength of its motor. Simply put- stronger is better.
A more powerful motor isn't going to have to work as hard as a weaker one would to provide the same output. This usually means the stronger motor will be running more efficiently, which should result in a smoother, quieter experience.
It also means the stronger motor should theoretically last longer.
But how strong is strong enough?
That depends on what type of workouts you'll be doing- most experts recommend at least a 3.0 CHP motor for serious running. If you plan on walking or jogging primarily, you'll be able to get by with a weaker motor.
With this in mind, the Stride comes with a 1.75 HP motor.
I like Echelon, but I have to be honest and say that I think this is the weakest motor I've ever seen on a treadmill that costs over a $1000.
With a motor this weak, I don't see how it could handle running at faster speeds- it just doesn't have enough muscle under the hood.
This is just another indicator that this treadmill is best suited for smaller users and lower intensity walking/jogging workouts.
Again, this is a disappoint considering the price range.
Even though the motor is weak, the Stride is capable of reaching a top speed of 12 mph, as well as a top incline of 10% (although I don't think it would be a good idea to sustain those higher speeds for any extended periods).
I like to talk about roller size in this section of my treadmill reviews, but I haven't been able to find this info for the Stride yet. Echelon isn't providing much technical info about this treadmill, and I have a pretty good idea as to why.
Overall, the Stride comes with a disappointingly weak motor. Given the price, I would expect at least a 2.5-3.0 CHP motor, but that's not the case.
Echelon might have gone with a smaller motor to keep the weight down in order to maximize portability (but this could just be me being optimistic).
Features
Touch screen monitor- one thing I do like is the sleek, touch screen monitor that is seamlessly built into the foldable console area of the treadmill. It displays all the necessary metrics and it matches the minimalist look Echelon is going for nicely.
Bluetooth connectivity- you'll be using bluetooth to connect your tablet to your treadmill, so you can see all your stats and whatnot through the Echelon Fit app. You can also use bluetooth to sync up a wireless heart rate monitor.
Echelon Fit App- this is the app you'll use to see and access all of the on-demand fitness classes. The same app is used for their bikes and rowers too, so when you sign up you get access to everything. They even have live classes now as well as workouts that don't require equipment. You can choose between monthly ($39) or annual ($399) memberships. Technically, you could purchase the Stride and use it without signing up for the app, but I don't see the sense in that.
8 built-in workouts- the Stride comes with 8 pre-programmed workouts, in case you do decide to skip signing up for the Echelon app.
Quick-select speed and incline buttons- you can instantly set the incline or speed with the push of a button on the monitor. You can also manually set your incline and speeds by pushing the conveniently located buttons on the handrails.
Water bottle holders- 2 built-in water bottle holders will help keep ya hydrated throughout your workouts
Warranty
Echelon backs the Stride with the following warranty:
12 month parts
12 month labor
30 day money-back guarantee
I find the warranty on the Stride disappointing as well. The warranty doesn't mention anything about the frame or motor- one could assume that they are covered under the 12 month parts warranty, but we all know what happens when we make assumptions.
A year on labor is pretty standard, no complaints there.
And the 30 day money-back guarantee is a nice little safety net, but let's be real- this isn't a very good warranty.
I keep reminding myself that this treadmill costs over a $1000. There are similarly priced treadmills that come with lifetime frame and motor warranties and 5 year parts guarantees.
Just sayin'.
Final Thoughts
Ok, well, that about does it. There's really not that much left to say about the Stride. Honestly, I think the coolest thing about this treadmill is how compact it is- it's ability to fold up tight and lean only 10″ out from a wall could be a game changer for small homes.
I also like the simple, sleek touchscreen monitor and how it folds down too.
But I have a lot of issues with this treadmill.
The running surface is small, the motor is weak, and the warranty is short.
And if you're looking for an affordable way to stream fitness workouts, there are other ways of doing that.
You could always go with an affordable iFit compatible treadmill like the ProForm 905 CST or Nautilus T616, both of which come with more impressive specs and better warranties.
If you really like the Echelon app, you could always sign up for the app and use it with another more impressive treadmill (you wouldn't be able to see yourself on the leaderboards, but you could still do the workouts).
Overall, I think there are a lot of better options for the price, so I'd have to say the Stride is not a smart investment- hopefully Echelon will make some improvements on the next model.