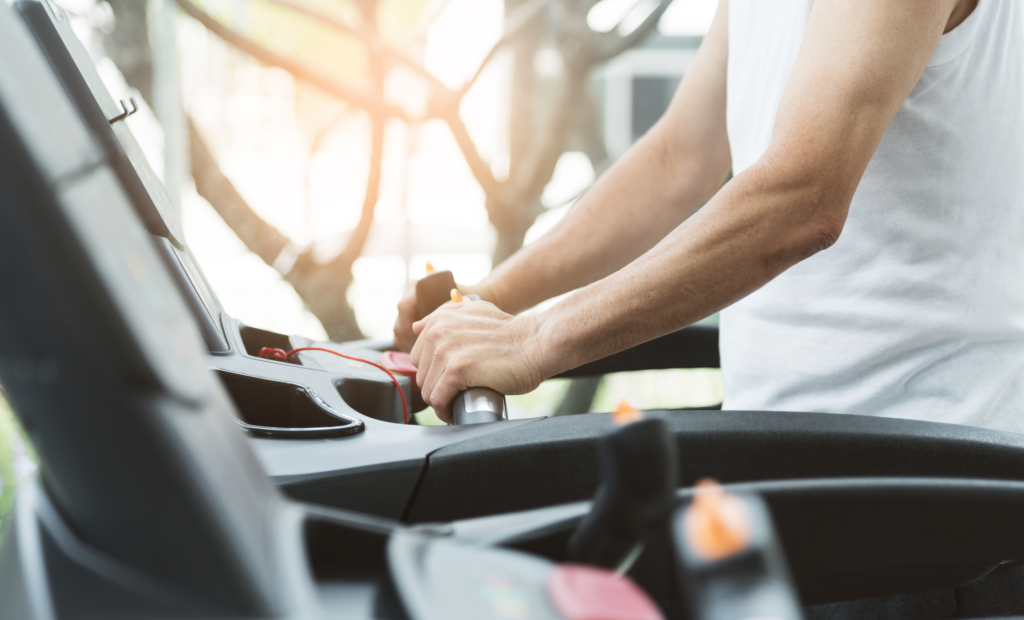 The Nautilus T616 is another fairly popular, sub-$1000 home treadmill that finds itself right smack dab in the middle of a super competitive market.
If you've been searching for a treadmill for any time, you know exactly what I mean.
There are a TON of home treadmills in this price range, many of which that are sporting recognizable brand names.
But lets be honest- after you've read a handful of reviews and compared a few machines, all of these treadmills start to look the same. And speaking honestly, a lot of them are very similar with almost identical specs.
The T616 is one of those treadmills you swear you've seen before because it looks so similar to several other models that are also available for the same price.
Does the T616 have anything to offer that the other treadmills can't? Is this treadmill a smart buy?
These are the questions this review will help you answer. Let's start with a quick introduction to Nautilus.
Quick Nautilus Bio
Nautilus is a pretty recognizable name. I can't say I run into their products that often, or even see any of their commercials these days, but I know I recognize the name.
Nautilus is actually the name of a brand of fitness equipment, as well as the name of a company (Nautilus, Inc) that owns several fitness brands. To be exact, they own Nautilus of course, as well as Bowflex, Schwinn, Octane Fitness, Modern Movement, and Universal.
Two of those brands are hugely popular- I'm sure you can guess which two.
The Nautilus brand started in the '70s with their innovative cable machine that was really the predecessor to a lot of the fitness equipment we take for granted today.
Over the decades, the brand changed hands a few times and gradually expanded into home cardio equipment.
But the Nautilus brand is actually pretty limited these days. If you look at the products they're currently offering, they only have 12 different home cardio machines.
And this includes upright bikes, ellipticals, recumbent bikes, and treadmills.
All of the equipment is numerically named, with the higher numbers indicating more impressive specs and more advanced features.
That said, all of their equipment is pretty budget friendly. Their highest-end treadmill, the T618, will only cost you about $1200.
Nautilus has been around for a long time and still holds a pretty strong reputation in the home fitness world. Their treadmills are known for coming with strong motors, large decks, quality construction.
They're also known for lackluster warranties, but more on that below.
The Nautilus T616 Treadmill
Of the 3 home treadmill models they offer, the T616 is right in the middle in terms of both price and features. Although one could argue there isn't a whole lot of difference between the T616 and T618- perhaps I could make that argument in a future article?
Hmm…
Anyway, back to the T616 for now.
Pros
Spacious, 20″ x 60″ running surface
Powerful, 3.0 CHP motor
Comfortable, StrikeZone Impact Absorption cushioning system
Easily folds for storage
Top speed of 12 mph
Top incline of 15%
2.5″ crown rollers
26 built-in workout programs
Dual LCD screens for viewing stats
Quick touch speed/incline buttons
Chest strap heart rate monitor included
Bluetooth compatible with fitness apps
Cons
Running Surface
I always start with the running surface when looking at a new treadmill because I think it's the most important spec for a treadmill. As the term may imply, this detail describes how much room you have when using the machine.
In terms of comfort, especially when running, I don't think there's any feature more important. Let's be real- who wants to run on a treadmill that's too short for ya? I don't.
Having to shorten my stride every time I run isn't my idea of an awesome treadmill.
Luckily, the T616 has a large, 20″ x 60″ running surface. This is the gold standard when it comes to home treadmills because most users can comfortably walk or run on a running surface this big.
Some treadmills are a little wider at 22″ and some higher-end running treadmills may have a 62″ long running surface, but most quality machines offer a 20″ x 60″ space.
To make this large running space comfortable to use, Nautilus designed it with their StrikeZone Impact Absorption System. This is their shock absorption or cushioning system that reduces the stress you feel through your joints during use.
Most users agree the StrikeZone system works pretty well and provides a comfortable experience.
The T616 is also a folding treadmill, meaning you can fold the deck up vertically to meet the console for storage. The SoftDrop system makes folding and unfolding really easy.
Which is crucial, because if it didn't a lot of users would have a hard time folding this thing. This is a large treadmill that weighs roughly 250 lb fully assembled.
Overall though, the T616 has a large running surface, quality shock system, and easy-fold deck. So far, so good.
Motor
The motor is the heart of the treadmill and another crucial spec to consider when choosing a home model. This treadmill comes standard with a 3.0 CHP motor, which is pretty standard for quality treadmills in this price range.
For reference, home treadmill motors usually fall somewhere in the 2.0 – 4.0 CHP range.
If you plan on doing some comfortable running, I suggest going with at least a 3.0 CHP motor to ensure it has the power to smoothly maintain those higher speeds. Most top budget treadmills will offer a motor this strong.
At 3.0 CHP, the T616 has enough muscle to fuel your workouts, regardless of whether you're walking or running.
If you do plan on running, this treadmill can reach a top speed of 12 mph, which is plenty fast for most of us. It can also reach a max incline setting of 15% which is impressive.
What does stand out to me is that Nautilus put 2.5″ crown rollers in this treadmill. The rollers are the part that actually turns the belt, causing it to propel along the deck.
When it comes to rollers, larger is considered better because it usually provides a smoother feel while placing less stress on the motor.
A lot of treadmills in this price range use 1.9″ rollers- kudos to Nautilus for using the preferred 2.5″ size.
Overall, when it comes to motor, this treadmill scores highly. The 3.0 CHP motor and large rollers should provide a smooth workout.
Features
If you're into tech, you might find this section a little more interesting. The T616 comes with the following features included:
26 workout programs- this treadmill comes stocked with a large selection of preprogrammed workouts to choose from. This might be a huge perk if you get bored easily. If you like to select 'manual' and do your own thing, you probably aren't too concerned. Either way, it's nice to have the selection if the mood strikes.
DualTrack LCD displays- the double, backlit displays make it easy to track all your stats during your workout. Instead of having to wait for your desired stat to scroll across a single screen, all stats are visible at the same time. The screens aren't that fancy, but the lighting makes them easy to read while walking or running.
Bluetooth compatible- this treadmill can use bluetooth technology to sync with the Nautilus Trainer 2 app (as well as others) to track all your workout data. You can also connect with the RunSocial app that delivers a "mixed-reality" experience- it basically syncs the treadmill to make it feel like you're running on different terrains around the world (as you watch a video of said terrain).
Quick touch speed/incline buttons- a lot of treadmills in this price range are including these and I think it's great. Instead of having to manually select your incline or speed by pushing the up and down buttons, you can instantly set both with the touch of a button. This features comes in especially handy for interval training.
Included chest strap heart rate monitor- this one is pretty self-explanatory, but it's always nice to get a little something for free. It sure is a lot easier to use a chest strap than the included grip monitor- especially when running.
USB charging port- the included USB port allows you to charge your smart phone or tablet while you exercise. The location of the port is perfectly placed so that the cord isn't dangling in the way of your display screens.
mp3 input port- same goes for the mp3 port. It's located on the back of the console so the cord isn't in the way of anything important. Use this to hook your phone or mp3 player up to the built-in treadmill speakers.
Adjustable fan- the 3 speed fan isn't a game changer, but it's a nice little perk to keep you a little more comfortable during your workouts.
Large water bottle holders- last, and probably least, this treadmill comes with 2 large water bottle holders that could also be used to hold other important stuff like keys, remote controls, or snacks (just in case you're the kind of person that likes to say "f*** it" and actually eat while they work out- and if you are, we should hang out).
Assembly
Most users agree that the assembly on this treadmill isn't too bad. The instructions make sense- each step has detailed written instructions and the images are large and easy to see. It's also easy to tell what hardware is being used in each step.
The necessary Allen wrench/Philip's head screwdriver combo device is included, although it might be a little easier to use your own if you have it.
A lot of users opted to pay for professional assembly simply due to the fact that this is a large treadmill and they didn't have a second set of hands to assist.
If you are reasonably handy and do have a friend of family member that can help, you should be able to put this together by yourself without any problems.
Oh, make sure someone is home to help you get it in the house at delivery too. Again, this machine weighs about 250 lb, it's a beast.
Warranty
Nautilus backs the T616 up with the following warranties:
10 year frame
10 year motor
3 year parts (mechanical and electrical)
1 year labor
There's no getting around it, this is a lousy warranty. There are many comparable treadmills out there offering lifetime warranties on both the frame and motor (like the Horizon 7.0 AT or the Sole F63).
I'm not sure why Nautilus is only giving us a 10 year warranty on the frame and motor. This is a heavy-duty, well-built treadmill. It should come with at least a lifetime frame warranty.
This is my biggest issue with this treadmill. Otherwise, this is a great machine with impressive specs, but this warranty is pretty hard to get over.
Finals Thoughts
The Nautilus T616 is a budget friendly treadmill that's packing some impressive specs. The problem is, the $1000 price point is a sweet spot for home treadmills- this is where you can get a great combination of quality and features without breaking the bank.
And there are a lot of quality treadmills in this price range.
Looking at the Nautilus T616, it does have a lot going for it. It has a large running surface, a powerful motor, and a ton of preprogrammed workouts to choose from. It's also a very sturdy, well built machine.
But does it stand out from the pack? Not really.
And I hate to say this because I like how big and heavy this treadmill is- to me, the size and weight is a good thing- it makes this treadmill more durable and less likely to move and wobble during use.
But that warranty is a deal breaker for me. There are too many other treadmills that are priced identically, with the same (or better) specs that come with much better warranties.
I see no reason to choose this machine over the others, unless you really like all the workout options. And if that's the case, I'd suggest you check out the ProForm 905 CST– it comes with more workouts and a much better warranty.