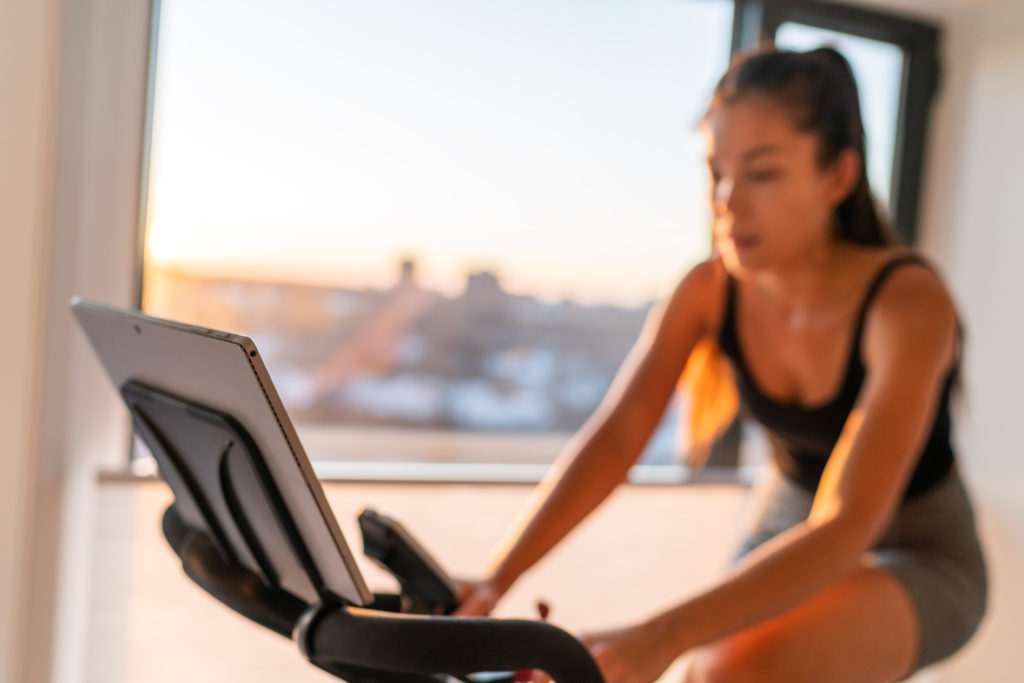 The Connect EX3 is Echelon's mid-range model in their line-up of smart spin cycles. And by smart, we're talking the ability to wirelessly sync with their app giving you access to both live and previously recorded spin classes as well as detailed data tracking.
Having the ability to attend professional spin classes from the comfort of your home has its obvious perks, but looking past the smart capabilities, the EX3 is packing some pretty legit specs.
More specifically, the EX3 comes with a massive, rear-mounted flywheel, a fully adjustable seat, and dual-compatible pedals.
The only thing it's lacking is a screen, but more on that later.
If you're looking to join the smart cycle revolution in a more budget friendly manner, the EX3 might be a smart choice. This review is here to help you figure that out.
In this review, I'll take you on an up close and personal tour of everything this bike has to offer. We're talking specs, features, assembly and everything else in between.
I've had the privilege of trying the EX3 out in my own home, so I have first hand knowledge of how this bad boy stacks up. Let's start with bike itself and then we'll discuss the app.
Disclaimer: the good people at Echelon were kind enough to send me a Connect EX3 to try before this review. I wasn't compensated in any other way and my review is based solely on my own experience with this bike.
The Echelon Connect EX3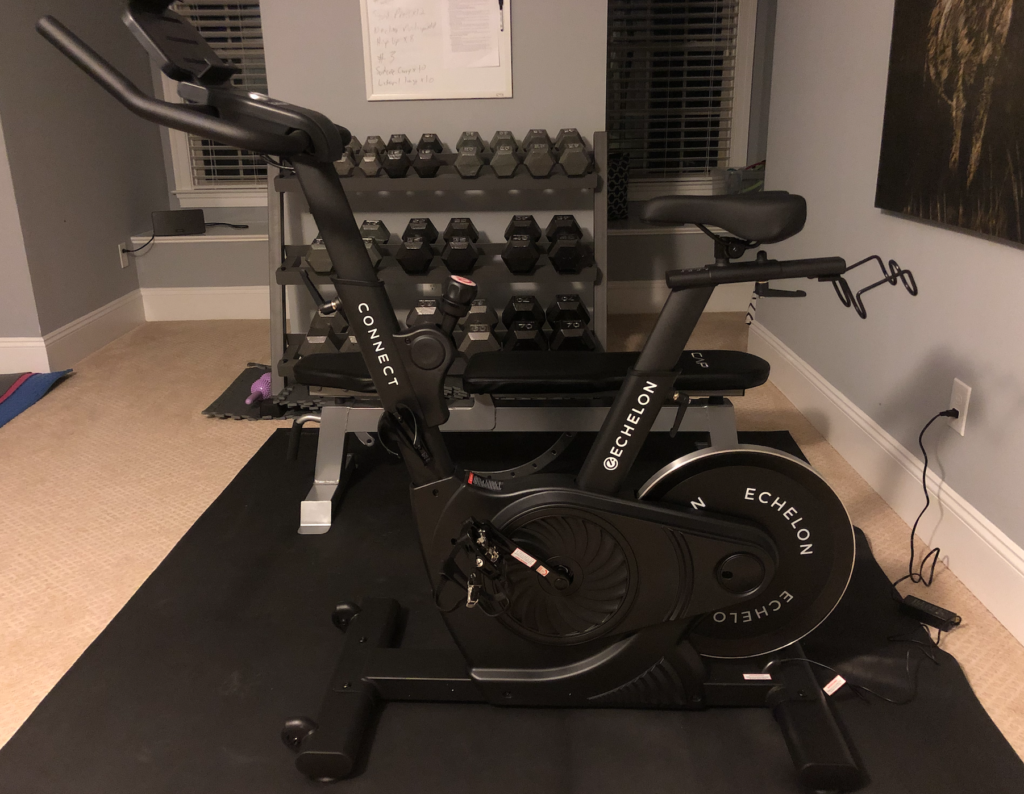 I mentioned that the EX3 is one of Echelon's mid-range models. It's more advanced than their lowest-end EX1, which doesn't come with a screen either. Their highest-end EX-5S does come with a screen (a big HD one).
Echelon has gained popularity with their more budget friendly alternatives to Peloton. They've also recently added a Smart Rower to their lineup which also allows you to use your own tablet to access on demand workouts.
Pros
33 lb flywheel
32 levels of magnetic resistance
Heavy-duty steel frame
300 lb weight capacity
Fully adjustable, comfortable seat
Pedals compatible with clip-in cleats (SPD) or sneakers
Easy assembly
Access to 1000's of workouts through the app
Scenic rides
Chest strap heart rate monitor compatible
Cons
Short warranty
Have to use app to see workout data (no screen)
Some issues with getting bike to connect to app
Flywheel
I like to start my spin cycle reviews with the flywheel. The flywheel is arguably the most important feature of a spin bike because this is what creates the "feel" of your ride.
When it comes to spin bike flywheels, heavier is usually considered better. Heavier flywheels build more momentum as they spin, creating a smoother experience.
Heavier flywheels also require a little more effort from a cold start, which mimics the feel of riding outdoors more closely.
The EX3 comes with a 33 lb flywheel, which is indeed heavy enough to be considered "massive" in my book.
There are plenty of spin bikes with heavier flywheels (like the Sole SB700 with an insanely large, 48 lb flywheel), but at over 30 lb, it's definitely heavy enough to provide a smooth, fluid ride.
I also like that Echelon decided to mount the flywheel on the rear of the frame. Not only does this provide a modern spin on the traditional front mount design, but it serves a purpose- it keeps the flywheel away from damaging sweat.
And trust me, if you decide on an EX3, you will be sweating.
From my personal experience, I think the heavy flywheel serves the bike well. It does take a little doing to get it started (which I like), but once it starts spinning, it feels great.
The EX3 comes with an upgraded magnetic system that provides you with 32 levels of resistance to work with. The resistance is adjusted by turning the dial in the middle of the frame (just like the commercial grade bikes you see in studios).
When I was trying the bike out, the resistance dial wasn't as reactive as I'd expect- I'd have to turn the dial a lot to increase or decrease the resistance levels.
Doing a little research, I believe I had a loose wire in my frame, something that would easily be fixable, but since this was a free sample I wasn't going to bother Echelon's customer service with getting it solved.
I can say the bike offers plenty of resistance. And even at the higher resistance levels, the flywheel still operates quietly and smoothly.
Overall, this spin cycle scores highly with a heavy, rear-mounted flywheel that operates smoothly during workouts.
Seat
If you have much experience with spin bikes, you probably know that they aren't exactly known for having comfortable seats. This is just the reality we have to accept if we want to workout on these devices.
They're uncomfortable because they are small and don't have backrests (ie, mimicking the experience of riding a road bike).
That said, I found the seat on the EX3 more comfortable than most. It's definitely more comfortable than the seat on my Diamondback 510Ic and as comfortable as the seat on my Peloton.
The important take-away is that the EX3's seat is fully adjustable. This means you can adjust the height as well as the horizontal position (fore/aft). You can also adjust the angle of the seat.
Helpful tip: if you feel like you're falling forward off the seat, adjust the angle of the seat and it should help.
All adjustments are easy to make and the bar positions are labeled so you can quickly return the seat to your preferred position if there are multiple users in your home.
Overall, I found the seat comfortable and easy to adjust.
Handlebars
Handlebars come in various shapes and sizes. The more hand positions that are available, the better. The EX3 offers all the standard hand positions you'd expect- narrow, wide, and the even the 3rd position that comes in handy when standing.
The only position it doesn't have is the curved bar in the middle that provides another narrow grip (sorry, I don't know the technical name for this).
The handlebars can be adjusted vertically, but not horizontally.
This isn't uncommon, even for a $1000 bike. A lot of spin bikes, even the high-end ones, don't come with fully adjustable handlebars. There are other, less expensive bikes that do though. So you never know.
For a bike in this price range, the padding on the handlebars is what you'd expect. Comfortable, but not quite commercial grade.
Attached to the handlebars, you have your adjustable tablet holder as well as your Echelon connect button that syncs your bike with your phone or tablet.
Overall, the handlebars are pretty standard. Functional, but nothing too fancy.
Frame
The EX3 comes with a heavy-duty steel frame that feels stable during use, even when standing. I'm 6'1″ and roughly 200 lb (198 lb on a good day) and I didn't feel any wobbling what-so-ever.
Helpful hint: if you hear any squeaking during use, check the bolts connecting the stabilizer feet- tighten them up and that should take care of it.
This bike has a max weight capacity of 300 lb, which is pretty standard for home spin cycles. This means the EX3 should be able to safely handle most users.
Fully assembled, the EX3 weighs 105 lb. This is pretty robust, but it moves pretty easily with the built-in transport wheels. Just keep in mind most of the weight is in the flywheel, so it's back-heavy.
Overall, the frame on this bike is sturdy and feels solid during use.
Pedals
The pedals on the EX3 are made out of aluminum, so they can definitely handle high-intensity workouts. Most spin bikes are compatible with cleats or sneakers, but the EX3 pedals are compatible with both.
If you are using cleats, the shoe boxes are designed carefully so they won't get in the way (they won't bump into the frame of the bike as you turn the pedals).
I used mine with sneakers and it worked well. The pedals feel sturdy and are comfortable to use. I could easily stand on them without my shoes slipping or feeling unstable.
Overall, I like the dual-compatible pedals, they work for everyone regardless of skill level.
Assembly
Putting the EX3 together is pretty straightforward. I like that the assembly manual has real photos of the bike for each step during the assembly process (I don't think I've ever seen that before).
The frame pretty much comes pre-assembled (you don't have to worry about doing anything with the flywheel). You basically just have to add the stabilizer feet, the seat, the handlebars, and the pedals.
The necessary tools are included, but I found it easier to use my own socket wrench at times.
The most difficult part for me was attaching the wires to the console (tablet holder)- they are pretty small and bigger hands had a little trouble fitting in there.
Overall though, assembly is pretty easy. I would expect to spend 30-45 min getting the job done.
Oh, the box it comes in is really big and heavy. I didn't have anyone available to help me get it to the attic, so I opened the box and took the pieces up the stairs one at a time.
Warranty
Echelon backs the EX3 up with a 1 year guarantee on the frame, parts, and electronics. There's really no way to get around the fact that this is a really short warranty.
I'd like to see a lifetime guarantee on the frame and at least 3 years on parts from a bike in this price range and of this quality. One year on labor would be nice too.
The short warranty is one of the EX3's biggest flaws in my opinion.
No Screen?
Ok, so let's talk about the screen situation, or lack there of. The EX3 does not come with a screen- you have to use your smart phone or tablet to sync up with the bike.
You have to download the Echelon App to do anything on this bike. Through the app, you have access to all of the live and pre-recorded workouts (more on this in a minute).
It's up to you to supply the phone or tablet- if you don't have one or aren't planning on getting one, you should not buy this bike!
After all, the whole theory behind the EX3 is that you can save a lot of money by using your own smart device to access the live courses. There's a reason this bike costs half as much as the Peloton.
There is no way to see your resistance, cadence, or any other stats without the app (and a smart device).
The Echelon App
Ok, we've discussed the bike itself, now it's time to get to the app side of things. Like I said, the EX3 doesn't work without the app, so you must download it and sync your bike to it to even turn the EX3 on.
You also have to pay monthly for the app. If you pay month to month, it's $39/month. If you pay for 1 or 2 years at a time, you can get a discount.
The price for this is pretty standard when compared to other programs (like Peloton).
Through the app, you get access to thousands of on-demand, pre-recorded workouts. You can also participate with live courses as they're taking place in the Echelon studio.
And it's not just cycling- they have strength training, toning, and stretching workouts you can choose from too.
The classes themselves are pretty good. I did a few cycling classes and sifted through several stretching and strength training workouts.
You can also do scenic rides through the app, which is actually pretty cool.
Overall, instructor and class quality is pretty high.
I was using my phone to access the app and ride with (I don't have a tablet). I don't recommend using a phone because the screen is too small for all the info you have access to through the app.
I would highly recommend a tablet so you'll have enough room to clearly see everything.
When I first assembled the bike and downloaded the app, I couldn't get the app to pick up any of my stats (cadence, power output, distance, etc). If this happens to you, it's likely a loose connection to where the wires from the bike connect with the console.
Overall, I think the Echelon app is pretty user friendly and easy to navigate. They have a ton of workouts to choose from and are adding a bunch of new ones daily.
Getting bored on the EX3 shouldn't be a concern.
Final Thoughts
The Echelon Connect EX3 as a pure spin bike has a lot going for it. The frame is robust and heavy-duty and feels very stable during use. I love the feel of the heavy flywheel and think the rear mount gives it a cool, modern look.
I also found the seat surprisingly comfortable and easy to adjust. The dual-compatible pedals are also a nice touch.
My biggest complaint regarding the bike is the short warranty.
The app gives you access to a boat-load of workouts to choose from and is easy to use. The workouts are also conveniently organized based on style and length.
Overall, if you're looking to join the home spin class craze without busting your budget, the EX3 is a good choice. If you don't already own a tablet, you might want to consider upgrading to the EX5S with its included display screen.