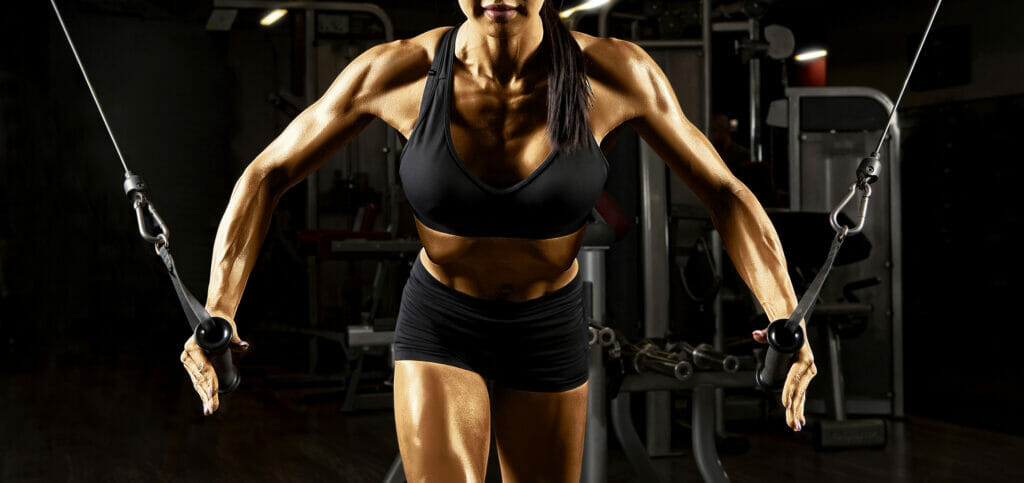 Functional trainers can make great options for home gyms because they offer a ton of workout variety, but unfortunately, they can also take up a lot of room.
That said, there are some compact functional trainers out there that do take up a lot less space, making them more doable for smaller workout areas.
So, if your workout area is a little space challenged, don't start fretting yet – there may still be hope.
You just have to know what to look for and where to look for it – and that's where I think I can help.
In this guide, I'll start with a few pointers on what to look for when comparing functional trainers and then I'll go over the best compact functional trainers available these days.
After reading, you'll be able to find the right functional trainer to fit your needs.
Let's start from the top.
Footprint (width x depth)
Weight Stacks
Pulley Ratio
Warranty
#1 REP FT-3000
53" x 34"
Dual 180 lb
2:1
Lifetime frame
1 year parts
#2 Torque F9 Fold-Away
44" x 34" closed
52" x 55" opened narrow
70" x ~ 55" opened wide
Dual 150 lb, 200 lb, or 225 lb
2:1
Lifetime frame
1 year upholstery, cables, grips
#3 Inspire FTX
54" x 40"
Dual 165 lb
2:1
Lifetime frame/parts
#4 BodyCraft HFT
57" x 40"
Dual 150 lb (upgradable to 200 lb)
2:1
Lifetime frame/parts
#5 BodyCraft PFT
52" x 39
Dual 160 lb (upgradable to 210 lb)
2:1
Lifetime frame/parts
P.S. – for the sake of this guide, "compact" will be defined as a functional trainer with a foot print of 60″ x 40″ (width x depth) or smaller, which is a good foot or so smaller in each direction than many full size trainers. When thinking about space, keep in mind you need extra room to actually use the pulleys and perform your exercises too.
Functional Trainers 101
First of all, I want to make sure we're all talking about the same type of machine here.
A "functional trainer" is just another name for a dual-stack cable machine – you know, the racks with the adjustable pulleys and weight stacks.
These systems are awesome and offer a ton of workout options.
And they became known as functional trainers because they're so handy for training functional movements in rehab.
Think of all the rotational, lifting, and reaching movements you can do on these things- the sky's the limit.
Anyway, these machines were once only found in commercial gyms and rehab settings, but these days, we've got plenty of reasonably priced home models to choose from as well.
But, like anything else, you gotta know what to look for.
Here's a quick review of the top considerations (besides size) I think you should make before deciding on a functional trainer,
If you'd like a more in-depth discussion on these home gyms, check out my full functional trainer guide for more info.
Weight Stacks
Most functional trainers come with 2 weight stacks (although some still use weight plates for resistance), which provide the resistance for each adjustable pulley.
The amount of weight in these stacks can vary significantly, with most coming with stacks somewhere in the 150 – 200 lb range.
Some come with more or offer upgradeable stacks (like Force's X15 Pro which comes with dual 289 lb stacks).
When comparing trainers it's smart to consider how much weight it comes with and whether or not those stacks are upgradeable in case you need more resistance in the future.
The amount of weight in each stack will be even more important depending on the trainer's pulley ratio.
Pulley Ratio
The pulley ratio refers to how the pulley system on the functional trainer is set up and it's important because this determines how much weight you're really lifting.
Remember those simple machines back from physics class?
Yeah, me neither, but a pulley is one of 'em.
Pulley's can be used to make lifting things a lot easier and functional trainers are no exception.
But in this case, we don't want lifting those weights to be too easy because lifting that weight is how we're going to get stronger.
Most functional trainers come with a pulley ratio of 2:1, meaning that it feels like you're lifting half the weight racked (racking 100 lb gives you 50 lb of resistance).
A 2:1 pulley ratio is common because it offers a smooth feel and allows for more excursion of the cables, although some trainers do use a 1:1 ratio, meaning you feel every pound you rack.
It's important to consider the pulley ratio when looking at how much weight the trainer comes with because the 2 factors will tell ya how much resistance the trainer can offer.
For example, a trainer with 200 lb stacks and a 2:1 ratio would be able to offer up to 100 lb of resistance per side; but a trainer with 150 lb stacks and a 1:1 ratio would be able to offer up to 150 lb per side.
Again, most use a 2:1 ratio, but still something worth checking before buying.
Warranty
This one's a no-brainer, but it's still worth mentioning – seeing a longer warranty is always a good thing.
Nicer trainers usually come with longer warranties, so seeing a generous guarantee is indicative of nicer equipment.
Most high-end trainers will offer a lifetime frame warranty, which makes sense considering these things are built out of various gauges of steel.
When it comes to the pulleys, cables, and other components, most offer 1-2 years.
If you're stuck between 2 gyms and all other stats being equal, go with the one with the longer warranty.
The 5 Best Compact Functional Trainers For Home Use
#1 REP Fitness FT-3000 Compact Functional Trainer
REP's a great brand with a good reputation for providing heavy-duty equipment.
They actually remind me a lot of Rogue Fitness, the leader when it comes to home racks and rigs, although Rogue doesn't offer any great functional trainer options, which is kinda surprising.
They do offer one option, but it's ridiculously over-priced…
Anyway, REP equipment even looks a little like Rogue's, which is a good thing.
The FT-3000 is designed to take up less space, coming with a footprint of only 53″ x 34″ (width x depth) and the angled design makes it easier to fit in corners.
This trainer comes with dual 180 lb stacks with a 2:1 pulley ratio, giving you 90 lb of max resistance per side.
Each pulley comes with 15 adjustable positions and laser etched numbering for faster adjustments.
The FT-3000 comes with multi-grip, built-in pull up handles and a pair of standard handles, as well as built-in pegs for storage of additional accessories.
There's also a built-in placard demonstrating some of the exercises you can perform with this machine.
And REP backs this trainer with a lifetime frame and a 1 year parts warranty.
Overall, if you're looking for a great functional trainer that can fit nicely in a corner, REP's FT-3000 is a great choice. See full review.

#2 Torque F9 Fold-Away Functional Trainer
Torque's an interesting brand with some really cool gear, but I have to say their F9 Fold-Away Trainer is probably one of their most unique items to date.
As the name suggests, this trainer can fold away for storage, allowing you to really cut back on its footprint when not in use.
The triangle shape makes it a little harder to calculate a true footprint, but closed, the F9 only has a depth of 34″ and a width of about 44″, making it quite compact.
Opened fully, each side is about 5′ long with about 70″ between the farthest points of each side, but you can also save more room by not opening each side out completely.
And yes, I know this technically is larger than the guidelines I mentioned up above, but I gave the F9 a little leniency due to the fact that it can fold for storage.
Please don't hate me.
Anyway, this would be another trainer that could easily work in corners of any home gym.
When it comes to performance, the F9 uses a 2:1 pulley ratio and comes with the option to choose between dual 150 lb, 200 lb, or 225 lb stacks.
Each pulley is adjustable along 17 different positions and each side is easily folded/unfolded into position through the use of pins.
One of the great things about this trainer is that it comes with several attachments, including a pair of handles, a leg harness, a universal strap, a straight bar, and a squat harness.
Torque also backs their F9 Fold-Away with a great home warranty: lifetime frame; 1 year upholstery, cables, and grips.
Overall, I'm not aware of many folding functional trainers and I can't really imagine one offering more than the F9. A very cool compact trainer indeed. See full review.

#3 Inspire Fitness FTX Functional Trainer
Inspire Fitness is a great brand with some really impressive functional trainers and the FTX is one of their newest models to date.
The FTX isn't quite as sophisticated as some of Inspire's other trainers, but it's really compact and a lot more affordable than their higher-end options.
The FTX comes with a footprint of only 54″ x 40″ (width x depth), making it quite compact for a functional trainer.
This model also comes with dual 165 lb stacks, each with a 2:1 pulley ratio, giving you a max resistance of 82.5 lb per side.
Each pulley comes with 30 adjustment points, giving you a ton of control over placement for any exercise, allowing folks of all heights the ability to use comfortably.
Inspire also includes several attachments with purchase, including 2 deluxe handles, a triceps rope, a chin/dip belt, and an EZ curl bar.
There's even a little storage rack between the stacks to keep your attachments nice and organized.
And Inspire doesn't mess around with their warranties either – they back the FTX with a lifetime frame/parts guarantee, which is pretty crazy for a trainer in this price range.
Overall, the FTX isn't the sleekest looking trainer around, but it's well-built, comes with a generous selection of attachments, and is backed by a great warranty. See full review.

#4 BodyCraft HFT Pro Functional Trainer
BodyCraft's another legit fitness brand that's been supplying both home and commercial gyms for a couple of decades now.
They offer both strength training and cardio machines and all of their gear is pretty top-notch.
And their HFT Pro is a pretty compact functional trainer with a lot to offer.
The HFT Pro comes with a footprint of roughly 57″ x 40″ (width x depth), making it a little larger than some of the previously mentioned trainers, but it's still more compact than most.
This trainer comes standard with dual 150 lb stacks (option to upgrade up to 200 lb) and uses a 2:1 pulley ratio, giving you up to 75 lb of resistance per side (or 100 lb with the upgrade).
Each pulley is easily adjusted and the sealed ball bearings make for smooth gliding along each upright.
One of the great things about the HFT Pro is how many accessories BodyCraft includes with purchase: pair of handles, sports stick, triceps rope, long bar, ankle cuff, adjustable chain set, and an exercise book.
There's also a built-in, multi-grip pull up bar.
BodyCraft's warranty on this trainer is no joke either – with a lifetime frame/parts guarantee, you don't have to worry about anything with this model.
Overall, if you don't need a ton of resistance and like the idea of getting all the attachments you'll likely need, BodyCraft's HFT Pro could make a lot of sense. See full review.

#5 BodyCraft PFT Functional Trainer
Technically speaking, the PFT Trainer is an upgraded version of the HFT mentioned above, and therefore should probably be ranked higher than it, but I'm not sure the upgrades are really worth the steep jump in price.
But there's no denying the PFT is a sleeker, better looking home gym.
But there aren't a lot of noticeable differences between these 2 when you check out the specs.
The PFT comes with a footprint of roughly 52″ x 39″ (width x depth), so this trainer is a bit more compact than the HFT, so if every inch counts, this could be helpful.
This gym comes with dual 160 lb stacks and also uses a 2:1 pulley ratio (upgradable up to 210 lb stacks), so not a big difference here.
With 30 height adjustments for each pulley, you shouldn't have any issues finding the right position regardless of what exercise you're trying to pull off.
This gym also comes with a nice selection of included accessories: pair of handles, long bar (with ball bearings), sports bar (with all bearings), tricep rope, pull up assist strap, ankle cuff, and 2 chains.
BodyCraft even throws in an exercise book and a DVD to help you get started with your workouts.
And the PFT is backed by the same great lifetime parts/frame warranty as the HFT.
Overall, if you're looking for a sleek, compact functional trainer packed with extra accessories, BodyCraft's PFT could be the functional trainer you're looking for.

Final Thoughts
Well, there ya go.
I hope the above examples illustrate that there are some great functional trainers that don't take up a ton of floor space.
The triangular shape of a lot of these trainers allow them to fit nicely into corners, which in itself can help use otherwise unusable room space.
Of course, then you've got Torque's F9, which can fold away after use to save a lot of space.
Again, when thinking about your workout area and whether or not you can fit a functional trainer – keep in mind that you'll want an extra couple of feet in front of it to perform your exercises.
Even though the foot print on these compact trainers is smaller, you still need some extra usable space around 'em (primarily just in front).
Regardless of size, it's a good idea to compare weight stacks and pulley ratios when trying to decide, as well included attachments and warranties.
Looks shouldn't be the most important criteria (I think there's something about judging books by their cover or something), but it's always nice to have a sleek looking gym when possible.
I hope you found this guide helpful and if you have any comments or any suggestions for compact functional trainers that deserve a spot on this list, please leave 'em below and I'll back to ya shortly.