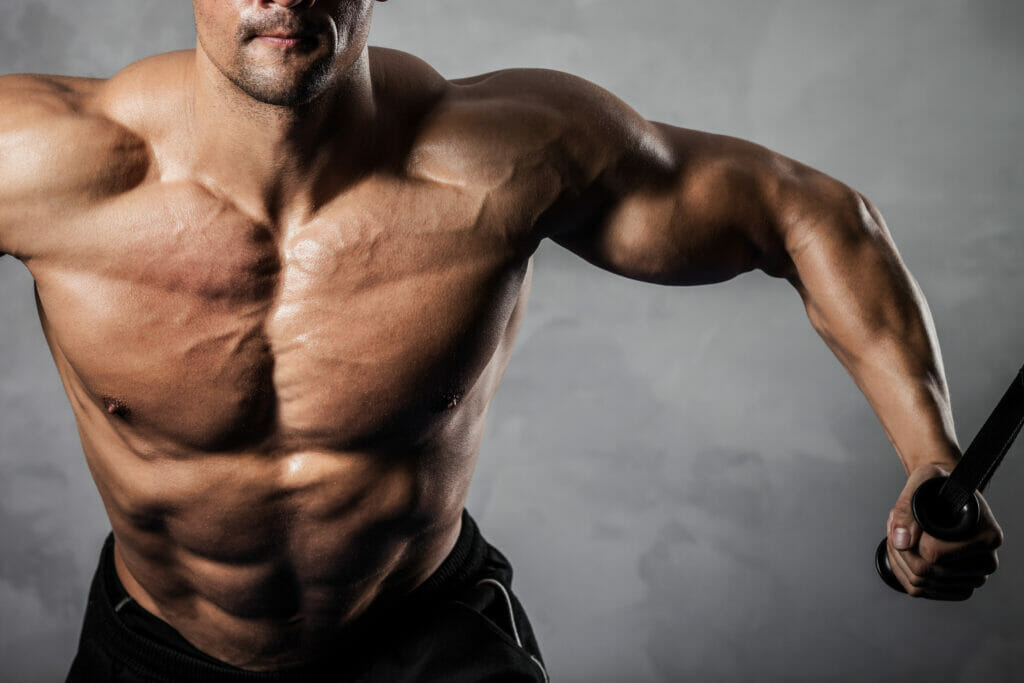 Functional trainers are awesome, but a lot of us don't have the floor space necessary to fit one in our home gyms – well, turns out Torque has a solution for this.
As the name might suggest, Torque's F9 Fold-Away Functional Trainer comes with sides that can fold in, significantly reducing it's footprint when not in use.
This is a cool idea, but space saving innovations aside, the F9 is a legit functional trainer in its own right.
With dual 150 lb stacks (upgradable up to 225 lb per side) and 17 pulley adjustments per side, this trainer offers all the exercise variety of a full size model.
And Torque includes several attachments to ensure you can start using the F9 as soon as it's assembled.
Torque even backs it with a legit warranty too.
Overall, if you're looking for a functional trainer to fit a compact space, I think Torque's F9 could be a great fit – but before you decide, you need to know what to expect.
And that's where I think I can help.
In this review, I'll go over everything this trainer does and doesn't have going for it; after reading, you'll know whether or not the F9 is the right functional trainer for your home gym.
Let's do this.
The Torque F9 Fold-Away Functional Trainer
Torque Fitness has been around since 2005, but I wasn't introduced to them until more recently when my wife's trainer had her using one of their TANK sleds.
Long-story-short, it's a great product and after I saw how cool it was, I looked 'em up and found that they had several other cool products too.
They offer several racks and tons of barbells, plates, and accessories you'd need to use those racks, including an interesting Rope Trainer.
But we're here to talk about the F9 at the moment.
The fact that this is a folding functional trainer is pretty unique – I haven't been able to find many others on the market, although HCI does have one (but it doesn't look as nice as Torque's).
At the time of writing this, the F9 is selling for $2399.
Oh, and Torque offers the F9 in wall-mounted and free standing varieties, but I'll be going over the free standing option.
Pros
Folds for storage
Compact footprint
Dual weight stacks (150 lb, 200 lb, or 225 lb)
17 adjustment points for each pulley
Comes with several attachments
Compatible with optional bench
Built-in pull up handles
Attachment storage inside trainer
Great warranty
Cons
Assembly can be challenging
No triceps rope included
Frame
Ok, first things first – the F9 is a functional trainer, which is the fancy name for a strength training machine that has 2 independently adjustable pulleys.
These things are great because they offer all kinds of workout variety.
Some functional trainers use weight plates for the resistance, but most, like the F9, use weight stacks, which is much more convenient.
Each pulley has its own weight stack and in this case, the F9 comes standard with 150 lb stacks – although you can upgrade up to 200 lb or 225 lb on each side for additional cost.
When thinking about the amount of resistance a trainer can provide, it's important to consider the pulley ratio.
This spec tells you how much of the loaded weight you're actually lifting (remember that pulleys are a form of simple machine, designed to make your job easier).
For example, a 1:1 pulley ratio would mean that you're feeling every pound you rack; a 2:1 ratio would mean you feel half the weight you rack; and so on.
The F9 uses a 2:1 pulley ratio, which is common for most functional trainers.
This means with 150 lb on each side, the F9 can offer up to 75 lb worth of resistance for each pulley (or more if you upgrade the stack).
Having a 2:1 pulley ratio is advantageous because it also allows the cables to move longer distances (94″ in the F9's case), giving you plenty of room to perform all kinds of rotational moves.
This is pretty standard for a functional trainer, but what's special about the F9 is really the fact that the sides can fold in to save space.
It's kinda difficult to go over all the dimensions of the F9, so I'll just share this handy diagram from Torque:
First of all, the triangular shape allows the F9 to fit nicely into corners, as long as you've got about 3′ worth of wall on each side.
You'll also notice that you can use the F9 in a narrow or wide opened position, depending on your space.
Open wide, each side extends out about 4.5′, with just under 6′ between the farthest points on each side.
This is very compact for a functional trainer.
For the sake of comparison, my Force X15 Pro takes up a footprint of 70″ x 57″ at all times, just sayin'.
Something else that comes to mind – being able to fold the doors and hide the stacks would be a great feature for homes with small kids running around.
I know my kids enjoy playing with my trainer and I'm always having to tell them to stop or leave it alone, in fear of them smooshing a finger in the weight stack.
Being able to close the doors and hide the weights would certainly reduce the temptation from small, grabby hands.
The doors are closed by releasing a pin at the top of each side, similar to the pins used to adjust the position of each pulley.
Speaking of the pulleys, each one can be adjusted to one of 17 positions on each side.
Some trainers offer more adjustable points, but 17 should still give plenty of control over handle placement for any exercise.
If you decide to invest in this trainer, make sure you know exactly where's it going before assembly, because with a total weight of 610 lb, this thing isn't going anywhere once it's up and running.
Overall, I like the design of the F9 and I'd even say it looks pretty sleek folded up. As compact trainers go, this one is pretty impressive.
Attachments
The Torque F9 Fold-Away Functional Trainer comes with the following included attachments:
Pair of strap handles
Universal strap
Squat harness
Straight bar
Leg boot harness
Exercise guide
Ok, so Torque is offering some pretty good stuff here.
The strap handles are pretty common, with most trainers coming with at least a set of these, but the universal strap and especially the squat harness are less common.
The universal strap can be used for assisted pull ups, among other things, and the squat harness is a cool attachment that makes it easier to do resisted squats with both weight stacks.
The straight bar can be used for various pushes and lifts, as well as functional activities (chopping, swinging a bat/golf club, etc).
And the leg boot harness allows you to perform a variety of hip strengthening exercises.
The only thing really missing here is a tricep rope, but those are cheap enough to pick up separately.
Torque also offers an optional bench (FFIB F9, sold separately) that's designed to pair with the F9 and can even be stored inside the F9 when it's folded up.
Oh, and there's also a built-in pair of pull up handles, allowing you to perform various pull ups, chin ups, and any other hanging exercise you can think of.
Overall, I think Torque offers a nice selection of included attachments – not a ton of stuff you won't use, but just the most essential straps and handles (minus a triceps rope).
Assembly
If you decide to purchase the F9, you'll have to decide between self-assembly and professional assistance.
Personally, the F9's requires a little more assembly than I'd be interested in doing myself, but it all depends on your skill level and how much you enjoy putting stuff together.
The assembly process for the F9 isn't super complicated, but there are a lot of steps and a lot of bolts, washers, and pins to deal with.
The assembly manual is really only images, so if you like written instructions, this could be disappointing.
The images are pretty large and easy to see though, so that's nice.
After the initial frame setup is completed, you have to mess with adding the weight stacks and routing the cables and this is something you don't want to mess up.
If you do choose to assemble yourself, you'll want to have an extra set of hands available to assist.
Also plan on spending several hours getting the job done.
But again, this is one where I'd probably invest in professional assembly.
Warranty
Torque backs their F9 Fold-Away Functional Trainer with the following home warranty:
Lifetime frame
1 year upholstery, cables, grips
The lifetime frame guarantee is great, can't beat that.
Most of the top brands offer lifetime frame guarantees and this is a good indicator of superior quality – and let's be real, this thing is made out of steel, so there shouldn't be any real frame breakdown with proper use.
And 1 year on the wear items is pretty standard across most brands too, although there are a few brands out there that'll offer lifetime parts guarantees too.
Overall, I think Torque offers a good warranty on the F9.
Final Thoughts
Ok, that about does it for the F9.
I don't really have much to complain about here.
It's nice that Torque gives you the option to choose your weight stacks, depending on your budget and needs and the ability to fold this trainer away for storage is awesome for home gyms with limited space.
Ah, which reminds me – it isn't easy to upgrade your weight stack after purchase, so if you're in doubt about how much weight to go with, you might want to do yourself a favor and go with the larger stack.
I also think Torque does a nice job with the accessories they include, although again, I love a triceps rope so it would be nice if they included one of those too.
No huge deal, just me nitpicking.
And the F9 is also backed by a great warranty, so no issues there.
Overall, I think this trainer would be a great choice for folks looking for a trainer that won't take up a huge amount of floor space.
I'd even go as far as saying I think it's one of the best compact functional trainers around.