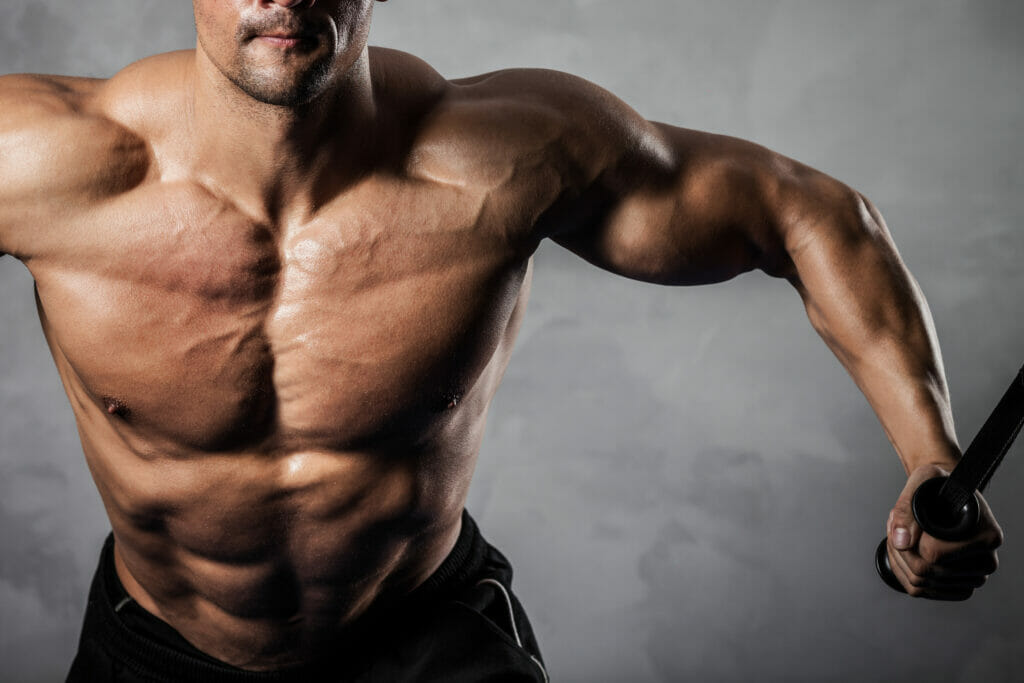 REP Fitness' FT-3000 is a functional trainer designed to fit in smaller workout spaces, but that doesn't mean it skimps where it really matters.
With dual 180 lb weight stacks and 2 easily adjustable pulleys, the FT-3000 is still well-equipped to challenge lifters of all skill levels.
And even though it doesn't take up as much floor space, it still comes with the same commercial-grade quality we've come to expect from REP Fitness.
It also just happens to be backed by one of the best residential warranties on the market.
Long-story-short: the FT-3000 is a legit home gym system worth considering.
If you're interested in the longer story, you'll have to keep reading.
In this review, I'll go over everything this functional trainer has to offer- we're talking, specs, features, warranties, and pretty much everything else in between.
After reading, you'll know whether or not this is the right machine for your home gym.
Let's roll.
The REP FT-3000 Compact Functional Trainer
A quality functional trainer can act as a nice addition to any home gym, but it really functional as the center piece as well.
Functional trainers are very versatile, as they allow you to perform pretty much any strength training move you can think of, but without having to mess with swapping out plates and whatnot.
REP offers 2 different functional trainers- the FT-3000 we're here to discuss and the upgraded FT-5000.
REP Fitness is a respected brand that's well on their way to becoming one of the premiere providers of strength training gear.
Other than their functional trainers, they offer several different power and squat racks to choose from, as well as all the bars, plates, and accessories you'd want to go with 'em.
Much like Rogue, REP is earning a stellar reputation for the quality of their equipment.
Anyway, the FT-3000 is the most affordable functional trainer in their lineup. At the time of writing this, this gym will cost ya roughly $2000.
Pros
Compact footprint
Heavy-duty frame
Dual 180 lb weight stacks
Easily adjustable pulleys with laser cut numbers
15 height positions
Double powder coating
Built-in pull up handles
Built-in attachment storage
Exercise placard included
Great warranty
Cons
Doesn't come with many attachments
Frame
Functional trainers are pretty simple devices- most just consist of 2 independent pulley systems connected to weight stacks.
But the differences between a quality functional trainer and a, let's just say less than quality trainer, are pretty substantial.
It's all about the fine details.
The first thing I like to look at when researching a new functional trainer is what it's made of. True, all gyms like this should be made out of steel, but the thickness (or gauge) of that steel can vary.
I'm of the opinion that having a thicker, heavier-duty frame is a good thing because it's going to feel more secure during use and be less likely to wiggle around (especially when doing pull ups).
That said, it doesn't appear that REP provides the gauge of steel used for their FT-3000.
I know I certainly couldn't find it anywhere.
Their FT-5000 is constructed out of 11-gauge steel, which is the thickest steel you can expect to see from any home gym system.
Based on the fact that the FT-3000 weighs 770 lb assembled (410 lb without the weight stacks), I would guess REP used 11- or 12-gauge steel for the frame.
But again, I can't be certain.
But with an assembled weight that high, you won't have to worry about this system feeling insecure on ya either way.
Like the FT-5000, the FT-3000 also has 2 layers of powder coating for a commercial look, but this coating also helps protect the gym from dings and chips during use.
One of the key features of this trainer is how compact it is.
Fully assembled, this gym takes up the following dimensions: 78″ x 53″ x 34″ (H x W x D).
This is 6″ shorter, 19″ less wide, and 11″ less deep than their full size FT-5000.
You still have to save a few extra feet in each direction to make sure you actually have room to use the pulleys, but this is still pretty damn compact for a functional trainer.
Which is good for homes with limited gym space.
Just keep in mind, with the shorter height, you might find yourself having to bend your knees when doing pull ups.
Overall though, the compact size would be the biggest reason to opt for this trainer.
Other than the smaller size, the FT-3000 comes with 2 x 180 lb weight stacks that provide the resistance for every exercise you choose to perform.
Each stack is connected to a height adjustable pulley (15 height positions) with a 2:1 pulley ratio.
This means that you feel half the weight that you select on the stack (for example: 80 lb on the stack feels like 40 lb worth of resistance).
Most functional trainers use a 2:1 pulley ratio because it makes for smooth operation, but it does reduce the total amount of resistance you have access to.
But you're still left with 90 lb worth of max resistance per arm, which is still quite a bit if you ask me.
Otherwise, the FT-3000 also comes with magnetized weight selector pins, laser etched cable column markings (for making sure handles are level from side to side), and built-in attachment storage pegs.
Overall, even though this trainer is more compact, it still comes with a very heavy-duty frame and the ability to provide plenty of resistance through each pulley.
Attachments
One of the nice things about a functional trainer is that they're compatible with any handle that can connect to a carabiner.
This means you can mix and match handles and accessories regardless of brand.
Speaking of which, REP includes the following attachments with purchase of their FT-3000 Functional Trainer:
Pair of urethane strap handles
Exercise placard
Pull up handles
Yup, that's it.
And I'm not even sure the pull up handles even really count as an included attachment- I just included 'em to be nice.
So yea, REP doesn't include many handles or attachments with this trainer and that's probably the biggest disadvantage of opting for this machine.
Some trainers come with a lot of handles (like XMark's Functional Trainer), others don't.
At least REP does include a pair of standard handles to get you started. You can use these handles to perform any standard pulling/pushing exercise you can think of.
But you'd have to purchase any tricep ropes, curl bars, or sports bars separately.
Assembly
Putting the FT-3000 together isn't the most complicated task in the world, but it's still a functional trainer- which means there are cables that'll need routing.
But luckily REP does a solid job of making the process as painless as possible.
The 2 sides of the frame come pre-assembled, so all you really have to do with them is attach the connecting bars and pull up handles to them.
Then it's all about attaching the upright columns for the pulleys, putting the pulleys on those uprights, and inserting the weight stacks.
The most time consuming part will likely be routing the cable through the pulley system and unfortunately, you have to do this part 2x.
REP recommends removing some of the pulleys first because it makes it easier to fit the cable through some of the tight spots.
If you purchase the FT-3000 and decide to assemble yourself, it's quite doable, but it's a good idea to have a second set of hands around to help hold stuff in place.
It'll definitely make your job easier.
All things considered, fairly handy folks shouldn't have any issues putting this trainer together. Expect to spend at least 2 hrs getting the job done.
Warranty
REP Fitness backs their FT-3000 Compact Functional Trainer with the following residential warranty:
Lifetime frame
1 year parts
See, I told ya REP doesn't mess around with their warranties.
A lifetime frame warranty speaks for itself – that's as long as they come.
A year on parts is pretty standard and is what a lot of other comparable gyms offer as well (like XMark).
By the way, that parts warranties covers all the pulleys, pins, hardware, and cables.
Overall, I have zero complaints about this warranty.
Final Thoughts
Ok, that's about all I got when it comes to REP's FT-3000.
All things considered, I'm very impressed. I think this gym has a lot to offer, especially for folks looking for a trainer that won't take up much floor space.
This gym is heavy-duty, compact, and versatile.
True, there are trainers out there that offer more resistance, but I can't think of any off the top of my head that offer more and are this compact.
The biggest downside is that REP doesn't include many accessories with purchase, but to be fair, handles aren't that expensive anyway and can easily be purchased down the road as needed.
And on the plus side, REP offers a great residential warranty on this gym.
Overall, if you're looking for a commercial grade trainer that'll fit in a corner, REP's FT-3000 is a top choice. Easily one of the best compact functional trainers around.