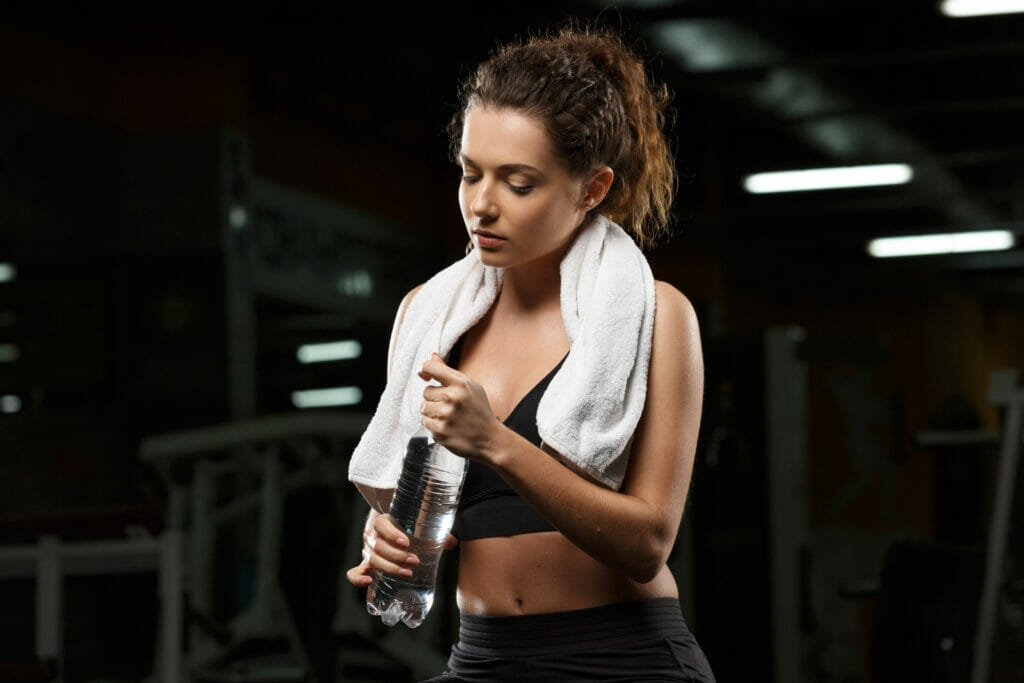 The Pinnacle is one of Total Gym's more affordable models, but it still has a lot to offer for a gym system in this price range.
Like all Total Gyms, the Pinnacle offers nearly unparalleled exercise variety, allowing folks to perform dozens of upper body, leg, and core moves without the need for multiple pieces of equipment.
And with 8 resistance levels, it offers a reasonable level of adjustability and will be able to challenge users of all skill levels.
But one of the key factors that really differentiates one Total Gym from the other is the specific attachments included with purchase – and when it comes to attachments, the Pinnacle scores pretty highly.
Yup, with the wing attachment, dip bars, squat stand, and leg pulley included with purchase, the Pinnacle comes equipped with most of Total Gym's most popular accessories.
All things considered, I think the Pinnacle is a pretty good deal, but it really depends on the price because the Apex Total Gyms are very similar and might be a better buy.
But I'm getting a little ahead of myself here.
In this detailed review, I'll go over everything the Pinnacle has to offer, but I'll also go over how Total Gyms work in general – I'll also compare the Pinnacle to a few other similarly-priced Total Gyms so you can see how they compare.
After reading, you'll know whether or not it makes sense to invest in the Pinnacle.
The Total Gym Pinnacle
Total Gym's been around for a long time and I've been a fan ever since I got the chance to use 'em in my orthopedic therapy days (looking back, I'm pretty sure we had a Fit in our clinic).
For therapy purposes, they make a lot of sense because they're low impact, easy to adjust, and versatile enough to offer a lot of different exercises.
Honestly, we ended up using our Total Gym mostly for squats and rows (rehabbing hip/knee/shoulder patients), but we could've certainly taken advantage of a lot of the other exercises available to us.
Anyway, Total Gym has come out with a lot of different models over the years.
A lot of the earlier models have been discontinued and are no longer readily available, but there are still a ton of Total Gyms to choose from.
The Pinnacle we're here to discuss now is one of the budget-friendlier models and can be purchased through retail sites like Amazon (and Sam's Club too I believe).
Total Gym only sells their higher-end, more expensive models directly these days, so you won't find it on their primary site, but that doesn't mean it isn't still a quality gym.
As I'm writing this, Amazon is selling the Pinnacle for ~$375, but you may be able to find it cheaper through eBay (be careful buying previously used equipment) or Sam's Club (if you're a member).
Pros
Ton of exercise variety
Low impact
No assembly
Folds away for storage
Nice selection of included accessories
8 levels of resistance
300 lb weight capacity
Flip chart included
Exercise guide and beginner's DVD included
Reasonably-priced
Cons
Only a 1 year warranty
Apex G3 may be more affordable
Exercises
One of the biggest perks of going with a Total Gym, any model, is that they all offer a ton of workout options.
And unlike a lot of other gym systems, you don't have to waste time changing out a lot of accessories, adjusting J-cups, or loading up plates.
With means you can switch from one exercise to the next rapidly, cutting down on rest time and keeping you keep your heart rate up higher throughout your workout.
These days, I'm all about efficiency and getting the most bang for my buck in the least amount of time, so this time-saving aspect speaks volumes to me.
Anyway, with a set of pulleys, a slide board, and a few attachments, the Pinnacle offers folks the ability to do 70+ exercises.
FYI, I didn't see any specifics regarding the number of available exercises provided for this model, but based on the attachments it comes with and the info provided for other models, '70+' should be accurate.
This is a lot of exercises.
This long list of moves includes classic exercises like pec flys, overhead pulls, tricep extensions, bicep curls, and squats, but it also includes a lot of moves we may not think of.
Like trunk rotations, sit-ups, pull ups, shoulder presses, hip abduction/adduction, and more.
The Pinnacle also allows you to work both arms/legs at the same time or isolate and do them separately, which is nice (and I think Total Gym counts these all separately, which helps 'em really jack that exercise count up).
Regardless, there's not much you can't do with a Total Gym… although as I think about it, I'm not sure how you'd perform a deadlift…
And you can rest assured that whatever exercise you're doing will be low-impact because the sliding board and pulleys offer a smooth motion in any plane.
When thinking about exercise variety on these Total Gyms, it really comes down to the number of included attachments that come with it, which I'll go over in a second.
But overall, the Pinnacle scores highly with its ability to offer a versatile, full-body workout.
Resistance Levels
The number of exercises each Total Gym offers varies a little, but they all offer a ton of options – so something that's probably more important to look for is the number of resistance levels that it comes with.
All Total Gyms are designed to use your body weight as the resistance, so there are no weights to be adjusted or anything like that.
But the resistance can still be adjusted by changing the height (angle) of the slide board.
Adjusting the height of the slide board up increases the percentage of your bodyweight you're lifting with each move; lowering it does the opposite.
This is all because of gravity – the lower the board is, the more horizontal your movement is and the less you have to fight gravity.
Anyway, different models come with differing levels of resistance (height adjustments) and if you ask me, having more levels is always a good thing.
With more resistance levels, you can make smaller adjustments to your resistance, making it so you don't have to make big leaps in resistance.
Making bigger leaps might not be a big deal with some exercises (like squats), but it could be an issue with other moves (like tricep extensions or overhead pulldowns).
With all of this in mind, consider that the Pinnacle comes with 8 resistance levels.
This is pretty good, considering all Total Gyms (except for the GTS and its 22 levels) come with either 6, 8, 10, or 12 levels.
There were a few older, numerically-named models that also offered 8 levels, but they've all been discontinued, so the Apex G3 is really the only other Total Gym I'm aware of at the moment that's also offering 8 resistance settings.
The Apex G3 is very similar to the Pinnacle, both in price and features, so it should be considered before deciding on the Pinnacle, but more on that later.
Overall, 8 resistance settings is good for a Total Gym in this price range and it will give users a reasonable amount of settings to work with.
FYI, height adjustments are performed by putting one foot down on the gym's crossbar to hold it in place, while releasing the Quick-Release Pin and moving the rail up to its desired setting.  The pin will lock in place and then you can insert the safety hitch pin to ensure it doesn't move on ya.
Attachments
Ok, let's talk attachments.
All Total Gyms operate the same way, in that they all use a sliding board and pulleys, but the specific attachments each model comes with will vary.
And as I mentioned earlier, it's the number of attachments included that really determines how much exercise variety you get.
The Total Gym Pinnacle comes with the following included attachments:
Standard squat stand
Wing attachment
Dip bars
Leg pulley
Flip chart
Get started DVD
Exercise guide
Ok, if we ignore the flip chart, DVD (ha, yes, they still apparently use DVDs) and the exercise guide, the Pinnacle really comes with 4 included attachments.
The squat stand is a key one because it lets you do various squats and lunges and not all Total Gyms include one.
There are several squat stands to choose from and the 'standard' stand is rectangular in shape and average sized (as opposed to the upgraded oval or padded squat stands).
The wing attachment is another important one – it can attach to the top or bottom of the frame and allows you to do moves like pull ups, shoulder presses, leg curls, etc.
The dip bars are another favorite because they allow you to do dips with the Total Gym and the leg pulley gives you the option to do various hip strengthening moves like hip abduction, hip adduction, flexion, extension, etc.
The flip chart is a quick reference exercise guide that sits right on top of the Pinnacle's frame, giving you ready access to it during workouts.
And the beginners DVD and exercise guide are included to give folks additional resources to help 'em getting started with their workouts.
Overall, I think this is a nice combination of attachments, given the Pinnacle's asking price, but I do want to mention that the Apex G3 comes with identical attachments.
Oh, and by the way, if you purchase these Total Gym attachments separately, you can expect to pay anywhere from $60 – $90 a piece.
Assembly
A great feature about the Pinnacle (and most of the other Total Gyms for that matter) is that they don't really require any assembly.
You do have to unfold them and click a few pull spring pins into place, but that's it.
There isn't any screwing or bolting components together and no tools are necessary.
That said, you do need to pay attention to what you're doing and take your time because you can pinch a finger if you're not careful.
Overall though, the Pinnacle should be easy for most users to unfold and get set up and after a few trials, you'll be a pro.
Weight Capacity
The Total Gym Pinnacle comes with a 300 lb weight capacity, allowing it hold folks of all sizes.
Some of the higher-end, more robust Total Gyms come with higher weight limits, but 300 lb is standard for their budget-friendlier models.
And I think it's pretty good, considering the Pinnacle only weighs about 53 lb.
But again, if you're looking for a higher weight limit, check out some of the higher-end models (you can see a complete comparison of the different Total Gyms in my full guide).
Warranty
The Total Gym Pinnacle is covered with the following home warranty:
Yeah, not a particularly extensive coverage for this home gym, but for the price, we shouldn't realistically expect much more.
All of Total Gym's more affordable models (including all the Apex models) come with the same single year warranty.
If you're looking for a longer warranty, you'd have to go with one of the more expensive Total Gyms, which offer lifetime frame guarantees and up to 2 years on parts.
But luckily, these Total Gyms (even the affordable ones) usually hold up pretty well.
There aren't a ton of moving parts to break down on ya anyway – the simple design means there's less chance for things to go wrong.
Overall though, the warranty on the Pinnacle is pretty short.
Final Thoughts
Ok, that's about it for the Total Gym Pinnacle.
The Pinnacle is one of the most affordable Total Gyms still on the market and even so, I think it comes with a nice combination of features and accessories.
8 resistance levels and 4 attachments is pretty good for this price range – and I must say, I like the gold and black design on the slide board.
But it all boils down to price because the Apex G3 is pretty identical to the Pinnacle.
The Apex G3 also comes with 8 resistance levels and it too comes with the squat stand, wing attachment, dip bars, and leg pulley.
And it comes with the flip chart and bonus guides as well and has the same assembled weight and weight capacity.
And as I'm writing this, the Apex G3 is selling for ~$300 on Amazon, making it about $70 cheaper than the Pinnacle.
The only real difference I see between these 2 gyms is the color scheme – granted, I prefer the Pinnacle's gold and black to the G3's blue and black, but that's not worth $70 to me.
It's also worth noting that the Apex G5, which comes with 10 resistance levels, a 375 lb weight limit, and the upgraded oval squat stand, is priced very similarly to the Pinnacle as well.
The G5 is obviously an upgraded model, so if their prices are basically the same, I'd say the G5 makes more sense.
So again, I think it would be smart to compare the prices of the Pinnacle, the Apex G3, and the Apex G5 closely before making any decisions.
Overall, I like the Total Gym Pinnacle, but ultimately it comes down to which one of these gyms has the best price.