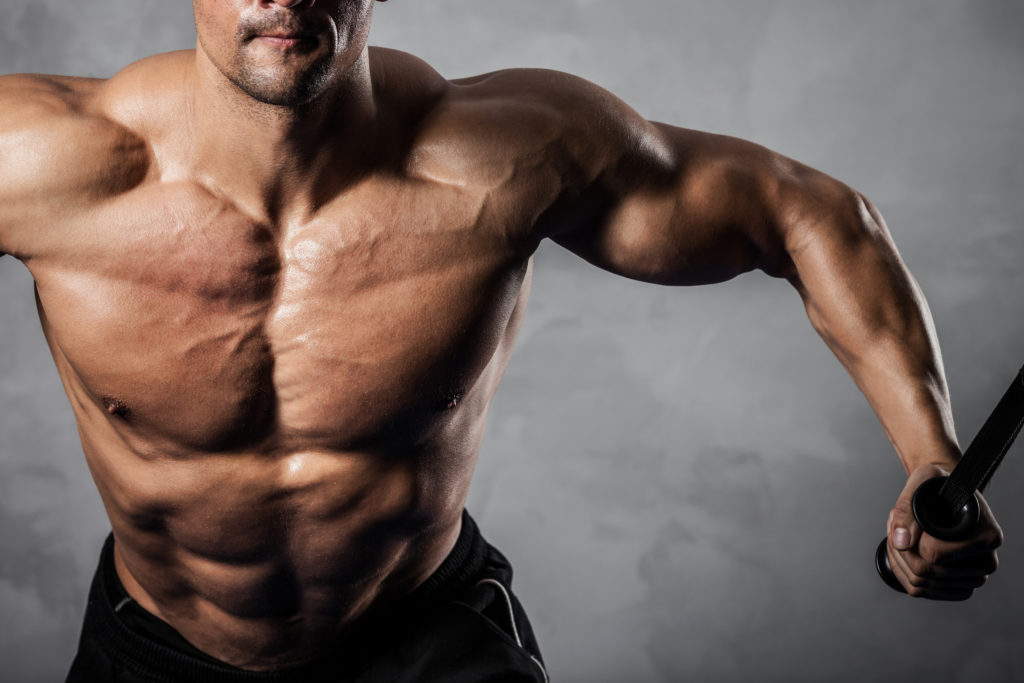 The GTS is Total Gym's highest-end, most robust, best-of-the-best model they offer to date. It's basically the Ferrari of the Total Gym world.
As their top model, it comes with the most exercise options, the highest weight capacity, the most attachments, and the best warranty.
Simply put- it's a commercial grade machine that can pass as a home gym.
If you're looking for the ultimate Total Gym experience, the GTS is it. But is this really the right home gym machine for you?
This review is here to help you figure that out.
In this review, we'll take a look at everything the GTS has to offer. We'll take a close look at all the pros, the cons, and everything else in between GTS related.
After reading this, you'll be able to make an educated decision regarding whether or not this is the right choice for your home gym.
I want to start this review with a quick intro on Total Gym in general.
Total Gym 101
The Total Gyms have been around for like 30 years or so. I've personally used them in the past as a physical therapist working in an outpatient orthopedic clinic.
They work especially well for rehab clinics because they provide low-impact exercises for your whole body.
I remember using them a lot when rehabbing knees and hips- the squat exercises were especially convenient because we could gradually increase the intensity.
Simply increase the height of the base and the amount of body weight being lifted increases.
We used them a little for shoulders too- I recall having patients do rows on the Total Gym as well. The patients seemed to enjoy it and it offered a dynamic version of the common exercise.
All Total Gym models work the same and the general idea behind them is really pretty simple.
You have a sliding board on an adjustable height base with 2 pulley systems attached. With this simple set up you can perform literally hundreds of exercises (depending on the attachments).
The biggest differences between the different Total Gym models has to do with how robust the frame is, how many attachments are included, and how many resistance levels there are.
The robustness (is that a word?) of the frame is evident by the weight capacity. Cheaper models have less robust frames and thus, lower weight limits. Higher-end models have stronger frames and much higher weight capacities.
Since the whole system is based on body weight and gravity, you can increase or decrease the intensity of any exercise by adjusting the height of the base (higher height means you're fighting gravity more = more resistance).
Different models come with different amounts of resistance levels. Higher-end models tend to offer more levels of resistance.
The attachments give you a lot of exercise variety and the more you have to choose from, the more exercise variety you get. As you might expect, the higher-end models usually come with more attachments and more exercise options.
That's a quick intro for ya. If you'd like a little more info or are looking for a comparison between all the different models, check out my Total Gym guide.
The Total Gym GTS
The GTS (Gravity Training System) is Total Gym's highest-end model. This gym is designed to withstand the stresses of daily use from multiple users as you might expect in a therapy clinic or small gym, but it would work just as well for someone looking for an advanced home gym.
Pros
Amazing exercise variety (over 200 exercises)
Can perform plyometric exercises as well
22 resistance levels
Ton of accessories
Includes workout DVD and exercise guide
Professional assembly included
650 lb weight capacity
Folds for storage
Cons
Price
Lackluster warranty
Exercises
One of the biggest benefits of going a Total Gym system is the incredible exercise variety. Even the most basic Total Gym models offer upwards of 60 different exercise variations.
The GTS one-ups all the other models with an astounding selection of over 200 different exercises.
I'm not gonna lie- I doubt I could sit here and come up with 200 different exercises to perform. Luckily, the GTS comes with an exercise manual that is full of examples.
The GTS has a few advantages that really increases the workout possibilities. First of all, it comes with a lot of different attachments (we'll get to the specifics down below).
Second, it gives you the option of doing jumping (or plyometric) style exercises- something the other Total Gyms can't.
It also comes with a weight bar that allows you to add weight plates if you like. You don't have to do this if you don't want to, but it's a great addition to the Total Gym system.
Adding plates to exercises like pull ups or squats gives you the ability to really crank up the resistance, making the GTS a more accomplished strength training device.
Overall, the GTS offers a ton of workout variety. I can't think of any home gym that offers more.
Resistance Levels
I mentioned earlier that the resistance on these machines are adjusted by increasing or decreasing the height of the base the sliding board slides on.
The other models come with anywhere between 6 – 12 different resistance levels.
The GTS on the other hand, comes with 22 different levels of resistance. This gives you complete control over the intensity of your workouts. Which comes in especially handy for people who have achy joints or are rehabbing a specific body part.
You can gradually increase the intensity of your workouts over time. You don't have to worry about making any drastic jumps in intensity level between adjustments.
Overall, the GTS gives you the most control over your workout. With 22 different resistance levels, you have 10 more intensity options than any other Total Gym model.
Oh, I should point out that making these resistance level changes are easier than ever with the built-in hydraulic assist system. This makes increasing or decreasing the resistance a piece of cake.
Attachments
The GTS comes with more attachments than any other model. The GTS comes with the following attachments included:
Soft grip lat bars- these bars can fold in and out of place for easy use, giving you the ability to perform pull ups
Telescoping squat stand- this upgraded version of the squat stand gives you 3 different height adjustments as well as a non-skid tread for better grip. As mentioned above, it's designed to withstand the forces of jumping
3 grip pull-up bar- this attachments gives you more variety on your pull up grip, allowing you to target different muscle groups
Scrunch- this is their abdominal attachment, gives you the ability to perform a wide variety of core moves
Weight bar- this is the attachment I alluded to earlier. With this bar, you can add external weight plates to increase the intensity of any move
Squat handle bar- this attachment gives you something to hold onto during your squat moves. This is a nice attachment for folks who feel a little uncertain about exercising on the moving board- adds a little stability to your squats
Press bar- this attachment gives you the ability to perform military press type exercises
Retractable dip bars- dips are one of the best strengthening exercises you can do (for your pecs and triceps) and this attachment makes it convenient to do from your Total Gym
Assembly
The GTS is the only Total Gym model that requires some assembly. The other models you can simply take out of the box and unfold. This isn't the case with this bad boy.
Luckily, Total Gym includes professional assembly in the price (unfortunately shipping isn't included).
Total Gym reports the average wait time from ordering the GTS, to delivery, to professional assembly is 2-3 weeks.
If you wanted to have a go at putting this gym together by yourself, you may be able to if you are fairly handy. Most of it is already assembled, you really only have to attach the lat bars, put the squat stand together, and add some handles.
It's not super complicated, but considering the size and weight of this machine, it's nice that Total Gym throws in professional assembly.
If you're considering this home gym, make sure you have enough workout space. The GTS is a large machine that takes up a lot of floor space (about 9′ long when unfolded). Luckily, it does fold for storage, which can save you some space when it's not being used.
Weight Capacity
The GTS has a max weight capacity of 650 lb. This is 200 lb more than the FIT, their second most impressive home gym.
This is a massive weight limit for a home gym and indicative to how strong and durable the GTS's frame is. Just keep in mind this weight capacity includes any weight plates you add to the weight bar.
For example, if I weighed 350 lb, I wouldn't be able to put more than 300 lb of weight on the weight bar.
Warranty
The Total Gym GTS comes with the following warranty:
5 year frame
1 year parts
90 day rubber and upholstery
For the price of this gym, I'd expect a better warranty. Especially since the Fit and XLS both offer lifetime frame guarantees. My only guess for the short frame warranty here is that Total Gym can only vouch for so long the idea of larger users jumping on this unit.
The parts warranty is also shorter than expected here.
Overall, this warranty could use some work.
Final Thoughts
The Total Gym GTS is by far their most impressive home unit to date. It comes with the most resistance levels, the most attachments and by far the highest weight capacity.
This thing really is a beast of a home gym system- I'm in awe of what Total Gym has created here.
The GTS offers a mind-blowing selection of exercises and even gives you the ability to add weight plates for extra intensity.
I also like that you can perform plyometric style jumping moves on the squat stand- pretty cool.
My biggest complaint with this model (other than the asking price) is the short warranty. Considering the price and quality of the gym, I think it's fair for us to expect a better guarantee.
So is the GTS worth buying? If you've used other Total Gyms in the past and are looking for their best option, than I'd say yes. This is definitely a great home gym and easily their most advanced product.
If you've never used a Total Gym before, I would recommend going with a more affordable model first to make sure you like it.