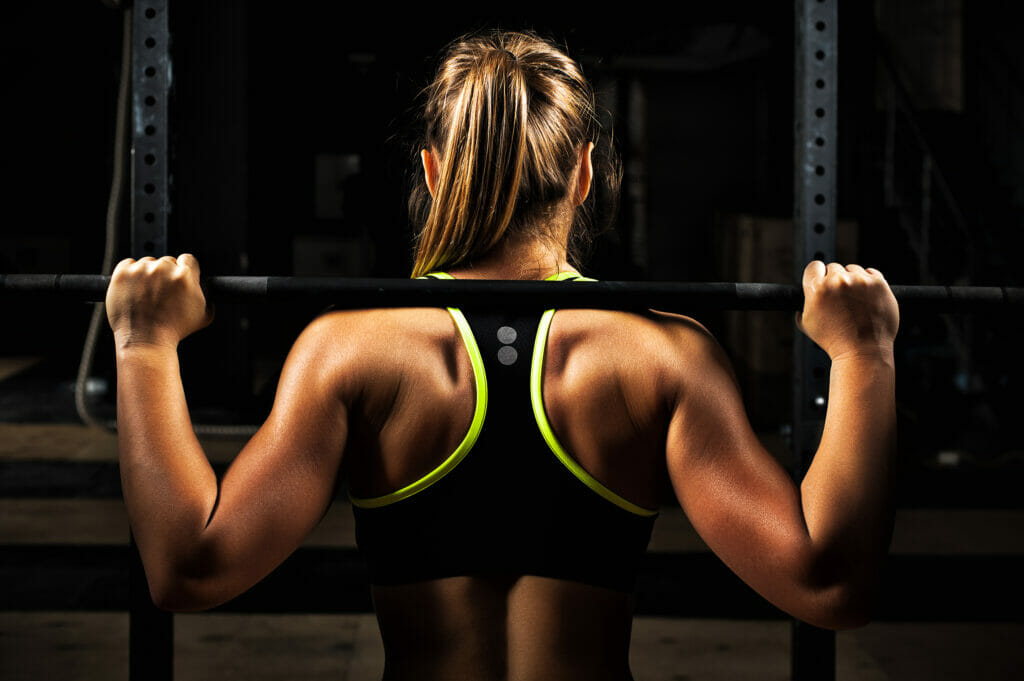 Titan's T-3 Series Power Rack is an affordable, customizable rack that's designed with beginning to moderate level lifters in mind.
But let's be real, there are a lot of budget friendly racks to choose from these days- the real question is whether or not there's anything that really sets the T-3 apart from all the competition?
Yes, there sure is.
The most notable difference between the T-3 and pretty much any other rack in this price range is that the T-3 is constructed out of thicker, 11-gauge steel.
This heavier-duty frame allows the T-3 to safely rack up to 1,100 pounds, which is kind of insane for a $500 home gym.
Other awesome features include Westside hole spacing, the ability to bolt to the ground, and compatibility with several attachments.
Long-story-short: I think the T-3 is probably the best power rack in this price range.
If you're interested in the longer story, keep reading.
In this review, I'll go over everything the T-3 has to offer, including where it falls a bit short. After reading, you'll know whether or not this is the right power rack for your home gym.
The Titan T-3 Series Power Rack
If you research Titan Fitness, you're going to find a wide range of opinions regarding this brand.
Some people love and swear by them, others hate them with a passion.
The biggest complaint people seem to have about them (or at least the ones that've had bad experiences with 'em) comes down to quality control.
Plenty of folks have complained about missing parts or broken parts on arrival and things like that. And yes, that can be really annoying, especially when you're excited to get your new rack.
But the important thing to keep in mind when purchasing a budget rack like this is that you have to have realistic expectations.
I mean, there are reasons why some racks are budget and cost less than others.
And unfortunately, quality control and customer service aren't always the best when dealing with budget brands.
And there's no denying the fact that Titan is, without a doubt, a budget brand- they specialize in affordable racks and accessories.
You'll hear me say throughout this review that the T-3 is a great rack "for the price", meaning it holds its own well when compared to other budget racks.
But let's be real, it can't hold up when compared to the more expensive, elite home power racks.
But again, it's unfair to assume that it could- expensive racks are expensive for good reason.
Ok, now that I got that off my chest, let's talk about the T-3.
The T-3 is one of Titan's mid-range racks. It's more expensive than their entry-level T-2, but not quite as expensive as their higher-end X-3.
The cost for the T-3 depends on the height and depth that you choose, but expect to spend around $500 for this rack.
Pros
2″ x 3″ uprights
11-gauge steel
1,100 lb rackable capacity
Westside hole spacing
Can be bolted to floor
Can choose height/depth of rack
Pair of J-hooks included
Dual pull up bars
Compatible with a ton of attachments
Affordable
Cons
No safety bars included
Short warranty
Uprights
Power racks by design are very simple pieces of equipment. They're really just steel cages with a few hooks and bars that can hold barbells.
Not a lot of sophisticated machinery and features to discuss.
But, as simple as they are, it's important to pay attention to the fine details because they are what separate the quality racks from the rest.
And when it comes to power racks, no detail is more important than the uprights.
As you probably guessed, the uprights are the vertical posts.
And these posts are so important because they are responsible for bearing any and all weight you place on your rack.
Having larger, heavier-duty uprights makes for a stronger, more stable rack.
Uprights for home racks come in different sizes and the thickness (gauge) of the steel used to make them varies too.
In terms of size, you'll see posts with dimensions like 2″ x 2″, 3″ x 3″, 2″ x 3″, or really anything between.
Most racks under $500 come with 2″ x 2″, 14-gauge steel uprights that can handle a max weight of 700 – 800 lb.
That's actually pretty good.
But consider that the T-3 comes with 2″ x 3″, 11-gauge steel uprights that can safely handle a max weight of 1,100 lb.
The uprights on the T-3 are larger, but they're also considerably thicker (keep in mind that when it comes to steel, lower gauges refer to thicker metal).
I don't want to exaggerate, but I'm pretty sure I've never seen another rack this affordable with 11-gauge steel uprights.
And of course the difference is obvious when looking at the weight limit on this rack.
I know most of us will never come close to lifting 700 lb, let alone 1,100 lb, but something to consider is that a heavier-duty rack will feel more stable (and wiggle less) than a lighter-weight rack.
So, even if you never come close to that weight limit, having a bulkier rack is beneficial because it'll feel more secure with all lifts.
The construction of the T-3 is its biggest benefit, but it comes with a few more nice features worth mentioning.
Like Westside hole spacing (1″) in the bench zone and the ability to bolt down to the floor (which Titan recommends), both of which are features most racks in this price range don't offer.
The only thing missing are numbered holes to make adjusting your bars easier, but that's not a huge deal.
You get to choose the height (82″ or 91″) and depth (24″ or 36″) when purchasing the T-3.
24″ is a pretty narrow cage, so if your budget allows for it, it's highly recommended to go with the 36″ depth- you'll appreciate the extra space (and it's only an extra $40).
Overall, the T-3 scores very highly when it comes to the uprights.
The fact that they're 2″ x 3″ and made out of 11-gauge steel sets them apart from all the smaller, thinner uprights used on most racks in this price range.
Attachments
A quality power rack can grow and expand over time through the addition of extra attachments. Different brands offer varying amounts of attachments and there will be plenty of similarities between brands.
That said, Titan's T-3 is compatible with a ton of different attachments.
But let's start with the one's that are included with purchase:
Dual pull up bars (1.25″ and 2″)
Pair of J-hooks
Ok, so yeah, that didn't take very long.
The only thing missing that I'd expect them to include is a pair of safety bars, but their pin and pipe bars are sold separately.
You'll also notice that no barbells, weights, benches, or spring clips are included either, so you'd be responsible for this gear as well.
Here's a quick rundown on some of the other compatible attachments for the T-3, but for a complete list it's easier to just check out Titan's website:
Weight holder extension
Spotter arms
Safety straps
Pin and pipe safety bars
Weight plate holders
Lat tower
Adjustable lever arms
Dip attachment
Leg press station
Barbell storage
Monolift attachments
Landmine station
Various pull up bars
As you can see, you can add a lot of variety to the T-3. Over time, you can gradually expand your home gym as your needs justify.
The ones that really stand out to me are the leg press station and the monolift attachments because a lot of racks don't offer those attachments.
Titan offers a lot more attachment options than REP Fitness does and comes close to the amount of customization found on Force's MyRack Modular System.
Overall, if you like the idea of your rack having room to grow, I think you'll be happy with the amount of attachments the T-3 is compatible with.
Warranty
Titan backs their T-3 Series Power Rack with the following residential warranty:
Yeah, that's pretty weak.
I think it's safe to say the warranty is the T-3's Achilles heel.
Even as budget racks go, this is a really short warranty.
Luckily, there isn't that much that can really go wrong with a power rack like this.
It's all made of steel, so you really only have to worry about something bending or breaking, both of which is highly unlikely if you stay within the weight limits.
Still, it'd be nice to see a lifetime frame warranty.
Overall, the short warranty is the biggest downside I see to choosing this rack.
Final Thoughts
Ok, that about does it for Titan's T-3 Power Rack.
The fact that this rack is constructed out of 11-gauge steel sets it apart from any other rack I've seen in this price range.
The uprights are also larger (2″ x 3″) than the 2″ x 2″ uprights found on similarly priced options.
I also like that it comes with Westside hole spacing and the ability to be bolted down to the floor.
It's also pretty cool that you can choose your height and depth, allowing you to customize to your needs and space requirements.
The biggest downside I see is that short warranty.
It would also be nice if Titan included a pair of safety bars with purchase.
Overall though, regardless of your thoughts on Titan as a brand, it's hard to deny that their T-3 packs a ton of value into such an affordable rack.
And if you ask me, it's the best power rack $500 can get ya. Highly recommended.