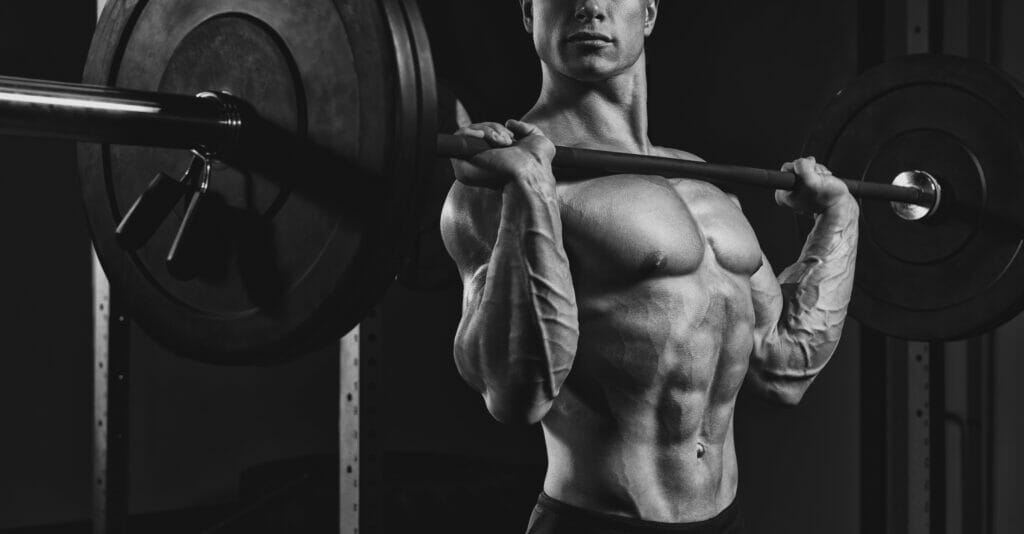 Titan's X-3 Series Flat Foot Power Rack is a perfect example of what an affordable home rack can (and should) offer.
With heavy-duty, 11-gauge steel construction and large, 3″ x 3″ uprights the X-3 rack can handle even the most gifted power lifters out there.
And by that, I mean the X-3 comes with a rackable capacity of 1,650 lb, which is an insane amount of weight.
Other notable features include Westside hole spacing in the bench zone, dual pull up bars, and a pair of included J-hooks.
The X-3 isn't perfect though, it does come with a really short warranty.
But even so, if you're looking for an affordable power rack that's built-tough and doesn't have to be bolted down, Titan's X-3 is a solid choice.
In this review, I'll go over all the specs and features this rack has to offer. I'll also make sure to point out where it falls a little short (like that warranty).
After reading, you'll know everything you need to in order to decide for yourself whether or not the X-3 is the right rack for your home gym.
Let's begin.
The Titan X-3 Series Flat Foot Power Rack
Titan Fitness specializes in affordable lifting gear.
They offer a solid lineup of power racks, squat stands, and all the accessories you need to use that stuff at home.
Titan doesn't always get all that much respect from power lifting purists because their equipment is manufactured in China and their quality control hasn't always been the strictest.
Fair enough.
But let's be real- that's why Titan gear is more affordable to begin with.
Titan is a budget brand, first and foremost. And I don't get the impression they're pretending to be something they aren't.
That said, I think they're one of the best budget brands out there when it comes to power racks and lifting gear.
Plus, where else can you get an 11-gauge steel rack for $600?
Moving on.
The X-3 Series is Titan's second highest-end power rack with only their Titan Series Rack being ahead of it.
With the X-3, you can choose between the flat foot model I'll be going over here or their bolt-down model.
The only real difference between them (other than the ability to be bolted-down to the floor) is that you get to choose the width of the bolt-down model.
At the time of writing this, the X-3 Flat Foot costs between $600 – $700, depending on which height you choose.
Pros
3″ x 3″, 11-gauge steel uprights
1,650 lb rackable capacity
Doesn't have to be bolted down
Dual pull up bars
Pair of heavy-duty J-hooks included
Westside hole spacing
Ton of attachments to choose from
Choice of rack height
30″ depth
Very affordable
Cons
Short warranty
No safety bars included
Uprights
When it comes to power racks, it's all about the uprights.
The uprights, as you probably guessed, are the vertical posts and they're responsible for bearing all the weight you plan on putting on your new rack.
And since a rack's only real job is to hold weight, having thicker, larger uprights is a good thing because they can hold more weight safely.
Having bigger uprights is a good thing too because larger uprights make for a more stable rack- meaning it won't move around as much when racking/un-racking the barbell.
The uprights on home power racks come in various sizes, but most will come with 2″x2″, 2″ x 3″, or the largest 3″ x 3″.
The physical size of the uprights is key, but so is the thickness of the steel used to construct them- also known as the gauge.
Home racks usually come in 3 steel gauges: 11-gauge, 12-gauge, and 14-gauge.
Now keep in mind that when it comes to gauges, lower numbers refer to thicker steel- meaning that 14-gauge steel is the thinnest material used to make home racks (and 11-gauge is the thickest).
With all of this in mind, consider that the X-3 comes with 3″ x 3″, 11-gauge steel uprights.
This means this rack has the largest and thickest uprights we can expect from a residential rack.
This combination allows the X-3 to safely rack up to 1,650 lb. I don't know about you, but I can't lift half that (or a quarter of that if I'm being really honest).
Heavy-dutiness aside, the uprights on this rack also come with 2″ hole spacing at the top (squat positioning) and Westside spacing (1″) in the bench zone for more control over your bar placement.
As the name implies, this rack isn't designed to bolt down to the floor, so you won't have to worry about messing with that.
If you're interested in a bolt-down version, Titan offers an X-3 Bolt Down Rack too for very little difference in cost.
On the flat foot model, you can choose between an 82″ height or a 91″ height depending on your ceiling and overall needs. The width and depth for the X-3 doesn't change.
Speaking of depth, the X-3 is 30″ deep, giving you a little more room than the 24″ depth a lot of other affordable racks offer.
Overall, the X-3 scores very highly with 3″ x 3″, 11-gauge uprights with Westside spacing (features few racks in this price range offer)
Attachments
The integrity of the uprights is easily the most important feature to consider for a power rack, but you'll also want to think about the variety of attachments you'll be able to use over time.
Some power racks are compatible with loads of attachments, allowing them to grow and expand with time.
Others, not so much.
Let's start with the attachments the X-3 comes with first:
2 standard pull up bars (1.25″ and 2″)
2 J-hooks (UHMW plastic covered)
Yup, that didn't take long.
Ok, so the X-3 doesn't come with much- really just the rack itself a pair of J-hooks.
The J-hooks it comes with though, are pretty nice. They're better than the cheap, straight hooks that aren't  covered in plastic and that can scratch up your bar.
It would be nice if the X-3 included a pair of safety bars and some weight storage, but no, those have to be purchased separately.
As would any barbells, weight plates, benches, and spring clips you might need.
Let's move on and see what kind of attachments the X-3 is compatible with (sold separately):
Extension kit
Weight plate holders
Pin and pipe safety bars
Spotter bars
Safety straps
Youth pull up bar
Lat tower
H-PND attachment
Muscle roller
Pulley add-ons
Barbell hangers
Adjustable lever arms
Leg press attachment
Dip handles
Battle rope anchor
Step up platform
Various pull up bars
That' a long list of attachments and I skipped several that weren't that interesting.
The point is, the X-3 is compatible with a ton of attachments that could be added gradually over a few years to expand and grow this rack into a complete home gym system.
It would be nice if this rack came with a few additional attachments with purchase, but at least it's nice that it's compatible with so many options.
Warranty
Titan Fitness backs their X-3 Series Flat Foot Power Rack with the following residential warranty:
Yeah, they only cover this thing for a year- pretty weak.
To be fair, there's not a lot on this rack that could really break down. I mean, it's just a few 11-gauge steel uprights and a few steel cross bars.
Steel is steel, pretty hard to destroy.
The most likely issue you'd have would be with something arriving damaged or missing, in which case you'd still be under warranty.
But still, it would be nice to see a longer warranty.
I think the weak warranty is the X-3's biggest flaw, but again- there are reasons why budget racks are budget in the first place.
Final Thoughts
Ok, that's all I got for the Titan X-3 Series.
I think this rack has a lot going for it.
It's awesome that it comes with 3″ x 3″, 11-gauge uprights and that it's able to hold such a huge amount of weight.
It's also awesome that it comes with Westside spacing in the bench zone- these are features that you shouldn't take for granted in this price range.
It's also nice that you get a little extra room inside the cage (30″) and that you can choose your height depending on your space requirements.
The biggest downside is that short warranty, although it would also be nice if Titan included a pair of safety bars with purchase.
Otherwise, I don't have much to complain about here.
I like that you don't have to bolt this rack down and I like that Titan offers such a large selection of optional attachments to choose from.
All things considered, I think the X-3 Series Flat Foot Power Rack is easily one of the best racks in this price range.