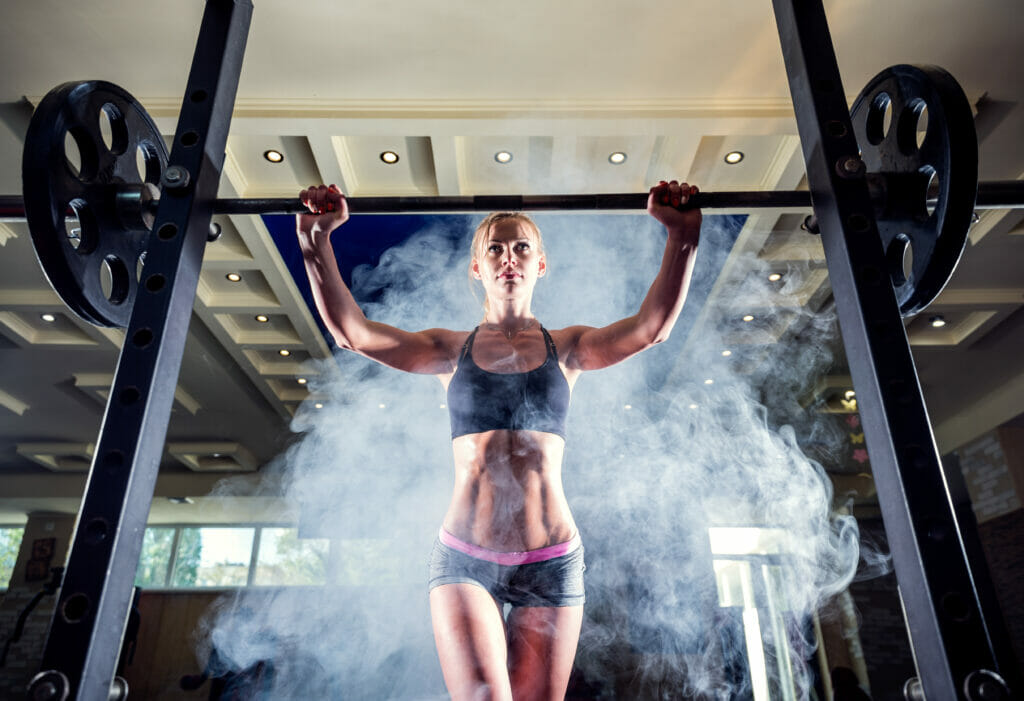 If you're looking for an affordable home power rack, few have as much to offer as Force USA's MyRack Modular system.
As the name implies, the MyRack is customizable, allowing you to choose from 20 or so attachments to pick (and pay for) only the ones you want.
And with 2.4″, 12-gauge steel uprights and a 2,000 lb static weight capacity, the MyRack is tough enough to handle the weights most of us home gymers will be racking up.
This affordable power rack is also backed by a lifetime warranty, something you rarely see in this price range.
Long-story-short: I think the MyRack is one of the best power racks in this price range.
But if you're interested in the longer story, you'll have to keep reading.
In this review, I'll go over everything the MyRack has to offer. After reading, you'll know whether or not this is the right piece of equipment for your home gym.
Off we go.
The Force USA MyRack Modular Power Rack
Force USA's only been around since the early 2000's, but in that time they've made a name for themselves with their quality racks and all-in-one trainers.
The MyRack is really the only traditional power rack they offer at the moment, although they also offer a folding version that can fold away for storage when not in use.
Power racks, in general, are really simple devices when you think about it- I mean they're basically just frames designed to hold barbells.
This can lead one to think they're all built the same, but that's not true.
When comparing power racks, you'll notice quite a bit of differences in certain specs, like the size and thickness of the uprights, the amount of weight they can hold, and the amount of attachments they're compatible with.
I decided to organize my review of the MyRack around these different specs because I think these are the most important aspects to think about before purchasing.
So I hope this makes sense.
Pros
2.4″ x 2.4″ uprights
12 gauge steel
2000 lb weight capacity
Westside spacing
Fairly compact footprint
Choice of color
Can be bolted to floor
Ton of available attachments
Lifetime warranty
Great price
Cons
Pull up bar not included
No J-hooks included
Uprights
Ok, when comparing power racks, you gotta start with the uprights.
As I was saying above, racks are pretty simple devices, so there aren't usually that many things to consider, but the uprights are at the top of the list.
Just to make sure we're all on the same page: the uprights are the vertical posts found at each corner of a power rack.
The uprights have the holes in them that allow you to adjust the location of the J-hooks and whatnot and they're the primary load bearing structures for the rack.
The size and integrity of the uprights determine the overall "heavy-dutiness" of the entire rack- which is an important thing considering how much weight these devices may be holding.
When looking at the uprights, it's a good idea to consider both the size and the thickness of the steel being used (all power racks will use steel, so you don't really have to worry about the type of metal being used).
When it comes to size, I'm talking about the dimensions of each upright, measured in inches.
Most are square, so they'll come with dimensions like 2″ x 2″ or 3″ x 3′, etc.
The takeaway is that bigger uprights are more structurally sound.
Cheaper racks usually come with smaller uprights and more expensive racks usually come with larger uprights.
The largest I've come across for home use is 3″ x 3″ (like those found on Rogue's Monster Racks) and the smallest is 2″ x 2″ (if you ever see a rack with smaller than this, I wouldn't recommend trying it).
With this in mind, consider that the MyRack comes with 2.4″ x 2.4″ uprights.
This is right smack dab in the middle of the size range we should expect, which is pretty good considering most affordable racks are packing 2″ uprights.
Something worth noting however, is that since these uprights are kinda oddly shaped at 2.4″, attachments for other gym systems won't fit.
This isn't that big of a deal, because as you'll see in a minute, Force USA offers pretty much every attachment you can think of, but just know that attachments from other brands probably won't fit.
The dimensions of the uprights are important, but we should also consider the gauge of steel being used.
Remember that with steel gauges, that smaller numbers indicate thicker steel (example: 12 gauge steel is thicker than 14 gauge steel).
Most power racks are made out of 12 gauge or 11 gauge steel (with the more expensive systems using 11 gauge).
The MyRack's uprights are constructed out of 12 gauge steel, which isn't as heavy-duty as the more expensive 11 gauge racks, but it's the norm for this price range.
Force USA uses thicker, 10 gauge steel for their support brackets which, when combined with the 12 gauge uprights, still gives you a max weight capacity of 2,000 lb.
Which is very impressive for a $400 rack.
Keep in mind this is a static weight limit, meaning this is how much weight the MyRack can safely hold with the barbell just resting on the J-hooks.
This isn't the same as if you dropped a barbell with plates on it, in which case the limit would likely be a lot less.
Regardless, with 2.4″ x 2.4″, 12 gauge steel uprights and a 2,000 lb static weight limit, the MyRack scores very highly for a rack in this price range (and is capable of holding some serious weight).
Oh, almost forgot- this rack comes with Westside spacing, meaning the adjustable holes are an inch apart for the majority of the rack.
This is a nice feature because it gives you a lot of control over barbell placement, which comes in especially handy when sitting it up for bench press.
(P.S.- you also get to choose between black, blue, and red for the color at no additional cost)
Attachments
The structural integrity of the MyRack is impressive for a budget rack, but so is the versatility it can provide through the various attachments that are compatible with it.
This is where the "modular" part of the model names comes from, meaning you can gradually add attachments to the base rack, expanding it and customizing it to meet your needs.
If you decide to purchase the MyRack, the rack itself is the only thing included – no attachments whatsoever, not even a pair of J-hooks.
(A pull up bar also isn't included, even though Force USA highly recommends purchasing one to improve the overall structural integrity of the rack- which in my mind, is one of the only flaws this rack has).
Selling the rack by itself allows Force USA to keep the price low, but you should keep in mind that this price will go up if you also purchase the bar, J-hooks, safety bars, etc.
Which most of us will have to do.
Of course the nice thing is, you don't have to buy everything at the same time- you can start with the essentials and gradually add on to the rack as your budget and needs require.
Anyway, here's a list of the available attachments that are compatible with the MyRack:
Classic grip pull up bar
Monkey bar (dual pull up bar)
Globe grip pull up bar
Hammer grip pull up bar
Standard J-hooks (weight capacity of 1760 lb)
Deluxe J-hooks (weight capacity of 2645 lb)
Monolift system (weight capacity of 2645 lb)
Safety arms (weight capacity of 1000 lb)
Box tube safeties (weight capacity of 1500 lb)
Safety slings (weight capacity of 1000 lb)
Weight plate holders
Landmine station (with handle)
Dip handle
Band pegs (so you can attach bands to barbell)
Gunner barbell (weight capacity 1500 lb)
MyBench (adjustable)
Cable crossover (weight plate loaded)
Lat pulldown station (weight plate loaded)
Lat pulldown seat
So yeah, there's a lot of options when it comes to the hooks, safeties, and pull up bars.
The lat pulldown and cable crossover stations are kinda cool, but they attach laterally to the frame of the MyRack (the pulldown attaches to the rear), which significantly increases the footprint of the rig (so you'd need a lot of space to use these).
Overall, I like that the MyRack is compatible with so many attachments and accessories, but it would be nice if a pull up bar and maybe a pair of J-hooks was included.
Warranty
Force USA backs their Modular MyRack with the following residential warranty:
Lifetime structural frame
2 years on cables/pulleys (applicable for the cable crossover/lat pulldown attachments)
The MyRack base itself comes with a lifetime warranty, which is amazing for a $400 rack.
Not that I think you could hurt this rack if you tried, but it's still nice to know it's guarantee for life.
And if you do eventually add the lat pulldown or cable crossover attachments, a 2 year warranty on those aren't bad either (again, not a lot that could go wrong with them either).
Overall, a very nice warranty on the MyRack.
Final Thoughts
Well, that's about all there is to say about Force USA's MyRack- I know, I told ya these things are pretty simple machines.
I think the MyRack has a lot to offer for a power rack in this price range, most notably a very high weight capacity and the ability to grow over time through the addition of attachments.
With a 2000 lb static weight limit, the MyRack is able to hold literally 2x as much weight as most other power racks in this price range.
I also love the lifetime warranty on it – again, something you shouldn't expect from a rack this affordable.
Overall, I think the MyRack is one of the best home power racks around and easily the best option $400 can get ya. Highly recommended.
P.S. – use the promo code HOMEGYM5 for an extra 5% off.