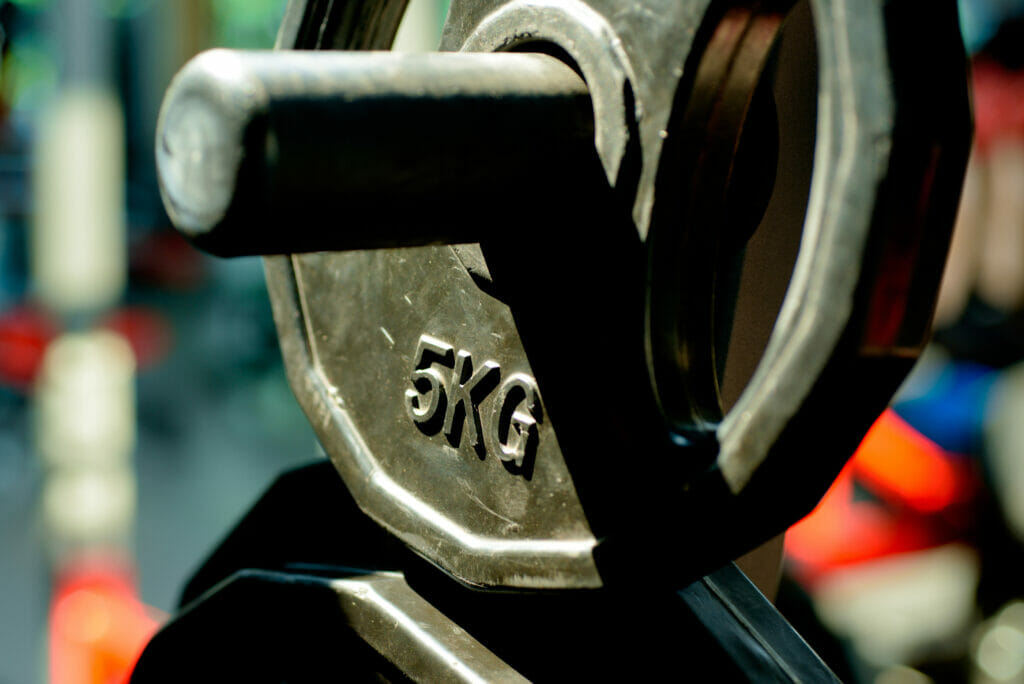 If you're looking for an affordable power rack to add to your home gym, Titan's T-2 Series Rack should be on your short list (especially if you're dealing with low ceilings).
Not only is the rack capable of holding 850 lb safely, but you can also choose between 2 heights, depending on your size requirements.
And with 12-gauge uprights, the T-2 is a little heavier-duty than most racks in this price range.
Additional features include a pull up bar, a pair of J-hooks, a pair of safety bars, and the ability to be bolted down to the floor.
Overall, it's going to be hard to find a better rack for $400, but you shouldn't just take my word for it- you have to do your own homework.
But I'm here to help.
In this review, I'll discuss all the key specs and features the T-2 Power Rack has to offer (as well as where it has room for improvement).
After reading, you'll be well-equipped to decide for yourself whether or not the T-2 is worth investing in.
Let's get to it.
The Titan T-2 Series Power Rack
Titan Fitness specializes in budget lifting equipment. Think racks, squat stands, barbells, plates, and pretty much any accessory you might need to use that stuff.
They even offer a ton of weight plate loaded machines to choose from too.
When I think about it, Titan has a huge lineup of gear.
If you research Titan, you'll find a lot of commentary blasting them for their lack of quality, but you'll also find a lot of happy customers that swear by 'em.
The most important takeaway from all of that, in my humble opinion, is that you have to acknowledge that Titan is a budget brand.
And budget brands are affordable for legit reasons.
It's not fair to compare Titan to Rogue because Rogue is obviously better (they're still the gold standard for power racks if you ask me)- but you have to pay for that quality.
Personally, I think Titan holds their own quite well when compared to the other budget brands, but to each their own opinion.
Anyway, moving on.
The T-2 Series is Titan's most affordable power rack. If you opt for the taller 83″ version, it'll cost ya about $400, the shorter one will be a little less.
Pros
12-gauge uprights
800 lb rackable capacity
Choose between 83″ and 71″ height
Can fit in rooms with low ceilings
2″ hole spacing
Pair of J-hooks included
Pair of safety bars included
Pull up bar
Compatible with a lot of attachments
Can be bolted to floor
Great price
Cons
2″ x 2″ uprights
Short warranty
Uprights
Power racks are very basic devices.
Looking at them, they're really just a simple cage designed to hold a barbell- 4 uprights and a few horizontal stabilizing bars and there ya go.
But when comparing different models, you'll notice that not all power racks are created equal.
And one of the biggest differences you'll see, as well as the most important, is found in the construction of the uprights.
And yes, the uprights are the 4 vertical posts with the adjustment holes in them.
The uprights will vary in both their size (physical dimensions) and in the thickness of their steel. Having larger, thicker uprights is a good thing because they make for a heavier-duty, more structurally sound rack.
And when your only function is to hold weight, being structurally sound is a huge plus.
You'll see uprights come in sizes like 2″ x 2″, 2.4″ x 2.4″, 2″ x 3″, 3″ x 3″, etc.
The T-2 comes with 2″ x 2″ uprights, putting them on the smallest end of the spectrum. This sounds like a big disappointment, but it's par for the course for racks in this price range.
Remember, I said there are reasons some racks cost less than others, and small uprights is one of 'em.
But when it comes to the thickness of the uprights, the T-2 scores highly with its 12-gauge steel.
And when it comes to steel thickness, lower gauges is a good thing because it refers to thicker metal.
Keep in mind most racks in this price range come with 14-gauge steel uprights, so the uprights on the T-2 are a little thicker than most of the competition.
Put it together, and you got 2″ x 2″, 12-gauge uprights.
The T-2 is rated to safely hold 850 lb on the bar (2,200 lb whole rack capacity), which is impressive for a $400 power rack.
Each upright comes with a powder coated finish and with adjustable holes spaced 2″ apart.
Nicer racks will come with 1″ hole spacing (Westside spacing) throughout the bench press zone, but that additional feature won't be found on the T-2.
Which isn't too surprising.
But the 2″ hole spacing is actually better than the 3″ spacing found on many other similarly priced racks, so we can't complain too much.
Oh, I also like that this rack can be bolted to the floor because that significantly improves its stability- it's also a feature most affordable racks are lacking.
And, I almost forgot- you can choose your height (between 71″ and 83″), which is great if your home gym happens to be in a room with a really low ceiling.
Overall, I think the T-2 scores highly in terms of construction. The uprights are average sized for a budget rack, but the use of 12-gauge steel makes them a little thicker, allowing for a great max weight capacity.
Attachments
Ok, the rack itself scores pretty highly in terms of performance specs, but what about attachments?
Your basic, simple power rack can provide a ton of versatility through the addition of attachments. The amount of attachments a rack is compatible with varies depending on the brand.
Some brands only offer the most common attachments, while others offer a huge selection to choose from.
Titan falls more in the latter.
Let's start with the included attachments:
Single pull up bar (1.25″)
A pair of J-hooks
A pair of pin and pipe safety bars
A pair of weight horns
Ok, so, nothing really out of the ordinary here. These are all the included attachments you'd expect from pretty much any power rack.
Titan's J-hooks are coated with a thick plastic that helps protect your barbell from scratches, which is nice.
The safety bars are pretty self-explanatory.
The weight horns are used to hold weight plates, but in a vertical fashion at the base instead of the weight storage pegs you've seen on the sides of racks.
These horns are designed more for stabilizing the rack than anything else (and if you don't bolt your rack down, it's a good idea to throw some plates on each horn for added stability).
Here's a quick rundown on the additional attachments the T-2 is compatible with (sold separately):
Weight holder extension kit
Lat tower attachment
Spotter arms
Barbell holders
Safety straps
Leg press attachment
Dip handles (different varieties)
Various types of J-hooks
Monolith attachments
Multi-grip pull up bar
That's a nice selection of attachments you can access if you want to grow or expand your rack over time.
You'll notice that the T-2 doesn't come with any barbells, weight plates, spring clips, or benches, so you'd be responsible for purchasing that stuff separately as well.
Overall though, the T-2 is compatible with a lot of attachments, making it a very versatile home gym.
Warranty
Titan Fitness backs their T-2 Series Power Rack with the following residential warranty:
Yup, that didn't take long.
There's no getting around the fact that a 1 year warranty sucks, even for a budget rack, although it's not that uncommon.
For the sake of comparison, Fitness Reality's 810XLT also offers a single year on their popular rack.
Of course, there's also REP Fitness and their PR-1000 that comes with a lifetime warranty (apparently).
To be honest though, there isn't that much that can go wrong with a power rack- I mean it's steel bars and posts.
It's very unlikely that your steel uprights or steel J-hooks are going to break or bend, as long as you're staying within the prescribed weight limits.
But it would still be nice to see a longer warranty.
Final Thoughts
Ok, that's about all I got regarding Titan's T-2.
Structurally, the 2″ x 2″ uprights are averaged sized for a rack in this price range.
But unlike most comparable racks, these uprights come with thicker, 12-gauge steel (compared to the 14-gauge most other brands use).
I also like that the uprights come with 2″ hole spacing vs 3″ spacing because it gives you more control on bar placement.
The fact that the T-2 can be bolted to the floor is another nice perk that shouldn't be taken for granted when looking at budget racks.
Speaking of which, if you can bolt yours down, it's a good idea to do so because it will really improve the feel of your rack.
Loading plates on the weight horns will help a lot too, but even with the 12-gauge steel, the T-2 will likely wiggle some when doing pull ups or racking/re-racking heavy barbells.
Bolting the rack down will eliminate this.
Anyway, the T-2 is also compatible with a lot of different attachments, which is great if you like the idea of adding on to it over time.
The biggest downside I see is the short warranty, but this is unfortunately pretty common for cheaper racks.
If you're looking for a better warranty (as well as even more attachment options) and you have a little wiggle room in your budget, you might want to check out Force USA's MyRack– it comes with a lifetime guarantee.
But with the MyRack, you have to buy all the J-hooks and safety bars separately, which adds a bit to the cost.
Overall though, I think the T-2 is a great budget rack- easily one of the best power racks under $500.