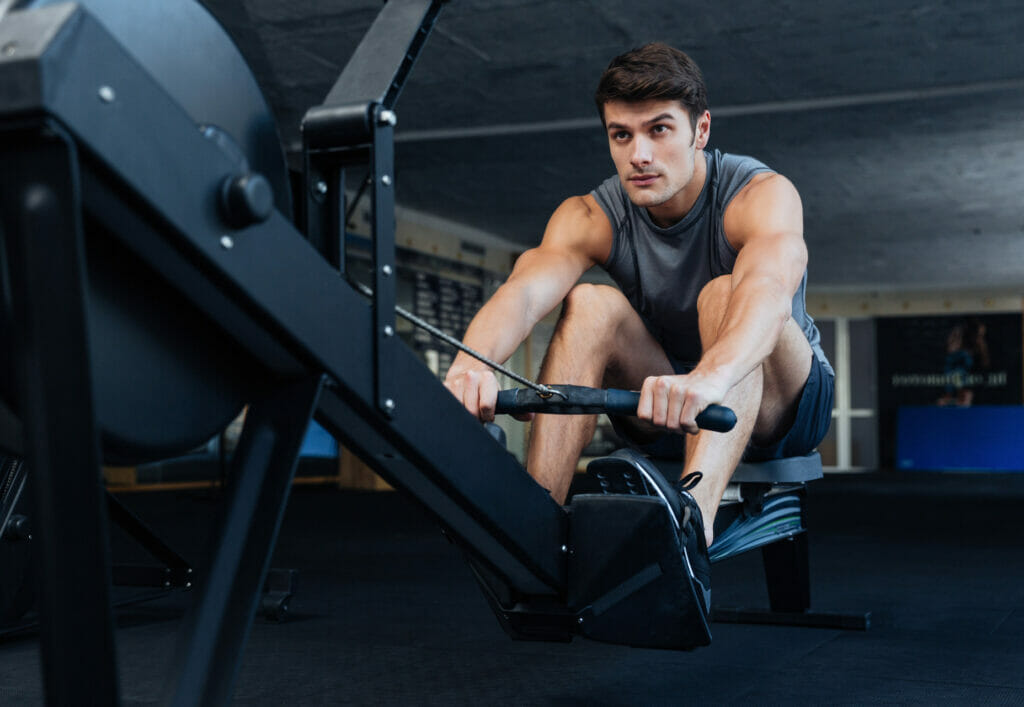 Sole's SR500 is a high-end home rowing machine designed with serious performance in mind. Utilizing a dual resistance system, this rower combines the advantages of both magnetic and air rowers, while negating the downsides of each.
Other highlights of the SR500 include a heavy-duty steel frame, a large, adjustable angle console, and a dozen or so built-in workout programs to choose from.
And this is a Sole product we're talking about here, so of course it's backed by a generous warranty.
If you're looking for an elite rower to add to your home gym, Sole's SR500 is a great choice, but before you buy, you need to make sure it's the best choice for you.
And that's where this review comes in.
In this article, I'll go over everything the Sole SR500 has to offer- we're talking, specs, features, and everything else in between.
After reading, you'll be well equipped with all the info you need in order to decide whether or not this is the right rowing machine for your home gym.
The Sole SR500 Rower
Sole is a very popular home fitness brand, and for good reason- they've earned a stellar reputation for providing sturdy equipment that performs well and rarely breaks down.
They're most well-known for their treadmills (they actually started out as a provider of light commercial treadmills to hotel chains), but their other cardio equipment is just as well built.
Sole hasn't tried their hat at strength training equipment yet, but they do have a pretty extensive lineup of cardio machines to choose from.
They offer all the stuff you'd expect, treadmills, ellipticals, and bikes. And they all share Sole's high standard of quality.
Sole even has a well-priced climber machine (the CC81 Cardio Climber), for those looking for a different style of workout.
When it comes to rowers, the SR500 is the only model currently in their lineup. It'll cost ya around $1000 on sale (and it's always on sale).
Pros
Magnetic and air resistance systems
16 levels of magnetic resistance
12 built-in workout programs
Wireless heart rate monitor compatible
Heavy-duty frame
Folds for storage
Control resistance from handles
Seat higher than most (19″)
Belt drive
Easy assembly
Good price
Great warranty
Cons
Longer than most rowers (94″ long)
No damper
Resistance
One of the easiest ways to categorize rowing machines is by the type of resistance they use. Generally speaking, rowers come in 4 varieties based on their resistance type: hydraulic, magnetic, water, or air.
Each type of rower has its strengths and weaknesses, and if you'd like to learn more about the different types of rowing machines, check out my full rower guide for more info.
The SR500 actually uses a combination of both magnetic and air systems to produce the resistance you row against.
This is a smart way to combine the advantages of both resistance systems into a single machine, while virtually eliminating the drawbacks of each.
Magnetic rowers are great because they provide a smooth, consistent resistance regardless of how fast you row- this means you can row slowly against higher resistances.
Air rowers on the other hand, produce a more realistic rowing experience because the faster (or harder) you row, the more resistance you get.
The resistance on these rowers is directly related to how fast you row- just like rowing a real boat.
This is great, but it means you can't really row slowly against higher resistances.
When you combine magnetic and air resistance systems, you get the best of both worlds. You set your magnetic resistance level, which acts as your baseline, and as you start rowing faster, you get more resistance from the air system.
This means you can row as slowly as you like, and still get a consistent resistance.
The SR500 comes with 16 levels of magnetic resistance to work with, but keep in mind you'll get more resistance from the air system when rowing at faster paces.
There isn't a damper on this rower, so you won't be able to control the air intake for the fan- some combo rowers offer this, some don't.
The controls for the magnetic resistance are located on the handle, making it convenient to adjust during workouts.
Overall, the SR500 scores highly with its combo magnetic/air resistance system and I like that the controls are located on the handle.
Frame
I always like to look at a machine's total weight as well as weight limit to get an idea as to how heavy-duty it is. I do this because bigger, heavier machines are less likely to wobble during use (and they often last longer too).
The frame on the SR500 is made out of powder-coated steel, while the rail is aluminum- this is pretty standard stuff for rowing machines, so nothing too special there.
But when you look at the weight, it says a little more about the robustness of this rower.
At 115 lb, this rower is a beast. For the sake of comparison, the famous Concept2 only weighs about 60 lb or so.
This heavy frame is going to feel stable during your workouts, so you shouldn't have to worry about the frame feeling flimsy or wobbling during use.
The SR500 also comes with a 515 lb weight capacity, which is huge for a home rower. For comparison, the popular NordicTrack RW900 comes with a 250 lb limit and the amazing Hydrow tops off at 375 lb.
Seeing a weight limit this high says to me that this thing is sturdy.
It's also impressive considering that this rower can fold for easy storage- simply unscrew the little knob under the rail, fold the rail up, and tighten.
Overall, the SR500 is a very heavy-duty rower that can safely handle users of all sizes.
Seat & Handles
Rowing machines have a bit of a bad reputation for being uncomfortable. The seats are firm and most are pretty low to the ground, making them difficult for some to get on/off of.
Well, the SR500 comes with a pretty standard seat, nothing too special going on in the comfort department.
But something that is nice is that the seat on this rower sits higher than most, making it easier to access.
The seat on the SR500 sits 19″ above the ground, which is pretty high for a rower. For the sake of comparison, Concept2's Model D (which is a great rower) sits 14″ off the ground with its standard legs.
If you don't have any mobility issues, the extra height might not mean that much to ya, but for people who do have mobility issues, the extra 5 inches or so will make it a lot easier to get on/off of.
The handles are contoured and attached to a belt drive for a smooth rowing motion.
And as I mentioned earlier, the control buttons for the resistance are located on the handle, making it easy to adjust without having to stop rowing and take your hands off the handles.
Overall, the SR500 gets bonus points in my book for sitting higher off the ground than most standard rowing machines and I like that the resistance controls are located on the handles.
Console
A lot of rowing machines come with really simple consoles. This seems to be changing these days, you know, with workout streaming become so popular, but a lot of rowers still come with dated consoles.
The SR500, however, comes with a console that's more advanced than most in its price range.
You aren't gonna find a HD touchscreen display or anything like that, but the 5.5″ LCD screen is brightly lit and easy to read during workouts.
It shows all the metrics you'll need during your rows, including: time, strokes/min, distance, heart rate, calories, watts, and resistance level.
Yes, the SR500 is chest strap heart rate monitor compatible, but one isn't included.
This console also comes with 12 workout programs, which is a bit surprising for a rower because many don't really offer any workout profiles.
These include several goal oriented workouts (time, distance, calorie) as well as interval options. You can also make your own custom interval workout, as well opt for a heart rate program.
There's even a little game-style workout to make things a little more fun.
You can also adjust the angle of the console, making it easier to find a comfortable viewing position during your workouts.
Overall, the console on the SR500 is more advanced than most in this price range. I like that it comes with so many workout programs to choose from and it's nice that it's chest strap compatible.
Assembly
Most folks shouldn't have any issues putting the SR500 together themselves. The assembly process is straightforward and Sole does a nice job of making their assembly manual user friendly.
All you really have to do is attach the stabilizer legs to each end, attach the rail to the frame, and then connect the pedals and seat.
Not too much to it.
Just keep in mind that this is a pretty heavy rower, so you might benefit from having another person around to help during the assembly process.
Otherwise, assembly on this model is pretty easy.
Warranty
The Sole SR500 comes with the following residential warranty:
Lifetime frame
3 year parts/electronics
1 year labor
One of the best things about Sole is their long warranties- they really do offer some of the longest guarantees in the biz.
And the warranty on their SR500 is no different.
You can't beat the lifetime guarantee on the frame, especially considering many high-end rower only offer 5 years. And 3 years on parts is also longer than the 1-2 years most others are offering.
A year on labor is pretty standard.
Overall, this is a great guarantee on this rower (especially for the price range).
P.S. – Sole also offers a light commercial warranty on the SR500: 1 year frame, 1 year parts/electronics, 1 year labor
Final Thoughts
That about sums it up for the SR500. After looking at all the specs and features, I think it's pretty safe to say this rower has a lot going for it.
The combination magnetic/air resistance system will be nice for folks who like the idea of being able to set a baseline resistance regardless of how fast they row.
And I love how heavy-duty the frame is and that the console actually comes with several workout programs to choose from.
And having the higher seat makes this rower more accessible than most.
Honestly, I don't have much to complain about here- this rower's even well-priced and backed by a great warranty.
The biggest downside is probably its size: at 94″ long, the SR500 takes up more floor space than most (it's roughly a foot longer than some).
But it does fold.
Overall, I think Sole has a winner on their hands here. The SR500 is easily one of the best dual-resistance rowers out there. Highly recommended.