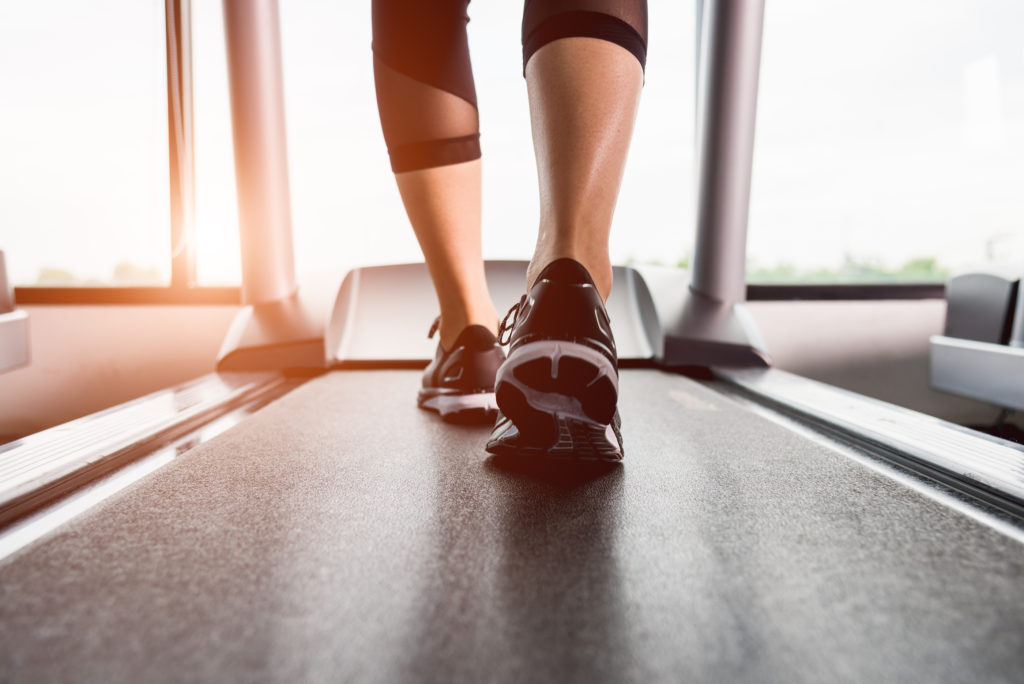 The Elite T9-02 is Horizon's most advanced home treadmill to date. With key upgrades over the impressive Elite T7-02, this treadmill boasts their largest running surface, strongest motor, and longest warranty.
But just because it's Horizon's best treadmill, that doesn't necessarily mean it's worth the $2000 asking price does it?
Of course not.
This review will examine all the key specs and features that make this treadmill what it is. I'll also provide a comparison to some of the other big names in this price range to see how the T9-02 stacks up.
Hopefully after reading this review, you'll have a better idea of whether or not this is the right treadmill for your home gym. Let's start with a quick discussion on what you should expect from models of this caliber.
What To Expect In This Price Range
Fortunately for us, a $2000 budget can get you a lot when it comes to treadmills.
The way I look at it, anything under $1000 is a budget treadmill; between $1000 and $2000 we have the moderately priced treadmills; and anything priced over $2000 is a high-end model.
If you want a nice treadmill that will won't completely destroy your budget, the moderate price range is a nice place to be.
When looking at models in this price range, here's some specs you should expect to see (on quality machines anyway):
Motor
When you're looking at home treadmills with an asking price north of $1000, you should expect AT LEAST a 3.0 CHP motor.
With a motor this powerful, you can run confidently knowing the motor should be strong enough to handle those higher speeds and inclines.
Many treadmills in this price range after motors significantly stronger than this. The motors on some top models actually surpass 4.0 CHP.
By the way, "CHP" means "continuous horse power", or the amount of power the motor can sustain over time.
Running Surface
The running surface is probably the most important spec to consider when it comes to comfort when running (if you plan on running anyway). This is the usable space your treadmill provides and is measure in inches (width x length).
In this price range, you should expect a running surface of 20″ x 60″.
This is the gold standard for home treadmills because at this size, pretty much all users should be able to run at full speed without having to worry about shortening their stride.
For this price, I see no reason to settle for less than 20″ x 60″ (sorry Elite T5, but it's true).
Warranty
We should expect fantastic warranties in this price range too. We're talking lifetime on frames and motors and AT LEAST 3-5 years on parts.
Labor warranties are always the lowest because that's just the way it goes. But we should still see 1-2 years on labor on these moderately priced treadmills.
Features
Treadmills in this price range can offer pretty much all the hi-tech goodies you can ask for:
Bluetooth capabilities
Large, HD touchscreen displays
Tons of built-in workout programs
Chest strap compatibility
Fitness app connectivity
Fans
Power inclines
Folding or unfolding decks
High weight capacities
I'm probably forgetting a few, but you get the idea. Know that you know what you should expect from these machines (which is a lot!), let's take a close look at one in particular…
The Horizon Elite T9-02 Treadmill
Horizon is a well-known provider of home fitness equipment. They're known for offering good warranties and helpful customer service.
They offer 7 different treadmill models currently and the Elite T9-02 (which I'll refer to as simply the T9 from now on for the sake of my fingers) is their most advanced machine to date.
Pros
Spacious, 22″ x 60″ running surface
Strong, 3.25 CHP motor
40 built-in workout programs
Variable Response Cushioning system
Folding deck for easy storage
350 lb max weight capacity
Bluetooth speakers
Passport ready
ViaFit compatible
Great warranty
Easy assembly
Cons
Simple display screen
Have to pay extra for Passport player
Running Surface
The Elite T9 comes with a 22″ x 60″ running surface. You'll notice that not only does this treadmill match the expected size, it's width actually surpasses it.
Treadmill width isn't quite as important as length usually, although having a belt that it is too narrow will feel uncomfortable too (like you're running a balance beam).
The extra width here offers plenty of wiggle room in case you tend to sway a little laterally when you walk or run. This extra space also gives the T9 the feel of a commercial grade treadmill.
Like all the other Horizon treadmills, the T9 also comes standard with their patented Variable Response Cushioning system.
It's a pretty unique shock absorbing design, where the deck has 3 zones of differing cushion: more in the front where impact is greatest and less in the back, giving you a firmer surface to push off of.
Users seem to agree it makes for a comfortable experience.
Like most home treadmills these days, the T9 folds vertically for storage. The FeatherLight hydraulic system makes folding the deck significantly easier. Which is a good thing, because this is a robust treadmill (weighs about 275 lb).
This treadmill is built sturdy, with a deck that is capable of handling users up to 350 lb. A lot of treadmills max out at 300 lb, making this a good option for larger users.
Overall, the T9 scores highly in the running surface/deck department.
Motor
This treadmill is packing a 3.25 CHP motor that can reach a top speed of 12 mph and a max incline of 15%.
This is well within the expected range for a treadmill in this price range and should be plenty of muscle to sustain even the most intense workouts you can throw at it.
I'd like to point out that Horizon is using 2.4″ rollers on the T9 as well.
In case you aren't familiar, the rollers are the part that actually makes contact with the belt and causes it to move as the motor does its thing.
Larger rollers are preferred to smaller ones because they make more surface contact with the belt, which makes for smoother operation. It also tends to put less stress on the motor.
High-quality treadmills will use larger (2.4″-2.5″) rollers. Cheaper treadmills tend to use smaller rollers (1.8″). A lot of treadmills will use tapered rollers, where the front rollers are large and the back rollers are small.
It's nice to see that the T9 is using large, 2.4″ rollers everywhere. It's a good indicator of build quality.
Features
The Elite T9 comes standard with the following features:
40 workout programs- this is a ton of workouts, regardless of price range. Horizon tends to load their treadmills up with boat loads of workouts, as you can see this one is no exception.
Passport compatible- I'm not sure why Horizon pushes the Passport technology so hard, other brands don't. The Passport player lets you sync your treadmill up with your tv so you can virtually walk/run around scenic trails all over the world. It's kind of neat, but the Passport player is sold separately (~$200).
ViaFit compatible- ViaFit is a fitness app that collects and tracks all your fitness data. It works with wifi and can sync up with most of the other popular fitness apps.
8.5″ blue backlit LCD- this is the same display found on the Elite T5 and Elite T7-02. Nothing particularly fancy here, but the screen is large enough to see comfortably during your workouts as well as display all the normal stats you'd expect.
Bluetooth speakers- the built-in bluetooth speakers are a nice touch, allows you to play your music through the treadmill wirelessly. This feature was left off of the other 2 Elite models for some reason, yet we find it on the significantly cheaper Horizon 7.0 AT (which, dollar for dollar, I think is their best treadmill).
USB port- the USB port is another nice touch because it allows you to charge your smart device while watching it or listening to music through the bluetooth speakers.
Chest strap compatible- the bluetooth compatibility can also be used to connect a chest strap heart rate monitor for heart rate data.
Assembly
Horizon does a really good job of making their treadmills easy to assemble. All of them, T9 included, are easy to put together. The assembly manuals are easy to follow with large images and written instructions that make sense.
There's only 8 steps you have to follow to have the T9 ready to go out of the box. You should be able to get the job done within 30 min or so.
The necessary wrenches are included, but you'll probably have to provide your own screwdriver.
Warranty
The Elite T9 comes with the following warranty:
Lifetime frame
Lifetime motor
5 year parts
2 year labor
You'll notice this warranty is at the max range for each expected section. This is really one of the best warranties you're going to see on a home treadmill, regardless of price range.
You can't beat lifetime on the frame and motor, although this should be a given at this price point.
Five years on parts is generous and few treadmills can beat this guarantee (although rare, I have seen better warranties). The same goes for the labor guarantee.
Overall, a fantastic warranty on this treadmill.
The Competition
That about sums it up for the T9. But before I wrap up this review, I wanted to give a quick comparison to 3 other top treadmills in this price range:
NordicTrack Commercial 1750
The NordicTrack Commercial 1750 is one of the most popular home treadmills on the market- and for good reason. This treadmill comes in at about $200 less than the T9 and has it beat when it comes to motor strength (3.75 CHP) and workouts (50).
It has the same spacious, 22″ x 60″ running surface and the same great warranty, although it can only hold a 300 lb user.
Sole F85
Sole is another top name in the home treadmill game and their F85 is no joke. With a 4.0 CHP motor and a 400 lb weight limit, this folding treadmill is a beast.
It has the same spacious running surface and awesome warranty as the T9 and is priced identically. The T9 has it beat when it comes to workouts though, the F85 only comes with 10.
ProForm Pro 9000
The ProForm Pro 9000 is another contender for best in class. With a 4.25 CHP motor, 22″ x 60″ running surface, and identical warranty, this treadmill is tough to beat. On sale, it's about $300 cheaper than the T9 too.
This treadmill also comes with a 10″ HD touchscreen display that you can use to watch interactive workouts on through iFit Coach.
Final Thoughts
When it comes to buying moderately priced treadmills ($1000-$2000), we know we should expect a lot. In this price range, we should see strong motors, large running surfaces, generous warranties, and tons of features.
The Horizon Elite T9-02 can confidently check all 4 of those boxes.
The 22″ x 60″ running surface provides a little extra room to provide that spacious, commercial grade experience. The 3.25 CHP motor is strong enough to efficiently provide a smooth feel, even at top speeds.
This treadmill is also backed by a great warranty and comes with several nice bonus features like bluetooth speakers and Passport connectivity.
But as the 3 quick examples above point out, there's a lot of competition in this price range.
If you're interested in the Passport technology, it makes sense to go with the T9 because the other treadmills aren't compatible. The ProForm and NordicTrack models are iFit ready. The Sole comes with a pretty basic display.
Overall, I think Horizon has developed a great treadmill here and it's definitely worth the asking price. Is the T9 the best treadmill for under $2000? Probably not. But it's definitely in the conversation.