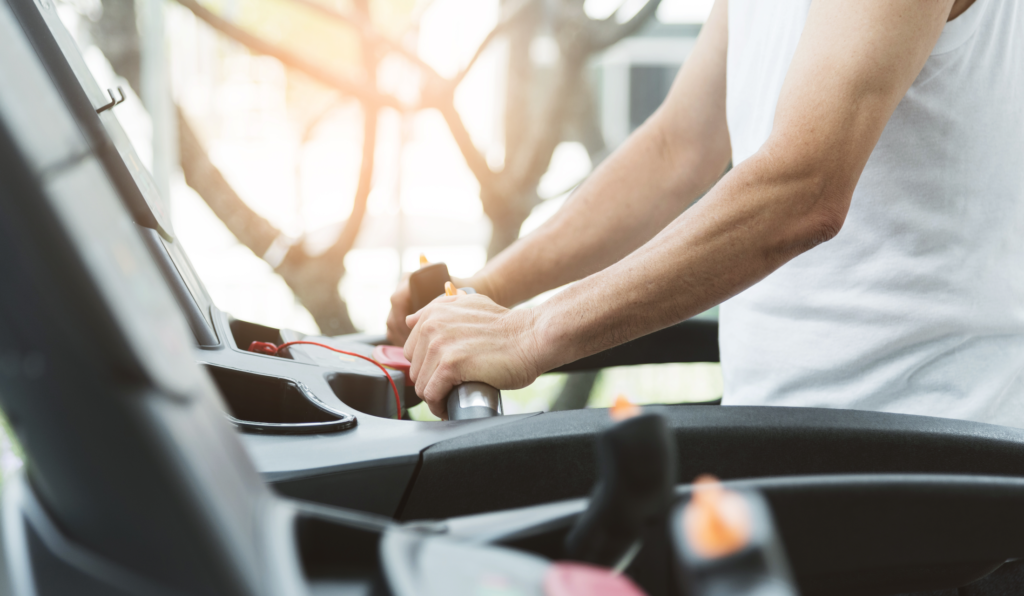 The Elite T7-02 is one of Horizon's premiere home treadmills. As the name implies, it's part of their "Elite" series, which also contains the T5 and T9-02.
Sometimes it's hard to tell the difference between varying models in the same series, but with the T7-02, we see some significant improvements.
Like a stronger motor, larger running surface, and better warranty to name a few.
If you're looking for a quality, moderately priced treadmill, the T7-02 might be a good fit. To help you decide, this review will take you on a tour of everything this treadmill has to offer.
I want to start with a quick tutorial on treadmill specs and which ones I think are most important to consider when choosing one for your home gym.
Treadmill Specs 101
A treadmill's specs (short for specifications) are the essential machine details that can be used to compare one machine to another on an equal playing ground.
I think examining (and comparing) the specs of any fitness equipment you're considering is the best, most objective way to find the best option to meet your needs.
Reading user reviews is helpful, but it's important to realize that everyone's experience is subjective to them. There's no guarantee you'll have the same experience they had.
I think user reviews are most important when used to see if certain trends appear.
For example, if I'm researching a treadmill and 90% of users complain about a faulty console, I'm probably not going to purchase said treadmill. But most times, we see user experiences all over the place- some protesting this is the best machine ever and others claiming it's the devil.
That's why I think you should be comfortable doing your own research and analyzing the objective data of each treadmill you're considering. Don't worry, once you know what to look for, it's easy.
When it comes to treadmills, there are a ton of specs you can consider:
Running surface
Motor strength
Warranty
Belt thickness
Roller size
Speed range
Incline range
Weight capacity
Dimensions
Etc., etc., etc.
This is all good stuff to look at when researching a new treadmill, but I think the 3 most important specs are running surface, motor strength, and warranty (you might notice I put them at the top of the list).
When checking out a new machine, start with these 3 specs, and go from there. All 3 of these specs are a great way to spot a low-quality treadmill from a mile away.
Or a high-quality one.
You should also consider which features you want. These will vary greatly on your price range. Common treadmill features include:
Screen size
Speakers
Fan
Bluetooth capabilities
Data sharing
Heart rate monitoring
Workout programs
Quick touch buttons
Ok, I'm sure you get the idea. Time to get to one treadmill in particular.
Horizon Elite T7-02 Treadmill
Horizon Fitness is a pretty well-known provider of home fitness equipment. They provide the more affordable equipment for Johnson Health Tech , which also owns more expensive brands like Vision Fitness and Matrix Fitness.
Horizon is known for quality construction and good warranties- the Elite T7-02 (which I will simply refer to as the 'T7' from now on), is a good example of both.
The T7 is the middle model in the Elite series- it's more advanced than the T5, but not quite as impressive as the more expensive T9-02.
Pros
Large, 20″ x 60″ running surface
Strong, 3.0 CHP motor
Variable Response Cushioning system
Folding deck
350 lb weight capacity
Top speed of 12 mph
Max incline of 15%
42 workout programs
Passport ready
ViaFit compatible
Free Polar chest strap
Easy assembly
Great warranty
Cons
No bluetooth capabilities
Running Surface
Horizon's T7 comes with a spacious, 20″ x 60″ running surface. This is a significant upgrade from the T5, who is only sporting a 20″ x 55″ running surface. This is actually one of my biggest problems with that model.
When it comes to running surface, 20″ x 60″ (or bigger) is the size to shoot for. With a running area this large, the treadmill should be able to comfortably accommodate any user when running at top speeds.
Smaller treadmills with smaller belts can't do this. With a 55″ long belt, taller users are going to have to shorten their stride when running- resulting in a less comfortable experience.
One quick glance at this spec can tell you a lot about the treadmill- whether it's better off for walking or running. Most high-quality treadmills will provide a larger running surface.
The T7 comes with Horizon's patented Variable Response Cushioning system, as do all their treadmills. It's a pretty sophisticated shock absorbing system that provides different amounts of cushion based on which zone (3 zones) you're in during your stride.
There's more cushion at the front of the deck, where the impact stress is greatest when your foot makes contact and less cushion at the rear, where you'd want a more firm surface to push off of.
Most users agree the cushioning system works well and provide a comfortable feel.
This treadmill also folds vertically for storage. The FeatherLight hydraulic system makes folding the deck effortless, which is a good thing because this machine weighs almost 240 lb fully assembled.
The frame on the T7 is very robust, which is evident by its 350 lb max weight capacity. This is very impressive for a folding treadmill and makes this machine a good choice for heavier users.
Motor
When it comes to treadmill motors, stronger is better. I doubt that comes as much of a surprise to you. The T7 comes standard with a 3.0 CHP motor. This is another significant upgrade from the T5's 2.75 CHP motor.
If you plan on doing some serious running, I suggest you go with a treadmill that is packing at least 3.0 CHP. This is enough muscle to ensure the motor doesn't get over worked. This will prolong the life of the motor as well as provide a smoother ride.
The digital Johnson Drive Motor in this treadmill calibrates itself continuously throughout your workout, helping it work more efficiently and provide a quiet experience.
The T7 can achieve a max speed of 12 mph and a max incline of 15%, both of which are impressive. This motor has enough strength to reach this top speed without struggling to keep up.
This treadmill comes with decent sized rollers- 2.4″ front and 1.8″ rear. The front rollers are what you'd expect from a quality treadmill, the rear rollers are average sized for budget treadmills.
The rollers are the part that comes into contact with the belt and actually propels it along the deck. Larger rollers are preferred because they don't put as much stress on the motor and usually equate to smoother belt operation.
Overall, the T7 scores pretty highly in the motor department.
Features
Horizon's Elite T7 comes standard with the following features:
42 workout programs- pretty much all Horizon treadmills come loaded with workout options, but I think the T7 has the most. With this many programs to choose from, you should be able to keep yourself busy for a long time.
8.5″ blue backlit display– the display screen on the console is large enough to see everything you need. The tech isn't too fancy or anything (no HD touchscreens), but the backlit display makes it clear to see all your stats during your workouts.
Passport compatible- Horizon is big into the Passport tech, all of their Elite treadmills are compatible. The Passport is a program that links your treadmill to your tv so you can watch a video of a scenic location and feel like you're walking or running there (the treadmill mimics the terrain). The Passport player is sold separately.
ViaFit compatible- ViaFit is a fitness app you can connect to through WiFi to collect and store all your fitness data.
Polar heart rate monitor- this is a nice perk, Horizon provides you with a Poler chest strap monitor so you can track your heart rate data during your workouts.
Built-in speakers- plug your mp3 player or smart phone into the port and jam out to your tunes through the built-in treadmill speakers.
Media rack- the built-in place to store your tablet or book makes it easy to entertain yourself during those longer workouts
Fan- standard stuff here, but the fan comes in handy when you really start cooking
Assembly
Putting Horizon treadmills together is a piece of cake. The T5 and T7 are pretty much identical in terms of assembly and both are very straightforward.
There are only 7 steps between opening the box and completing the job.
The assembly manual is easy to follow, with large illustrations and written instructions that make sense. The hardware necessary for each task is clearly labeled.
The necessary wrenches are included, but you'll have to provide your own Philip's head screwdriver.
Most people should be able to have the T7 out of the box and running within 30 minutes.
Warranty
The Elite T7 comes with the following warranty:
Lifetime frame
Lifetime motor
5 year parts
1 year labor
I think Horizon offers a fair warranty on this product. The lifetime frame and motor warranties should be expected from any self-respecting treadmill in this price range.
The 5 year parts warranty is pretty good too. When it comes to parts, treadmills in this price range usually range somewhere between 2-5 years. It's really hard to find longer than 5 years, although I have found some treadmills with better warranties.
The 1 year labor warranty is standard. Some awesome warranties will offer 2 years on labor, but that's about as good as it gets.
Final Thoughts
Horizon's Elite T7-02 is a moderately priced home treadmill with a lot going for it. When it comes to the 3 most important specs we discussed in the intro, it scores highly.
The running surface is large enough for most users to run as fast as they want comfortably and the motor is strong enough to handle those higher speeds without crapping out.
And for extra peace of mind, the T7 is backed by one of the best warranties you're going to come across.
I also like that Horizon tosses in a free Polar chest strap and that this treadmill comes loaded with workout programs. The Passport stuff doesn't interest me in the slightest, but I guess it's nice to know you can go down that route if you prefer.
Overall, I think the T7 is a great treadmill with some major improvements over the Elite T5.
It's built strong and comes with a great combination of features. Arguably one of the best treadmills in its price range (although I think the 7.0 AT is still my favorite Horizon treadmill).