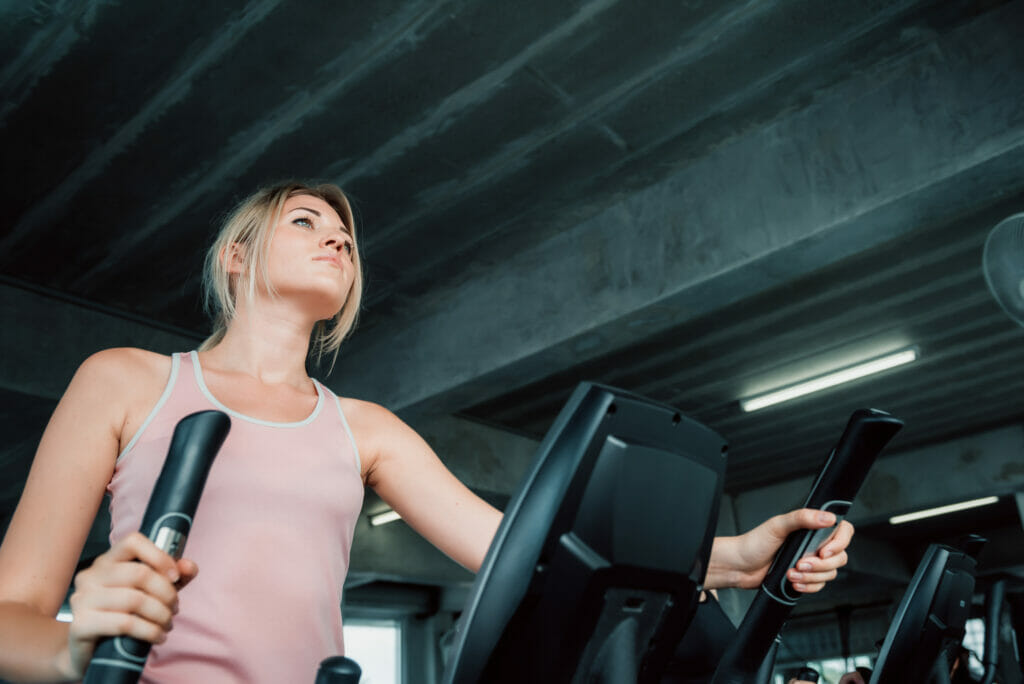 Small elliptical trainers come in handy when floor space is limited and there really isn't enough room for anything else.
These tiny titans are far from perfect, but they are capable of helping you get a decent workout when options are limited.
After all, when it comes to working out, anything is better than nothing.
This guide will help you sift through the all the small elliptical trainers out there and find the ones that are most likely to add value to your home gym.
I doubt it'll surprise you to know that there's a lot of junk out there.
Before we start examining the best options though, I want to take a few minutes to discuss what we should be looking at when comparing these tiny ellipticals.
Footprint
Stride Length
Frame
Warranty
#1 Keiser M5i
51" x 23"
Small
127 lb assembled weight
350 lb weight limit
10 year frame
3 year parts
90 day wear items
#2 Diamondback 1060ef
49.2" x 29.5"
18", 20", or 23"
144 lb assembled weight
300 lb weight limit
5 year frame
3 year parts
1 year labor
#3 Schwinn 411
53.8" x 24"
18"
100 lb assembled weight
300 lb weight limit
10 year frame
2 year parts
90 day labor
#4 SHF SF-E3912
55" x 23"
15.5"
104 lb assembled weight
330 lb weight limit
3 year frame
180 day parts
#5 Niceday Elliptical Machine
48" x 24"
15.5"
106 lb assembled weight
400 lb weight limit
1 year?
#6 EFITMENT Magnetic Trainer
41" x 26"
11"
63 lb assembled weight
220 lb weight limit
90 day
Comparing Small Elliptical Trainers
First things first- we probably need to set a few ground rules.
"Small" is a very generic term that can mean different things to different people.
I'm 6'1″ – small to me might be a little different than small for someone who is 5'1″.
But for the sake of this article, we are talking about the size of the elliptical trainer.
More specifically, we are talking about the footprint, or how much floor space, the trainer actually takes up.
In order for an elliptical trainer to be considered "small" for this guide, the footprint must be around 54″ x 30″ (or less). 
That's 4.5 feet long and 2.5 feet wide, or just a little more floor space than your average indoor cycle takes up.
Which is really small, considering a typical home elliptical takes up a floor space between 70-80 inches long and around 30 inches wide.
These little ellipticals are almost half that.
And yes, we are talking about elliptical trainers.
The second requirement that must be met for these machines to be counted as "elliptical trainers" is that they must have arm attachments or handlebars.
There are plenty of those mini elliptical trainers that don't have arm attachments- we aren't talking those here (we'll save those for another day).
All of these machines have handlebars and take up a ridiculously small amount of floor space.
Oh, and I'm also not talking about steppers or those HIIT trainers that combine stepping motions with arm movements – again, I don't really consider those to be ellipticals either.
Ok, we have our rules, good.
What should we expect from these little guys? What should we consider when looking for one to add to our home?
Stride Length
When you're talking about ellipticals, the first thing that normally comes up is stride length.
That's because stride length is what gives an elliptical its "feel". Technically speaking, it's how far apart your feet go during use.
If the stride length is too small for you, you aren't going to be able to stretch out fully. If it's too long, you will feel like you are having to stretch out too far to move the pedals.
Both instances are less than optimal.
Can you guess which situation describes our small elliptical trainer friends? Yup, you guessed it- the stride lengths on these ellipticals are usually very small.
The perfect stride length for a home elliptical is usually 20 inches- this is the length that will fit most users comfortably.
For these small elliptical machines, we should expect stride lengths between 12-16 inches, although as you'll see, some come with surprisingly generous strides.
If exercising on a traditional elliptical mimics running, using one of these trainers is like jogging in place.
Another way to think about is to think of the foot motion of riding a stationary bike while standing.
It's important to have realistic expectations when considering one of these compact trainers because if you don't, you're setting yourself up for disappointment.
But just because these machines have a small stride length doesn't mean they can't still offer a solid workout.
Plus, having a smaller stride length probably puts a little less stress on the hips and knees, which could be an added benefit for folks dealing with arthritis.
Anyway, moving on…
Weight Capacity
When it comes to frame integrity, looking at the weight capacities and assembled weights can tell you a lot.
Seeing machines with higher numbers in both categories usually means a heavier-duty, more structurally sound elliptical.
Unfortunately, since compact ellipticals are smaller by nature, they usually come with lower assembled weights and lower weight limits.
Fact is, a smaller foot print usually means less material and a less stable machine.
And the less structurally stable a fitness machine is, the less weight it can handle.
For these small trainers, you should expect weight capacities in the 250 – 300 lb range (although Keiser proves that small trainers can be very heavy duty, but more on that later).
But most of these ellipticals are designed with smaller users in mind.
Warranty
I'm a stickler for warranties.
I think they're important to consider when comparing machines because they give us an idea of how much faith a company has in their products.
They also act as insurance policies on your purchase.
You can feel safe buying an elliptical with a great warranty because in the off chance that something is wrong, you can have it replaced.
That said, you shouldn't expect much in the warranty department from these tiny elliptical trainers, especially the really affordable ones.
Many of them don't offer any warranty at all and the ones that do offer a warranty, they're usually in the 1-3 years range (with most closer to 1 year than 3).
So, when searching for little ellipticals, we should expect:
Shorter stride lengths
Smaller weight capacities
Less impressive warranties
I know I'm not exactly making a case for purchasing one of these machines, but keep in mind why you are searching for one to begin with- because a normal sized elliptical won't fit in your space (or your budget perhaps).
Another benefit is that a lot of these ellipticals are significantly cheaper…
Ok, on to the good stuff.
The 6 Best (Really) Small Elliptical Trainers
#1 Keiser M5i Strider Elliptical Machine
Yeah, given the size constraints I put on myself to come up with this list of tiny ellipticals, it was a no-brainer when it came to the top spot.
Keiser's considered one of the top fitness brands in the world and their M5i could easily make it on any "best of" list regardless of size.
But that said, the M5i is very compact.
With a footprint of only 51″ x 23″, this is one elliptical that will likely fit in even the most compact workout spaces (or shared rooms).
One of the highlights of this elite elliptical is the lightweight, fast spinning flywheel used to create a quiet, smooth pedaling motion.
Keiser pairs this fast moving flywheel with 24 levels of magnetic resistance, although you can actually micro-adjust the resistance between these set "gears", giving you total control over the intensity of each workout.
This is the same resistance system used on Keiser's famous M3i Indoor Bike, which is generally considered one of the best indoor cycles around.
Keiser doesn't disclose the stride length on this little guy, but based on the size and movement pattern, I'm guessing somewhere in the 12-14″ range.
The M5i also comes with an impressive weight limit of 350 lb, allowing it to safely accommodate users of all sizes.
Other features include stationary and moving handles, a bluetooth compatible LCD console, and an included Polar chest strap heart rate monitor.
Keiser's warranty is also pretty good- 10 year frame, 3 year parts, 90 day wear items.
Overall, if you're looking for an elite elliptical that won't take up much floor space, Keiser's M5i is as good as it gets. See full review.

#2 Diamondback 1060ef Adjustable Stride Elliptical Trainer
If you're looking for a compact elliptical, but don't want to give up on having a spacious stride length, Diamondback's 1060ef might just be what the doctor ordered.
With this model, you can manually choose between 3 different strides depending on your preferences: 18″, 20″, or 23″.
Not only is being able to adjust your stride length rare for an elliptical of any size, but 23″ is a huge.
It's especially impressive considering the 1060ef takes up a footprint of only 49.2″ x 29.5″.
Under the hood, this elliptical comes with a magnetic resistance system and 16 resistance levels, giving you a lot of control over the intensity of every workout.
The 1060ef is also surprisingly heavy-duty for such a compact elliptical, coming with an assembled weight of 144 lb and a max user capacity of 300 lb.
Other highlights of this elliptical include 12 built-in workout programs, heart rate strap compatibility, and the ability to train in reverse.
The 1060ef isn't bluetooth compatible, but it is backed by a solid warranty: 5 year frame, 3 year parts, 1 year labor.
All things considered, if you're looking for a compact elliptical with spacious stride lengths, Diamondback's 1060ef is a wonderful choice. See full review.

#3 Schwinn 411 Elliptical
Schwinn's one of those brands that doesn't really need an intro, so I won't waste any time doing that now, but I will say, when it comes to budget brands that perform better than most, few can hang with Schwinn.
The 411 is their most affordable (and most compact) elliptical to date and it's going to be hard to find a better buy at roughly $500 (give or take).
The 411 takes up a footprint of 53.8″ x 24″, so it just squeaks in with our size constraints here.
But with an 18″ stride length and a max weight capacity of 300 lb, this elliptical scores highly when it comes to performance.
It's also boasting a ~13 lb flywheel and 16 levels of magnetic resistance, allowing it to provide a surprisingly smooth pedaling motion for such a small, affordable model.
Other highlights include 13 built-in workout programs, compatibility with heart rate straps, and a small built-in media tray.
Schwinn also backs this elliptical with a great warranty for the price: 10 year frame, 2 year parts, and 90 day labor.
Overall, if you're looking for a compact elliptical that won't break the budget, Schwinn's 411 is worth considering. See full review.

#4 Sunny Health & Fitness (SF-E3912) Elliptical Trainer
Sunny Health & Fitness (SHF) is one of the better budget brands around.
I especially like their indoor cycles, but they've got a great selection of really affordable cardio machines to choose from.
And their lineup is enormous – and unfortunately they give most of them machines really generic names, making it hard to tell 'em apart from other models.
The only real way to keep track of these SHF machines is to look at the model numbers.
Anyway, the SF-E3912 is a very affordable elliptical with some redeeming features for the price range.
I have to admit though, that with a footprint of 55″ x 23″, this elliptical technically falls outside my strict 54″ length criteria, but hey – it's so close, I figured I'd let it slide.
Anyway, the SF-E3912 comes with a 15.5″ stride length, a 15.4 lb flywheel, and 16 magnetic resistance levels.
It's also sporting an impressive, 330 lb weight limit, allowing most users to safely access it.
As we might expect for this price range, the console is very basic, but it does track watt output as well as all the other standard metrics, so that's something.
SHF's warranties aren't the best, but with a 3 year frame and 180 day parts guarantee, it's actually not the worst warranty on this list.
And with a price of roughly $400, the SF-E3912 certainly isn't going to break the bank.

#5 Niceday Elliptical Machine
Niceday is one of those foreign brands that has gained popularity through sites like Amazon for offering solid, really affordable exercise equipment.
And their elliptical machine fits this mold nicely.
With a footprint of only 48″ x 24″, this model easily meets our space requirements and with a 16 lb flywheel and 16 magnetic resistance levels, the Niceday machine holds its own pretty well in when it comes to performance too.
The stride length on this elliptical is 15.5″, which is short sure, but it's still longer than many ellipticals that are this small.
The console on this model is about as simple as they come and really only displays the most basic data, but there are built in grip heart rate sensors to give ya an estimate of where you're at.
What's nice though, is that the Niceday Elliptical comes with a max weight limit of 400 lb.
There's also very little assembly, which could come in handy for the not-so-handy people out there.
There isn't much warranty info on this elliptical, but I would assume it comes with a 1 year guarantee, which isn't much.
But if you're looking for an affordable elliptical that won't take up much floor space, the Niceday Elliptical Machine could be a good fit. See full review.

#6 EFITMENT Magnetic Elliptical Trainer (E005)
EFITMENT has made producing budget fitness equipment their speciality. They offer a little bit of everything from exercise bikes and treadmills to weighted vests and massage rollers.
All of these products have one thing in common: they aren't very expensive.
I think the most expensive product they produce is a treadmill and that is still under $500 (which is very affordable in the fitness equipment world).
The E005 is one of their tiny elliptical trainers – during use, it only takes up a floor space of 41″L x 26″W, so it should be able to fit in even the smallest workout areas.
The stride length on the E005 is 11″, putting it on the smaller side of our expected range.
As long as you know what to expect, I don't think you will be disappointed. That said, 11″ is REALLY small, but they had to do that to ensure the compact size of the machine.
This elliptical trainer has a max weight capacity of 220 lb. Again, on the low end of our expected range, but this is one of the smallest ellipticals out there.
This machine is obviously designed for smaller users – smaller users who need an elliptical to fit in a small space.
The warranty on this elliptical is as small as everything else thus far: 90 days.
Yeah, not much to say there- that's a terrible warranty. But, it is better than nothing, which is what a lot of comparable trainers offer.
Additional features include:
8 levels of magnetic resistance adjusted by turn dial
LCD monitor shows your workout stats
Hand grip heart rate monitor in stationary handlebars
Built-in transport wheels makes moving the E005 a breeze
Overall, this elliptical trainer by EFITMENT is a solid example of what a really small elliptical can offer.
The warranty and weight capacity are on the low end of our expectations, but this is one of the smallest ellipticals on the market. But with adjustable resistance and moving handlebars, you shouldn't have any trouble getting your heart rate up.

Final Thoughts
Well there ya have it.
If nothing else, I hope the above ellipticals prove that there are plenty of compact models to choose from these days.
I also think the above machines show that there are compact ellipticals in every price range as well.
The M5i and 1060ef are legit ellipticals in their own right, they just happen to be very compact as well.
The other ellipticals are solid choices for their price ranges and size, but let's be real – they aren't in the same league.
But of course, that's why the M5i and 1060ef nabbed the 1st and 2nd spots, respectively.
When comparing ellipticals of any size, I encourage you to focus on the performance specs that matter most: the stride length, the resistance system, the warranty, and the weight capacity.
Comparing these specs will help you find the best options in your budget (regardless of size).
Of course, as I mentioned up above, when dealing with compact ellipticals, we often have to give up something.
And this usually means the stride length gets smaller, as might the weight capacities.
Of course the #1 and #2 ellipticals on this list show that this rule isn't written in stone.
Well, I hope you found this guide useful and as always, if you have any comments or questions (or know of a tiny elliptical that should've made this list), leave 'em below and I'll get right back to ya.