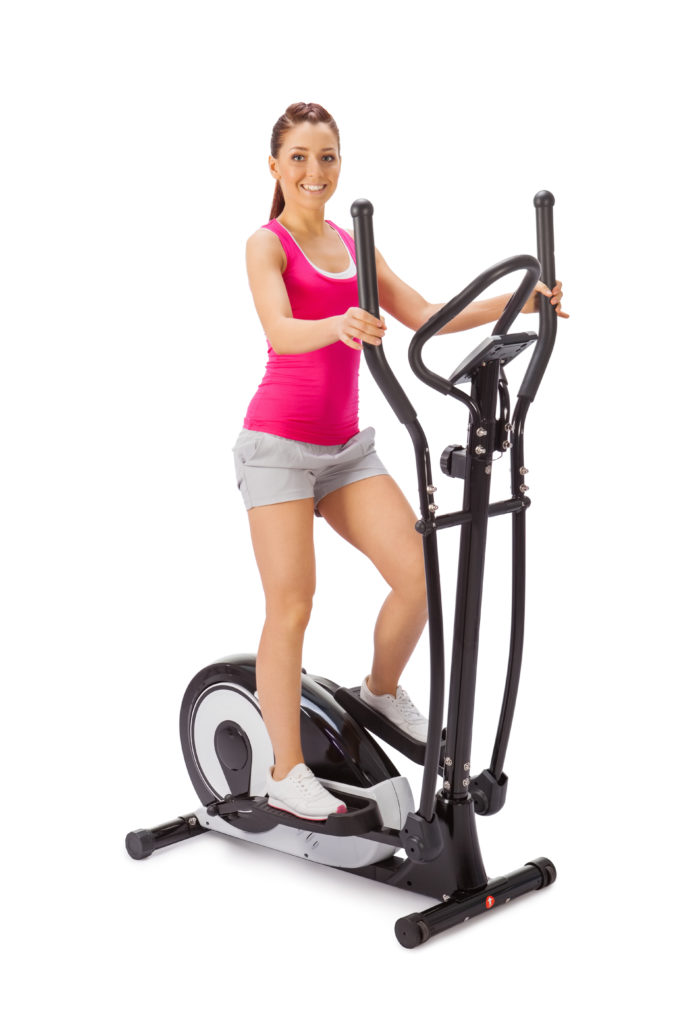 Small elliptical trainers come in handy when floor space is limited and there really isn't enough room for anything else. These tiny titans are far from perfect, but they are capable of helping you get a decent workout when options are limited. After all, when it comes to working out, anything is better than nothing.
This guide will help you sift through the all the small elliptical trainers out there and find the ones that are most likely to add value to your home gym. I doubt it will surprise you to know that there's a lot of junk out there.
Before we start examining the best options, I want to take a few minutes to discuss what we should be looking at when comparing these tiny ellipticals.
Skip ahead to see the Best Overall: Crystal Fit Elliptical Trainer
Comparing Small Elliptical Trainers
First things first- we probably need to set a few ground rules. "Small" is a very generic term that can mean different things to different people. I'm 6'1″. Small to me might be a little different than small for someone who is 5'1″.
But for the sake of this article, we are talking about the size of the elliptical trainer. More specifically, we are talking about the footprint, or how much floor space, the trainer actually takes up.
In order for an elliptical trainer to be considered "small", the footprint must be around 48″x24″ (or less). That is 4 feet long and 2 feet wide…now that is really small for an elliptical machine.
Consider that a typical home elliptical takes up a floor space between 70-80 inches long and around 30 inches wide. These little ellipticals are almost half that.
And yes, we are talking about elliptical trainers. The second requirement that must be met for these machines to be counted as "elliptical trainers" is that they must have arm attachments or handlebars. There are plenty of those mini elliptical trainers that don't have arm attachments- we aren't talking those here (we'll save those for another day).
All of these machines have handlebars and take up a ridiculously small amount of floor space. Ok, we have our rules, good.
What should we expect from these little guys? What should we consider when looking for one to add to our home?
Stride Length
When you are talking about ellipticals, the first thing that normally comes up is stride length. That's because stride length is what gives an elliptical its "feel". Technically speaking, it's how far apart your feet go during use. If the stride length is too small for you, you aren't going to be able to stretch out fully. If it's too long, you will feel like you are having to stretch out too far to move the pedals.
Both instances are less than optimal. Can you guess which situation describes our small elliptical trainer friends? Yup, you guessed it- the stride lengths on these ellipticals are too small.
The perfect stride length for a home elliptical is usually 20 inches- this is the length that will fit most users comfortably.
For these small elliptical machines, we should expect stride lengths between 11-14 inches. I told ya they were small.
If exercising on a traditional elliptical mimics running, using one of these trainers is like jogging in place. You have to consider that you are basically riding a stationary bike while standing.
It's important to have realistic expectations when considering one of these compact trainers. They will not feel anything like a traditional elliptical machine…and that's ok. A traditional elliptical machine takes up twice as much space and that is probably why you are searching for these in the first place.
But just because they are small and you are basically jogging in place, you can still get your heart rate up and burn some calories!
Weight Capacity
You should expect a lower weight capacity on these smaller machines. Fact is, smaller foot print means less stable machine. The less stable a fitness machine is, the less weight it can handle.
For these small trainers, you should expect weight capacities in the 220 – 250 lb range. That said, I think I did find one with a 300 lb weight limit, but that is certainly not the norm.
These ellipticals are designed with smaller users in mind. If you are 300 lb and looking for a piece of fitness equipment to fit in a small space, I would suggest you consider an exercise bike.
Warranty
I'm a stickler for warranties. I think they are important to consider when comparing machines. Warranties give us an idea of how much faith a company has in its products. They also act as insurance on your purchase. You can feel safe buying an elliptical with a great warranty because in the off chance that something is wrong, you can have it replaced.
That said, you shouldn't expect much in the warranty department from these tiny elliptical trainers. Many of them don't offer any warranty at all. For the ones that do offer a warranty, they are usually in the 1-3 years range (with most closer to 1 year than 3).
So, when searching for little ellipticals, we should expect:
Short stride lengths
Small weight capacities
Weak warranties
I know I'm not exactly making a case for purchasing one of these machines, but keep in mind why you are searching for one to begin with- because a normal sized elliptical won't fit in your space (or your budget perhaps).
Another benefit is that these ellipticals are significantly cheaper…
Ok, on to the good stuff.
---
The 5 Best Small Elliptical Trainers
EFITMENT Magnetic Elliptical Trainer (E005)
Starting off our list is this magnetic trainer by EFITMENT. The E005 checks all of our criteria boxes and comes pretty highly rated by users. EFITMENT has made producing budget fitness equipment their speciality. They offer a little bit of everything from exercise bikes and treadmills to weighted vests and massage rollers.
All of these products have one thing in common: they aren't very expensive. I think the most expensive product they produce is a treadmill and that is still under $500 (which is very affordable in the fitness equipment world).
The E005 is one of their tiny elliptical trainers. During use, it takes up a floor space of 41″L x 26″W (yes, I know it's technically more than 24″, but I'm not nitpicking over every inch here).
The stride length on the E005 is 11″, putting it on the smaller side of our expected range. As long as you know what to expect, I don't think you will be disappointed. That said, 11″ is REALLY small, but they had to do that to ensure the compact size of the machine.
This elliptical trainer has a max weight capacity of 220 lb. Again, on the low end of our expected range, but this is one of the smallest ellipticals out there. This machine is obviously designed for smaller users. Smaller users who need an elliptical to fit in a small space.
The warranty on this elliptical is as small as everything else thus far: 90 days. Yeah, not much to say there- that's a terrible warranty. But, it is better than nothing, which is what a lot of comparable trainers offer.
Additional features include:
8 levels of magnetic resistance adjusted by turn dial
LCD monitor shows your workout stats
Hand grip heart rate monitor in stationary handlebars
Built-in transport wheels makes moving the E005 a breeze
Overall, this elliptical trainer by EFITMENT is a perfect example of what to expect. The warranty and weight capacity are on the low end of our expectations, but this is one of the smallest ellipticals on the market. And with adjustable resistance and moving handlebars, you shouldn't have any trouble getting your heart rate up.

Sunny Health & Fitness Magnetic Elliptical Trainer (SF-E905) – Best Warranty!
Sunny Health & Fitness (SHF) is another company that has perfected the art of producing budget equipment that actually works. I'm a big fan of their affordable spin bikes because they offer larger flywheels than anyone else in their price range. But as you can see, they also offer compact elliptical trainers too.
Their magnetic elliptical trainer is the smallest of the small. The SF-E905 has a foot print of 28″L x 17″W. This elliptical is less than a foot and a half wide. If every inch counts in your workout area, this elliptical may be your best bet. It's going to be hard to find something you can stand on with a smaller footprint.
SHFs elliptical trainer also has an 11″ stride length. In order to keep their footprint so small, there's really no getting around the tiny stride length. If it helps any, the footplates are large and textured (one footplate is actually probably longer than the stride length).
The SF-E905 is packing a max weight capacity of 220 lb as well. This is a small elliptical designed for small users. Keep in mind you want a little buffer room too- this machine would really be better suited for someone under 200 lb.
SHF offers a 3-year warranty on frame and a 90 day warranty on moving parts. The 90 day warranty isn't very impressive, but 3 years on the frame is great! The idea of a company betting that this tiny frame will last at least 3 years says a lot. SHF believes in their products, even the smallest ones.
Additional features include:
8 levels of magnetic resistance
LCD screen for viewing your workout stats during use
Hand grip heart rate monitor
Built-in transport wheels for easy moving (although it only weighs 60 lb to begin with)
Large, textured footplates for added comfort during use
Overall, this is one of my favorite picks in the small elliptical category. I've been a fan of SHF since I discovered their spin bikes. They make a real effort to produce budget equipment that is worth buying. Their compact elliptical trainer is small enough to fit almost anywhere and comes with a 3-year warranty on the frame. It's also significantly cheaper than the EFITMENT trainer.

Sunny Health & Fitness SF-E902 Air Walk Trainer –  Most Affordable!
I'm not sure if SHFs Air Walk Trainer is technically an elliptical, but it does meet all of our criteria for the sake of this article, so I'm going to allow it. The air walk trainer is a little different because it doesn't use a pedal and flywheel system. Instead, your legs are flexing and extending freely without external resistance.
The SF-E902 is very compact with a footprint of 28″L x 17″W during use. When not in use, it folds roughly in half for storage. This trainer is tiny and will literally fit anywhere. Being able to fold it and put it in a closet for storage is a great feature. It only weighs about 30 lb too, so moving it shouldn't be an issue.
The biggest benefit of the air walk trainer is the range of motion it allows. Since it isn't connect to a pedal system, its stride length isn't restricted. The SF-E902 boasts a 30″ stride length. This allows for more comfortable use and a motion that a little more closely resembles walking or running.
This trainer also has a 220 lb weight capacity. Even though it offers a longer stride length, it is still designed with smaller users in mind.
SHF offers a 1 year warranty on the frame and 90 days on moving parts. This is more than I would expect from a piece of fitness equipment that costs less than a hundred bucks. Thanks SHF, anything's better than nothing.
A few additional features to consider:
LCD screen for viewing workout stats
Oversized footplates to ensure you don't slip while using
Adjustable abdominal pad included to help you stabilize during use if necessary
The SHF SF-E902 is a different type of elliptical trainer. If you are ok with not having a resistance system and are on a tight budget, this is a smart choice. Be warned- without resistance, some users complained it was too easy. This trainer might work better for beginners or older folks trying to maintain full range of motion.

EFITMENT Air Walker Glider Machine (E020)
EFITMENT also has an air walker machine. Their product is very similar to SHFs, but it does have one big difference that is kinda cool. This air walker can also be used laterally (or side to side). This is something SHFs air walker trainer can't do and if you are looking for a different way to exercise and strengthen your hips, you might want to check this machine out.
This air walker has a footprint of 35″L x 22″W. This machine is very compact and fits nicely within our size restrictions here. Just keep in mind that you will need a little extra room when using this glider because of how long the stride length is. You will definitely need several more inches of side to side space if performing that function.
Speaking of stride length, EFITMENTs air walker has a 24″ stride length. This machine is just like the one mentioned above- no resistance settings. Since there is no attachment to a flywheel, you can get a lot more range of movement.
The air walker has a max weight capacity of 220 lb. This is on the low side of our expected values, but I suspect EFITMENT had to do this considering how much available range of motion is provided here. There isn't a lot of machinery on this glider to support you. This is another trainer designed for smaller users.
EFITMENT is offering a 1 year warranty on their air walker. Like I've said before, this is pretty good for an elliptical in this price range. Heck of a lot better than 90 days anyway.
Here are a few more features you might like:
Large non-slip footpads
LCD screen for keeping track of time and stats
Set of stationary handles in the middle for added stability during side to side use (or working out just legs)
Great price
Overall, the EFITMENT Air Walker provides a unique workout experience without taking up much floor space. The longer stride length will come in handy, just make sure you add a few extra inches into your measurements to make sure you have plenty of space. I like the additional stationary handles, nice touch.

Crystal Fit Elliptical Trainer – Best Overall!
Crystal Fit was able to find a way to make a small elliptical that took advantage of every inch. Although this machine is quite small, it has some features that can compete with some of the larger products out there. I wasn't that familiar with this brand before researching this article, but Crystal Fit provides a little bit of everything in the fitness genre from dumbbells to exercise bikes. They also specialize in budget equipment.
This Crystal Fit elliptical has a footprint of 41L" x 19W". It's a little longer but still fits nicely within our guidelines. The extra few inches in frame length allows for the extra few inches in stride length.
The finest quality of this elliptical trainer is its 14″ stride length. I know, I know, the air walk trainer above technically has a larger stride length, but that machine isn't a true elliptical. For the true compact ellipticals, 14″ is about as good as it gets.
Another awesome fact about this product is that it has a 300 lb weight capacity. This is above and beyond what we should expect from these compact ellipticals. It's also significantly more than any other elliptical discussed thus far. The larger stride length and higher weight capacity would make this machine a little better for the larger folks out there looking for an elliptical to fit in their limited workout space.
Crystal Fit provides a 1 year warranty on this elliptical trainer. This is actually better than most of the 90 day warranties we have been seeing. For the price range, this is pretty decent.
Additional features include:
Large, LCD monitor for viewing stats
Grip heart rate monitor
11 lb flywheel provides a smoother ride
Built-in transportation wheels makes it easy for you to move from room to room if necessary
The Crystal Fit Elliptical Trainer is my top choice for small ellipticals because it has the longest stride length and highest weight capacity. I didn't mention flywheel weights for ellipticals, but the heavier the flywheel is, the smoother the ride feels. This trainers 11 lb flywheel is heavier than most of the competition (these other machines having 6-8 lb flywheels).
Overall, I think this is the best small elliptical currently available. It should offer the most comfortable experience with the longer stride length.

---
Final Thoughts
Well there ya have it. The 5 best small elliptical machines all laid out for ya, nice and organized… Ha, ok, seriously though, I think these are the best options available when space is very limited. The ellipticals here were chosen because they have the most to offer in regards to stride length, weight capacity, and warranty.
These are the features I think are most important to consider when looking for any elliptical really. Stride length is crucial for determine how comfortable the elliptical is going to feel while you are using it. Weight capacity is important because it has to be safe for you to use and it tells you how well-built the machine is.
Warranty is like insurance on your new elliptical, longer is always better. Just keep in mind the price range we are working in here. These are all budget ellipticals. In terms of warranty, you get what you pay for.
If you have any questions or comments, leave them below and I'll get back to you soon.