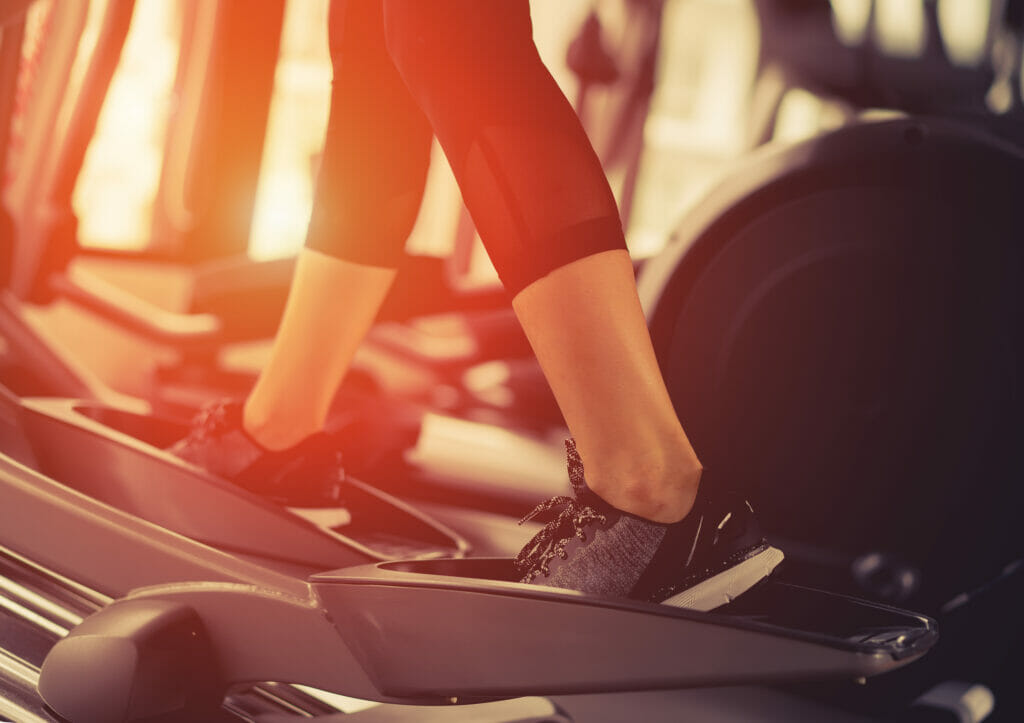 What do you get if you take one of the most highly regarded indoor cycles of all time and turn it into a standing elliptical machine?
You guessed it – Keiser's M5i Strider.
Utilizing the same lightweight flywheel and advanced magnetic resistance system of the M3i, the M5i offers a smooth acting, low-impact way to get a great full body workout.
And with a small footprint and surprisingly heavy-duty frame, the M5i can fit in small areas and accommodate folks who weigh up to 350 lb.
The only issue I could see some folks having is that the M5i uses a small stride length designed to mimic walking, instead of a longer stride length designed to mimic running.
So, if you like the feel of being able to stretch out farther on an elliptical, the M5i probably isn't the best option for ya.
But I'm getting a little ahead of myself.
In this review, I'll go over all the specs, features, and pretty much everything else you should know about before you decide whether or not to purchase the Keiser M5i.
After reading, you'll be able to decide for yourself whether or not this is the right elliptical machine for your home.
Let's do this.
The Keiser M5i Strider Elliptical Machine
When the Keiser brand comes up, it's their M3i Indoor Cycle that immediately comes to mind, although the brand has been around for decades and is a leading provider of elite training equipment to professional sports teams around the world.
Their residential cardio equipment is really just a small part of what the brand does.
Which is impressive, considering how revered their indoor cycles are.
Speaking of cycles, we have Keiser to thank for several cycling innovations that we take for granted these days – like magnetic resistance systems and rear-mounted flywheels.
But that's enough about cycles, we're here to discuss their M5i.
The M5i is one of 2 elliptical trainers in Keiser's lineup, with the other being the slightly less sophisticated M5.
At the time of writing this, the M5i is going for roughly $2k, putting it in the "really nice for home use" price range, but still far more affordable than the ellipticals that are priced like true commercial machines (think Life Fitness, Precor).
Pros
Compact footprint
Smooth magnetic resistance
24 gears, but micro-adjustable in-between
Low impact
Full body workout
Bluetooth compatible
Polar chest strap included
Height adjustable handles
350 lb weight capacity
Workout mat included
Media tray
Decent warranty
Cons
Some might prefer a longer stride length
No built-in workouts
Stride Length
I always start my elliptical reviews with a rundown on stride length because I think this is probably the most important spec to consider when searching for an elliptical.
The stride length spec describes how far apart your legs move while using the elliptical and its usually measured in inches (here in the States anyway).
Most home ellipticals come with stride lengths somewhere in the 16 – 20″ range, although there are plenty of smaller ellipticals with much shorter stride lengths.
Generally speaking, taller folks benefit from longer strides because they'll be able to stretch out more, but that's not to say taller people can't use ellipticals with smaller strides.
It all boils down to what you're looking for and what you find comfortable.
Smaller stride lengths give more of a "walking" or "jogging in place" feel, compared to longer strides that offer more of a "running" feel… if that makes sense.
Anyway, with all that said, Keiser actually doesn't disclose the M5i's stride length.
But they do admit that it has a "shorter stride length" and that it was designed like this to make it easier on joints (as well as keep it more compact).
You can also tell by looking at the design that this elliptical is going to have a very small stride length, but I'm a numbers guy, so I'd still like to know the exact measurement of the stride here.
(I've reached out to Keiser's reps to see if they can help with this and I'll update ya when/if I get an answer).
But either way, rest assured the stride on the M5i is going to be smaller than the stride on most other high-end home ellipticals.
Which is fine, as long as you know what to expect.
And I agree with Keiser that the shorter stride will likely make it more comfortable for people dealing with achy joints or looking for a lower impact option.
After all, less range of motion is usually lower impact than more.
When it comes to the frame itself, the M5i is very small for an elliptical trainer – with a footprint of only 23″ x 51″, it's a good 6-8″ more narrow and 30″ or so shorter than most full size trainers (like Sole's popular E95, which is 82″ long).
But even though it's small, the M5i shouldn't be confused for one of those lightweight, cheaper ellipticals that are so common on Amazon.
With an assembled weight of 127 lb and a max weight capacity of 350 lb, it's obvious this elliptical is substantial enough to feel sturdy during use.
Overall, the M5i comes with a small stride length, so users should be prepared to feel like they're jogging in place, but the smaller stride will likely make it feel more comfortable and lower impact.
And even though this trainer is compact, it's still heavy-duty enough to handle folks of all sizes.
Resistance
I mentioned in the intro that the M5i uses the same resistance system as the M3i, but let's get a little more specific.
The M3i is famous for many reasons, but most notably because it utilizes a really light flywheel (8 lb to be exact), yet still offers a really smooth pedaling motion.
This is hard to believe in a market where indoor cycles are casually boasting 40 and 50 lb flywheels, but Keiser is able to provide a great feel by getting their light flywheel spinning really fast.
The whole smooth pedaling motion thing mostly depends on momentum.
It's easy to build that momentum by adding weight to the flywheel, but you can also build it by getting that flywheel spinning faster.
And this is the route Keiser uses.
I'm not sure if the gear ratio on the M5i is identical to the ratio on the M3i, but I'm guessing it is and I believe the flywheel on the M3i spins 11x for every full rotation of the pedals.
This means that flywheel is spinning really fast…
Regardless, the M5i uses the same, 8 lb flywheel found on their M3i and users are pretty unanimous that it offers a great feel.
Keiser pairs this flywheel with the same magnetic resistance system found on the M3i, which makes sense because if it's not broke, don't fix it.
The resistance system on the M5i is a little different from many ellipticals because it does come with 24 gears (levels), but you can also make small changes to the resistance between these gears.
So technically, you have a micro-adjustable system, but you still get levels to help you track where you are (as well as mimic workout conditions for later workouts).
The resistance is adjusted via a red lever near the console, which also serves as an emergency brake.
Users agree the M5i (and M3i) is capable of providing a ton of resistance, so users of all skill levels should be able to challenge themselves as much as they like with this elliptical.
Overall, I think the M5i scores highly with its fast spinning light flywheel design and I like the idea of being able to make small changes to the resistance, while still having set gears for reference.
Features
LCD console- the console on the M5i is fairly basic looking, but it tracks all the workout metrics most of us would be interested in, including cadence, power output, time, distance, calories, and heart rate (as well as resistance level). There aren't any built-in workout programs, but at the time of writing this, Keiser has partnered with Elliptica and they offer a 30 day trial to their on-demand workouts.
Bluetooth- the console is bluetooth compatible with fitness apps though, allowing you to track workout metrics and follow along with workouts. Keiser has their own fitness app, but it's compatible with a whole bunch of others as well.
Handles- the M5i comes with moving handles, allowing you to get your upper body involved in the workout, but it's also got a pair of stationary handles too. You can also adjust the height of the stationary handles, which is nice.
Media tray- there's a place to put your pad or phone to watch Netflix or follow along with fitness apps during workouts.
Heart rate monitoring- the M5i is compatible with heart rate monitors and Keiser actually includes a Polar H9 strap with purchase.
Floor mat- Keiser also throws in a complimentary floor mat to help protect your floor.
Water bottle holder- and yes, there's even a place to put your water bottle/keys.
Assembly
If you decide to purchase the M5i, there will be some assembly required, but if you or a family member is at least a little handy, you shouldn't have any difficulties.
Keiser does a great job with their assembly manuals and the procedure itself is fairly straightforward.
After you unpack everything, you basically attach the upper frame to the lower frame, connecting the power cables in-between.
Then you have to attach the console, connect the handles/handlebars, and secure everything with screws and bolts.
The pedals come pre-assembled, so you don't have to mess with those.
Keiser doesn't mention anything about then necessary tools coming with the M5i (and they do for the M3i), which makes me think you have to supply your own tools.
Just to be safe, you might want to make sure you have a few wrenches/socket wrenches (13 mm and 11 mm), a couple of Allen wrenches (6 mm and 5 mm), and a Philip's head screwdriver.
Overall though, I bet most folks can have the M5i unboxed and working within an hour.
Warranty
Keiser offers the following residential warranty on their M5i Strider Elliptical Machine:
10 year frame
3 year parts
90 day wear items
Ten years on the frame is pretty good for an elliptical in this price range.
Sole offers lifetime frame guarantees (as does Spirit), but NordicTrack also offers 10 years.
Three years on parts is also decent, considering most brands offer somewhere between 2 – 5 years.
90 days on wear items is short, but it's wear items, so I'm not really that concerned.
Overall, I think Keiser's warranty for the M5i is pretty solid – could be better, but could certainly be worse too.
Final Thoughts
Ok, that about does it for the M5i.
All things considered, this is a pretty straightforward elliptical – there aren't a bunch of techy console features to get distracted with here.
Instead, you've got a down to Earth machine designed to perform well.
And let's face it, the fact that this is a Keiser product makes all the difference in the world.
Keiser is one of the premiere fitness companies in the biz and they didn't earn that reputation by building machines that don't work.
My biggest concern for the M5i would be that I think some folks might be put off by the small stride length – and I get that.
As a taller guy myself, I like the idea of being able to stretch out farther while using an elliptical.
But if you like the idea of having a smaller stride length, I think you'll be pleased with how smooth and comfortable the M5i operates.
This elliptical is a great option for folks looking for a compact machine, but it's also a great option for people looking for a really low impact workout.
That smaller stride is going to make a low impact elliptical even more low impact.
Overall, I think the M5i is a very nice machine and easily one of the best compact elliptical trainers around. Recommended.