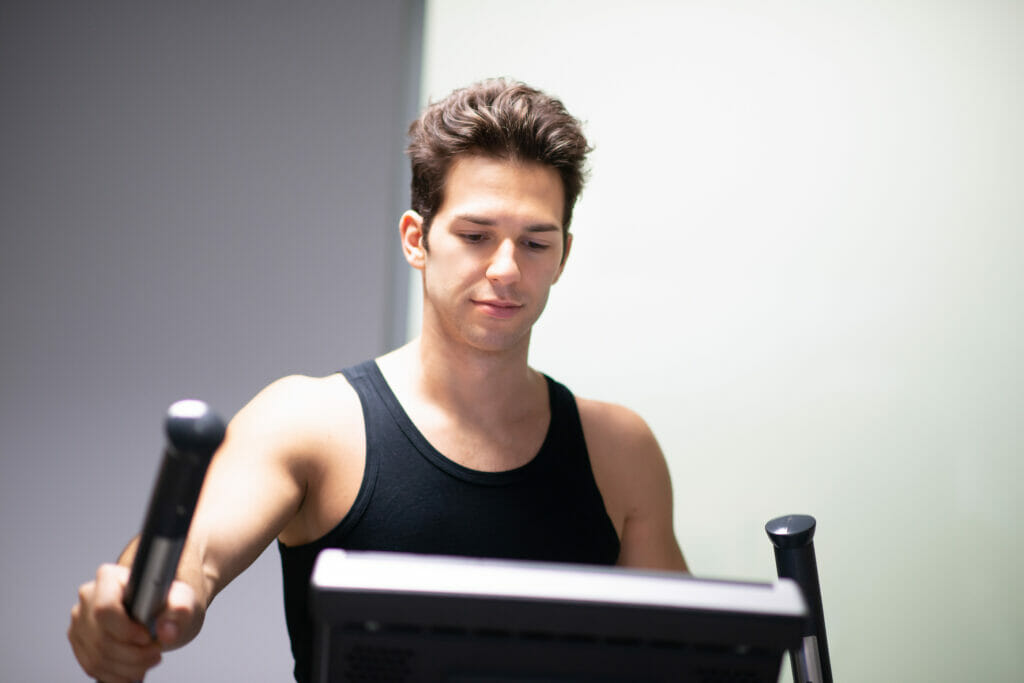 The Niceday Elliptical Machine has become one of the most popular ellipticals on Amazon and even though it looks very generic at first glance, I have to admit it's packing some pretty impressive specs.
Like a 16 lb flywheel, 16 levels of magnetic resistance, and a weight capacity of 400 lb – all of which are pretty remarkable for a $600 elliptical.
That said, I see a few red flags too.
Like the really short, 15.5″ stride length and questionable warranty policy.
Long-story-short: if you're in the market for a really affordable elliptical, Niceday's Elliptical Machine could be worth investing in, but personally I think there are better options.
If you're interested in the longer story, keep reading.
In this review, I'll go over everything this elliptical does and doesn't have going for it. I'll also compare it to some of the other top competitors in its price range.
After reading, you'll know whether or not this Niceday Elliptical is worth buying.
The Niceday Elliptical Machine
I usually like to include a brief intro for the brand here, but I can't find any background info on Niceday to save my life.
All I know is that they sell a few products on Amazon, including some women's workout apparel and a couple of fitness machines.
If I had to guess, based on the appearance of this elliptical and the language used in the marketing, I would say Niceday is a Chinese brand specializing in really affordable gear.
And I hope I'm not displaying any prejudices here or anything (and I apologize if I'm wrong), but there are a ton of cheap Chinese fitness products on the market and they all kinda look like this.
Not that that's necessarily a bad thing – you can get some really good deals this way.
You just have to keep in mind that buying cheaper equipment usually comes with some downfalls, regardless of where it comes from.
Including poor warranties, questionable quality control, and often lackluster customer service (although I have to say, user reviews of Niceday's customer service is generally very positive).
Anyway, let's get back to the elliptical we're here to discuss.
At the time of writing this, the Niceday elliptical is going for around $599 on Amazon, making it very affordable in the world of home ellipticals where top models go for around $2k or more.
Pros
16 lb flywheel
16 magnetic resistance levels
400 lb weight limit
Easy assembly
Affordable price
Highly rated by users
Cons
Short stride length
Lightweight frame
Questionable warranty
Very basic console
No workout programs
Stride Length
The first thing I look at on any elliptical is its stride length.
This lowly spec tells us how far apart the pedals move from each other with each step, which might not sound that important, but trust me it is.
And that's because the stride length tells you how comfortable you can expect your workouts to be.
Simply put – if the stride length is too short for ya, you're going to feel like you're marching in place on that elliptical.
And I don't know about you, but that's not really what I'm going for with an elliptical.
Stride length preferences vary from person to person, but it mostly comes down to height and leg length – taller folks need longer stride lengths, while shorter folks can get away with smaller ones.
Most higher-end home ellipticals come with stride lengths of 20″ because at this size, the elliptical is able to comfortably fit folks of most heights (check out my stride length guide to see which stride length is right for you).
With this in mind, the Niceday Elliptical comes with a stride length of 15.5″.
This is really small for an elliptical, but to be fair, cheaper ellipticals come with smaller stride lengths (this is one of the biggest reasons they're cheaper to begin with).
If you check out the user reviews, you'll notice several comments complaining how the pedal motion is more "circular" instead of being oval shaped like traditional ellipticals.
Well, this is because of that small stride length.
I would like to commend Niceday for mentioning that their elliptical is best suited for folks between 4'9″ – 6'2″, although I think they're being a little generous with the 6'2″.
With such a small stride length, folks that are 6'2″ would feel like they're marching in place.
Personally, I think this elliptical is better suited for people 5′ 7″ and shorter, but again, it does depend on personal preferences too.
Ok, so this elliptical comes with a really short stride length that will feel more circular in pattern, but what about the frame itself – is this thing stable?
Well, with an assembled weight of about 106 lb, I wouldn't feel comfortable calling this machine "heavy-duty" by any means, but it's pretty average for this price range.
Although that said, Sole's most affordable E20 can be found on sale for just over $600 and comes with an assembled weight of about 175 lb… just sayin'.
And Schwinn's 430, which at the time of writing this is actually cheaper on Amazon than the Niceday, weighs in around 169 lb.
Even though the Niceday doesn't weigh that much, it does come with a 400 lb weight limit, which is really high for this price range (or any for that matter).
Honestly, if I weighed over 300 lb I don't think I'd try using this elliptical, but according to Niceday, this elliptical can easily accommodate folks of this size.
Overall, the Niceday elliptical is pretty average in terms of stride length and heavy-dutiness for this price range, but there are models out there that score significantly higher.
Resistance
Moving on, let's talk resistance.
Most home ellipticals operate like exercise bikes in that they use a weighted flywheel and a magnetic system to create the resistance.
And just like most exercise bikes, ellipticals can benefit from a heavier flywheel when it comes to smoothness of the pedal motion.
The Niceday Elliptical comes with a 16 lb flywheel, which is pretty darn heavy for an elliptical in this price range.
For the sake of comparison, the E20 mentioned above is only packing a 14 lb flywheel, which is more of the norm for this price range.
So, at 16 lb, I would say the Niceday is ahead of the curve when it comes to flywheel weight.
And most users agree the pedal motion on this elliptical is pretty smooth (and quiet too for the most part).
The Niceday Elliptical comes with 16 resistance levels that are changed by turning a dial on the upright post.
This is also more resistance levels than most affordable ellipticals come with (8 levels is very common).
Having more resistance levels is a good thing because it allows you to make smaller changes between levels, but it doesn't necessarily mean you get more total resistance to work against.
There aren't any adjustable incline settings or anything like that on this machine and at this price point, I wouldn't expect there to be.
Overall, the Niceday scores highly when it comes to the resistance department – it comes with a heavier flywheel and more resistance levels than most in this price range.
Features
The Niceday Elliptical Machine comes with the following features:
Digital monitor- the console on this elliptical is as basic as they come. There aren't any built-in workout programs, no fans, no speakers, none of that stuff. It simply displays your time, distance, speed, calories, and heart rate. And according to Niceday, "all data is dual-calibrated by serious algorithms"… ha, you can't blame 'em for tryin'. Oh, it isn't backlit either, so you might want to keep it in a well-lit room for optimal viewing.
Heart rate monitoring- there are built-in grip heart rate monitors in the stationary handles to give you a rough idea of what your pulse is, but these are notoriously inaccurate. This elliptical isn't compatible with strap monitors.
Transport wheels- there are built-in wheels that make it easy to roll this elliptical around for transportation.
Assembly
If you decide to purchase the Niceday Elliptical, don't worry about a complicated assembly procedure – putting this machine together should be a piece of cake.
The majority of the machine comes preassembled, with the upright post folding into place.
You'll really only be responsible for securing the upright post, attaching all the handles, connecting a few covers, and hooking up the console.
That's it.
The console is battery operated, so you don't have to worry about putting this elliptical near an outlet or anything.
Overall, the assembly process on this elliptical couldn't be easier. I bet most folks can have it up and running within 20 – 30 min.
Warranty
Ok, so I can't find any legit warranty info regarding the Niceday Elliptical – I know, my apologies.
But again, this is kinda how it tends to go for cheaper, Chinese brand equipment.
Based on my experience and reading user reviews, I'm guessing Niceday backs their elliptical with a 1 year warranty.
This is what most of these really affordable ellipticals come with and it's also one of the biggest drawbacks of purchasing an elliptical like this.
It's a bit of a gamble because you don't know how long it's gonna last.
You might get a few good years out of it and that would be a great investment; on the other hand you might not.
And I don't believe for one second that that Niceday offers a legit lifetime warranty on this elliptical – no way.
According to their marketing, they offer "life long service" to this elliptical, but to me that doesn't sound the same as a lifetime "warranty".
To me, it sounds like they'll help you fix the problem with said elliptical for as long as you own it, but not necessarily pay for it/replace it.
I could be wrong and if I am, I apologize – my bad.
But it's just too good to be true that an elliptical like this comes with a lifetime warranty.
And if it did, why would you have the option of purchasing an extended warranty??
Final Thoughts
Ok, that about does it.
The Niceday Elliptical is a budget-friendly model with a few respectable qualities, most notably that 16 lb flywheel, but honestly, I don't see that much reason to invest in it.
If it was a couple hundred bucks cheaper, sure, maybe – but with an asking price of around $600 there are just too many better options.
As I mentioned earlier, Schwinn 430 is priced almost identically and comes with a 20″ stride length, tons of built-in workouts, and a wonderful warranty.
Sole's E20 is only about $50 more and comes with an 18″ stride, built-in workouts, bluetooth speakers, USB charging, and a legit lifetime frame warranty.
And there are also a ton of more affordable ellipticals (ANCHEER, Sunny Health & Fitness, Fitness Reality) basically offering the same thing for less cost.
Overall, I respect how much praise the Niceday Elliptical Machines receives from its users, but I don't think it makes sense – there are better options in this price range.