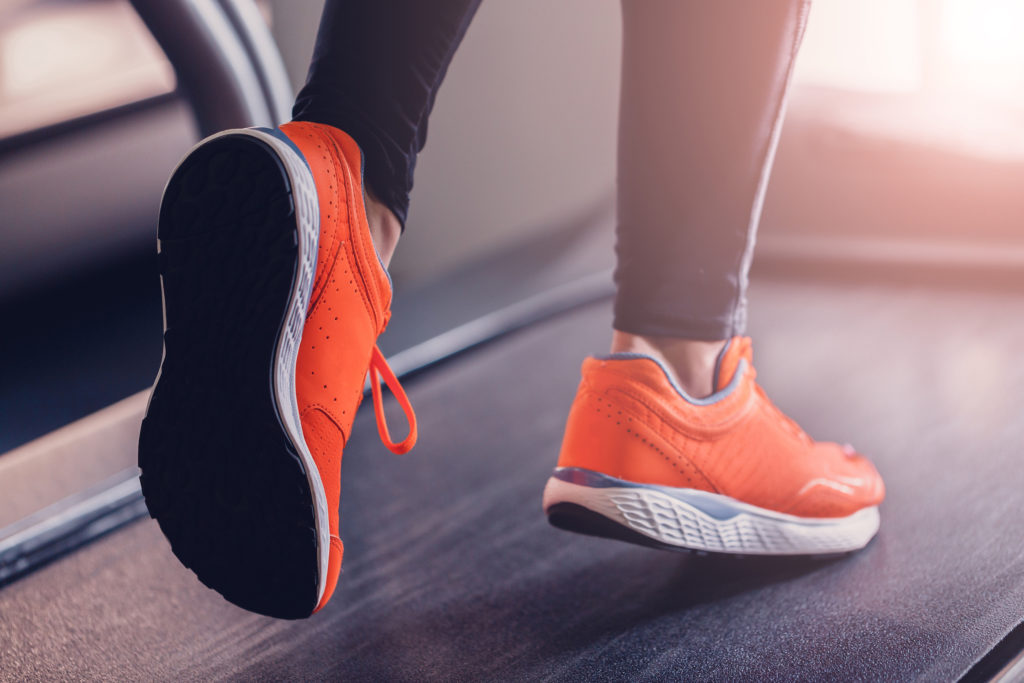 For the big and tall folks out there, finding the perfect treadmill can be a challenge. Depending on your height and weight, it can be tough to find equipment that can comfortably accommodate your needs.
The best treadmills for tall and heavy people need to be big enough and strong enough to get the job done. But how can you tell which treadmills are best suited for the task?
Well, that's exactly what this guide is here to teach you.
In this article, we'll discuss the key specs you should examine when comparing treadmills in order to determine which ones can safely handle heavier (and taller) users.
I'll also provide by top 5 home treadmill picks based on the criteria we discuss.
After reading, you'll be well equipped to find the right treadmill to meet your home gym needs.
Finding The Right Treadmill
Most home treadmills (like pretty much everything else I imagine) are designed with the "average" person in mind.
For the people out there that are above average in the height or weight departments, it can take a little extra work to find a model that will fit comfortably.
But rest assured, there are treadmills out there that can accommodate people of all shapes and sizes- you just have to know where to look.
When comparing treadmills for the big and tall, there are 3 specs in particular you need to consider when looking for the right choice. These include:
Weight Capacity
For the heavier users, weight capacity is going to be the first spec you need to look for. This number will tell you the maximum safe weight the treadmill has been certified to handle.
Many home treadmills come with a weight limit of 300 lb. This is the average weight limit for treadmills, although price range will likely play a role in this.
Generally speaking, more expensive treadmills come with higher weight limits, but even the most expensive models usually max out at 400 lb.
More affordable treadmills, especially ones under $500, often come with weight limits in the 250 lb range and lower.
Weight capacity is a great indicator of frame integrity, because machines with higher limits need stronger frames to accommodate the extra stress.
On the same train of thought, I also like to look at total treadmill weight as an indicator of "heavy-dutiness". Heavy-duty home treadmills should weigh over 250 lb.
For the purpose of this guide, we're looking for treadmills with a weight capacity of at least 350 lb to be considered exceptional for heavier users.
Running Surface
Weight capacity is essential for heavier users, but it's the running surface that the taller folks are going to have to prioritize.
The running surface of a treadmill is defined as the amount of belt space you have at your disposal during your workouts. This spec is measured in inches and usually written as "width x length".
Regardless of your height, it's always a good idea to go for as large a running surface as your budget allows because it's going to make for a more comfortable, more commercial-like experience.
You know, the more wiggle room you have on the treadmill the more comfortable it's going to be to use.
But for the taller folks out there (and by "taller" we're talking people over 6′), it's important to look at the running surface because you want to make sure you have enough room to comfortably stretch out during use (especially running).
The gold standard for a quality home treadmill is a 20″ x 60″ running surface. A belt this spacious is big enough to accommodate most average users comfortably.
But we're not here to talk about the average user.
People who are 6′ tall and taller, especially the ones who plan on running at faster speeds, should look for a treadmill with a 62″ long running surface.
The extra couple inches is going to ensure you have plenty of room to stretch out completely when sprinting.
If you don't plan on running, taller folks can get away with significantly shorter treadmills- a 6'6″ user can likely walk comfortably on a 55″ long belt without any issues.
The faster you run, the longer your stride length usually is though.
Belt width isn't as crucial as length for taller people, but heavier users will probably appreciate a little extra width.
For the purpose of this guide, we'll be looking for treadmills with running surfaces in the 20-22″ x 60-62″ range.
Warranty
Warranty should be a key spec to consider for any home fitness equipment purchase, so I think it's worth mentioning here.
Treadmill warranties usually come in several parts, including:
Frame
Motor
Deck
Parts
Labor
High-end treadmills will come with lifetime frame and motor warranties. Not all treadmills include a separate deck warranty, but others will offer lifetime guarantees on this as well.
When it comes to parts, I think anything longer than 5 years is pretty exceptional.
The industry standard for labor warranties is 1 year, so anything longer is going above and beyond. There are plenty of high-end brands offering 2 year labor warranties these days.
The warranty is a good way to spot a superior treadmill because companies aren't going to back crappy machines with long warranties- they know they aren't going to last and they don't want to waste the money fixing them.
For the purpose of this guide, we're looking for treadmills with lifetime frame and motor warranties, 5-10 year parts warranties, and 2 year labor warranties.
Other Stuff
Weight capacity, running surface, and warranty are the top 3 considerations when looking for a great, heavy-duty treadmill. That said, motor strength is close behind.
Generally speaking, treadmills that score highly in those criteria mentioned above will also score highly in the motor department- it's rare to see a treadmill with impressive specs all around and then come with a weak motor.
Treadmill motors are measured in continuous horse power (CHP) and most motors are DC (although we're seeing more and more AC motors in home units).
Motor strength usually ranges from 2.0 – 4.0 CHP for home treadmills. If you plan on running, I recommend going with at least a 3.0 CHP motor to ensure smooth operation.
Besides motor, you'll probably want to consider additional features like workout programs, bluetooth, incline settings, and console sophistication.
Many treadmills are coming with HD touchscreens and the ability to stream workouts, so if you're into that stuff this might be something you want to prioritize.
Oh, roller size is another key spec I like to look at. The rollers are the parts that help propel the belt down the deck smoothly as the motor does its thing.
When it comes to rollers, bigger is better because they put less stress on the belt and motor, prolong the life of both. Larger rollers usually make for smoother operation as well (look for 2.0″ rollers or larger).
The 5 Best Treadmills For Tall And Heavy People
#1 3G Cardio Elite Runner Treadmill
If you're not familiar with the 3G Cardio brand, I'm not that surprised- they definitely don't have the same brand recognition as ProForm or NordicTrack.
But when it comes to making hardcore treadmills, 3G Cardio can roll with the best of them any day.
They offer several home treadmills to choose from, but it's their Elite Runner Treadmill that shines above the rest. This is their most advanced model to date and it checks all the boxes we're looking for.
The Elite Runner comes with a max weight capacity of 400 lb and a running surface that measures 22″ x 62″. And with a treadmill weight of 386 lb, this is easily one of the heaviest-duty home treadmills on the market.
It's so heavy-duty, 3G Cardio even throws in a commercial warranty, meaning you could walk into a hotel or apartment complex gym and see this model sitting there.
Residentially speaking, the Elite Runner comes with an amazing warranty: lifetime frame and motor, 10-year parts, and 2-year labor.
It also comes with a 4.0 CHP motor, an orthopedic belt, and an incline up to 15%.
Overall, the Elite Runner by 3G Cardio has what it takes to accommodate the largest users out there. Not only is this a great treadmill for the big and tall, it's also one of the best running treadmills I've come across. See full review.

#2 LifeSpan Fitness TR7000i Commercial Treadmill
LifeSpan markets this as a commercial model (and even offers a commercial warranty), but it's priced as a home treadmill. Which makes for the best possible situation- getting a commercial grade machine for the price of a home model.
If you like the Elite Runner, but are working with a tighter budget, the TR7000i makes a lot of sense.
Much like 3G Cardio, LifeSpan is lesser known home fitness brand that concentrates more on performance specs than flashy features.
The TR7000i is their most advanced treadmill to date, not counting their rehab model.
When it comes to the specs, this treadmill delivers in every important category. We're talking a 400 lb weight capacity and a 22″ x 62″ running surface.
LifeSpan doesn't skimp in the warranty department either: lifetime frame and motor, 5-year parts, and 2-year labor.
To go along with that large running surface, LifeSpan threw in a 3.5 CHP AC motor to provide smooth, seamless operation. Yeah, you read that right- AC motor.
AC motors are usually reserved for the commercial treadmills because they can handle prolonged running better than DC motors (don't heat up as much).
But since the TR7000i is technically a commercial treadmill, you can get your hands on one pretty affordably by purchasing this model.
This treadmill also comes with 3.0″ rollers, 21 built-in workouts, and an incline up to 15%.
The TR7000i weighs 368 lb fully assembled, so it's not quite as heavy as the Elite Runner, but it's pretty darn close.
Overall, I think this is one of the best kept secrets in home treadmills- a truly commercial grade machine (with one of the strongest motors on the market) for under $3000. See full review.

#3 Sole F85 Treadmill
I'm a huge fan of Sole Fitness because they specialize in making high-end equipment that concentrates on function above all else. Their treadmills, ellipticals, and bikes always find their way on my "best of" lists because they just don't mess around.
Their products are also very reasonably priced.
Sole's F85 might get my vote for best all-around home treadmill. Considering price, specs, features, and warranty, I'm not sure there's any treadmill out there that can go pound to pound with this model.
That said, when it comes to the bigger and taller crowd, the F85 isn't quite as heavy-duty as the 2 treadmills we've already discussed- the biggest differences being seen in the running surface length and overall machine weight.
The F85 comes with a running surface that is 22″ x 60″, so a good 2″ shorter than the Elite Runner and the TR7000i (tall sprinters should keep this in mind when considering these treadmills).
This treadmills is a little lighter too, with a total assembled weight of only 301 lb, but it still comes with a 400 lb max weight capacity, making it great for the heavier crowd.
In terms of warranty, Sole is one of the most generous in the biz. They back the F85 with the following guarantee: lifetime frame and motor, 5-year parts and electronics, 2-year labor.
Other perks of this treadmill include a 4.0 CHP DC motor, 2.75″ rollers, bluetooth compatibility, and an easy assist folding deck.
With a sales price under $2000, the Sole F85 isn't just one of the best treadmills for the big and tall, it's one of the best home treadmills period. Truly an amazing product. See full review.

#4 Life Fitness Platinum Club Series Treadmill
Life Fitness is a well-known supplier of commercial fitness equipment. If you go into any commercial gym in the US you're bound to find their handiwork.
But they also have a residential lineup of equipment that is as impressive as you'd imagine given their reputation.
Their Platinum Club Series Treadmill is their most advanced home treadmill to date (as the name implies) and you'd be hard pressed to find the differences between this and their commercial grade models.
This treadmill makes a great option for bigger folks because it's built like a commercial machine from the experts of commercial machine making.
The Platinum Club Series comes with a 22″ x 60″ running surface and a max weight capacity of 400 lb. And with a unit weight of 444 lb, this is by far the heaviest-duty treadmill on this list.
Life Fitness backs this treadmill up with a great warranty too: lifetime frame, shock absorbers, and motor; 10-year parts, 3-year monitor, and 1-year labor (I know we're looking for 2-year labor guarantees here, but c'mon, we're talking 10-years on parts).
This treadmill is also packing a 4.0 CHP AC motor. 3.5″ rollers, and an incline up to 15%.
The Platinum Club Series has all the performance specs to make it on this list, but it also has one of the most advanced consoles in the market- its SE3 HD console not only tracks all your metrics, but gives you access to TV, the internet, and a whole sleuth of entertainment apps.
The only downside to this treadmill is its price- this bad boy is not priced for the masses. This is a luxury machine with a luxury price tag.
But if you've got the money and are looking for the best, you found it. See full review.

#5 Bowflex BXT216 Treadmill
Rounding out our list is an exceptional treadmill from a little-known brand you may've heard of. Bowflex is obviously one of the biggest names in home fitness, but brand recognition doesn't always equate to quality.
Fortunately, in this case it does.
Whether you're a fan of their home gyms or not, it' safe to say that Bowflex products are legit. Their BXT216 is a prime example of what a moderately priced home treadmill should offer.
This treadmill comes with a 22″ x 60″ running surface and a 400 lb weight capacity. It has a machine weight of 304 lb, making it heavy-duty enough to handle the largest users out there (although it's insane to think that the Platinum Club Series has 140 lb on this model…crazy).
The warranty on the BXT216 is one of the reasons it can in the number 5 spot- definitely the weakest of the bunch.
That said, it's still long enough to make us feel confident in the product: 15-year frame and motor, 5-year parts and electronics, 2-year labor.
Realistically speaking, I'm not sure there's much difference between 15 years and lifetime on the frame/motor, but I know I still like to see the term "lifetime" when I'm comparing treadmills.
Warranty aside, the BXT216 is still packing a 4.0 CHP DC motor, 2.75″ rollers, and a max incline of 15%. It also comes with a decent selection of workout programs to choose from and is bluetooth compatible.
As one of the more affordable treadmills on this list, the BXT216 has a lot to offer. I forgot to mention, but this is also a folding treadmill, making it a nice choice for homes with limited space. See full review.

Final Thoughts
Regardless of your size, rest assured- there is a treadmill out there waiting for you. It's all about knowing which specs to look for during your search.
For the heavier folks out there, you should be prioritizing weight capacity and total machine weight- higher numbers in both categories will mean a heavier-duty machine.
Taller users should be prioritizing running surface. Taller runners especially should think about going with a 62″ long running surface to ensure there is plenty of room to stretch out.
If you're tall and heavy, no worries. As the top 2 treadmills on this list prove, there are treadmills out there that work great for taller and heavier users.
After you find a treadmill with the performance specs that match your needs, it's all about comparing features and finding one in your price range that fits.
If you ask me, the 5 treadmills on this list are the best around for tall and heavy people.
But if you didn't find one that strikes your fancy, that's ok. There are a ton of treadmills out there. Just keep the specs we went over here in mind during your search and you'll do fine.