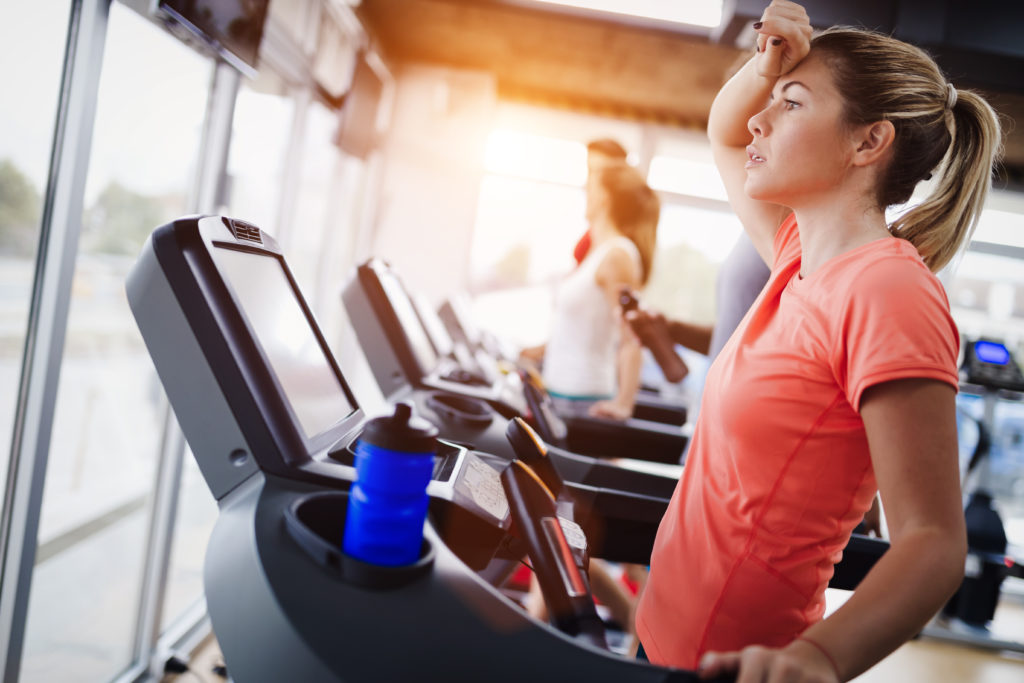 Life Fitness's Platinum Club Series Treadmill, as the name may imply, is a luxury model that mimics the look and feel of the commercial grade machines you'd find at the local gym.
Although it's rated as a home treadmill, this model would feel at home at any Gold's or YMCA.
Honestly, it's probably an upgrade over some of the treadmills at my local Y, but that's a story for another time.
Highlights of this impressive specimen include a 4.0 CHP AC motor, a 21″ digital media console, and a frame that's built like a tank.
If you're looking for club grade quality in the comfort of your home, there are few choices as remarkable as the Platinum Club Series.
But it's still a good idea to do your homework and check the fine print.
And that's where we come in.
This review is here to help you decide whether or not this treadmill is the right fit for your home gym.
In this article, we'll take a close look at all the key specs and features the Platinum Club Series has to offer to see how it stands up against industry standards.
The Life Fitness Platinum Club Series Treadmill
Life Fitness is one of the most recognizable fitness brands on the planet. Although their fame comes from their commercial equipment, they do offer a home lineup that's equally as impressive.
Probably because it's hard to tell the difference between their commercial grade and home grade machines.
Life Fitness produces a little bit of everything, from treadmills and ellipticals to strength training equipment. They offer an extensive selection of home treadmills, both folding and non-folding.
Their Platinum Club Series treadmill is their highest-grade home unit. As such, it comes with their most powerful motor and most technologically advanced console.
It also comes with a pretty hefty price tag.
Pros
22″ x 60″ running surface
4.0 CHP AC motor
3.5″ rollers
400 lb weight capacity
Flex Deck shock absorbing system
Top speed of 12 mph
Top incline of 15%
SE3 HD console
42 workout programs
Limitless workout profiles
Built-in fitness tests
Telemetry heart rate monitoring
Quick start buttons
Great warranty
Cons
Running Surface
I believe running surface is the first spec you should consider when examining a new treadmill. If the dimensions are too small, no deal, I'm off to the next one.
And that's because I think running surface size is the spec that most directly relates to overall comfort during use.
Before I go on another rant, let's make sure we're all on the same page here. Running surface refers to the dimensions of the belt that's available during use. It's usually written as width x length and is measured in inches.
Any self respecting home treadmill should have a running surface that's at least 20″ x 60″.
That's the gold standard for running surface because it's been shown that pretty much all folks can comfortably walk or run on a treadmill this large without having to shorten their stride (even when sprinting).
The Platinum Club Series is a high-end, luxury treadmill so I would assume that this treadmill easily meets this criteria (you should actually never assume anything about these treadmills because price doesn't always correspond with quality).
But in this case, we would be correct. This treadmill comes with a 22″ x 60″ running surface. This surpasses my expectations a little in the width department and I like that it does.
When it comes to running surface, bigger is always better because it will give you more wiggle room (which is handy in case you tend to drift a little while you run).
Life Fitness designed the deck with their Flex Deck shock absorption system to reduce strain through your joints by up to 30% (as per Life Fitness).
All quality treadmills have their version of a shock absorption system, but if you've ever used one of their commercial machines, you know that Life Fitness has perfected it.
Something else you'll notice about this treadmill is how robust it is – this thing weighs almost 450 lb fully assembled. Although it might be more challenging to move, this extra weight is a good thing- it makes the treadmill more stable.
Stable enough to handle users weighing up to 400 lb safely (making it a great treadmill for heavy people).
The heavy-duty frame and robust hardware give the Platinum Club Series the look and feel of a treadmill you'd find at your local gym.
Overall, this treadmill scores very highly with the extra-wide running surface and heavy-duty frame.
Motor
The motor is another key aspect to consider when searching for the right treadmill. Simply put- stronger is better (usually). Stronger motors won't have to work as hard as a weaker motor will to provide the same workout.
Not only does this make for a smoother workout experience for you, but it also prolongs the life of the motor.
Most high-quality home treadmills will come with a 3.00 – 4.00 CHP DC motor. This is enough muscle for most people to run comfortably without having to worry about the engine keeping up.
The Platinum Club Series comes with a 4.00 CHP AC motor.
What's the difference between DC and AC motors? Well, it has to do with the type of current used. Generally speaking, AC motors are more rugged and can run longer without over heating or breaking down.
They also tend to be more powerful. Commercial treadmills use AC motors because they can handle the daily stress of multiple users without crapping out.
We're starting to see AC motors in some of the highest-end home treadmills now too though (like the Sole TT9).
It makes sense that Life Fitness would equip their highest-end home treadmill with a beast of a motor like this- after all, it does have "Club Series" in the name.
With this motor (that has a peak output of 8 HP by the way), the Club Series can easily reach a max speed of 12 mph and a max incline of 15%- plenty to challenge even the most gifted runners out there.
Life Fitness also uses 3.5″ front and back rollers for added smoothness and durability. Larger rollers are preferred because they make more contact with the belt as it propels down the deck- this prolongs the life of both the belt and the rollers.
Overall, this treadmill is off the charts in the motor department. This is literally a commercial grade motor that should last as long as you need it to.
Features
The Life Fitness Platinum Club Series Treadmill comes with the following features:
LCD touchscreen display- the SE3 HD console is more than a simple display, it's a digital entertainment package that gives you access to the internet, tv, apps, and a whole bunch of interactive courses and workouts.
42 workouts- you can access up to 42 different workouts through the SE3 HD console. This is a ton of workout variety and should be plenty to keep your workouts fun and entertaining for years to come.
Built-in fitness tests- there are also several different fitness tests accessible through the console (like the US Army or Navy tests). These are a good way to gauge your progress and test your fitness from month to month.
Quick start buttons- if you don't want to mess with the console and all the menus, you can use the quick start buttons to get your workout going immediately. Very convenient if you simply want to walk or run at a constant pace.
Limitless user profiles- you can set as many user profiles as you want on this treadmill- very handy for house holds with multiple users.
Telemetry heart rate monitoring- you can check your heart rate with the contact monitors or connect your wireless chest strap monitor for more accurate results during your workout.
2 removable cup holders- these come in handy for keeping your water bottles available during your tougher runs.
Reading rack- the large reading rack is a nice touch if you like to read or watch your tablet during your workout.
Assembly
This is a huge treadmill and assembly can be challenging. Just the sheer size of it makes it a 2 person job. I'd like to say that the assembly manual makes things easier, but I'd be lying.
The assembly instructions are confusing.
There aren't any written instructions, just progressive images. When looking over the manual I found it kind of difficult to follow, especially considering how many steps there are and how many different wires and cables there are with the advanced console.
All of the images and arrows (and lack of written directions) made me think of a mime trying to describe to me how to assemble it. Or maybe the most boring game of charades you've ever played.
Seriously though, assembly on the Club Series is involved. If you're comfortable with the investment it costs to purchase this machine, you're probably safer just going in for the professional assembly.
If you're really handy and experienced, I'm sure you and a friend could get the job done if you really want to. Good luck.
Warranty
Life Fitness backs their Platinum Club Series with the following warranty:
Lifetime frame
Lifetime motor
10 year parts
3 year console
1 year labor
This is a nice warranty. I especially like the 10 year parts guarantee because this is more generous than most (5 years is pretty standard for nice home treadmills).
The lifetime warranty on the frame and motor should be a given in this price range, but you never know. A year on labor is also pretty standard operating procedure, although some brands are starting to offer 2-3 years on labor now.
Overall, a generous warranty.
Final Thoughts
There's no doubt about it- this is a luxury treadmill.
When we lie back and day dream about our perfect home gym, this is probably the type of treadmill we envision in it.
And that's because this is a commercial grade treadmill with all the bells and whistles.
From the spacious running surface and powerful AC motor to the hi-tech digital console, everything about the Platinum Club Series treadmill oozes extravagance.
The only real downside I see (besides the price tag) is how challenging it is to assemble – again, professional assembly is strongly encouraged.
Otherwise though, this treadmill is a class act from top to bottom, truly one of the finest home treadmills on the planet.
If you're looking to bring club quality into the comfort of your own home gym, there's no better choice.