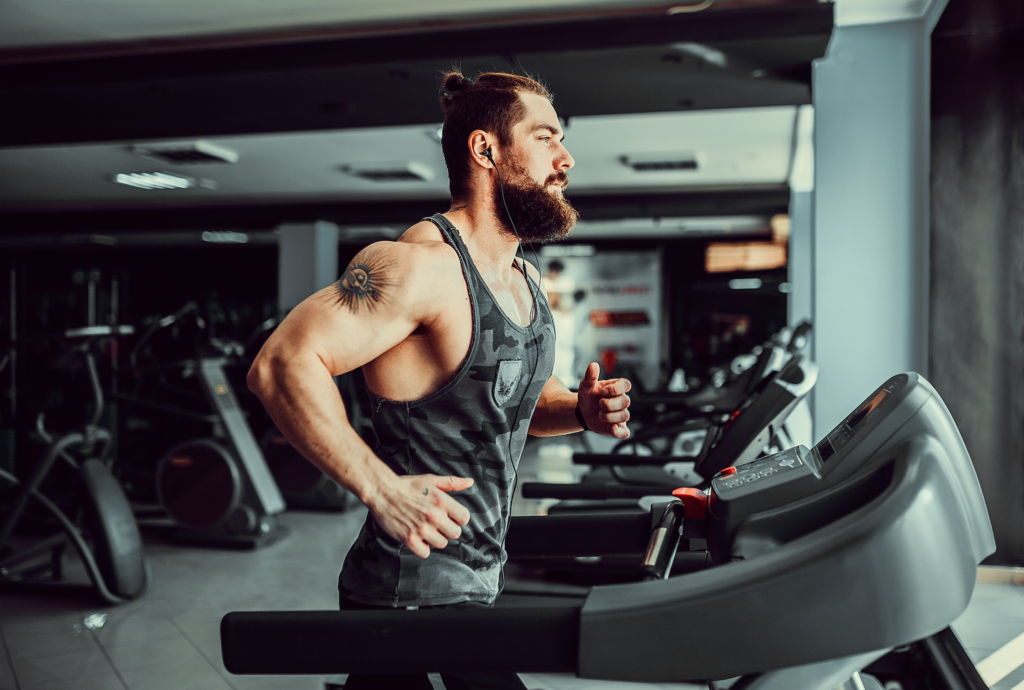 Bowflex's BXT216 is a high-end treadmill loaded with some of the most impressive specs you're going to find on any home unit in this price range.
Bowflex started with a heavy-duty frame and then decided to add enough muscle under the hood to ensure smooth and efficient operation for years to come. The result is a no-BS treadmill that's designed to perform.
Highlights of the BXT216 include a 4.o CHP motor, 3-ply belt, 2.75″ rollers, and a 400 lb weight capacity.
If you're thinking this sounds more like the spec sheet for a commercial treadmill, you'd be right.
Fortunately, with a sales price well below $2000, the BXT216 is positioned perfectly for home use. If you're looking for a durable treadmill that's tough enough to handle any workout you can throw at it, the BXT216 is a wise choice.
But to make sure, keep reading. In this review, we'll take a close look at everything this treadmill does and doesn't have going for it. In the end, you should know whether or not the BXT216 is the right choice for you.
The Bowflex BXT216 Treadmill
The Bowflex brand needs no introduction. They're easily one of the most recognizable names in home fitness. While they're most known for their home gyms, they've been just as innovative when it comes to their cardio machines.
They seem to always be upping the ante when it comes to home fitness, coming up with new and exciting equipment.
Stuff like the Bowflex HIIT Trainers and Treadclimbers are highly popular and their new LateralX LX5 shows a lot of potential too.
They don't seem to get recognized as much for their more traditional cardio equipment, like treadmills and ellipticals, and that's a shame because they do awesome work in these categories too.
Their elliptical and treadmill lineups are pretty small, with only 2 models to choose from in each. But they're all made with quality materials and well-priced.
The BXT216 is the highest-end treadmill they offer to date. It's an upgraded version of the more affordable BXT116. The $300 difference gets you quite a lot, including a larger running surface, stronger motor, and larger display screen.
Pro
Heavy-duty frame
22″ x 60″ running surface
400 lb weight capacity
4.0 CHP motor
Max speed of 12 mph
Max incline of 15%
Comfort Tech cushioning system
Folding deck
2.75″ rollers
3-ply belt
11 built-in workout programs
9″ color LCD display
4 user profiles
USB charging port
Bluetooth connectivity
Included chest strap heart rate monitor
Quick-touch speed and incline buttons
Straightforward assembly
Good warranty
Cons
Running Surface
To me, a treadmill's running surface is the most important spec to consider. I always start with it because I figure if my readers get bored and stop reading, at least they'll get far enough to see the most important feature.
Hopefully I can keep you entertained enough to make it to the end, but I'm a realist.
Anyway, running surface is crucial because it dictates how comfortable (or uncomfortable) you're gonna be during your workouts. And let's be real- if you're not comfortable working out, you're not gonna work out.
Quality home treadmills need to have a running surface of AT LEAST 20″ x 60″. It's been shown that users of most heights can comfortably workout on a treadmill this large without having to significantly alter their stride.
If you're budget is really tight, you might not be able to get a treadmill this spacious. And sometimes you have to do what you have to do.
But luckily, there are even a lot of budget friendly treadmills these days offering 20″ x 60″ running surfaces.
Bowflex's BXT216 comes with a more spacious, 22″ x 60″ running surface. You might not think the extra 2″ would make much difference, but it does- it gives it more of a commercial feel.
Wider treadmills are more comfortable to use because you have more room to sway laterally during your walks and runs. This means you don't have to worry as much about staying in a perfectly straight line- which makes for a more comfortable workout.
The running surface on this model is nice and spacious, but it's also a folding treadmill. After your workout, you can fold the deck vertically for storage, cutting the floor space requirement nearly in half.
With Bowflex's Soft Drop folding system, folding and unfolding is quick and easy on your back. The hydraulic assist does most of the work for you.
But just because it's a folding treadmill doesn't mean there was any skimping in the frame department.
Far from it.
The BXT216 has a very robust frame and is capable of holding users who weigh up to 400 lb (making it one of the best home treadmills for heavy folks).
This weight capacity is higher than most comparable models who max out in the 300 -350 lb range.
A weight limit this high ensures almost any user can hop on and get a workout in safely. It's also an indicator of how well-built this treadmill is.
The BXT216 is also designed with Bowflex's patented Comfort Tech cushioning system to reduce the compression forces you feel during your workouts.
With 5 Comfort Tech cells embedded in the deck, your joints will be better protected against the aches and pains that can come from running on a treadmill.
Overall, the BXT216 scores highly in the running surface category. The spacious surface combined with the advanced shock absorbing system makes for a comfortable experience.
Motor
If running surface is the most important spec, motor strength is a close second. After all, you have to have enough muscle under the hood to keep your treadmill running smoothly and efficiently.
If you don't, your treadmill simply isn't going to last. Or it's going to be so loud and clanky that you're going to kick it to the curb.
This shouldn't be an issue with this treadmill. The BXT216 comes with a 4.0 CHP motor that can comfortably reach and maintain a max speed of 12 mph and a max incline of 15%.
This gives you a lot of control in the intensity department and should be more than enough to challenge even the most elite runners out there.
The strength of the motor is impressive, but I also like that Bowflex is using a 3-ply belt on this model. The thicker belt will last longer, but it'll also add another level of comfort to your experience (thicker belt = more cushion).
Roller size is something you don't always see advertised, but it's a good idea to consider it when comparing treadmills. The rollers are the parts that make contact with the belt and propel it along the deck.
Having larger rollers is advantageous because it puts less stress on both the rollers and the belt and results in both parts lasting longer.
Nice home treadmills tend to have rollers in the 2 – 2.5″ range.
The BXT216 uses 2.75″ rollers, which is larger than average. The larger rollers are going to put less stress on the belt. They're also going to make for smoother belt action.
Overall, the BXT216 scores highly in the motor department too. I like the 4.0 CHP motor, but I'm equally as impressed with the 3-ply belt and 2.75″ rollers.
Features
The Bowflex BXT216 comes with the following features:
11 workout programs- this treadmill comes with 11 pre-programmed workouts to choose from. This isn't as many as some treadmills, but it's plenty of variety for those who don't want to mess with the fitness app. Workouts include several interval programs, a fat burn program, calorie goals, etc.
9″ color LCD console- the screen is large and easy to read during your workouts. There aren't any touchscreens of HD displays, but the screen does include Bowflex's exertion meter that gives you a visual representation of how many calories you're burning per minute.
USB charging port- you can plug your smart devices into the USB charging port and get a full charge while you get your exercise on (I guess that depends on how long you workout).
Chest strap heart rate monitor- the BXT216 is compatible with chest strap monitors and Bowflex even includes one with your purchase. This ensures you can access and use the heart rate guided workouts as soon as you get your treadmill up and running.
Bluetooth connectivity- you can connect to Bowflex's JRNY fitness app and get access to instructor led running workouts, as well as personal coaching and fitness tracking. Bowflex includes 2 free months, then you have to pay a monthly subscription fee. You can also connect to the Explore the World app or other fitness apps to add a little variety to your workouts.
Integrated handrail controls- you can control the speed and incline conveniently from the handrails.
Quick-touch speed and incline buttons- you can also instantly set the speed and incline with the touch of a button (on the console). The quick-touch buttons come in handy for making your own interval workouts.
Automatic 3-speed fan- the integrated fan will help keep ya cool and comfortable during your runs.
Built-in speakers- hook up your mp3 player or smart phone to the mp3 port and hear your favorite jams through the built-in speakers.
Media shelf- the built-in media shelf is conveniently located above the console, meaning you can watch Netflix or use the Bowflex app without having to block your view of the LCD display.
Water bottle holders- you could probably store like 6 different water bottles on this treadmill if you wanted. The storage compartments are huge and there is an extra storage shelf running below the console. Plenty of room for remote controls, cell phones, or anything else you might want to store away during your workouts.
Assembly
Putting the BXT216 together shouldn't be that bad. Bowflex does a great job with their assembly manuals: the images are large and easy to read and there are detailed written directions for each step.
All of the hardware is labeled and easy to identify.
There's actually only a few different bolts and screws needed.
The most challenging part is usually keeping the wires straight as you snake them through the console frame, but even that shouldn't be that tough.
All of the necessary tools required are included (just an Allen wrench and small screwdriver). You'll probably get the job done a little faster if you use your own tools.
Overall, assembly on this treadmill is pretty straightforward. I imagine most folks can get it assembled in an hour or two. When in doubt, professional assembly is always an option for added cost.
Warranty
The Bowflex BXT216 comes with the following warranty:
15 year frame
15 year drive motor
5 year mechanical parts
5 year electronics
2 year labor
I think this is a pretty solid warranty. I prefer to see the word "lifetime" when it comes to the frame and motor, but realistically, I'm not sure there's a lot of different between 15 years and lifetime.
Five years on all parts and 2 years on labor are both generous when compared to other home treadmill warranties.
Overall, a nice guarantee.
Final Thoughts
Bowflex is a well respected home fitness brand, known for producing high-quality machines that work well. Their BXT216 Treadmill fits their mold in all the best ways.
What stands out immediately to me is that this treadmill is built like a tank.
I love the heavy-duty frame and that it comes with a 400 lb weight limit, which is more than most in its class. It also weighs about 300 lb fully assembled (which is great when it comes to frame stability).
I also love that Bowflex uses a 4.0 CHP motor and 2.75″ rollers on this model. Pair these with the 3-ply belt and you've got the recipe for a really durable treadmill.
It's also nice that it comes with a decent workout selection. Especially since a lot of users might not be interested in paying the monthly subscription fee for the Bowflex workout app.
There isn't much to complain about here. It would be nice if it had bluetooth speakers, but that's far from a deal breaker.
Overall, I think the BXT216 is a great treadmill. It's tough, powerful, and easy to use. It's also priced competitively and backed by a good warranty. Easily one of the best treadmills in its price range. Highly recommended.