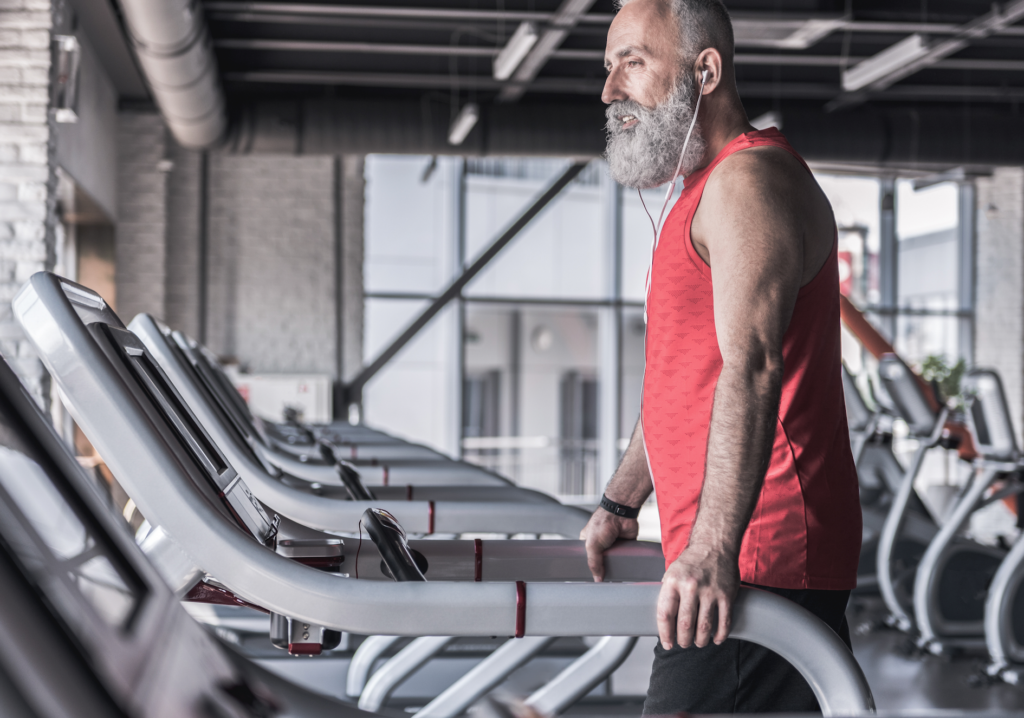 LifeSpan's TR7000i Commercial Treadmill is a heavy-duty model designed for either commercial or residential use. You might've guessed as much as by the name.
Often though, fitness brands use the term "commercial" pretty haphazardly- let's be real, there are a lot of "commercial grade" treadmills that you know would never expect to see in a club gym.
But the TR7000i doesn't fit into this category.
This is truly a commercial grade treadmill that can hold its own in any small club gym.
Highlights of this machine include a 3.5 CHP AC motor, a 22″ x 62″ running surface, and a generous warranty. Although it's a little lacking in the console department, this treadmill scores highly everywhere it really counts.
If you're in the market for a high-end treadmill, the TR7000i might just be what you're looking for- and this review is here to help you decide.
In this article, we'll take a close look at everything this treadmill has to offer, as well as where it falls a little short. After reading, you'll know everything you need to to decide whether or not this is the right model for your home gym.
The LifeSpan Fitness TR7000i Commercial Treadmill
LifeSpan Fitness is a fairly well-known provider of home and commercial grade fitness equipment. They've been in the game for almost 20 years and have built a reputation for creating reasonably priced machines that work well.
Not to be confused with Life Fitness, the luxury fitness brand, LifeSpan Fitness specializes in much more affordable gear. Most of their treadmills cost below $3000 (which in the world of high-end treadmills is pretty impressive).
They've also become a leader in the exercise at work movement currently going on. In fact, they offer some of the best under desk treadmills around.
The TR7000i is one of 3 commercial grade treadmills in their current lineup. They also offer 6 more affordable folding treadmills as well.
This treadmill falls in the middle of their commercials series, both in terms of features and price. The TR5000i is a little less heavy-duty (but faster) and the more expensive TR8000i is designed to work as a rehab treadmill.
Pros
Huge, 22″ x 62″ running surface
Heavy-duty frame
400 lb weight capacity
3.5 CHP AC motor
0.5 – 12 mph
0-15% incline
3″ rollers
21 built-in workout programs
Quickstart button
USB charging ports
Bluetooth compatibility
Telemetry heart rate monitor compatible
IntelliGuard safety feature
Great warranty
Cons
Dated console
Chest strap not included
Running Surface
The usable area of a treadmill is referred to as the running surface. This is how much belt space you have at your disposal during your workouts.
I doubt you're surprised to hear that when it comes to running surfaces, bigger is always better. I could be wrong, but I've never heard anyone complain that a treadmill was "too spacious".
Longer and wider belts give you more wiggle room during your workouts. They also give you plenty of room to stretch your stride out when running at faster speeds (especially for the taller runners out there).
While your height and leg length determine how much running surface you need, it's been found that treadmills with a running surface of 20″ x 60″ are big enough to accommodate most folks comfortably.
This is why 20″ x 60″ has become the gold standard for quality home treadmills.
Keeping this in mind, the TR7000i has a running surface that measures 22″ x 62″. This is wider and longer than your average treadmill.
The extra length makes it a great treadmill for running- regardless of your height, you should have plenty of room to stretch out completely during high speed sprints.
While we're talking running surface, I'd like to bring up frame integrity because that's another important consideration when comparing machines.
The last thing you want is a flimsy treadmill that's going to rock or move during use. Or worse yet, one that feels like you're going to snap it in half during your workout.
Treadmill weight and user weight capacity are good specs to examine in order to get an idea of how robust (or durable) a treadmill is.
The TR7000i has an assembled weight of roughly 368 lb, which is massive. The extra weight gives you a solid base that won't give or budge during use. For comparison's sake, many high-end home treadmills weigh between 200 -250 lb.
This treadmill comes with a weight capacity of 400 lb, which is also higher than most, making it a great option for the big and tall crowd.
High weight limits are another sign of superior frame integrity because a machine has to be stronger to hold heavier users.
Just keep this in mind when it comes to assemble and move this mammoth.
Overall, the TR7000i scores very highly with its extra large running surface, heavy-duty frame, and high weight capacity.
Motor
When talking treadmills, motor strength is another spec that's usually at the top of people's lists- and I agree, it's one of the most important things to consider.
Like running surfaces, bigger (or more powerful) is usually better when it comes to motors.
Stronger motors don't have to work as hard as weaker motors do to achieve the same output. This allows stronger motors to run smoother and more quietly.
It also usually means the stronger motors will last longer than the weaker ones because they don't have to work as hard on a daily basis.
When talking horsepower (or continuous horsepower, CHP), you should aim for at least 3.0 if you plan on running on a regular basis. Walkers or smaller users may do fine with weaker motors.
The TR7000i comes with a 3.5 CHP AC motor. At 3.5 CHP, this treadmill has enough muscle to run smoothly and comfortably reach a top speed of 12 mph without getting too stressed.
But what stands out to me is the fact that this is a AC motor- most home treadmills come with DC motors.
I'm not an engineer and I don't pretend to know the mechanical reasons why AC motors are preferred. All I know is that commercial treadmills tend to use AC motors.
I think it's because they can maintain more torque at lower speeds, which prolongs the motor life and makes for a smoother experience at walking speeds.
I think AC motors are supposed to run cooler too, which comes in handy in commercial settings where treadmills are being used for hours a day by multiple users.
The takeaway here is that the TR7000i has a more advanced motor than most home treadmills. It actually has a commercial grade motor.
I also want to point out that this treadmill uses 3.0″ Crown rollers, which is larger than the 1.9″ – 2.5″ rollers that most home units use.
The rollers are the parts that make contact with the belt and propel it down the track. Larger rollers are preferred because they make for smoother operation and because they prolong the life of the belt, rollers, and motor.
Overall, the TR7000i scores very highly in the motor department. It comes with a stronger, more advanced motor and larger rollers than most.
Features
The LifeSpan TR7000i Commercial Treadmill comes with the following features:
21 workout programs- this treadmill comes with a generous selection of workout programs to choose from. These include a couple of heart rate guided workouts, 2 custom plans, and 17 preset workouts.
6.5″ LCD screen- the console screen is a little dated, no HD touchscreen displays here. But the screen is easy to see and it makes it simple to track all your workout metrics.
Quickstart- just like the commercial treadmills we all love, you can simply hit the Quickstart button and start exercising. No need to shift through all the menus and workout selections unless you want to.
USB port- with 2 USB ports, you can charge your devices or transfer workout data.
Bluetooth compatibility- you can sync up with fitness apps via bluetooth for data tracking.
Heart rate receiver- this treadmill has built-in contact heart rate monitors, but it's also compatible with chest strap monitors for more accurate measurements during your workouts (not included).
IntelliStep- the built-in pedometer keeps track of your steps.
IntelliGuard- this is a safety feature that automatically stops the treadmill if you step off the deck.
Media shelf- the built-in shelf makes it easy for you to watch Netflix or read a book during your workout.
Water bottle holders- the console comes with 2 over-sized water bottle holders, similar to the ones you see on the treadmills you've used at your local gym.
Assembly
This is a very large, heavy treadmill. If you decide against the white glove delivery (which includes assembly) and decide to assemble yourself, make sure you have a couple of helpers available for transportation.
That said, the actual assembly of the treadmill is pretty straightforward.
The assembly manual is easy to follow- there are detailed written instructions for each step as well as large, easy to see images that make it easy to see where each piece goes.
The base of the treadmill comes preassembled. You'll be responsible for attaching the mast, the console, and adding the covers.
The hardest part of assembly is managing the treadmill because of its size. Professional assembly is recommended, unless you have some big, burly helpers available.
Warranty
The LifeSpan Commercial TR7000i comes with the following residential warranty:
Lifetime frame
Lifetime motor
5 year parts
2 year labor
I think this is a nice warranty for this treadmill. Given its price and quality, I wouldn't expect any less. You can't beat lifetime on the frame and motor- this should be a give at this price point, but unfortunately it isn't.
Five years on parts is also generous and another sign of quality manufacturing.
Two years on labor is about as good as it gets too- I've seen a 3 year labor warranty before, but they're rare. Overall, great guarantee on this treadmill.
This treadmill also comes with a commercial warranty:
10 year frame
5 year motor
5 year parts
1 year labor
As a home fitness blogger, I don't dive into the commercial side of things very often, but this commercial warranty is also quite generous based on the limited commercial warranties I've come across.
Final Thoughts
I feel like LifeSpan has casually created an amazing treadmill here. It's understated in all the best ways. There's definitely nothing flashy about it, but when you slow down and look at the specs, it's hard not to be impressed.
The running surface is larger than most treadmills on the market. Honestly, I can't think of any treadmills with a larger belt off the top of my head.
This treadmill is also packing one of the most impressive motors I've ever seen, especially in this price range. The TR7000i really does have a commercial motor, which is rare even for the "commercial grade treadmills".
The only real downside I see is in the console department- the LCD screen feels outdate and it certainly isn't the most cosmetically appealing console to look at.
But getting past the looks, it's still packing a respectable amount of workouts and features.
Last, but certainly not least, LifeSpan backs this treadmill up with a great warranty.
Overall, I think LifeSpan has a real winner here. It's built like a commercial grade treadmill but priced like a home treadmill (best of both worlds).
Speaking of price, at roughly $3000, the TR7000i is priced as a luxury model. But as luxury models go, it's a bargain (especially considering there are comparable treadmills out there like Life Fitness's Platinum Club Series machine that go for $9000).