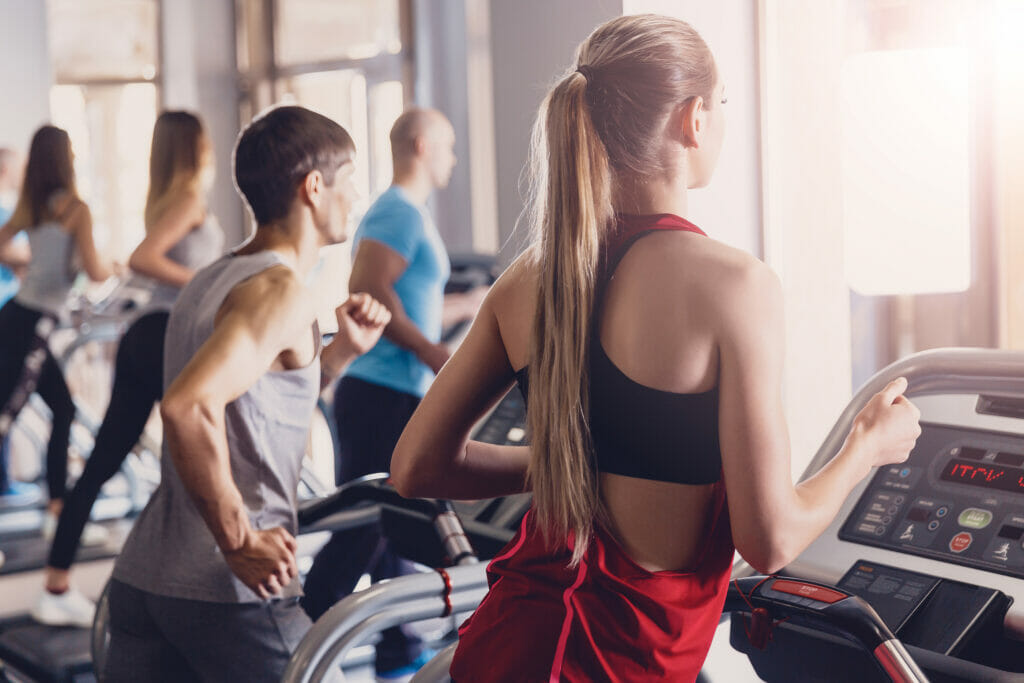 If you're looking to duplicate the feel of working out at your local gym, purchasing a commercial treadmill for your home is a great way to do it.
Compared to residential models, commercial treadmills are generally larger, heavier, stronger, and more durable.
They're also designed to handle the extra stress that comes from multiple users and hours of operation per day- making them a smart choice for homes with multiple family members.
And believe it or not, getting a commercial treadmill for under $5000 is a good deal, considering a lot of commercial machines can easily cost upwards of $10,000.
If you're thinking of adding a commercial treadmill to your home gym and don't want to completely blow out your budget- you've come to the right place.
We got ya covered.
In this guide, I'll start off with a quick introduction that discusses what sets commercial grade treadmills apart from residential models.
Then I'll present my top picks for commercial treadmills under $5000.
After reading, you'll know everything you need to in order to find the best affordable commercial treadmill for your home gym.
Let's get started.
Motor
Running Surface
Weight Capacity
Warranty
#1 Spirit CT850
4.0 HP AC
22" x 60"
450 lb
Lifetime frame/deck/motor
10 year parts
1 year labor
#2 Landice L8 LTD Pro Sports
4.0 HP AC
22" x 63"
500 lb
Lifetime frame
5 year parts
1 year labor
#3 Spirit CT800
4.0 HP DC
22" x 60"
450 lb
Lifetime frame/deck/motor
10 year parts
1 year labor
#4 Star Trac 4 Series
3.0 HP DC
22" x 60"
450 lb
10 year frame
5 year motor (with labor)
10 year parts
3 year labor
#5 TRUE Performance 800
4.0 HP DC
21" x 60"
350 lb
Lifetime frame
30 year motor
10 year parts
1 year labor
#6 Sole TT8
4.0 HP DC
22" x 60"
400 lb
Lifetime frame/deck/motor
5 year parts
2 year labor
What Makes A Commercial Treadmill "Commercial" Anyway?
The biggest difference between commercial treadmills and those designed for traditional residential use is that commercial machines are built to tolerate extended use by multiple people on a daily basis.
After all, commercial treadmills are what we see in local gyms, apartment complexes, and rehab facilities- all places where these machines are gonna get used day in and day out.
In order for these treadmills to be able to handle all this stress and use, they have to be built "stronger" from top to bottom.
When compared to residential treadmills, commercial treadmills often differ in the following areas:
Frame
In order to tolerate multiple users per day, commercial treadmills are built with heavier-duty frames. This is obvious when you look at the assembled machine weights and the max weight capacities these treadmills have.
It's not uncommon for a commercial treadmill to weigh 400 lb and more, which is massive when you consider most high-end residential units top out at around 300 lb (and many weigh much less).
But, all this extra weight means heavier components, which makes for a stronger base.
When you look at the max weight limits, you'll see another notable difference between commercial and residential treadmills.
Most commercial treadmills come with weight capacities between 400 – 500 lb; high-end residential treadmills usually max out at 350 – 400 lb.
A downside to all this extra weight and strength is a larger footprint- commercial treadmills usually take up more floor space than residential models.
And unlike most home treadmills, commercial models don't fold, so if you're planning on investing in a commercial treadmill, double check to make sure you have the floor space.
Components
This section ties in directly with the frame stuff we were just talking about, but commercial treadmills come with larger, heavier components too.
And by components, I'm talking about stuff like the rollers and belts.
The rollers are the part that make contact with the belt, allowing it to move smoothly along the deck. And when it comes to rollers, larger is preferred for a few reasons.
Larger rollers make more surface contact with the belt, which puts less stress on both the roller and the belt as it slides along, which extends the life of both.
Having bigger rollers also makes for smoother operation, which is always a plus.
High-end home treadmills usually come with rollers in the 2.5 – 3″ range, where commercial treadmills often use 3 – 3.5″ rollers.
Commercial treadmills also use thicker, multi-ply belts that are designed to hold up better and longer than the thinner belts found on residential units.
Thicker belts will also feel more comfortable to walk and run on.
Motor
Not only do commercial treadmills tend to be stronger, but many are using AC motors instead of DC motors.
I'm not going to pretend to know the mechanical differences between the 2 types of motors because that's well beyond my pay grade- what I do know is that AC motors are better equipped to handle prolonged use.
The way I understand it, AC motors can run cooler and more efficiently, so they don't heat up as much as DC motors will with extended operation.
If you're going to be the only person in your household using the treadmill, it probably doesn't matter whether you go with an AC or a DC motor, but for homes that plan on hours per day of regular use, going with an AC motor is smart.
Regardless of whether it's a DC or an AC motor, commercial treadmills do tend to pack more muscle under the hood.
Most commercial grade treadmills come with motors in the 4.0 – 5.0 CHP range, which is plenty strong to handle walking and the fastest sprinting you can imagine.
For comparison, most high-end residential treadmills come with motors in the 3.0 -4.0 range.
Warranty
I'm a stickler for warranties. I'm always preaching about their importance and how indicative they are of the machine's overall quality.
Simply put, longer is always better.
And commercial treadmills usually come with significantly longer warranties.
Treadmill warranties are usually broken up into 4 categories: frame, motor, parts, and labor.
Commercial treadmills will usually offer lifetime guarantees on the frame and motor, as do high-end residential models. When it comes to parts though, we see a big difference.
Expect 10 years or so on commercial parts warranties, which is great compared to the 5 years most residential treadmills offer (good ones anyway).
And Landice even offers a lifetime parts guarantee on their treadmills, which is incredible.
Most commercial treadmills still only come with 1-2 years on labor, as do residential models.
Oh, some treadmills will come with both residential and commercial warranties. The residential warranty is usually longer and if you plan on using this treadmill in your home, this is the warranty you should go by.
The features and consoles you'll see on  commercial treadmills are often a little simpler than the ones you see on residential models, but that rule certainly isn't written in stone.
Commercial treadmills can also come with touchscreen displays, bluetooth, and all that jazz- it just depends on the make and model.
The 5 Best Commercial Treadmills For Home Use (Under $5000)
#1 Spirit CT850
Spirit is rapidly becoming one of my favorite home fitness brands. The more I learn about their products, the more impressed I become.
Basically, Spirit provides really well-built machines that are priced fairly and backed by some of the best warranties in the market.
And their CT850 is a perfect example of all of these great qualities.
This treadmill is marketed as a straight up commercial grade model, although it comes with a residential warranty as well.
As such, the CT850 comes with a heavy-duty, powder coated steel frame that can hold users weighing up to 450 lb. It's also packing 3.0″ rollers and a commercial 2-ply belt.
Under the hood, this treadmill has a 4.0 HP AC motor that can comfortably reach and maintain a top speed of 12 mph. It can also reach a max uncle of 15% for added workout variety.
All of the performance specs on this treadmill are impressive enough, but when you see the warranty, Spirit takes it to a whole 'nother level: lifetime frame/motor/deck, 10 year parts, and 2 year labor.
The standard console on the CT850 is pretty simple, but it does come with a dozen or so workout programs (including fitness tests), bluetooth capabilities, and quick touch speed/incline buttons.
(And if you want a fancier console, you can opt for their CT850ENT, which comes with a touchscreen display and TV/web browsing, but at added cost).
Overall, for the price, it's gonna be hard to find a better commercial treadmill. Speaking of price, on sale the CT850 doesn't cost much more than some residential models. See full review.
P.S. Spirit usually sells through dealers, but you can find good deals through fitness outlets like FitnessFactory.com

#2 Landice L8 LTD Pro Sports
Full disclosure, this treadmill falls slightly outside of our $5000 limit, but it's so close I thought we could bend the rules a little- please don't hate me.
The LTD indicates that this treadmill is designed for light-commercial use, which means 5 hrs a day or less.
At just over $5000, the L8 LTD comes with the longest track I've ever seen on a treadmill- residential or commercial.
The running surface on this beast is 22″ x 63″, making it large enough to accommodate even the tallest runners out there. And with a 500 lb weight capacity, larger folks will be able to use it without a problem.
It also comes with 3.5″ rollers to compliment the 4.0 CHP motor, which can reach a top speed of 12 mph and a top incline of 15%.
The LTD comes with a lifetime frame, 5 year/5,000 hr parts, a 1 year labor warranty (fyi- the L8 comes with a lifetime parts warranty if it's assembled by a Landice approved technician within 60 miles of the dealer).
The "Pro" part of the name refers to the console this treadmill comes with. The Pro console consists of a 9″ color LCD screen with 8 built-in workouts, 5 custom workouts, and quick touch speed/incline buttons.
Overall, if you're looking for a beast of a treadmill that can fit the tallest and largest users out there, Landice's L8 LTD is a wonderful option (and all Landice products are built in the USA). See full review.

#3 Spirit CT800
Yeah, another Spirit treadmill. I like to offer a little variety on these guides, you know, display models from various brands and what not, but it's hard when Spirit offers so many great affordable options.
The CT800 is a slightly down-sized version of the awesome CT850 mentioned above.
But with a price about $500 cheaper, if you like the CT850 but are looking for a slightly more affordable version, here ya go.
The CT800 also comes with a commercial grade steel frame which can handle folks weighing up to 450 lb. It's also sporting 3.0″ rollers and a 22″ x 60″ running surface.
The deck is maintenance free and paired with a commercial grade, multi-ply belt for added comfort and durability.
There's a little difference when it comes to the motor- the CT800 comes with a 4.0 HP DC motor instead of the AC version found in the CT850.
It's still plenty strong and can reach a top speed of 12 mph and a top incline of 15%.
And it's backed by the same amazing warranty: lifetime frame/motor/deck, 10 year parts, 1 year labor.
The console is very similar, coming with a dozen or so workouts, bluetooth capabilities, and the quick touch buttons for speed and incline.
The biggest difference between this and the CT850 is the DC motor, but homes that aren't planning on running this thing for hours a day won't miss it.
Overall, a great commercial treadmill that's priced especially well for home use. See full review.

#4 Star Trac 4 Series (4-TR)
Star Track is a well-known provider of commercial machines that's part of the Core Health & Fitness family, that consists of a few other brands you've likely heard of: Schwinn, Nautilus, Stair Master, etc.
This brand is high-end and they don't have many treadmills that fall under our price limit for this guide, but their 4 Series fits in nicely at just over $3000.
This model is a little smaller and a little less powerful, but for the price it's packing some impressive specs.
The 4-TR comes with a 22″ x 60″ running surface and a heavy-duty frame that can safely accommodate users weighing up to 450 lb.
The 3.0 HP DC motor is a little weaker than some of the other motors mentioned earlier, but it can still reach a top speed of 12.5 mph and a max incline of 15%.
Component wise, it comes with large, 3.5″ rollers that will help extend the lifespan of the belt, as well as provide smooth operation during workouts.
Star Trac offers a pretty generous warranty on the 4-TR, including: 10 frame, 5 year motor (with labor), 10 year parts, 3 year labor (on parts).
There are a few options when it comes to the console, and going with a more advanced console will bring up the price, but the standard option comes with an LCD display, 20 workouts, a USB charging port, and quick touch buttons.
Overall, if you're looking for a heavy-duty treadmill with a ton of workout programs (that won't break the budget), Star Trac's 4 Series is a smart choice. See full review.

#5 TRUE Performance 800
TRUE Fitness is a brand you may not be that familiar with. I think they're known more for their commercial equipment, although I don't recall ever seeing any of their machines in any gym I've been to.
But different areas of the country (and world) tend to see different commercial brands around.
Anyway, the brand has been around since the early '80s, and apparently they recently acquired Octane Fitness, another high-end fitness provider.
The Performance 800 is found under their residential lineup, although it has the specs to stand toe to toe with many commercial grade machines.
This treadmill comes with a 21″ x 60″ running surface (you don't see many oddly numbered widths) and a heavy-duty frame that can hold up to 350 lb.
It's also boasting 3.0″ rollers and a lubricant infused, orthopedic belt for comfortable, low maintenance operation.
Something a little different on this model, you can customize the feel of the deck by adjusting the amount of shock absorption-a nice perk.
Under the hood, it's packing a 4.o CHP DC motor that can reach a top speed of 12 mph, as well as a top incline of 15%.
For the warranty, TRUE offers: lifetime frame, 30 year motor, 10 year parts, and 1 year labor.
The Performance 800 also comes with a fairly advanced, 9″ touchscreen display that comes with a ton of workouts to choose from (including 6 user profiles), bluetooth, and Polar chest strap compatibility.
Overall, the TRUE Performance 800 is the real deal. If you're looking for a durable treadmill with a little more to offer in the tech department, this is a smart option. See full review.

#6 Sole TT8
Rounding out our list is a beast of a treadmill from one of my all time favorite home fitness brands, Sole. Sole got their start from providing hotel chains with light commercial treadmills and the rest is history.
The TT8 is Sole's highest-end model to date and it has a lot to be proud- especially for a light commercial grade machine with a sales price well under $3k.
This treadmill comes with a large, 22″ x 60″ running surface which can comfortably hold runners of all sizes and it's packing a 4.0 CHP motor that can comfortably reach a 12 mph top speed.
The frame is very heavy-duty and comes with a 400 lb weight limit, which is quite impressive for a treadmill in this price range.
The TT8 also comes with 3″ rollers, which is great for overall comfort during use as well as prolonging the life of the motor.
Something this treadmill can do that many can't is offer decline training- the TT8 has 6 levels of decline available for folks looking to train downhill (as well as 15 incline levels).
And this is a Sole product, so of course the warranty is top notch: lifetime frame/deck/motor, 5 year parts, and 2 year labor (there's also a light commercial warranty).
The biggest downside to this treadmill is the simple console- no touchscreen displays or workout streaming available. But it does come with a large screen that's easy to use and bluetooth functions.
Overall, if you're looking for one of the most affordable commercial grade treadmills around, Sole's TT8 is a great choice. See full review.

Final Thoughts
Well, that about wraps things up. I hope this guide shows that there are some pretty great deals out there when it comes to commercial treadmills.
All of the treadmills on this list fall between $2500-$5000 (except for the Landice which is a couple hundred bucks over, again, sorry)- which is quite budget friendly in the world of commercial treadmills.
And considering how much more durable (not to mention stronger) these treadmills are, the extra cash can be  a wise investment.
Especially if you're planning on running a lot or will have multiple family members using your treadmill regularly.
After all, commercial grade treadmills are designed for just that- withstanding the stress of regular, everyday use by multiple people.