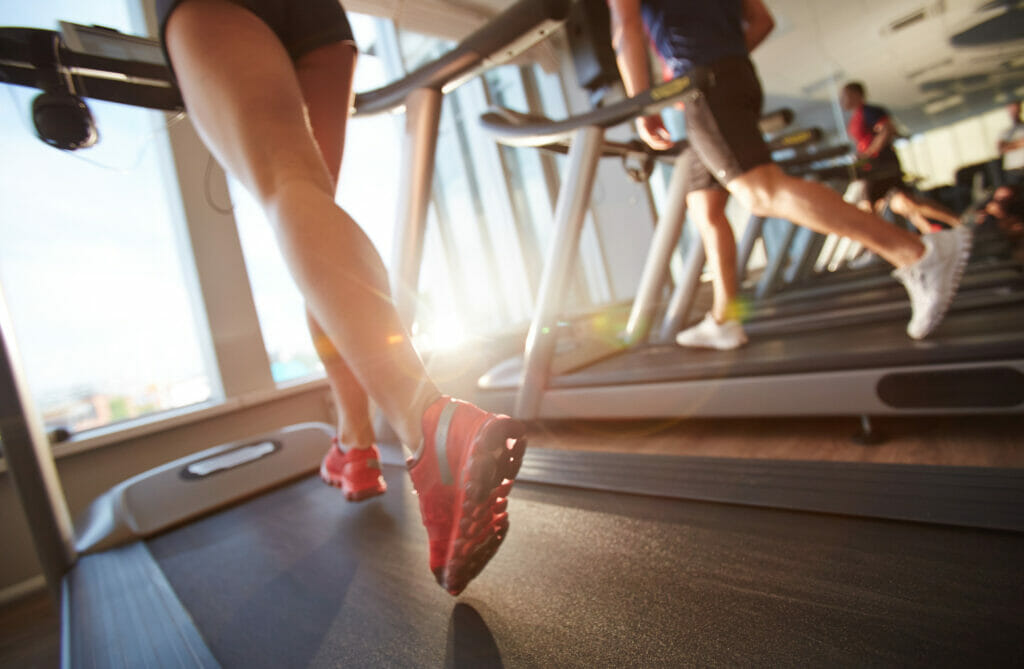 Spirit's CT850 is a commercial grade treadmill, there's really no getting around that. Not that that's something to be ashamed of, actually quite the opposite- commercial treadmills are bigger, stronger, and more comfortable to use.
In other words, they're what we all want in our home gyms.
But the problem for most of us is that these commercial grade treadmills are priced way outside the boundaries of what our budgets will allow.
And then there's the Spirit CT850.
This treadmill not only comes with all the specs you'd expect from a commercial model, like the powerful AC motor, large running deck, and heavy-duty everything, but it also costs about half of what you'd expect it to.
The result is a commercial treadmill that's a lot more approachable for most of us.
That said, the CT850 is still far from cheap, so you really need to do your homework before you decide to make an investment of this size.
Luckily, we've got ya covered.
In this review, I'll take ya on an up-close-and-personal tour of everything the Spirit CT850 has to offer. After reading, you should know whether or not this treadmill is the right fit for your home gym.
The Spirit CT850 Treadmill
Spirit Fitness has earned a stellar reputation for providing some of the best residential and commercial fitness machines around. Their products are well-built, easy to use, and backed by amazing warranties.
Really, what more could you want?
Oh, Spirit products are fairly priced too, so there's that.
This brand has an impressive lineup of cardio equipment to choose from- treadmills, ellipticals, bikes, rowers- you know, all that stuff you'd expect to see.
But they also have a few machines most brands don't offer, like stair climbers, a HIIT trainer, and even a recumbent stepper (the awesome CRS800S).
The CT850 is one of their highest-end treadmills, with only their CT900 sporting more impressive specs.
As I mentioned earlier, the CT850 is listed as a commercial treadmill, but it comes with a residential warranty as well. And with a sales price of roughly $4000, it's priced more like a residential model.
Pros
22″ x 60″ running surface
4.0 HP AC motor
3″ rollers
450 lb weight capacity
Commercial grade belt
Top speed of 12 mph
Top incline of 15%
Plenty of workouts to choose from (including fitness tests)
Bluetooth compatible
Quick touch speed/incline buttons
Wireless heart rate monitoring compatible
USB charging port
Amazing warranty
Great price
Cons
Simple console
Heart rate monitor not included
Running Surface
The running surface is always the first spec I look at when considering a new treadmill. This simple measurement will tell you a lot about the machine- and most importantly, whether it will be comfortable to use or not.
Just to make sure we're all on the same page here, a treadmill's running surface refers to how large the usable surface of the belt is.
In other words, how much room you have during your workouts.
When it comes to running surface, larger is always better, regardless of how tall or short you might be.
After all, I've never heard anyone complain about a treadmill being "too spacious".
It's true, shorter users can be comfortable on smaller treadmills, but quality treadmills will often come with a running surface of at least 20″ x 60″ because this size can accommodate most folks without any issues.
The CT850 easily checks this box with a running surface of 22″ x 60″.
The extra couple of inches in width gives you plenty of wiggle room to sway side to side during your workouts, something I find myself doing often.
So you won't have to worry about stepping of the belt here (unless perhaps you decide to go for a run after a few too many alcoholic beverages, no judging here).
The size of the running surface on this treadmill is great, but the frame itself is quite impressive too.
The CT850 comes with a heavy-gauge, double powder-coated frame that comes with a max weight capacity of 450 lb. I like to look at the weight limit as an indicator of how well-built a treadmill is, and at 450 lb, I'd say this one is built like a proverbial tank.
Speaking of heavy, I like to look at a treadmill's overall weight as another indicator as to how stable it'll be- again, heavier being better.
This treadmill weighs 390 lb fully assembled, which is about as heavy-duty as they come (just keep this in mind when it comes time to move this thing).
Overall, Spirit's CT850 scores very highly in the running surface department. This treadmill is large and heavy, making for a very sturdy base for your workouts.
Motor
If the running surface is the most important thing to consider on a treadmill, the motor is a near second. It's important to have a motor that's strong enough to support your workouts for years to come.
Most residential treadmills come with DC motors that range between 1.5 – 4.0 HP.
This rule isn't written in stone, but I think it's a good idea to go with at least a 3.0 HP motor if you're planning on doing a lot of running; weaker motors will suffice for walking.
Now, with this in mind, consider that the CT850 comes with 4.0 HP AC motor.
Not only is the 4.0 high on our expected range, but did you catch that we're talking about an AC motor and not a DC motor?
Yeah, I'm sneaky like that.
AC motors are found on commercial models because they run a little more efficiently than DC motors. This means they can run for extended periods of time (hours a day) without over heating and breaking down.
This makes them great for commercial settings where you have multiple users on them for hours a day.
Not only does the CT850 come with a powerful, commercial-grade motor that can handle extended daily use, but it can comfortably reach a max speed of 12 mph as well as a top incline of 15%.
The motor here is impressive, but this treadmill also comes with 3″ rollers, which is also impressive.
A treadmill's rollers are the parts that make contact with the belt, allowing it to glide smoothly over the deck- larger is better because you get more contact area with the belt, which makes for smoother operation.
Larger rollers also prolong the life of the belt and motor.
High-end home treadmills usually come with rollers in the 2″ – 3″ range, less high-end models will come with rollers that are 2″ and below.
At 3″, the CT850 comes with very large rollers.
This treadmill also comes with a thick, 2-ply commercial grade belt which should feel comfortable to walk or run on as well as be able to hold up to years of use.
Overall, the CT850 comes with a very impressive motor. It's also a great sign that the other components (rollers and belt) are commercial-grade as well.
Features
The Spirit CT850 comes with the following features:
White LED console- the console on the CT850 is very basic. This is great for those who don't want to mess with a fancy touchscreen display (and those who want one can upgrade to the ENT console). But even the simple display makes it easy to see all workout metrics.
12 workout programs- this treadmill includes all the standard workouts you're familiar with, like manual, fat burn, hill, cardio, etc. It also comes with 2 heart rate workouts, a custom workout, and several fitness tests to choose from (Army, Navy, etc).
Bluetooth- the console is bluetooth compatible, allowing you to connect with fitness apps of your choice. You can also use bluetooth to connect with a wireless heart rate monitor (one not included though).
Quick touch buttons- these buttons allow you to instantly set your speed and/or incline without having to toggle through with the up/down buttons (a very convenient feature for interval workouts).
USB charging- you can use this to keep your phone or tablet charged during your workouts.
Fan- the built-in fan might help keep ya little more comfortable during those more strenuous workouts.
Storage tray- there's a little tray in the front of the console that could hold remotes, keys, phones, or anything else that might need storing during a workout.
Water bottle holders- keep your beverages of choice within easy reach while you get your workout on.
Assembly
The actual process of putting this treadmill together is pretty straightforward. The deck comes pre-assembled, so you'd be responsible for attaching the console uprights and the console itself.
It's pretty easy to bolt the different pieces together, but the challenge will be how heavy everything is.
Remember when I said this treadmill weighs almost 400 lb fully assembled (my Horizon 7.8AT only weighs about 330 lb and that thing was a real bear to move)?
If you purchase the CT850 and decide on assembling yourself, I'd recommend having at least 3 people around. The hardest part will be moving your treadmill to it's final destination before assembly begins.
But you'll also need extra hands to hold these components in place as you bolt.
The trickiest part is usually making sure you don't pinch the console wires when attaching the console- again, having people to hold the console while you make connections will make it a lot easier.
Considering the size and weight of this treadmill, I would consider having professionals do the job for ya- it'll definitely make your life a lot easier.
But for the do-it-yourselfers, it's doable if you have the muscle to move this thing around.
Warranty
The Spirit CT850 comes with the following residential warranty:
Lifetime frame
Lifetime motor
Lifetime deck
10 year parts
2 year labor
This really is one of the best warranties I've ever seen. There's no better than lifetime on the frame, motor, and deck- that's as long as it gets.
And 10 years on parts is incredible too, considering most high-end home models stop at 5 years.
Even the 2 year labor warranty is 2x as long as most others.
Overall, an incredible guarantee on this treadmill (and a great indicator of the quality of this machine).
There's also a commercial warranty on the CT850: lifetime frame, 5 year motor/deck/parts, and 2 year labor.
Final Thoughts
The more I learn about Spirit the more I love them as a fitness brand. I like no-BS fitness equipment and that seems to be their speciality.
When it comes to the CT850, I don't see any flaws.
This is a commercial treadmill from top to bottom that's priced conveniently for home use.
I love the powerful AC motor, the spacious running surface, and the super heavy-duty frame. I also appreciate the large rollers and thick belt.
And the warranty Spirit offers can't be beat.
If I had to complain about something (and I do because this is a review after all), it would be the outdated console- but that's an insignificant flaw when compared to everything this machine has going for it.
Overall, if you're looking for an affordable commercial treadmill to add to your home gym, Spirit's CT850 is as good as it gets. Highly recommended.