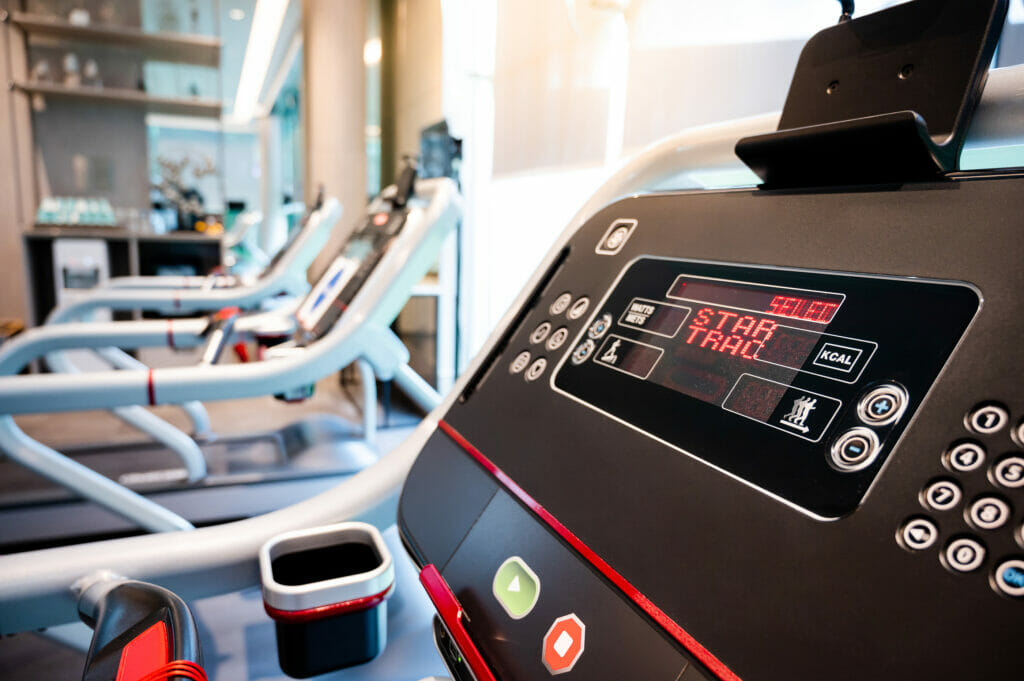 Even though Star Trac's 4 Series Treadmill is designed with light commercial use in mind, it's priced low enough to make for one heck of a home treadmill.
Highlights of this beast include a ridiculously heavy-duty frame, a 22″ x 60″ running surface, and a large touchscreen display.
Star Trac also backs the 4 Series with a generous warranty, which is always a nice touch.
Long-story-short: if you're looking for an elite treadmill to instantly boost your home gym game, Star Trac's 4 Series is a relatively affordable way to do just that.
If you're interested in the longer story, keep reading.
In this review, I'll provide a thorough look at everything this treadmill has to offer. We're talking specs, features, and everything else in between.
After reading this article, you should know whether or not this is the right treadmill for your home gym.
Star Trac 4 Series (4TR) Treadmill

Star Trac is one of 5 elite fitness brands owned by the parent company, Core Health & Fitness. And when I say elite, I'm talking names like Schwinn, StairMaster, and Nautilus.
And even though Core owns several very famous fitness brands, Star Trac is right there at the top of the list as the highest-end of the bunch (might be a tie with StairMaster).
The brand has an extensive lineup of cardio machines to choose from. They have all the normal stuff you'd expect, like treadmills, bikes, and ellipticals, but they have some unexpected surprises too.
Like trail hikers, versastriders, and treadclimbers.
Star Trac specializes in commercial grade cardio machines that are built to withstand daily use, but their machines also shine when it comes to the tech department.
This brand offers a nice selection of high-end consoles to choose from, including large touchscreen displays and tv/internet enabled models.
The 4 Series we're here to discuss is one of Star Trac's most affordable treadmills, which will cost ya about $3k on sale (making this one of the most affordable commercial grade treadmills around).
Pros
22″ x 60″ running surface
3.5″ rollers
20+ workout programs to choose from
Choice of 3 consoles
Top speed of 12 mph
Top incline of 15%
Heavy-duty frame
Quick touch speed/incline buttons
USB charging port
450 lb weight limit
Great parts warranty
Cons
Motor could be stronger
Motor warranty could be longer
Running Surface
It's important to consider the running surface of a treadmill because this spec tells you explicitly how much room you'll have during your workouts.
I don't know about you, but I like to have plenty of space to stretch and be comfortable, whether I'm walking or running.
You'll see this spec displayed for any respectable treadmill and it's usually written as "width x length" (and measured in inches- well, here in the US anyway).
Having a larger running surface is nice for the extra space, but it's also important to consider because you don't want to literally run out of room.
Taller folks especially, will want to pay attention to the length, because if the belt isn't long enough for ya, you'll find yourself shortening your stride when running at faster speeds.
Most high-end home treadmills will come with a running surface of at least 20″ x 60″.
At this size, most people will be able to comfortably run without any issues.
With this in mind, the Star Trac 4TR comes with a running surface of 22″ x 60″.
With a width of 22″, this treadmill gives you a little extra wiggle room, which you might appreciate if you're like me and tend to sway a little from side to side while you run.
And the 60″ length will be long enough for most people to run comfortably without running out of belt (pun intended).
The running surface on the 4 Series is spacious, which is great, but it's the heavy-dutiness of the frame that impresses me more.
This treadmill comes with a weight capacity of 450 lb, which is massive for a home model, but more expected for a commercial grade machine.
Seeing a high weight limit like this is indicative of overall frame strength and integrity. And when it comes to weight limits, higher is always better.
I like to look at the machine weight too to get an idea as to how robust the treadmill is- again, I think heavier is better because it's going to make for a more stable base to run on.
Well, with an assembled weight of 399 lb, there aren't many treadmills out there that are heavier-duty than the 4 Series.
The heavy frame and high weight limit make the 4 Series a good option for larger users or anyone looking for a treadmill that's going to feel like the club model they're used to.
Overall, the Star Trac 4 Series scores highly in the running surface department. It comes with a spacious belt that'll be able to accommodate users of all heights and it's also packing a crazy heavy-duty frame.
Motor
When researching a new treadmill, it's always a good idea to look at the motor too. A treadmill's motor is its heart, responsible for powering everything you do on it.
Treadmill motors come in a lot sizes, but most home models will come with a DC motor that's packing somewhere between 1.5 – 4.0 HP.
Personally, I think it's a good idea to go with at least a 3.0 HP motor if you're planning on running regularly- the extra muscle will come in handy for achieving and maintaining faster speeds.
Walkers can surely get away with weaker motors, but keep in mind that a stronger motor doesn't have to work as hard as a weaker one.
This means stronger motors tend to operate quieter and more smoothly. They should also last a little longer, since they don't have to work as hard to achieve the same output (theoretically anyway).
Commercial treadmills can come with either a DC or an AC motor.
The way I understand it, AC motors run a little more efficiently, meaning they're better suited for homes or gyms with multiple users that would be using the treadmill for hours a day.
The Star Trac 4TR comes with a 3.0 HP DC motor.
Honestly, this is pretty average for a nice home treadmill and actually a little weaker than I'd expect for a commercial machine.
I'd like to see a 4.0 HP DC motor or a 3.0 HP (or higher) AC motor- either would fit nicely with my preconceptions for what a commercial treadmill should be packing.
That said, the 4 Series can still reach a max speed of 12 mph and a top incline of 15%, which should be more than enough to challenge even the most gifted runners.
The motor on the 4 Series is on the weaker end of the spectrum, but it scores highly with its 3.5″ rollers.
The rollers are responsible for allowing the belt to glide smoothly over the deck during use. And when it comes to rollers, larger is better.
Larger rollers make more contact with the belt, which ends up putting less stress on both the roller and the belt (as well as the engine).
Most nice home treadmills come with rollers in the 2-3″ range. With 3.5″ rollers, the 4 Series is flexing its commercial muscles and showing up most competitors.
Overall, this treadmill is a little lacking when it comes to overall horsepower, but it's still got enough under the hood to get the job done. The extra large rollers will help ensure smooth operation.
Features
The Star Track 4 Series comes with the following features:
Choice of console- you can choose between 3 consoles with the 4 Series (15″ touchscreen, 10″ touchscreen, or 10″ LCD) and the features you get depends on which console you choose. The 15″ touchscreen is the most advanced option and comes with features like a tv tuner, internet/bluetooth connectivity, and web based apps.
20+ workouts- regardless of which console you choose, you'll have access to at least 20 built-in workouts to choose from.
Quick touch speed/incline buttons- hit the button and instantly set your incline and/or speed. A very convenient feature when it comes to interval training.
USB charging port- you can plug your phone or tablet in to keep it charged during your workouts.
Tablet holder- a convenient shelf can hold your tablet, phone, book, magazine, etc.
Cooling fan- each console has a built-in fan to help keep ya comfortable during your workouts. You can even program it to start automatically.
Water bottle holder- gives ya a handy place to store your water bottle or any other beverage you'd like to drink during workouts.
Assembly
With a treadmill of this size, it's always a good idea to consider professional assembly. If you live by yourself or don't have ready access to friends or family who can assist, you should definitely go with the pros.
If you do decide on self-assembly, make sure you have another person or 2 to help- the assembly process itself shouldn't be that difficult, but moving this treadmill will be (remember, this thing weighs 400 lb).
Most treadmills are pretty easy to assemble and the 4 Series isn't that different.
Although this treadmill does involve a little more assembly than most.
Once unpacked, you'll be responsible for attaching the uprights and then attaching the console. This treadmill involves a few extra steps with assembling the console itself, but it's pretty basic stuff and everything is labeled nicely for ya.
I find snaking the wires through the uprights to be a little more cumbersome than it should be, but that could just be me.
And as always, make sure you don't pinch any wires when attaching the console- it would suck to go through the whole process just to find out something doesn't work because of a pinched wire.
Overall, if you've got the muscle to move this beast around, you shouldn't have too much trouble putting it together. I'd expect most to spend an hour or so getting the job done.
Warranty
The Star Trac 4 Series Treadmill comes with the following residential warranty:
10 year frame
5 year motor (with labor)
10 year parts
3 year labor
1 year wear items
I have to say, this is kind of an interesting warranty.
When it comes to the frame, I'd prefer to see a lifetime guarantee, because this is what most high-end treadmills are offering. That said, I highly doubt the frame on the 4 Series will ever break down, so I'm not too concerned there.
I'd also like to see a lifetime warranty on the motor- 5 years is pretty short for a treadmill of this caliber.
10 years on parts, however, is amazing. It's funny, most brands offer a long frame/motor warranty and then skimp on the parts, but Star Trac kinda went opposite here.
Three years on labor is also very good, with most brands only offering a year or 2.
Overall, I wish the motor warranty was longer, but otherwise I think this is a pretty good warranty on this treadmill.
P.S.- the 4 Series also comes with a light commercial warranty: 10 year frame, 5 year parts, 2 year labor.
Final Thoughts
Star Trac is an elite brand, well known for their treadmills. And as the most affordable model in their lineup, I think the 4 Series does a nice job representing what this brand is all about.
I like the large running surface and the motor will be strong enough for most users (although serious runners should consider a treadmill with a stronger motor), but it's the heavy-dustiness of this machine that stands out most to me.
The 4 Series is a large, heavy treadmill that can handle big and tall folks without rocking or feeling flimsy.
I also think it's cool that you get to choose which console you get- a really nice feature for people looking to fancy up their treadmill with a hi-tech display.
Overall, I think the 4 Series is a nice treadmill. The motor warranty could be longer, but it's going to be hard to find a better commercial treadmill for the price. Recommended.