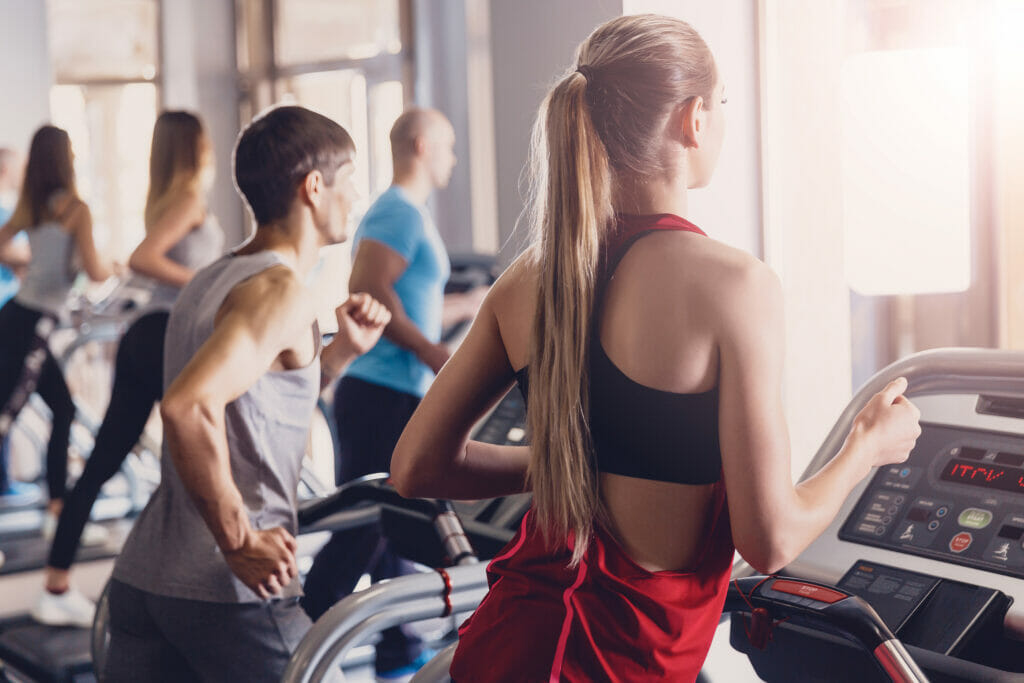 Landice's L8 LTD is a high-end model designed for light commercial use, making it a perfect choice for rehab facilities, apartment complexes, or any other environment with multiple daily users.
This treadmill would be especially nice for the big and tall crowd- with its 22″ x 63″ running surface and 500 lb weight capacity, there aren't many users out there that the L8 can't safely accommodate.
Other awesome features include a 4.0 HP motor, 3.5″ rollers, and several options when it comes to how sophisticated a console you want.
This treadmill also happens to be backed by a very generous warranty.
Overall, if you're looking for an extra-long treadmill that can hold the largest of users, Landice's L8 LTD is a top choice.
But is it the right treadmill for you?
Well, that's what I'm here to help you figure out.
In this review, I'll go over everything this treadmill has to offer. We're talking pros, cons, specs, features, and everything else in between.
After reading, you'll know everything you need to in order to decide whether or not this is the right fit for your gym.
The Landice L8 LTD Treadmill
Landice is a family owned business that's been making high-end fitness equipment for the last 50 years or so. They also happen to be one of the only brands that do so completely here in the good ol' US of A.
Landice has earned a stellar reputation for providing commercial grade machines for both residential and, uh, commercial use.
This brand's lineup of equipment is rather small when compared to other brands. They have a handful of bike and ellipticals to choose from, but I think it's their treadmills that they're most known for.
For residential use, they offer the L7 and L8. The L8 LTD, that we're here to talk about, is one of their "light commercial" models, meaning it's designed for no more than 5 hrs of daily use.
If you're looking for a treadmill for home use only, it makes sense to go with their L8 instead of the L8 LTD, because the residential warranty is better than the commercial warranty, but more on that later.
Pros
22″ x 63″ running surface
4.0 HP motor
Heavy-duty frame
500 lb weight limit
3.5″ rollers
Top speed of 12 mph
Top incline of 15%
Choice between "Pro Sports" and "Cardio" consoles
USB charging port
Generous warranty
Cons
Running Surface
One of the most notable features of the L8 LTD is the extremely large running surface. With a running surface of 22″ x 63″, this treadmill literally has the longest belt I've ever seen.
For the sake of comparison, most home treadmills come with a running surface of 20″ x 60″. Well, most nice home treadmills anyway (there are a ton of models with smaller running surfaces).
A size of 20″ x 60″ became the gold standard because it's large enough to comfortably fit most runners and walkers alike.
That said, if you're well over 6′ tall, having the extra length could be beneficial.
With a 63″ long belt, the L8 LTD is long enough to accommodate even the tallest sprinters out there. And with a nice wide belt too, you'll have as much space as you need during your workouts.
The very spacious running surface is one of the most notable features of this treadmill, but when you look at the frame/deck it's obvious this model has a lot more to be proud of.
This treadmill comes with a very heavy-duty frame, strong enough to hold users weighing up to 500 lb.
This weight capacity is very high. And when combined with the long belt, it allows the L8 LTD to hold pretty much any person who'd want to workout on it.
The high weight limit is also indicative of overall quality of build- higher weight limits mean more superbly built treadmills.
And I love that this treadmill weighs in at 340 lb fully assembled. Again, the I think the extra weight is a good thing, because it's going to make for a more stable machine during use.
Landice builds the L8 LTD with an advanced shock absorbing system too. Their VFX system is said to be 5x softer than running on grass, which will put less stress on your joints during your workouts.
Overall, the L8 LTD comes with a very heavy-duty frame and the biggest running surface I've ever seen on a treadmill. This combination makes it a smart choice for the big and tall crowd.
Motor
The running surface on the L8 is impressive, there's really no denying that fact, but the motor under the hood is pretty remarkable too.
This treadmill is packing a 4.0 HP motor that can comfortably reach a max speed of 12 mph and a top incline of 15%.
At not only is this treadmill powerful enough to provide smooth operation, but it's also designed to withstand up to 5 hours of daily use.
This is what the "light commercial" use means.
This motor is strong, which is great, but it's also pair with a large set of rollers, which is key for prolonging the life of both the motor and the belt.
A treadmill's rollers are what the belt makes contact with, allowing it to glide smoothly over the deck, fyi.
Larger rollers are preferred, because they make more surface contact with the belt- this results in smoother operation, but it also puts less stress on everything involved.
Most high-end home treadmills come with rollers in the 2″ – 3″ range.
The Landice L8 comes with 3.5″ rollers, which are also as big as I've ever seen on a treadmill. Landice points out that they weigh 22 lb- I don't really have anything to compare that to because most treadmills don't provide that spec, but it sounds impressive.
Overall, the L8 LTD comes with a commercial grade motor that's paired with very large rollers. The result is a treadmill that can sustain extended use without fear of breaking down.
Features
The Landice L8 LTD Treadmill comes with a choice of 2 different panels: the Pro Sports and the Cardio. The panel you choose determines which features the treadmill comes with.
Pro Sports panel:
9″ color LCD console
8 built-in workouts
5 custom workouts
Contact heart rate monitor
Cardio panel:
9″ color LCD console
9 built-in workouts
5 custom workouts
6 heart rate controlled workouts
2 HIIT workouts
Bluetooth connections with fitness apps
Regardless of your console choice, you'll get the following features:
Water bottle holders
Media tray
USB charging port
Assembly
Landice recommends using their professional technicians to assemble their treadmills. And if you're looking to take advantage of their residential warranties, you have to have them professionally assembled.
That said, if for some reason technicians weren't available or you just wanted to build the L8 LTD yourself, the task is pretty doable.
Just keep in mind how large and heavy this treadmill is (packaged, it weighs well over 400 lb).
The actual assembly process is pretty straightforward. You're basically just attaching the console uprights and the console itself to the main deck.
You'll have to bolt several bolts and screw in a few screws- make sure you have your own tools.
Landice does a great job with their assembly manuals, the instructions are well written and the images are large and easy to see.
Overall, it's the sheer size of this treadmill that makes things difficult. It's recommended to use professionals, but if you do decide to go for it, make sure you have several people around to help make the job easier.
Warranty
The Landice L8 LTD comes with the following light commercial warranty:
5 year frame
5 year parts
2 year wear items
1 year labor
Landice does a nice job with their warranties and I think this one is pretty generous for a commercial guarantee. Keep in mind, commercial warranties are shorter than residential ones, because you have multiple users and hours of use each day.
That said, I'd still like to see a lifetime guarantee on the frame, but 5 years isn't out of the ordinary.
Five years on parts is pretty good for commercial models as well and a year on labor is pretty standard.
If you're looking for a residential treadmill, you're gonna want to go with the L8 (not the L8 LTD), because it's identical in every way, but comes with a lifetime parts warranty.
But there are a few stipulations, including professional assembly.
Overall though, Landice offers very generous warranties on this and all of their treadmills.
Final Thoughts
Well, that about does it for the Landice L8 LTD. This is a huge, impressive treadmill all around and if you're looking for a quality treadmill for a light commercial setting, you could do a lot worse.
The huge running surface makes this a great choice for tall folks and the powerful motor makes for smooth operation.
The choice of consoles also gives you some options with regards to workouts and included features.
It's also backed by a generous commercial warranty.
Overall, I think the Landice L8 LTD is a great commercial treadmill for the price. Recommended.