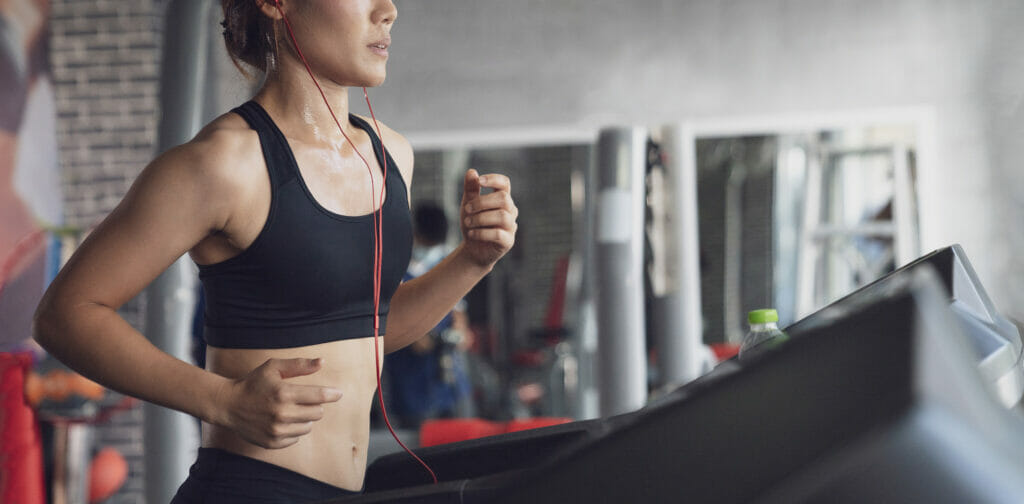 Spirit's CT800 is a commercial grade treadmill that's priced competitively for home use- the result is an elite treadmill that won't completely break your budget.
When it comes to performance specs, the CT800 means business. With a 22″ x 60″ running surface, a 4.0 DC motor, and 3.0″ rollers, this treadmill has the goods to challenge the most gifted athletes out there.
It's also packing a heavy-duty frame, quick touch speed/incline buttons, and bluetooth compatibility with fitness apps.
And when you consider its industry leading residential warranty, one could make a pretty strong argument that the CT800 is one of the best commercial grade treadmills for home use.
Actually, that's exactly the argument I'm prepared to make.
If you're looking for a high-end treadmill to add to your home gym, I think the CT800 is a great choice. But with so many treadmills to choose from these days, it's important to learn as much as you can to ensure you're picking the right option.
And that's where this review comes in.
In this article, I'll go over everything the Spirit CT800 has to offer. After reading, you'll know whether or not this is the right treadmill for your home.
Off we go.
The Spirit CT800 Treadmill
Spirit has a pretty extensive lineup of fitness machines to choose from. They specialize in cardio machines, although they recently added a commercial functional trainer to their collection.
When it comes to treadmills, they've got several to choose from.
Generally speaking, their 'XT' models are their residential machines and their 'CT' models are their commercial ones, although the XT685 also comes with a commercial warranty and several of their commercial models come with residential guarantees.
Speaking of which, the warranty department is where Spirit really shines.
This brand offers some of the longest warranties I've ever come across for both residential and commercial models.
And they're priced surprisingly well.
Spirit's combination of impressive specs, long warranties, and fair prices is what makes them easily one of the best names in home fitness (in my humble opinion anyway).
The CT800 is listed as one of their commercial models, but it comes with a residential warranty as well. And with a sales price of roughly $3500, it's priced more like a residential treadmill.
Pros
22″ x 60″ running surface
4.0 HP DC motor
3″ rollers
Top speed of 12 mph
Top incline of 15%
Plenty of workout programs to choose from
Quick touch speed/incline buttons
Bluetooth
Wireless heart rate monitor compatible
USB charging port
Heavy-duty frame
450 lb weight capacity
Amazing warranty
Well priced
Cons
Simple console
Chest strap not included
Running Surface
The running surface is a crucial spec to consider when looking for a new treadmill. This spec tells you how much belt space you have at your disposal during your workouts and it's usually written as width x length (measured in inches).
Having a larger running surface is preferred because it's going to give you more wiggle room during your workouts.
And if you're tall, like 6′ or over, you're going to want to pay attention to the length because if you go with a treadmill that's too short, you might find yourself shortening your stride while running.
Most high-end home treadmills will come with a running surface of 20″ x 60″ or larger.
This has become the gold standard for running surfaces because most people of varying heights can comfortably use a treadmill with a belt of this size.
The Spirit CT800 comes with a running surface of 22″ x 60″.
The extra wide belt provides a little more room to sway during your workouts, giving it more of that commercial feel you'd expect from a treadmill in your local gym.
And with a 60″ long belt, even taller users should be able to stretch out fully when running at higher speeds.
The size of the running surface on the CT800 is great, but the stability of the frame is even better.
This treadmill comes with a very heavy-duty frame- and when I say "heavy", I mean this thing weighs 383 lb assembled, which is massive.
The extra weight adds strength and stability to the treadmill, ensuring you'll have a base that won't wobble or feel flimsy during use.
The powder coated steel frame is tough enough to hold users weighing up to 450 lb. Seeing a weight capacity this high is a great sign as to how well-built this treadmill really is.
Overall, I like that this treadmill comes with a spacious running surface and I love how heavy-duty it is, allowing it to accommodate folks of all sizes safely.
Motor
The Spirit CT800 comes with a 4.0 HP DC motor. For the sake of comparison, most home treadmills come with motors in the 2.0 – 4.0 HP range.
Most home treadmills also come with DC motors and a lot of commercial treadmills will come with AC motors.
I'm not an engineer or anything like that, so I can't speak to the mechanical differences between AC and DC motors, but the way I understand it is that AC motors are designed to handle longer durations of use better than DC motors.
AC motors tend to run more efficiently, so they won't heat up as much as DC motors- making them a great option for commercial treadmills where you have multiple users and the possibility of hours of use on a daily basis.
That said, it's not uncommon to see a DC motor in a light commercial duty treadmill, especially one in this price range.
With this motor, the CT800 can reach a top speed of 12 mph and a top incline of 15%.
This gives you a lot of options when it comes to the combinations of speed and incline. It also means that folks of all fitness levels should be able to get a great workout on this treadmill.
Considering the norm for home treadmills I mentioned, the CT800 lands at the top in terms of horsepower, but it also lands near the top with regards to the size of its rollers.
The rollers on a treadmill are responsible for allowing the belt to glide smoothly across the deck. They make direct contact with the belt and larger rollers are preferred to smaller ones.
This is because larger rollers make more surface contact with the belt, which makes for a smoother feel. It also puts less stress on the belt, the rollers, and the motor (and prolongs the life of each).
So, large rollers are a good thing.
Most quality treadmills come with rollers in the 2 – 3.5″ range.
The CT800 comes with 3″ rollers, which are again near the higher side of the expected range.
With a powerful motor and large rollers, the CT800 is well-equipped to provide smooth operation, even when running at higher speeds. The larger components should also last longer.
Overall, the CT800 scores highly in this category. I like that it comes with a powerful motor and that Spirit paired it with large rollers (if you're looking for an AC motor, check out Spirit's CT850).
Features
The Spirit CT800 comes with the following features:
LED console- the console is pretty basic, but the LED windows are brightly-lit and easy to read. You can see all of your workout metrics at the same time and it's easy to choose your programs and get working.
Workout programs- this treadmill comes with a dozen or so workouts to choose from. These include traditional profiles like hills, fat burn, and cardio as well as several fitness tests to choose from. There are also custom workouts and heart rate guided workouts at your disposal.
Quick touch speed/incline buttons- these buttons allow you to instantly set the speed and/or incline without having to keep pushing the up/down buttons. A very convenient feature, especially when doing interval training.
Bluetooth- you can connect the CT800 to fitness apps for data tracking and whatnot.
Handlebar controls- you can control the speed and incline through the conveniently located buttons on the handlebar.
Media rack- you have a place to hold your tablet, phone, or book for easy access during your workouts.
Heart rate receiver- there's a built-in receiver for wireless heart rate receivers if you choose to use one, but one isn't included with purchase.
USB charging port- you can plug your phone or tablet in and get a charge during your workouts, so you won't have to worry about draining your battery listening to music or watching Netflix.
Fan- there's a built-in cooling fan to help keep ya comfortable during those more strenuous workouts.
Water bottle holders- there's room to store 2 water bottles (or any other beverage of choice). Handy to keep you properly hydrated  while exercising.
Assembly
Putting the CT800 together is a straightforward process. There are only 4 steps in the manual, which is well organized and easy to follow.
There are detailed written instructions and images for each step along the way.
The deck comes pre-assembled, so you'd be responsible for attaching each console upright and then attaching the console to those.
All hardware and necessary tools are included.
The trickiest part of putting these treadmills together is usually the part where you have to attach the wires to the console- you just have to make sure nothing gets pinched as you connect the console to the uprights.
Sometimes snaking the wire through the console upright can be a little frustrating too, but overall it's not that challenging of a process.
If you do plan on assembling yourself, just keep in mind how heavy this thing is- the treadmill itself weighs 383 lb, so with packaging it'll weigh well over 400 lb when it arrives at your home.
Moving this thing will be difficult, so make sure you have enough helpers around to make the job easier.
Warranty
The Spirit CT800 comes with the following residential warranty:
Lifetime frame
Lifetime motor
Lifetime deck
10 year parts
2 year labor
I have zero complaints about this warranty- it's perfect.
You can't beat a lifetime guarantee on the frame, motor, and deck. Ten years on parts is also double what most nice treadmills offer (and actually, 5 years on parts isn't bad either).
Even the labor warranty here, at 2 years, is double the 1 year labor guarantee most offer.
Overall, this really is one of the best warranties on the market.
Spirit also offers a commercial warranty on the CT800: lifetime frame, 5 year motor/deck/parts, 2 year labor.
Final Thoughts
Well, that's about everything there is to discuss on Spirit's CT800. If you can't tell, I'm quite fond of it- I think it has a great combination of performance specs and features.
I also think it's very well-priced considering what ya get.
I love that it comes with a powerful motor, large rollers, and spacious running surface, but I think it's the heavy-dutiness (is that a word?) of the frame that really impresses me.
And then there's that warranty- I mean fuggedaboutit.
If I had to state a flaw, it would be the simple console: the LCD windows are a little dated, so if you're looking for touchscreens or streaming videos this isn't the treadmill for you.
But on the other hand, the simple console makes the CT800 very easy to use.
Overall though, I think this treadmill is a home run. If you're looking for a commercial grade model that won't destroy your budget, Spirit's CT800 is a very smart buy. Highly recommended.