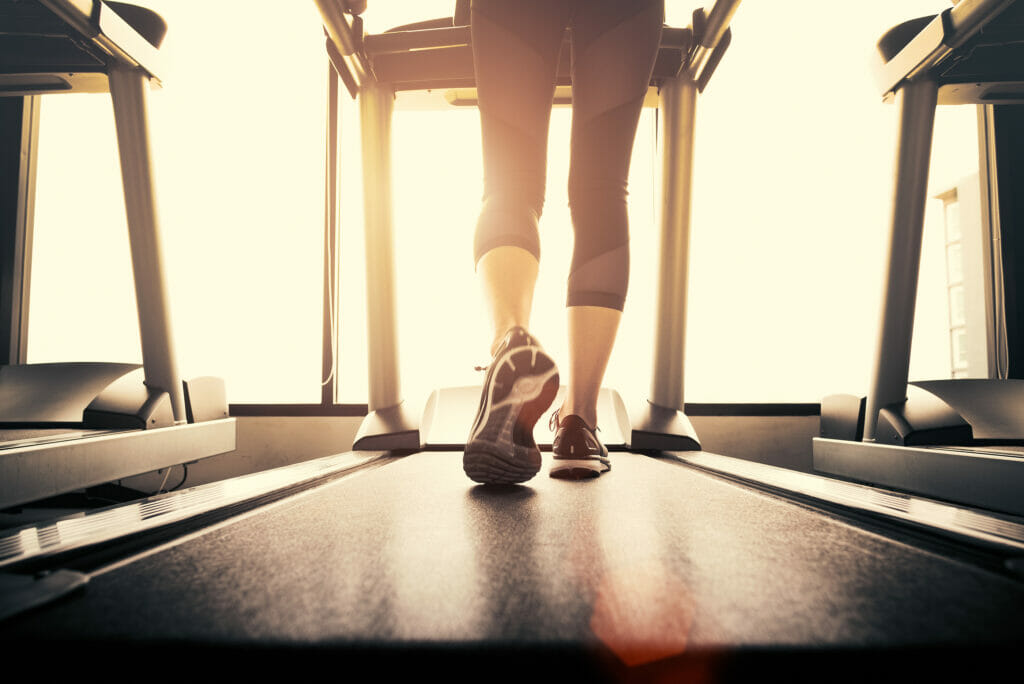 The TRUE Performance 800 is an elite home treadmill designed with commercial grade components. So, if you're looking to bring home a treadmill that feels like the ones you've used at the gym, this could be just what you're looking for.
Highlights of the Performance 800 include a 21″ x 60″ running surface, a 4.0 HP DC motor, and a shock absorbing system that allows you to customize the cushion level of the deck.
It also comes with an advanced touchscreen console with allows you to save 6 user profiles, which will come in especially handy for homes with multiple users.
And to make things even better, TRUE Fitness backs their Performance 800 with a very generous warranty – something I always want to see in any high-end fitness machine.
Overall, the Performance 800 is the real deal- if you're looking for a luxury home treadmill, it should definitely be on your short list.
But is it the best treadmill to meet your needs?
Well, that's what I'm hoping to help you figure out.
In this review, I'll go over everything this treadmill has to offer. After reading, you should know whether or not this is the right treadmill for your home gym.
The TRUE Performance 800 Treadmill
I'm not ashamed to say I was watching "Below Deck" the other night…ok…maybe I'm a little ashamed, but come on, it's entertaining and there's never anything on…
Anyway, I was watching and I noticed the super yacht they're following has a TRUE treadmill on it. It got me thinking that nothing says you've "made it" like making your way onto a super yacht.
TRUE Fitness has actually been around for a long time and they've developed a great reputation in the biz. They started out as a provider of treadmills before eventually branching out into ellipticals, bikes, and strength equipment.
These guys even came out with the first removable safety key for treadmills- talk about a game changer.
TRUE creates both commercial and residential fitness machines. And their residential machines are usually higher-grade than a lot of other brands' commercial models.
Even though their ellipticals and bikes are nice, I think treadmills is still what they do best.
The Performance 800 is the highest-end model in their "Performance" series. As such, it comes with a stronger motor, longer warranty, and more advanced console than the Performance 100 and 300.
On sale, this treadmill will cost ya around $4k.
Pros
21″ x 60″ running surface
4.0 HP DC motor
3″ rollers
Top speed of 12 mph
Top incline of 15%
Heavy-duty frame
350 lb weight capacity
9″ touchscreen display
20+ workouts
Bluetooth
Polar heart rate monitoring compatible
6 user profiles
6 custom workouts for each user
Straightforward assembly
Great warranty
Cons
No fan
No bluetooth speakers
Running Surface
The Performance 800 comes with a 21″ x 60″ running surface. This is spacious enough to fit most folks without any problems, but it is a bit odd to see an odd number for the width (most are either 20″ or 22″).
Odd or not, this treadmill is wide enough to feel comfortable during use, you shouldn't find yourself running out of belt even if you do sway a little from midline.
And with a length of 60″, most people, even those 6″ and above, should be able to stretch out fully when running at faster speeds.
Personally, I think the running surface is the most important spec to look at when researching a new treadmill.
This simple spec tells you a lot about the machine, but most importantly it tells you whether or not it's big enough for ya.
Most high-end home treadmills will come with a running surface that's 20″ x 60″ or larger. Cheaper treadmills will often come with smaller running surfaces (after all, there are reasons why affordable treadmills are affordable).
And if you try to use a treadmill that's too small, you'll find yourself having to shorten you stride- something I'm not trying to do.
But on the Performance 800, that shouldn't be an issue.
The running surface is adequate here, as is the structural integrity of the frame. In other words, this is a very heavy-duty treadmill.
This is evident when you look at the fact that this treadmill weighs 330 lb assembled and comes with a user weight limit of 350 lb.
This capacity is more than enough to hold most folks safely, but I'm kinda surprised it's not a little higher considering how heavy the treadmill itself is.
Either way, with a frame this heavy, you shouldn't have to worry about any unwanted rocking or wobbling during use.
The deck also comes with TRUE's Soft Select shock absorbing system that allows you to select how soft you want the deck to feel during your workouts.
You can select between a firmness of 1 (softest) to 8 (hardest), allowing users to customize the feel of their workouts. For me, this wouldn't make or break the deal, but it's a pretty cool feature.
Overall, the Performance 800 scores highly with its large running surface and heavy-duty frame.
Motor
If the running surface is the first thing I look at on a treadmill, the motor is always a close second. After all, the motor is the heart of the machine, powering every workout you'll ever do.
Residential treadmills usually come with DC motors, although some will come with AC.
AC motors are often found on commercial machines because they run more efficiently and don't heat up as much, allowing them to run for extended periods day in and day out.
When it comes to strength, most home treadmills are packing somewhere between 1.5 – 4.0 HP (and some commercial models will go as high as 5.0 HP).
With this in mind, consider that the Performance 800 comes with a 4.0 HP DC motor, putting it on the high-end for both home and commercial models.
With this powerful motor, this treadmill is capable of reaching and maintaining a top speed of 12 mph and a top incline of 15%, making it more than capable of challenging every mortal it might come in contact with.
I'm impressed with the strength of the motor on this treadmill, but I'm also impressed that TRUE uses 3″ rollers.
The rollers are the part that allows the belt to glide smoothly over the deck. Rollers make physical contact with the belt and having a larger roller is beneficial.
For one, the larger roller will make more surface contact with the belt, which results in a smoother feel during use.
Besides feeling smoother, larger rollers will put less stress on the belt and motor as well, which should prolong the life of each (as well as prolong the life of the rollers themselves).
Most high-end home treadmills come with rollers somewhere between 2 – 3.5″. With 3″ rollers, the Performance 800 is near the top in this category.
Overall, I think the powerful motor and large rollers is one of this treadmill's most impressive features.
Features
Speaking of which, here are a few more features you'll find on the TRUE Performance 800:
T9 console- the T9 is a 9″ touchscreen display that makes it easy to see all your metrics and access all the workouts and whatnot this console has to offer.
20+ workouts- depending on how you count, this treadmill comes with at least 20 built-in workouts to choose from. And this wasn't counting the custom workouts you can create (each user can save 6 workouts).
6 user profiles- you can save up to 6 user profiles, making it easy for multiple users to save their data. And as I mentioned, each user can save up to 6 custom workouts.
Bluetooth- the T9 is bluetooth friendly, allowing you to connect with other fitness apps for tracking and all that jazz. This treadmill is designed to work with the GymTrakr app, which can then connect with other fitness apps of your choice.
Heart rate monitoring- the Performance 800 is compatible with Polar bluetooth heart rate monitors (there's also grip monitors).
Quick touch buttons- you can instantly set your speed and/or incline with the push of a button.
Water bottle holders- keeps your beverage within convenient reach during your workouts.
Tablet holder- gives you a place to store your phone, tablet, or book during your workout.
Assembly
The assembly process for the Performance 800 is a very straightforward one. TRUE has done a great job making their manual easy to follow, as well as making the process itself pretty easy.
I'd even go as far as saying that this treadmill should be easier to assemble than most.
The manual comes with large images, making it easy to see where each piece of hardware goes and the written instructions make sense along the way.
There isn't much to assembly here- you really just need to attach the uprights to the frame and then attach the console to the other side of the uprights.
There are a couple of easy wire connections and a few covers that need to be attached.
But that's about it.
The hardest part of putting this treadmill together will be moving it to its final destination beforehand- remember, this treadmill weighs over 300 lb, so if you're planning on assembling yourself, have plenty of help available to move this thing.
Overall though, the assembly on this treadmill couldn't be easier.
Warranty
The TRUE Performance 800 Treadmill comes with the following residential warranty:
Lifetime frame
30 year motor
10 year parts
1 year labor
This is a fabulous warranty. And as a guy who stresses the importance of comparing guarantees, it makes me happy to see such a generous one.
You can't beat lifetime on the frame- that's as good as it gets and I would expect this type of guarantee on such a high-end treadmill.
30 years on the motor is also really good. It isn't "lifetime", but let's be real, it pretty much is.
(I mean seriously, is anybody going to use this treadmill for 30 years and then complain when the motor finally dies?)
10 years on parts is especially awesome, considering most home treadmills top out at 5 years. And TRUE includes wear items in this 10 year guarantee.
One year on labor is average, nothing special there. Most brands only offer a year on labor, although in this price range, sometimes you'll see 2-3 years on labor.
Overall though, I think TRUE offers a great warranty on this machine.
Final Thoughts
That about does it for the TRUE Performance 800. When you look at everything it has to offer, it's kinda hard to deny that this treadmill isn't awesome.
It comes with a large running surface, a powerful motor, large rollers, and an adjustable shock absorbing system.
It also comes with advanced touchscreen console and a great warranty.
So, I assume we all agree that this treadmill is legit. But is it the right treadmill for you? After all, there are a lot of nice treadmills out there, especially in this price range.
When you look at the performance specs, this treadmill can hold it's own quite well. But I think it's the touchscreen console that sets this model apart from most.
Having the touchscreen to begin with is something most treadmills can't offer. And the ones that do offer it, will usually make you pay extra to upgrade.
I also think the ability to save 6 custom profiles gives this treadmill an edge- especially if you have several folks in your home who plan on using it.
That said, if you don't care about the touchscreen console, you might want to check out Spirit's CT850, which is priced the same but comes with an AC motor and an even heavier-duty frame.
Overall though, I think the Performance 800 is one hell of a treadmill and easily one of the best commercial grade treadmills in its price range. Highly recommended.