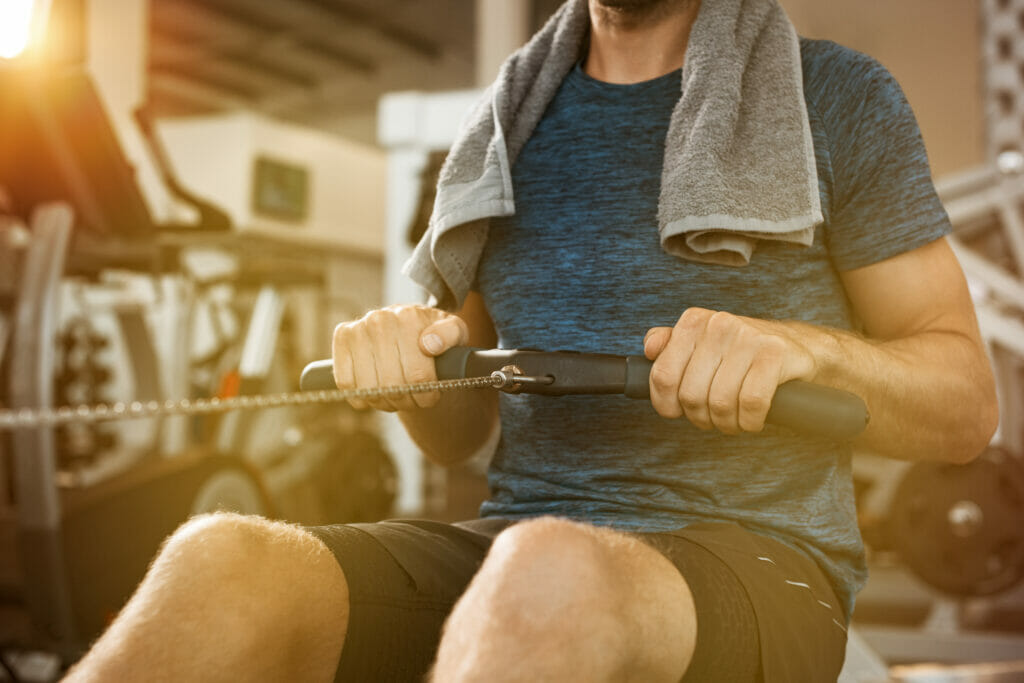 The SR550 is Sole's newest addition to their rower lineup and with it, we see a significant upgrade in the console department.
As with the upgrades most of their other cardio machines have gotten, the SR550 comes with a 10.1″ touchscreen console that offers built-in workouts, screen mirroring, and access to the most popular entertainment apps as.
And unlike some other brands, Sole doesn't require you to pay a monthly membership fee to access these cool features.
Besides the tech, the SR550 is a solid treadmill for the price range too though.
Highlights include a dual-resistance system, a heavy-weight frame that can handle users up to 450 lb, and built-in resistance controls in the handle for added convenience.
Sole also backs this rower with a solid warranty, something I always I like to see.
As $1500 rowers go, I think the SR550 has a lot going for it, but there are plenty of impressive rowers in this price range – so does it really make sense to invest in the SR550?
Well, that's what I'm here to help you figure out.
In this review, I'll go over everything this rowing machine does and doesn't have going for it, but I'll also try to compare it to a few of the other top comps in its price range.
After reading, you'll know whether or not the SR550 is the right rower for your home gym.
The Sole SR550 Rower
Sole's a top home fitness brand, known for building heavy-duty cardio machines and offering generous warranties on 'em.
Generally speaking, their machines were great for people looking for reasonably-priced options, but they weren't really known for their tech.
Their consoles were kinda dated, but easy to use for folks who didn't care about app integration or touchscreens.
Well, Sole must be listening, because with their 2023 update pretty much all of their cardio machines have gotten a console makeover.
As I'm writing this, damn near all of their equipment comes with a touchscreen (varying in size depending on price) and advanced features they weren't offered before.
I understand why Sole did this – after all, you have to give the people what they want.
But part of me still misses the good ol' days where everything didn't need to be "smart" or "connected" (and don't even get me started on the whole "AI" thing that's going on now).
Maybe I'm just getting old…
Anyway, we're here to talk about the SR550, so we should probably get to.
As I'm writing this, the SR550 is selling for around $1500 and is the only rower Sole has in their lineup (I'm not sure if they'll continued to carry the SR500 or not).
Pros
Dual-resistance system
16 magnetic resistance levels
Heavy-duty frame
450 lb weight limit
10.1″ touchscreen console
Built-in entertainment apps
Screen mirroring
Bluetooth speakers
Bluetooth compatibility with apps
Heart rate monitor compatible
Handlebar resistance controls
Tablet holder
Folding frame
Good warranty
Reasonably priced
Cons
Not a ton of workout programs
No built-in instructor-led workouts
Resistance
I think it makes the most sense to categorize rowers based on the kind of resistance they use and I also see this as a good place to start when thinking about buying a new rowing machine.
Long-story-short, rowers basically come in 5 varieties, depending on their resistance system: hydraulic, magnetic, air, water, or dual (magnetic and air).
If you're interested in the longer story and seeing the differences between these different resistance systems, check out my complete rower guide for more info.
Well, like many new rowers these days, the SR550 is a dual-resistance rowing machine, meaning it uses both magnetic and air systems to create the resistance you work against.
This is a good thing because you get the consistent resistance a magnetic system provides, but you also get a little extra boost from the fan when pulling especially hard.
That said, it's been my experience that with these dual systems, most of the resistance is coming from the magnetic system.
So for that reason, I think a dual-resistance rower is best thought of as a magnetic rower than anything else.
Like purely magnetic rowers, a dual-resistance rower isn't going to offer a rowing sensation that strongly resembles rowing on water (like a purely air or water rower would), but they work great for people looking for a lot of rowing resistance.
They're also great because you can get consistent resistance levels regardless of how lightly you row.
The SR550 comes with 16 magnetic resistance levels, giving you a pretty wide range of intensities to work with.
For the sake of comparison, Aviron's Impact Rower also comes with 16 magnetic levels and NordicTrack's RW700 comes with even more at 26 levels (the RW700 is purely a magnetic rower, fyi).
Either way, rowers of all fitness levels should be able to find a resistance setting that fits their needs.
Overall, I think the SR550 scores pretty highly in the resistance department. As a dual-system rower, you'll have access to as much resistance as you can handle and with 16 levels, you'll be able to fine tune the intensity to match your fitness level.
Frame
The SR550 is a folding rower, meaning you can fold the frame in half for storage when not in use.
Unfolded, this rower takes up a footprint of 19″ x 97″, making it a full size rower. Folded though, that footprint cuts down to 19″ x 53″, saving over 3′ of floor space.
The full length rail on the SR550 will allow folks of all heights the ability to comfortably row, so taller folks should be ok here.
But it's the weight of this rower that really catches my attention.
The SR550 comes with an assembled weight of 106 lb, which is pretty robust for a folding rower.
Personally, I like to see heavy cardio machines because the extra bulk tends to make them feel more stable during use (compared to lighter-weight machines that will tend to feel a  bit more flimsy).
For the sake of comparison, the Aviron Impact Rower weighs in at around 97 lb and BodyCraft's VR Pro 500 weighs in at around 101 lb.
So, in other words, the SR550 is heavy-duty for this price range.
This bulk allows this rower to safely hold users weighing up to 450 lb, making it approachable for rowers of all sizes (which is quite a bit more impressive than the RW700's 250 lb weight limit).
Overall, I like that the SR550 comes with a full-length, folding frame and I really like how heavy-duty it is.
Features
The Sole SR550 Rower comes with the following included features:
10.1″ touchscreen- this rower comes with a moderately-sized touchscreen console that's easy to see and easy to use to make all selections during workouts.
10 workout programs- with that touchscreen, you can easily choose between 10 different workout options, including manual, game mode, and various goal-oriented options and pre-set profiles.
Entertainment apps- and if you're looking for something else, you can enjoy the built-in entertainment apps that come loaded on the console. Apps like Netflix, Hulu, and Disney+ can be enjoyed during workouts, using your own personal subscriptions. And don't worry, you don't have to sign up for Sole's fitness app or anything else to enjoy this feature (I'm looking at you Bowflex).
Bluetooth- the console is bluetooth compatible with other fitness apps too, like Sole+, that allows you to track workout metrics. It's also compatible with bluetooth heart rate monitors.
Screen mirroring- and with the ability to hook your phone up to the console and view anything from your phone on the console, you can essentially access any entertainment/fitness app you may have and view it through the large screen.
Bluetooth speakers- you can also listen to music wirelessly through the bluetooth speakers, which is always a nice feature.
Handlebar controls- being able to adjust the resistance from the handlebars while you workout is another nice feature because it means you don't have to disrupt your rhythm to adjust the intensity.
Tablet holder- and finally, there's a large tablet holder located above the console, allowing you to put your phone or tablet there during workouts (this comes in handy for screen mirroring).
Warranty
Sole backs their SR550 Rower with the following home warranty:
Lifetime frame
2 year parts
1 year labor
Ok, overall, this is a pretty solid home warranty for a rower in this price range.
You can't beat a lifetime frame guarantee and believe it or not, you don't see a lot of these on rowers these days.
Two years on parts is pretty average for a $1500 rower, so nothing too spectacular going on here.
And the same goes for labor – 1 year is pretty standard operating procedure.
When it comes to the comps, NordicTrack offers a 10 year frame, 2 year parts, and 1 year labor warranty on their similarly-priced RW700.
And Aviron's Impact Rower comes with a 10 year frame and 1 year parts guarantee, so Sole has them beat.
But BodyCraft's similarly-priced VR500 has 'em all beat with its lifetime frame, 7 year parts, and 2 year labor home warranty.
So, based on the comps, I'd say the SR550 holds its own pretty well – not the best warranty, but not the worst either.
Final Thoughts
Alrighty, I think it's about time to wrap things up here.
I like Sole as a brand and I think their upgraded SR550 has a lot to offer for the price range.
As a dual-resistance system rower, you get the advantages of a smooth acting magnetic rower with the added boost a little extra fan power adds when rowing harder.
And with 16 levels at your disposal, you'll have good control over your workout intensities.
But what stands out most to me is how robust the frame is and Sole's upgraded console.
I like that the SR550 gives you access to entertainment apps and screen mirroring without having to pay an additional membership fee to use these features.
As mentioned throughout, the rowers that I see giving this rower the most competition are NordicTrack's RW700, Aviron's Impact Rower, and BodyCraft's VR500.
The RW700 is priced almost identically and is a purely magnetic rower with 26 resistance levels and it also comes with a 10″ HD touchscreen designed to pair with iFit.
But it doesn't come with entertainment apps and it can only handle users up to 250 lb.
The Impact Rower is a bit more expensive (~$1900), but it comes with a 22″ HD touchscreen, tons of workout options, as well as access to entertainment apps.
But with the Impact, you have to pay a monthly membership fee to access all these goodies.
Finally, the VR500 is usually priced around $1600-$1700 and it's a beast of a rower.
It's a dual-resistance rower with 32 resistance levels, a heavy-duty frame, and is backed by a great warranty, but it doesn't come standard with a touchscreen console (you can upgrade to a 22″ console, but it brings the price up to around $2500).
So, based on the comps, I think the SR550 holds its own quite well for this price range.
Overall, if you're looking for a quality home rower with a nice combination of console features, I think Sole's SR550 could make a lot of sense.