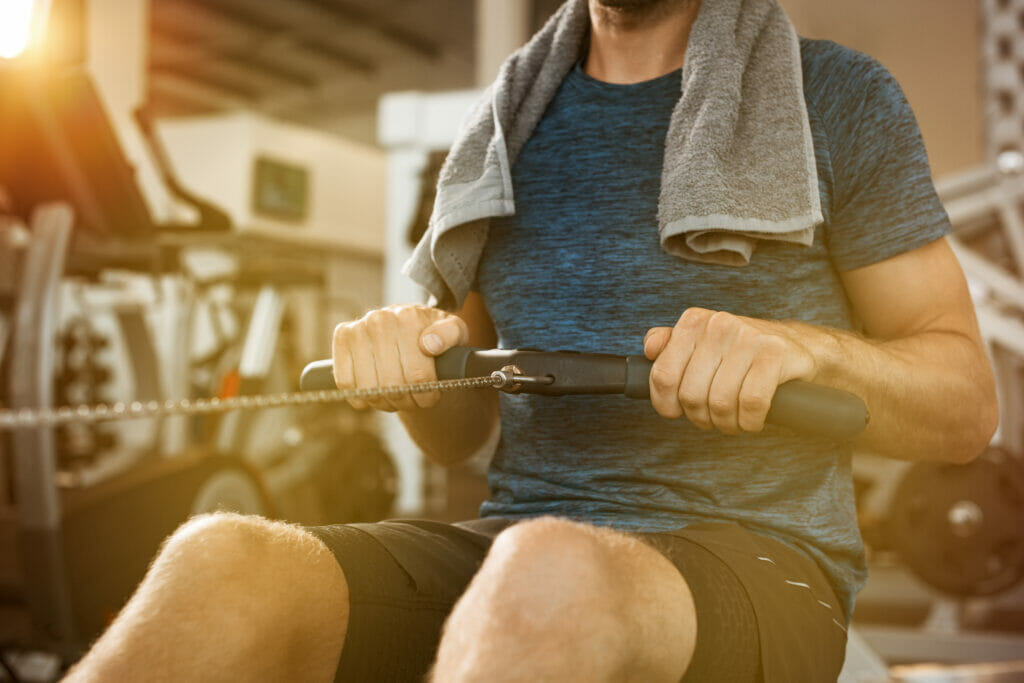 The RW700 is NordicTrack's mid-range rower, combining many of the specs and features you find on the lower-end RW600 with those found on the higher-end RW900.
In terms of performance, it's almost identical to the more expensive RW900, but with only a 10″ console, its screen is significantly smaller.
Which is great for folks who are cool with a smaller screen because you can save a lot of money by opting for the RW700 over the RW900.
And it has the same size console as the cheaper RW600, but in terms of performance, it comes with a sleeker, non-folding frame and a different resistance system.
So, there are some pretty significant differences between these models, that's all fine and good – but is the RW700 a smart buy?
Well, that's what I'm here to help you figure out.
In this review, I'll go over everything you need to know about this rowing machine, plus I'll compare it to NordicTrack's other rowers so you can see how it stacks up.
After reading, you'll know whether or not it makes sense to invest in the RW700.
I should note I'm talking about the newer, stand alone RW700 here – not the FREE RW700 Rower that's part of NordicTrack+ now… I agree it's kinda confusing, not sure why NordicTrack needs 2 rowers with the same name.
The NordicTrack RW700 Rower
NordicTrack's a pretty well-respected brand with a few decades worth of happy customers.
The biggest complaint we seem to hear these days is regarding their customer service and how difficult it can be to get ahold of 'em, but that's a pretty common issue with large fitness brands.
NordicTrack has a pretty large lineup of cardio and strength training products to chose from and these days, everything they create is iFit compatible.
This makes NordicTrack a great brand to explore if you're into streaming workouts, but maybe not so much for the people who aren't.
Anyway, as I mentioned above, they have 3 rowers to choose from in their current lineup.
The RW900 is the highest-end model, the RW600 is the entry-level model, and the RW700 we're here to go over now falls right smack in the middle.
At the time of writing this, NordicTrack's selling the RW700 for around $1300.
Pros
10″ HD touchscreen console
Quiet, magnetic resistance system
26 resistance levels
iFit ready
Automatic Trainer Control (iFit)
Compatible with bluetooth headphones
Large, pivoting pedals
Sleek design
Easy assembly
Good warranty
Cons
Doesn't fold
Weight capacity only 250 lb
Resistance
Rowing machines can be divided into 4 different styles based on the type of resistance they use and this can be a helpful way of thinking about 'em when trying to decide on one- hydraulic, magnetic, air, and water.
Well, technically 5 different styles I guess, if you count the magnetic/air combo systems…
Anyway, each type of resistance has its own advantages and disadvantages, but since the RW700 is a good ol' fashioned magnetic rower, I'm going to skip all the other stuff for now.
But feel free to check out my complete rowing machine guide if you're interested in more info regarding the other types of rowers.
As a magnetic rower, the RW700 utilizes a spinning flywheel and a series of magnets to create the resistance you work against.
This is very similar to how most indoor cycles work and it has several benefits.
Most notably, the fact that you get consistent resistance regardless of how hard you pull and the fact that its nearly silent during operation.
The downside being that magnetic rowers don't offer as realistic a rowing experience as air or water rowers.
The RW700 comes with 26 resistance levels, giving you a wide range of control over the intensity of your workouts.
The RW700 uses the same resistance system found on the RW900, which also comes with 26 resistance levels, however the RW600 comes with a magnetic/air combo system.
With its combo system, the RW600 kinda gives you the benefits of both types of resistance, but without all the perks of either.
You get the consistent, minimum resistance of the magnetic system, but when you start pulling harder you get a little extra resistance from the air system.
But with the fan, the RW600 won't be as quiet as a purely magnetic rower.
So, there's a pretty significant difference between the RW600 and the RW700 in terms of their resistance systems, but the RW700 and RW900 uses the same system.
Overall, the RW700 scores highly with a quiet, smooth magnetic system and I like that you get so many resistance levels at your disposal.
Frame
At first glance, the new RW700 comes with a sleek frame design – getting rid of the fan and damper system certainly ups this rower's style game.
But looks aside, there are a few more important things to consider when checking out its frame.
For one, unlike the RW600, the RW700 doesn't fold, so you have to make sure you have enough room to keep this rower out on full display even when not in use.
Not folding may be an issue for home with limited floor space, but getting rid of this feature can also make the rower feel a little more secure.
I'd also like to point out that the RW700 has an in box weight of 146 lb.
I'm not exactly sure what that makes the true assembled weight, but I'm guessing it's still well over 100 lb, which is quite heavy-duty for a home rower.
For the sake of comparison, Concept2's famous RowErg only weighs about 60 lb.
Personally, I like the idea of having a heavier rower because the extra weight should make it harder to move, meaning it shouldn't wiggle around on ya during workouts.
And with such a heavy assembled weight, you shouldn't have to worry about that on the RW700.
On the other hand, the RW700 only comes with a 250 lb weight limit, which is surprisingly low.
Most high-quality rowers come with at least a 300 lb limit, with some going up as high as 500 lb.
I'd expect a higher weight capacity on the RW700, especially considering it isn't a folding rower (all of NordicTrack's rowers come with the same 250 lb weight limit, fyi).
With this lower capacity, larger folks should look elsewhere for their rowing needs, but as long as you fit under that limit you should be fine.
Lastly, the RW700 is a full length rower, taking up just over 7′ of floor space, so again, make sure you have the room for it before purchasing.
Features
The NordicTrack RW700 Rower comes with the following features:
10″ HD touchscreen console- the console on this rower is large by normal standards (although small by NordicTrack's) and can pivot to make watching workouts when off the rower easier. This console also comes with upgraded speakers (compared to the RW600) for better sound quality.
iFit- that touchscreen console is there so you can connect to iFit, NordicTrack's streaming platform. Through iFit, you can access unlimited instructor-led workouts for both on and off the rower. You also get access to scenic rows, metric tracking, and more. You get 30 days of iFit for free with purchase and then it'll cost ya $39/month.
Automatic Trainer Control- this is another cool feature you get through iFit and it allows the rower's resistance to adjust automatically to match what the instructors are telling ya to do. If you prefer to be in control though, you can always make your own manual adjustments.
Bluetooth- the console is compatible with bluetooth headphones for those times you need to keep the noise level down.
Pivoting pedals- the pedals are large and pivot a little during use, making for a more comfortable experience for your ankles.
Comfortable handle- the handle bends at a gentle angle and is cushioned for a more comfortable grip.
Contoured seat- the seat is also contoured a little for a more comfortable fit.
Assembly
If you decide to purchase this rower, you shouldn't worry about putting it together – it's a very straightforward process.
The fact that the rail is in a single piece means you don't have to worry about connecting the rail together or even attaching the rail to the main frame.
All you'll be responsible for is attaching the front/rear stabilizers, connecting the pedals, attaching the console, and sliding on the seat.
You'll have to attach a few covers and that's about it.
NordicTrack uses the BILT app, so if you're comfortable with a smart phone or tablet, it certainly walks you through the assembly process nicely.
Overall, assembly on the RW700 should be a piece of cake.
Warranty
NordicTrack backs their RW700 Rower with the following home warranty:
10 year frame
2 year parts
1 year labor
Overall, I think this is a really good warranty.
Ten years on the frame is good considering many brands max out at 5 years; and 2 years on parts is solid compared to the 1-3 years most other brands provide.
And a year on labor is pretty standard across the board.
This is the same warranty NordicTrack uses for damn near all their products these days and I think it works better with some products than others.
And in this case, it works just fine.
Final Thoughts
Ok, I think that about covers it for the RW700.
I hope you saw my little note at the beginning regarding which RW700 I was talking about in this review.
I believe the FREE RW700 that's available through the NordicTrack+ program (you get a free piece of equipment when you agree to a 4 year iFit commitment) is the older model and there are a few key differences between that one and this newer model.
But that older RW700 is still a pretty solid rower too.
Anyway, I think the more modern RW700 is a nice rower with some great features.
If you're looking for a smooth, quiet rower, you'll appreciate the magnetic resistance system.
And even though the weight limit is surprisingly low, this rower is pretty heavy-duty (and I appreciate the sleek, one piece rail).
As I mentioned at the beginning, the RW700 is pretty identical to the more expensive RW900, so if you don't mind the smaller screen, you can save a good hunk of cash by opting for this model.
All things considered, I think the RW700 could make a lot of sense for folks looking for a more budget-friendly approach to streaming workouts.