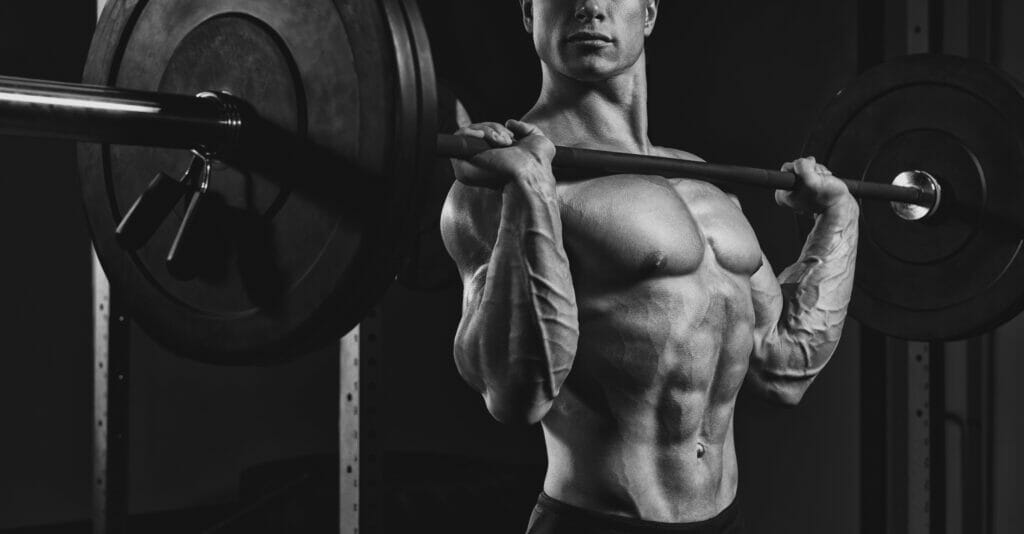 Powerline's PPR1000 is an affordable power rack designed with lower than usual ceilings in mind.
The assembled height of only 83″ certainly allows the PPR1000 to fit in plenty of rooms larger racks can't, but this rack has a lot else going for it other than being shorter.
With 2″ x 2″, 11-gauge steel uprights, the PPR1000 can safely rack up to 700 lb (which is plenty for even most advanced lifters), but it's also compatible with several attachments for expansion as needed.
This rack also comes with 2″ hole spacing, giving folks a little more control over bar placement, which is always a good thing.
The PPR1000 is backed by a pretty solid home warranty too, for added peace of mind.
Long-story-short, I think the PPR1000 is a nice power rack for it's price range, but it's not perfect.
If you're interested in the longer story, keep reading.
In this review, I'll go over everything the PPR1000 does and doesn't have going for it. After reading, you'll know whether or not this is the right power rack for your home gym.
Alright, let's do this.
The Powerline PPR1000 Power Rack
Powerline is one of Body-Solid's budget-friendlier lineups, so this is actually a Body-Solid rack we're talking about here.
Which is a good thing, because Body-Solid is one of the premiere suppliers of racks, home gyms, attachments, and pretty much anything else weightlifting related you can think of.
There's only a couple of racks in the Powerline lineup (the more affordable PPR200X might actually be the only other full power rack in this lineup), but Body-Solid's full lineup is immense.
They offer dozens of gyms systems, functional trainers, and racks of all shapes and sizes; not to mention the benches, plates, and accessories to go with everything.
Anyway, the PPR1000 is a step up from the smaller, lighter-duty PPR200X, but it's still quite affordable.
You'll find this rack on sale on Body-Solid's website for around $800, but you can usually find it a for around $600 on Fitness Factory.
You know, power racks are really simple devices – I mean they really are just racks designed to hold weight.
But just because they're simple, doesn't mean they're all built the same – it's all about knowing what to look for when comparing racks.
Let's start with the most important stuff – the uprights.
Pros
2″ x 2″, 11-gauge uprights
Weight capacity of 700 lb
Only 83″ tall
Can fit in rooms with really low ceilings
Pull up bar included
2x J-cups included
2x safety bars included
Compatible with several attachments
Can be bolted down to floor
Good warranty
Cons
No Westside spacing
Uprights could be larger
Frame warranty isn't lifetime
Uprights
A power rack's main purpose is to safely hold barbells loaded with plates (as well as act as a spotter when lifting said barbells).
And it's the uprights' job to bear the majority of the weight placed on the rack.
Most home racks come with 4 uprights, although you might have 6 if you go with an extension attachment or a larger rig.
Anyway, when comparing racks, it's crucial to compare the size and makeup of these uprights, because these stats are what determine how stable your rack is gonna feel and how much weight it can safely hold.
The PPR1000 comes with 2″ x 2″ uprights that are made out of 11-gauge steel.
The '2″ x 2″' part refers to how large the uprights are with regards to their physical dimensions and this is on the smaller end when looking at how big uprights on home racks generally come.
Most home racks come with uprights that are 2″ x 2″, 2″ x 3″, or 3″ x 3″ (although some come with sizes in between).
Having larger uprights is a good thing, because the larger they are, the more weight they can hold.
And even if you don't plan on loading a ton of weight, having larger uprights still makes for a more stable, less-likely-to-move system.
Same goes for the gauge of steel used in the uprights.
The gauge refers to how thick the steel being used in the uprights is and smaller gauges refer to thicker metal (11-gauge steel is thicker than 12-gauge and so on).
Most home racks are made out of 11-gauge, 12-gauge, or 14-gauge steel.
So, the PPR1000 comes with small uprights, but being made out of 11-gauge steel means they're about as thick as you're going to find in a home rack.
Especially in this price range.
This combination allows the PPR1000 to safely hold up to 700 lb, which isn't bad for a rack in this price range – although Force's affordable MyRack (with it's 2.4″ x 2.4″ 12-gauge uprights) is rated to hold up to 2,000 lb statically.
But still, 700 lb is more than enough to accommodate most home gymers.
What's more interesting about the PPR1000 is that it's only 83″ tall, meaning it could technically fit in rooms/basements with ceilings as low as 7′.
Although you wouldn't be able to do full pull ups with a 7′ ceiling…
Powerline's PPR200X is 82″ tall, but its lighter-duty, coming with 2″ x 2″, 14-gauge uprights and a weight limit of 600 lb.
The PPR1000 is quite a bit larger too, taking up a footprint of roughly 54″ x 51″ (L x W), allowing plenty of space inside the cage for squatting or any other lift you might want to do in there.
The holes on the uprights are spaced 2″ apart, giving you a lot of options when it comes to bar placement.
It's lacking the Westside (1″) spacing inside the bench zone, but I'm not aware of many racks in this price range that come with this feature (although I know Force's MyRack does).
Not a huge deal, but the Westside spacing does make it a lot easier to get the best bar placement for bench pressing.
Overall, this isn't the heaviest-duty rack by a far shot, but with 11-gauge uprights and a 700 lb weight capacity, it scores pretty highly for its price range.
And being shorter is definitely an advantage for folks dealing with lower ceilings.
Attachments
Your basic power rack can turn into a full-functioning home gym system through the use of attachments.
Some racks are compatible with a ton of different attachments, others not so much.
When choosing a rack, it's a good idea to think about what type of attachments you might be interested in adding in the future because it can certainly help guide your decision.
With that in mind, the PPR1000 comes with the following included attachments:
Knurled pull up bar
2x J-cups
2x pipe and pin safeties
Ok, so this rack doesn't come with many attachments, really only the basic stuff you need to get started (although you'll notice that it doesn't come with weights or a barbell, so you'll have to get this stuff separately).
But it's also compatible with the following attachments (sold separately):
Rear rack extension (PPR1000EXT)
Lat attachment (plate loaded)
Landmine attachment
Multi-chin attachment (multi-grip pull up bar)
U-link attachment (designed for attaching battle ropes, resistance bands, or even a TRX)
Weight horns
The PPR1000 isn't compatible with a lot of fancy or complicated attachments, but it does offer some expansion through the addition of some good stuff here.
Oh, keep in mind that this rack doesn't come with a bench either, so there's another accessory you'd have to provide yourself.
Warranty
The Powerline PPR1000 Power Rack comes with the following residential warranty:
10 year frame
1 year parts
Ok, 10 years isn't bad on the frame, especially for this price range.
Some brands (Rogue, Rep Fitness, Force USA) offer lifetime frame warranties, others like Titan, only offer 1 year – so Powerline falls in the middle here.
A year on parts is pretty standard too for a rack, although there really aren't many parts to speak of.
By the way, the parts would include the safety bars, the J-cups, etc. – any attachments you might purchase would come with their own warranties.
Overall, this isn't the best warranty out there, but it's pretty solid for a rack in this price range.
Plus, we're talking about steel cages here, so as long as you play nice, you shouldn't have to worry about much breaking down.
Final Thoughts
Ok, that about does it for the Powerline PPR1000.
All things considered, I think this is a nice home rack with plenty to be proud of.
And the fact that it's a Body-Solid product never hurts.
I like that it comes with 11-gauge uprights, although it would be nice if they were a little larger for extra stability (I forgot to mention this earlier, but you can bolt this rack down to the floor for added stability as well).
Its weight capacity is pretty good too, although there are similarly priced racks out there that can handle more weight.
When it comes to attachments, the PPR1000 isn't compatible with a ton of accessories, but it is compatible with all the classic stuff most of us would be interested in.
And the warranty isn't bad either, but again, there are longer warranties out there in this price range.
Overall, I like Body-Solid and there's nothing wrong with this rack, but as I write this, I'm realizing that the PPR1000 kinda falls in the middle in every category.
Better than some, but not quite as good as others.
It could make a lot of sense for folks dealing with low ceilings, but there are other short racks in this price range offering more impressive specs.
I've mentioned Force's MyRack already, but there's also Titan's X-3, which comes with 3″ x 3″, 11-gauge uprights and Westside spacing.
Of course, you'd have to consider Titan's crappy warranty and their questionable quality control…
Long-story-short, the PPR1000 is a nice rack for rooms with low ceilings, but there's plenty of competition in this price range (and I'd like this rack a lot better if it was under $500).