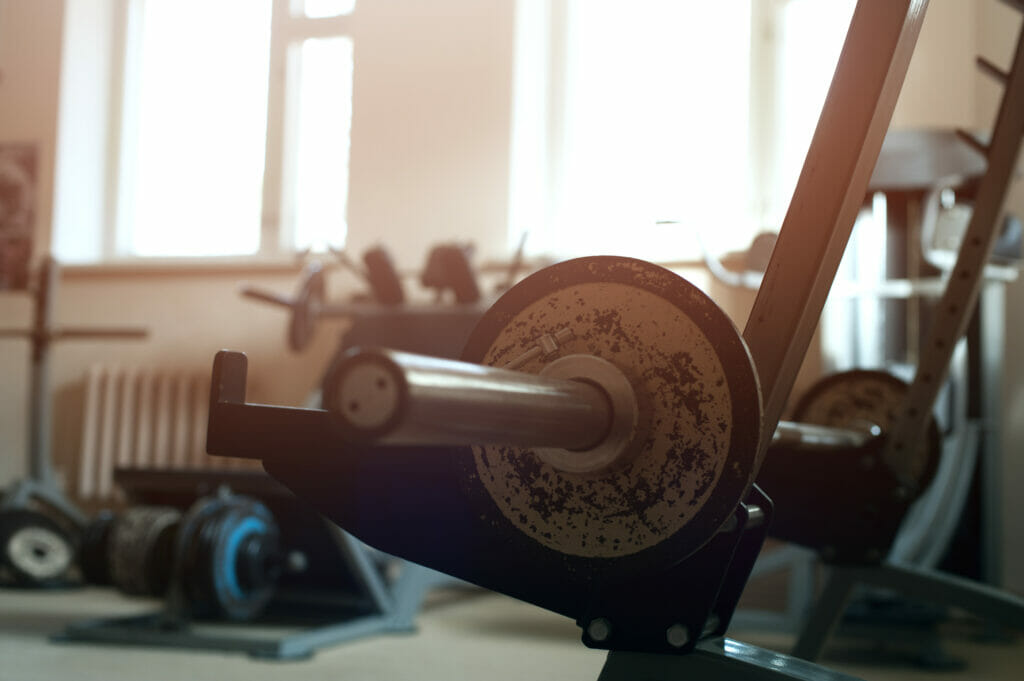 The Powerline PPR200X is a small, lightweight, and very affordable power rack designed to fit in compact areas, including basements and other rooms with low ceilings.
With 14 gauge uprights and a max weight limit of only 600 lb, the PPR200X isn't the heaviest-duty rack around, but with a height of only 82″ (and a footprint of roughly 4′ x 4′), this rack can fit in spaces many others can't.
The PPR200X also comes with everything you need to get started, including a pair of lift-offs, a pair of safety bars, and a knurled pull up bar.
And since this is Body-Solid we're talking about here, of course it's backed by a generous warranty.
All things considered, I think the PPR200X is a decent option for beginners to moderately leveled lifters looking for a small, affordable rack.
But before you decide, you need to know what to expect – and that's where I can help.
In this review, I'll go over all the specs and features this rack has to offer. I'll also try to compare it to some of the other top racks in this price range to see how it stacks up.
After reading, you'll know everything you need to in order to decide for yourself whether or not the PPR200X is worth investing in.
The Powerline PPR200X Power Rack
Powerline is Body-Solid's budget-friendly lineup of power racks and accessories.
And Body-Solid is one of the best brands around when it comes to racks, benches, home gyms, and pretty much anything else weight lifting related.
They've earned a stellar reputation for providing equipment that's well-built and backed by generous warranties.
Body-Solid has a huge lineup of lifting equipment to choose from too, with machines and racks varying greatly in terms of features and price.
And yes, this is the same Body-Solid that gave us the popular EXM2500S, one of the best home gym machines around.
The PPR200X is one of their most affordable racks, coming with a full retail price of $690 – although it's usually quite a bit cheaper on Fitness Factory.
Pros
Affordable
Small footprint
Fits in rooms with low ceilings (only 82″ tall)
Pull up bar included
2x lift off bars included
2x safety bars included
Compatible with lat pulldown station
Good warranty
Body-Solid has a great reputation
Cons
2″ x 2″, 14-gauge steel uprights
Weight limit only 600 lb
Uprights
Power racks are really simple devices, so there aren't a lot of technical specs and features to compare when looking at these things.
As the name implies, a power rack really is just a rack designed for holding barbells.
Most power racks, especially budget ones, consist of simply 4 upright posts and a few horizontal bars connecting them- that's about it.
That said, there are still a few important performance specs to consider and they mostly have to do with what type of steel the rack is made of.
All racks are made out of steel, but the size and thickness of the uprights will vary from rack to rack.
In terms of physical dimensions, most racks come with 3″ x 3″, 2″ x 2″, or 2″ x 3″ uprights.
And as you might guess, the larger the uprights are, the more stable they tend to be. This is why heavier-duty racks come with 3″ x 3″ uprights.
When it comes to the thickness (gauge) of these uprights, remember that seeing lower numbers is a good thing, because it refers to thicker steel.
So, for example, 12-gauge steel is thicker than 14-gauge steel.
Home power racks usually come in 3 gauges: 11-gauge, 12-gauge, and 14-gauge.
Your higher-end, heavier-duty racks will be 11-gauge, while your more affordable racks will be 12- or 14-gauge.
With all of this in mind, the PPR200X comes with 2″ x 2″, 14-gauge steel uprights – meaning this rack has the smallest and thinnest uprights we'd expect to see.
These smaller, lighter-duty uprights keep the overall weight of the rack lower (the PPR200X only weighs 133 lb), but that isn't really a good thing when we're talking about equipment that's only job is to remain stable while holding weight.
Lower weight racks are more likely to wobble or move a little when racking barbells, but they aren't able to hold as much weight either.
The PPR200X only comes with a max weight limit of 600 lb, which sounds like a lot to someone like me, but it's pretty low when compared to other high-end racks that can easily hold 1,000 lb.
But for folks who never plan on throwing tons of weight on this rack, it'll still be able to get the job done.
Something else worth noting, is that the holes on these uprights are spaced 3″ apart, meaning you can only place the lift offs or safety bars every 3″.
This gives you less control over bar placement when compared to other racks that offer 2″ or even 1″ (Westside) spacing.
The 3″ hole spacing might not be that big of a deal when it comes to squats, over head presses, or deadlifts, but sometimes it does make a difference when it comes bench presses.
Speaking of benching, some users have complained about the lift off bars that come with this rack aren't as convenient as J-hooks to lift off of during bench presses.
These lift off bars do have a tendency to let the bar move around a little more than a higher-end J-hook, but most see it as a minor inconvenience as opposed to a real deal-breaker.
Lastly, I wanna mention this rack's dimensions.
Assembled, the PPR200X takes up a foot print of 45″ x 47″ (L x W) and is 82″ tall.
At just under 7′ high, this rack should be able to fit in rooms with even really low ceilings – at least I've never been in a home with a ceiling under 7′ (not to say some of those old school basements don't).
There's also about 24″ worth of space inside the cage, which isn't a ton of space, but it's still enough room to perform squats and any other exercise you'd want to inside the safety of the cage.
Overall, with smaller, thinner uprights, and a lower weight capacity, the PPR200X certainly isn't appropriate for serious lifters, but it should be able to accommodate beginning to moderate level lifters looking for a bargain rack.
Attachments
The most important thing to consider when looking at a power rack is the size and gauge of the uprights and its weight capacity, but you still wanna check out what kind of attachments it's compatible with.
Through the use of attachments, a basic rack can transform into a fully functioning home gym.
Some racks, like Force USA's MyRack Modular system, are compatible with a ton of attachments.
Others, like the PPR200X, aren't.
It just depends on what you're looking for.
The PPR200X comes with the following attachments:
1″ diameter pull up bar
2x safety bars
2x lift off bars
Ok, so it doesn't come with a lot, just the basics.
It's also compatible with the following attachments (sold separately):
Lat pulldown station (plate loaded)
Dip attachment
Cannon-ball chin up grips
Dog-bone chin up grips
Nun-chuck chin up grips
Plate storage tree (GWT4) – you can't use this attachment and lat pulldown station at same time
Gut blaster ab sling
Ok, this rack isn't compatible with a lot of fancy attachments either. These mostly include several different pull up grips, but with the dip attachment and lat pulldown station, you can certainly add some variety.
Warranty
Body-Solid backs their PPR200X Power Rack with the following residential warranty:
10 year frame
1 year parts
Ok, not bad for a $500 rack.
I'm a little surprised Body-Solid doesn't offer a lifetime frame warranty on this rack, because most of their other racks do come with a lifetime guarantee.
And yes, lifetime guarantees can be found in this price range – Force USA's MyRack mentioned above comes with a lifetime frame warranty.
Overall though, I think the warranty on this rack is solid.
Final Thoughts
Alright, I feel like this review went by really fast, but there's just not a lot to talk about with a lot of these power racks.
Power racks are generally very straightforward, basic pieces of equipment that really only need to do one thing – hold weight.
Which is why I think it's so important to consider the size and gauge (and weight limit) of the uprights when comparing racks.
The PPR200X is obviously a budget-rack, so it's not surprising to see that it comes with smaller, 14-gauge uprights and a rather low weight capacity.
This is pretty par for the course when looking at racks in the $500 range, although Force's MyRack  uses 2.4″ x 2.4″, 12-gauge uprights and costs about the same when you include the pull up bar, J-hooks, and safeties.
Of course the MyRack is quite a bit taller (87″), which could be an issue with rooms with really low ceilings.
There's also Titan's T-2 Rack which is 71″ tall and even more affordable, but it only comes with a 1-year warranty.
And according to Titan, the T-2 uses 12-gauge steel, but weighs the same as the PPR200X with its 14-gauge steel…hmm, not sure how that works…
Anyway, all things considered, I like the PPR200X, but I don't love it.
If you're looking for a straightforward, no thrills rack that's small and affordable, I think it could make sense – especially if you need a rack to fit in a room with a low ceiling.