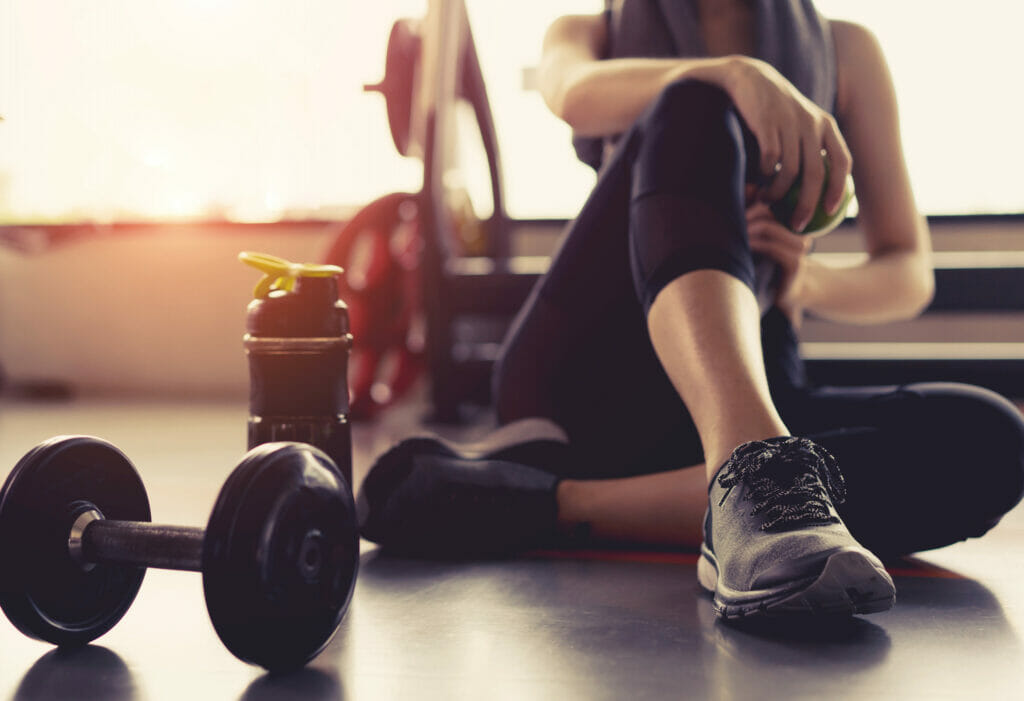 NordicTrack and Bowflex are 2 of the biggest names in home fitness, there's really no debating that fact. Each brand comes with their own unique set of perks, but what happens when we face these 2 titans of fitness against each other?
Does one brand outshine the other?
Which brand (if either) will make the best fit for your home gym?
Well, these are the questions I aim to answer for ya in this post. In this article, I'm going to compare NordicTrack and Bowflex against each other, with an emphasis on the key specs and features each brand is known for.
After reading, you should have a good idea whether or not one of these popular home fitness brands is a smart choice for your home gym.
NordicTrack vs Bowflex
I want to start off by saying that I think both of these brands are worth investing in. I think both companies put out pretty impressive machines and deciding a clear-cut "winner" between these 2 brands is very subjective- it all depends on what you're looking for out of your next fitness device.
That said, this is my post and I get to be as subjective as I wanna be.
Do you really think I'd write a "vs" style post without labeling a clear cut winner?
Nope, not my style.
I'll even do ya one better and tell ya right now who I think the winner is: Bowflex.
Personally, if I were deciding between a NordicTrack and a Bowflex product today, I'd go with the Bowflex. Why? Well, you'll have to keeping reading to find out.
I actually want to start with NordicTrack though.
NordicTrack
The NordicTrack brand started back in the '70s when Ed Pauls created the iconic cross-country skier machine. Believe it or not, you can still purchase the original skiers through NordicTrack and they're still in high demand.
The skier, as goofy as it looks, is actually a pretty awesome device.
Mimicking the motion of cross-country skiing, this machine can provide a great cardiovascular workout, while targeting both the arms and legs at the same time.
Over the last few decades, NordicTrack has expanded their lineup considerably. They now offer a large selection of cardio equipment to choose from.
They've got all the basic stuff you know and love, from stationary bikes to ellipticals and treadmills. Their rower game is pretty strong now too, with the addition of the RW900, which is giving Hydrow a run for its money.
NordicTrack also has a few products that aren't quite as common, like their incline treadmills (that can reach a staggering 40% incline) and their FreeStride Trainers.
And then there's their Fusion CST strength trainers that merge the worlds of strength training and streaming workouts to give a pretty unique workout experience.
When it  comes to product variety, NordicTrack scores pretty highly- they've got a lot of equipment to choose from.
They also score pretty highly when it comes to the specs that matter.
When you look at the warranties NordicTrack offers, they stack up fairly well against the competitors in their respective price ranges.
My only real complaint would be that they only offer 10-year frame warranties on their treadmills and ellipticals. Even their top-tier models (that cost $3000+) come with the same warranty.
Other brands in the same price range (like Sole) offer lifetime frame and motor guarantees.
NordicTrack only offers 2 years on parts too, which is a little shorter than the 5 year guarantee we see from other high-end brands.
When it comes to frame integrity, motor strength, and components, NordicTrack stacks up well against the rest of the competition.
Their higher-end cardio machines are well-built: their frames usually come with weight capacities in the 300 – 350 lb range, which is expected from quality home fitness equipment.
The specs on the different treadmills vary based on price point (which is standard of course), but their higher-end models come with 2.5″ rollers, 4.0 CHP+ motors, and spacious running surfaces.
NordicTrack's performance specs are pretty good, but it's their console tech that tends to tip the scale in their favor.
NordicTrack is owned by the same parent company that owns the iFit fitness streaming app (ICON), so most of their machines come with large touchscreen displays that are designed to be used with iFit.
iFit allows you to stream from a huge selection of instructor-led workouts and the instructors can even adjust the resistance settings on some of the equipment to keep you challenged.
Depending on the model you're looking at, some of NordicTrack's monitors are huge- the Commercial S22i Studio Cycle comes with a 22″ rotating screen (the same size as Peloton's I believe).
And if you compare different models in their lineups, you'll notice that screen size is one of the factors they use to determine price point- sometimes the only thing that changes from one model to the next is the size of the screen.
If you're looking for a streaming device with a large touchscreen monitor and tons of workouts to choose from, NordicTrack is a great brand to consider.
They have a large selection of cardio machines to choose from and most of them come with an iFit compatible screen in one size or another.
Ok, so, to summarize: NordicTrack has a lot of cardio machines to choose from and they come with respectable performance specs (although warranties could be a little longer), but it's their impressive tech features that set them apart from most.
Now let's switch over to Bowflex and see what they've got going on.
Bowflex
Bowflex hasn't been around quite as long as NordicTrack, but it's not that much younger. Bowflex started out in '86 with an innovative fitness machine of their own- the Bowflex gym.
In fact, the name of the brand comes from the original home gyms they invented that would use their patented power rod resistance systems.
Their home gym was a hit and the rest, as they say, is history.
And even though this brand is named after their home gym systems, they've branched out nicely to include a wide array of fitness machines to choose from.
And I would even go as far to argue that Bowflex is better known now for their cardio machines than they are for their power rod gyms- although they still offer several home gyms that are pretty awesome.
Speaking of gyms, currently you'll only find 2 models on their website: the Xtreme 2 SE and the Bowflex Revolution (the older models are still available through sites like Amazon, check out my Bowflex guide for a comparison of all gyms).
Basically, when comparing different Bowflex gyms, you want to look at whether you want a vertical or horizontal bench and the total amount of resistance the gym is capable of providing.
There will be slight differences in the attachments and total number of exercises you can perform as well.
Other than the Revolution, all Bowflex gyms still use the power rod resistance system. With the Revolution, Bowflex switched things up and used SpiraFlex, which is a gravity independent system that NASA uses in space.
Which brings me to one of my favorite things about Bowflex- they're not afraid to think outside of the box.
This brand has been creating and innovating since the get go.
Think about all the creative products they've come out with over the years (other than the gyms): SelectTech dumbbells, Max Trainers, TreadClimbers, the LateralX's.
They've also recently come out with a new spin cycle that let's you lean during your workouts- the VeloCore.
Regardless of what you think about the products themselves, it's hard to deny that Bowflex offers equipment you aren't gonna find anywhere else.
Personally, I'm a big fan of most Bowflex products because when you look at the specs and features, they hold up toe to toe with pretty much any other home fitness brand around.
Especially when you look at their treadmills and ellipticals.
Their treadmills come with heavy-duty frames, high weight capacities, strong motors, and large running surfaces (their BXT216 is a prime example).
Bowflex ellipticals come with heavy flywheels, comfortable stride lengths, and high weight capacities as well.
Other than the VeloCore, they have another impressive spin cycle with their C6, which would make a great Peloton alternative for folks looking for a more budget friendly way to stream cycling workouts.
Bowflex devices are well built with durable frames and large components, which is great, but they're also backed by generous warranties (which sets them apart from NordicTrack in my book).
They usually offer 15 year frame and motor warranties on their treadmills/ellipticals, as well as 5 year parts and 2 year labor guarantees.
Again, I like to see "lifetime" in front of the frame and motor, but 15 years is pretty darn close.
Their C6 comes with a 10 year frame warranty, which is great for spin cycle. The warranty on the VeloCore is pretty short, but I'm guessing that's because it's a new product and they want to see how it holds on the market before they offer an extended warranty.
Overall, Bowflex as a brand offers a wide selection of cardio and strength training machines that are well-built and backed by great warranties.
If you're looking for a more interesting approach to your fitness, Bowflex is a good brand to explore because they offer innovative fitness machines you aren't gonna find anywhere else.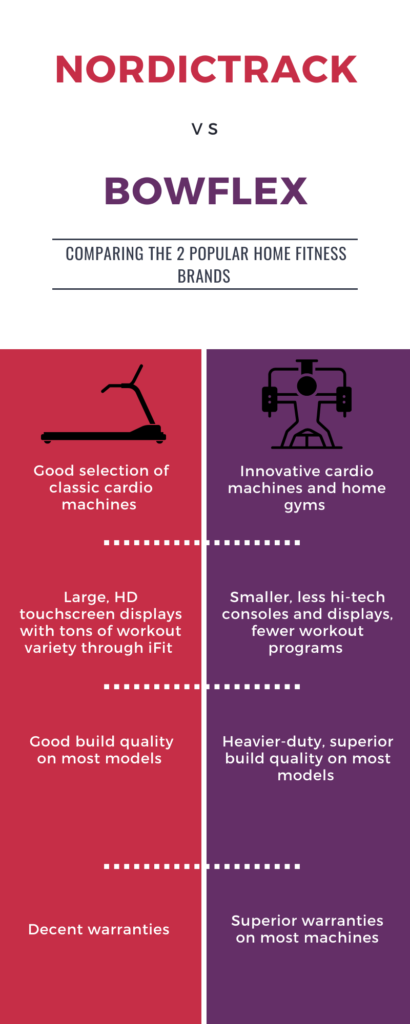 Final Thoughts
I guess I already spilled the beans and mentioned that I prefer Bowflex to NordicTrack, so I doubt there's much suspense there.
But I think both brands have a lot to offer.
In the head to head showdown, I declare Bowflex the winner because their products are generally a little heavier-duty and they come with better warranties.
If you're working with a smaller budget, NordicTrack might be the better bet because they have more cardio machines to choose from, including more affordable treadmills, ellipticals, and bikes as well.
Bowflex isn't necessarily more expensive than NordicTrack's higher-end models, but they don't have as many lower priced machines to choose from.
If you're looking for large touchscreen displays and tons of workouts to choose from, you'll probably want to go with a NordicTrack as well (although now that Bowflex is implementing their JRNY app, they're able to provide more in terms of workout streaming than they could in the past).
Bowflex is a better choice if you're looking for a more durable machine and you're aren't into the whole streaming workouts thing.
Bowflex also offers more in terms of more interesting modes of exercise- and they've definitely got NordicTrack beat when it comes to strength training.
In the end, I guess it just depends on what you're looking for…
But in the spirit of not being lame, Bowflex is the winner, hands down.