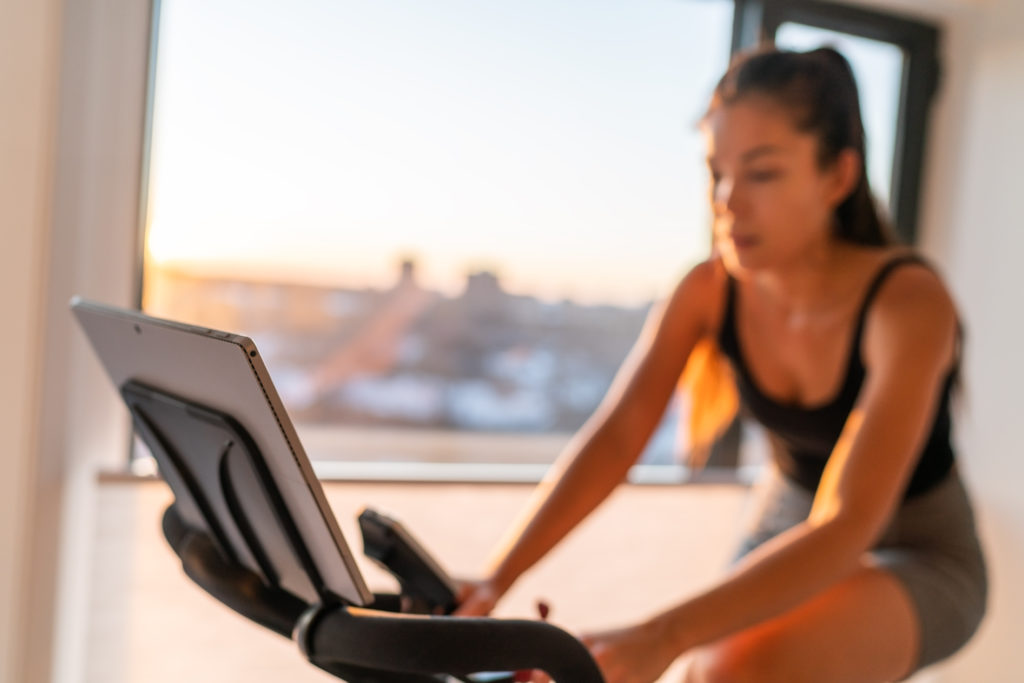 The Commercial S22i Studio Cycle is NordicTrack's highest-end, most luxurious spin bike to date. Taking a page out of Peloton's book, the S22i comes with a large, HD touchscreen monitor designed for streaming spin classes through iFit.
The idea is that instead of going to the spin studio, you bring the spin studio to you.
Peloton is proof this model works and that people are willing to pay a premium price for a premium service (myself included). But is the S22i Studio Cycle worthy of the price?
That's what this review is going to help you decide.
In this article, we'll take a close look at everything the S22i has to offer. We're talking all the gritty details, including performance specs, features, and the iFit app itself.
After reading, you'll have a better idea as to whether or not this is the right spin cycle for your home gym.
The NordicTrack Commercial S22i Studio Cycle
NordicTrack is one of the most recognizable home fitness brands around. We all remember those classic cross-country skiers that made NordicTrack famous back in the day- they were kinda goofy looking, but they worked great.
Well, the brand has been going pretty strong ever since.
They still offer the skiers, but they've also branched out into pretty much everything home fitness related. Their treadmills and ellipticals are especially popular, but they offer several stationary bikes as well.
They even have a pretty interesting home gym, the Fusion CST, that combines strength training with streaming workout videos.
When it comes to spin cycles, the Commercial series is NordicTrack's most high-end lineup. The series consists of the highest-end S22i and the slightly more affordable S15i.
The biggest difference between the 2 cycles is the size of the monitor.
Pros
22″ Smart HD Touchscreen display
1 year of iFit included
32 lb flywheel
24 levels of silent magnetic resistance
Fully adjustable seat
Multi-grip handlebars
Incline/decline adjustments
Heavy-duty steel frame
Workout fan
Compatible with standard pedals/seat
Dual water bottle holders
Pair of 3 lb dumbbells included
Great warranty
Cons
NordicTrack's customer service has questionable reputation
No live workouts
Flywheel
The first thing most folks ask about when talking spin bikes is flywheel weight. That's because the weight of the flywheel is an important indicator of smooth (and realistic) its ride is going to be.
The general consensus is that when comparing flywheels, heavier is better.
And that's because the extra weight builds more momentum as the flywheel spins. This added momentum keeps the flywheel spinning during the small gaps between your pedal strokes.
In an essence, the flywheel helps you between pedal strokes, reducing any awkwardness or lag between strokes. The result is a smoother, more fluid feel.
How heavy is heavy enough? Hard to tell, but it seems 30 lb has become the proverbial line in the sand bikes have to cross in order to label themselves as having a "heavy" flywheel.
There's another school of thought, though, that argues you don't need a heavy flywheel to get a smooth workout if your magnetic resistance system is efficient and the gears are calibrated correctly.
The folks behind the Keiser M3i, one of the nicest spin bikes in the world, stand behind this theory 100%- this bike only uses an 8 lb flywheel and users have no complaints.
Anyway, according to a NordicTrack rep, their S22i comes with a 32 lb flywheel, which is heavy by anyone's standards.
It's going to take a little more effort to get this heavy wheel spinning, but the added momentum will help you out a little during your workouts. Just be careful because it'll take a little extra doing to stop it (this is where the brake comes in handy).
Pair this heavy flywheel with NordicTrack's silent magnetic resistance system (with 24 levels of resistance) and you've got a smooth sailing machine. The belt drive system also keeps noise during operation to a minimum.
Chain drive systems work incredibly well too, but there is a little extra noise when compared to a belt drive. Personally, I don't think the extra noise is very noticeable, but some cyclists will only use a belt drive system.
Regardless, most users agree the S22i provides a very smooth, quiet ride.
Overall, the S22i scores highly with its heavy flywheel, quiet belt drive system, and smooth magnetic resistance.
Seat
When it comes to bike seats, there's not a lot to talk about. Most spin bikes, the S22i included, come with standard road bike seats.
This means that the seats are pretty small and uncomfortable. Avid cyclists are probably use to these seats, meaning their butts have toughened up and no longer get sore after a workout.
If you're new to cycling, you'll likely find the seat uncomfortable for awhile.
Adding a gel seat cushion is an inexpensive fix. You can also easily switch the seat out for a softer, more premium seat if you prefer.
But if you decide to purchase the S22i, don't be surprised by the uncomfortable seat- all spin bike seats are uncomfortable until you get used to them.
The important thing to notice, other than how uncomfortable the seat itself is, is whether or not the seat is fully adjustable.
Fully adjustable means the seat can be adjusted vertically as well as horizontally (fore/aft). Having a fully adjustable seat is paramount for achieving a perfect fit.
The S22i does come with a fully adjustable seat, so you'll be able to find the best seat position to ensure a proper riding fit. This will help reduce any chances of injury of discomfort during use.
So, even though the seat is pretty uncomfortable, it is fully adjustable (and that's more important).
Handlebars
The handlebars on the S22i offer multiple grips, including the close narrow grip as well as the wider, more distal option (or 3rd position, which is often used when standing).
Most spin bikes come with multi grip handlebars these days, so that's not a huge deal. What I do like about the S22i is how thick the handlebars are.
I've learned that the thicker the handles are, the more comfortable they are during your workouts. Especially if you have sensitive, quasi-arthritic wrists like me.
The handlebars can also be adjusted vertically, giving you a better chance of finding the optimal position for your workouts. Also comes in handy if there are multiple users in your home of differing heights.
The S22i uses digital resistance levels (24 to be exact) that are adjusted conveniently by pushing a button on the right handle bar.
On the left handle, you have the buttons that control the incline and decline of the bike. Yes, you read that correctly- this bike actually inclines and declines to mimic going up or down hill.
You can incline up to a 20% grade and decline down to a 10% grade during your workouts.
This is a cool feature, but I wonder how much you feel this during your workouts. I mean, the flywheel isn't touching anything on the ground, so it's not like you're actually climbing against anything even when you raise the angle of the flywheel.
So I'm not sure it actually makes your workout any harder, maybe it does. But I guess it would give you the sensation of riding a bike up or down hill.
Overall, I like that the handlebars are height adjustable and having the resistance/incline buttons position on the handles is a great idea.
Frame
A nice spin bike should have a robust frame that isn't going to wobble or move during your workouts. That shouldn't be an issue with the S22i with it's heavy-duty steel frame and large front and rear stabilizers.
The bike is strong enough to hold users weighing up to 350 lb safely, which is pretty impressive for a spin bike.
The S22i itself is heavy, weighing a little under 200 lb fully assembled. This is a good thing when it comes to stability because heavier equipment is going to wiggle less during your workouts.
But it does make it a little more difficult to assemble. You might want to have a second person around to help position the bike during the assembly process. Especially when you have to attach those stabilizers at the beginning.
Overall though, this bike has a rock solid frame that should feel stable during use. The high weight limit is a great indicator of frame quality.
Pedals
Spin bikes come with pedals that are compatible with sneakers (cages) or cleats (clipless system). Some, like the Schwinn AC Performance Plus come with dual pedals that are compatible with both.
The S22i comes standard with toe cage pedals that work with any sneaker or non-cleat shoe you want to use.
This is a good thing if you don't want to worry about buying cycling shoes separately.
I know from experience that attaching yourself to the pedals through cleats provides a smoother, more comfortable workout, especially if you're really trying to crank up the cadence.
If you want to switch out the pedals for clipless pedals, you can. It's easy. The S22i is compatible with any standard bike pedal, so you can switch em out quickly without any fuss.
Monitor
Ok, so far we've been talking about the bike hardware. And as a pure spin bike, the S22i actually scores pretty well. But let's be real- that huge monitor is probably why you're interested in this bike to begin with.
And that makes sense, there aren't many bikes with a monitor that can compete with this one.
The S22i comes with a 22″ Smart HD Touchscreen monitor. That's like having a really big tablet or a pretty small tv mounted to your bike.
Being a touchscreen, you make all your selections by directly touching the screen- couldn't be an easier.
An awesome feature this bike has that many don't- the monitor can rotate. This means you can watch the non-cycling workouts from the monitor without having to be in front of the bike.
NordicTrack also includes a pair of 3 lb dumbbells that store nicely in front of the handlebars. You may think 3 lb is nothing, but when you start knocking out reps while you're cycling, it doesn't take much weight to get the job done.
NordicTrack threw this huge monitor on this bike because it's designed to pair with iFit, their fitness app.
NordicTrack (and all ICON Fitness brands) pushes iFit pretty hard on all their equipment, but it really doesn't make sense to purchase this bike if you're not going to use the app.
The whole point of this bike is to take advantage of the instructor-led workouts (which will look gorgeous on the HD display). If you don't want to pay for the monthly iFit plan, I highly suggest you go with a different bike.
NordicTrack does throw in a free year of the app with purchase, but after that it's up to you.
Last time I checked iFit is $15/month for an individual account and about $30/month for a family plan. With iFit, you get access to over 1,500 prerecorded, professional instructor led workouts.
There are workouts for all types of fitness equipment (rowers, treadmills, bikes, etc) as well as strength training, yoga, and pretty much anything else you can think of.
The most interesting part of iFit is probably the automatic machine adjustments. Depending on the workout you're doing, the resistance and incline settings on the S22i will adjust automatically throughout the workout.
This means you don't have to worry about changing the resistance settings to match what the instructor is saying- the bike does it automatically.
People that just want to jump on follow a workout will like this. Others who want more control over their workouts might not, but you can always override any automatic settings.
You can also use iFit to complete scenic rides and get individualized workouts based on your goals.
As a Peloton owner, I feel your pain about having to pay a monthly subscription fee to use an exercise bike you own. But when you consider how much cheaper the monthly fee is then having to pay a membership fee at a cycling studio it helps.
Especially considering iFit is only $15/month- Peloton is almost $60/month.
Overall, you can use the S22i on manual mode and skip the whole iFit experience, but it would defeat the purpose of this bike. That huge 22″ HD display is on there for a reason- to take advantage of the iFit workouts.
Warranty
The NordicTrack Commercial S22i Studio Cycle comes with the following warranty:
10 year frame
2 year parts
1 year labor
This is actually a pretty good guarantee when you compare it to the competition. For some reason, spin bikes, even expensive high-end ones, don't come with warranties as long as other fitness equipment.
Ten years on the frame is about as good as any frame warranty I've seen on a spin bike (matches the Schwinn AC) and 2 years on parts is pretty standard.
As is a year on labor.
Overall, this warranty is about as good as it gets. I wish I could say the same about NordicTrack's customer service- they have a bit of a reputation for being slow and ineffective.
Final Thoughts
Combining digital workouts with home fitness gear is a hot topic at the moment. At this rate, it seems we'll all be working out at home in front of a screen in the not so distant future.
If that's the way it's going, you could do a lot worse than the S22i.
The bike itself is high-end with a solid, heavy-duty frame and heavy flywheel. The fully adjustable seat and height adjustable, multi-grip handlebars make it easy to find the perfect fit.
The 22″ Smart HD Touchscreen makes a great platform for streaming all the iFit workouts and I love that the monitor can rotate 360° for easy viewing.
The S22i is also backed by one of the better warranties on the market right now (better than Peloton's), which provides a little peace of mind when making a purchase of this size.
If you don't plan on using iFit, you shouldn't purchase this bike. Save yourself a lot of money and go with a different spin bike.
Overall though, I think the S22i has a lot to offer. If you're interested in accessing studio classes from home, but looking for a more affordable option than Peloton, the S22i is a great choice.