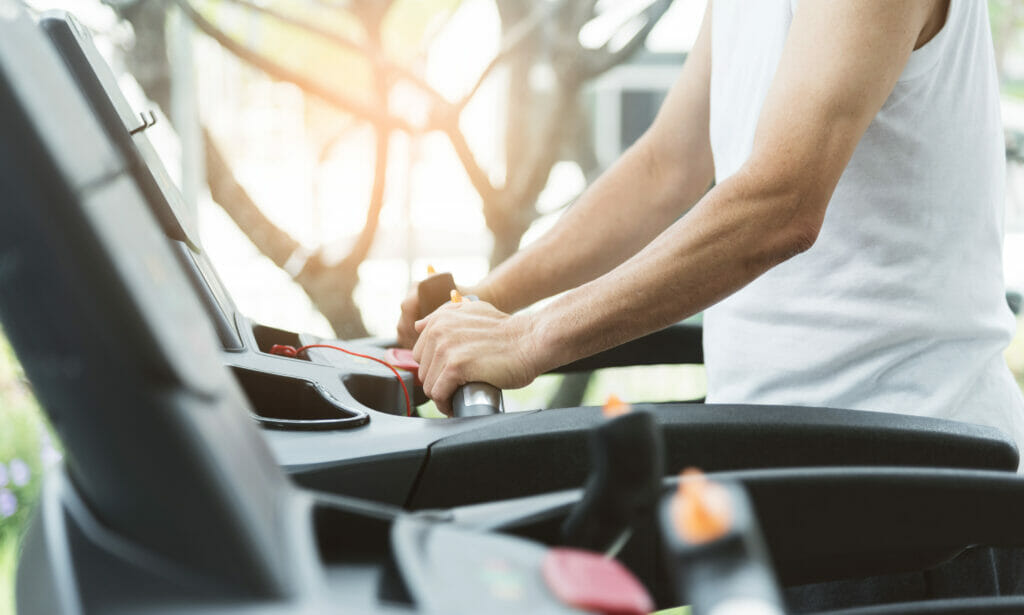 The EXP 14i is one of NordicTrack's more moderately priced treadmills, but when you stop and check out the fine details, you may notice it comes with an interesting combination of performance specs and features.
I would assume it's the 14″ HD touchscreen console and iFit streaming capabilities that draw most customers in, but this treadmill also comes with a beast of a motor.
With a 3.5 CHP motor, the 14i is packing about as much heat under the hood as NordicTrack's more expensive "Commercial" Treadmills.
And with the ability to decline down to a -3% slope, folks can train downhill for added workout variety or for imitating real world conditions.
That said, the EXP 14i isn't quite as heavy-duty as some of NordicTrack's higher-end models and its rollers could be bigger.
But overall, I could see this treadmill being a good fit for folks looking for a nice combination of console features and performance specs without busting their budget.
But before you decide, you have to know what you're getting into – and that's where I can help.
In this review, I'll go over all the specs and features this treadmill has to offer and I'll also compare the 14i to other similarly priced models to see how it holds up.
After reading, you'll know whether or not the EXP 14i is the right treadmill for your home gym.
The NordicTrack EXP 14i Folding Treadmill
NordicTrack's obviously one of the biggest names in home fitness and they're easily one of the most popular treadmill brands around.
These days they have a pretty large treadmill lineup to choose from, but one thing they all have in common is that they're all iFit compatible.
And not only compatible, they all come with built-in touchscreen consoles just begging to be used with iFit's workouts.
Personally, I think it would be smart of NordicTrack to offer at least a couple non-streaming treadmills too – you know, for the folks out there that don't want to join the streaming craze.
But no, NordicTrack has gone all-in with iFit and workout streaming and I doubt that'll be changing anytime soon.
So, if you're looking for a streaming treadmill, NordicTrack is a great brand to consider (but not so much if you don't care about instructor-led workouts).
Anyway, the EXP 14i we're here to discuss now is the highest-end model in their "EXP Series", which also has the EXP 10i and EXP 7i.
At the time of writing this, the EXP 14i is selling for roughly $1700.
Pros
14″ HD touchscreen console
3.5 CHP motor
20″ x 60″ running surface
Top speed of 12 mph
-3 – 12% incline/decline
iFit compatible
Automatic Trainer Control (iFit)
ActivePulse training
Bluetooth compatible
Cooling fan
One touch speed/incline buttons
Cons
Could be heavier-duty
Rollers could be larger
Warranty could be longer
Running Surface
A treadmill's running surface measurement tells you how much room you'll have to work with during workouts and it's an important spec to consider.
Especially if you're larger or taller.
Having a spacious running surface not only ensures you don't have to shorten your stride when running (a concern for taller runners), but it also just makes for a more comfortable workout experience.
After all, larger running surfaces is one of the reasons commercial treadmills feel so awesome.
Anyway, most quality home treadmills come with at least a 20″ x 60″ running surface because at this size, most people will be able to comfortable run as fast as they want without having to shorten their stride.
That said, the EXP 14i comes with a 20″ x 60″ running surface.
There are plenty of treadmills in this price range that come with an even larger, 22″ wide belt (Horizon's 7.4 AT comes to mind), but I think the 14i is definitely large enough to offer a comfortable experience.
So, no concerns here.
The 14i also comes with NordicTrack's FlexSelect cushioning system which allows you to choose how much shock absorption the deck provides.
It's a pretty cool feature because you can experience more cushioning to help reduce impact through joints or less cushioning to mimic more of a road feel during your workouts.
More importantly though, I want to talk about the 14i's assembled weight.
Technically, NordicTrack doesn't offer this spec – instead, they tell us the "in box" weight for their treadmills, so we have to subtract the weight of the box and packaging to get an idea of what the treadmill weighs itself.
I really don't know how much the packaging for this treadmill weighs, but I think subtracting 30-40 lb is a very conservative guess.
So, if we take the 14i's in box weight of 229 lb and subtract 30 lb or so, that leaves us with an estimated assembled weight of somewhere around 200 lb (give or take).
Why should we care?
Well, I like to have an idea as to how heavy-duty or robust a treadmill is gonna feel because I like the idea of having a really stable machine.
And the heavier a treadmill is, the less it's going to wobble or vibrate during use.
At around 200 lb, the 14i isn't awful, but it's not the heaviest-duty treadmill in this price range – far from it actually.
For the sake of comparison, the Horizon 7.4 AT I mentioned earlier comes with an assembled weight of 318 lb; there's also Sole's similarly priced F80 that weighs in at 278 lb.
My point is, there are much heavier-duty treadmills out there.
This is also evident when we see that the 14i only comes with a 300 lb weight limit.
Sure, this is high enough to accommodate most of us, but it's still low compared to the 350 lb and 375 lb limits found on the treadmills mentioned a second ago.
By the way, the heavy-dutiness factor is one of the biggest differences between NordicTrack's  "EXP" and "Commercial" Series.
So, overall, the EXP 14i has a pretty spacious running surface, but it's quite a bit lighter-duty than many of the other top performing treadmills in this price range.
Motor
But it's time to talk motors.
We all probably like the idea of having a really strong motor in our treadmill and generally speaking, having a  stronger motor is kind of always better.
Stronger motors don't have to work as hard as weaker ones to achieve the same output, so stronger motors should provide a smoother feel than weaker ones.
Plus, stronger motors should be able to accelerate faster than weaker ones, which can come in especially handy when doing interval workouts.
Most home treadmills these days come with a motor somewhere in the 2 – 4 HP range.
With that in mind, the EXP 14i is packing a 3.5 CHP motor (the 'C' stands for 'continuous', meaning this is the output the motor can maintain for extended periods of time and is a more useful measurement in terms of function).
This means the 14i comes with a motor that's near the top of the expected range for home treadmills in terms of strength.
At 3.5 CHP, the 14i also matches the motors found on the 7.4 AT and F80 mentioned above (which happen to be 2 of my favorite treadmills in this price range).
The EXP 14i can reach a top speed of 12 mph and a top incline of 12%, all of which is pretty standard for a treadmill in this price range.
What isn't standard though, is the fact that this treadmill can reach a decline angle of -3%.
In fact, most treadmills don't decline at all (this is a feature mostly found on NordicTrack and ProForm models), so this is a fairly unique feature.
Training on a decline can add another layer of variety to your workouts, but it can also mimic the feel of running/walking downhill – something that might come in handy when preparing for a road race.
The motor and incline/decline specs for this treadmill are pretty impressive, but when we check out the roller size, the 14i falls a little short.
At only 1.9″, the rollers on this treadmill are a bit small for this price range.
The rollers are the parts that the belt glides over and having larger rollers is a good thing because it makes for smoother belt action (plus larger rollers put less stress on the belt).
For the sake of comparison, the Sole F80 comes with 2.5″ rollers; and Horizon's 7.4 AT comes with 2.3″/1.8″ front/rear rollers.
1.9″ is common for more affordable treadmills, but is small for quality treadmills in this price range – not a deal breaker in itself, but something to keep in mind.
Overall though, I like that the 14i comes with such a strong motor and the ability to train downhill is certainly an interesting feature.
I'd like to see larger rollers on this treadmill, but again, I don't consider that a dealbreaker by any means.
Features
The NordicTrack EXP 14i Treadmill comes with the following features:
14″ HD touchscreen console- we spent a solid amount of time going over the performance specs above, but it's the 14″ HD touchscreen that's the real star here. This is a large console for a treadmill in this price range and it makes it easy to view all the workouts and other cool stuff iFit has to offer.
iFit- this is NordicTrack's streaming service and you need a membership to access all the instructor-led workouts, metric tracking, scenic routes, and everything else this treadmill has to offer. An iFit membership costs $39/month and NordicTrack includes a 30 day free trial with purchase.
Automatic Trainer Control- this is a cool feature that's only available through iFit. It allows the instructors to automatically adjust your speed/incline settings to match what they're telling you to do. If you don't like being told what to do, you can always make your own manual adjustments.
Bluetooth- the console on this treadmill is compatible with bluetooth headphones and heart rate monitors (one not included).
Cooling fan- there's a built-in fan to help keep you more comfortable during workouts.
One touch controls- you can instantly set the speed and/or incline to a preset value with the convenient push of a button.
ActivePulse training- you can also take advantage of the ActivePulse training feature if you sign up for iFit. This feature allows the treadmill to automatically adjust its speed to keep your heart rate within whatever zone it should be during your workouts (but you need one of NordicTrack's SmartBeat heart rate monitors to use it, sold separately).
Water bottle holders- and don't worry, there's plenty of space for your water bottles too.
Assembly
The EXP 14i involves a little more assembly than some other similar treadmills, but I still think most folks should be able to get it done without investing in professional assistance.
Like most treadmills, you have to attach the 2 uprights to the deck and carefully snake the cables through the right upright for attachment to the console.
Then it's a matter of attaching the handles, the console, the crossbar, and a few guards – all pretty standard stuff.
With the 14i though, there are a few extra steps involved regarding attaching and using the piston that's used for folding/unfolding the deck.
Not a huge deal, but plenty of treadmills come with this part already pre-assembled.
Overall though, NordicTrack's assembly manual is easy to follow and the procedure itself should be pretty straightforward.
Warranty
NordicTrack backs their EXP 14i with the following residential warranty:
10 year frame
2 year parts
1 year labor
This is the same warranty NordicTrack uses for most of their products and its quality is relative based on the price of the item.
And in this case, I think there's room for improvement.
For a $1700 treadmill, I'd like to see a lifetime guarantee for the frame and motor because this is what the other top brands are offering (Sole, Horizon, Spirit).
And 2 years on parts isn't awful, but it's still short compared to the 5 years Horizon and Sole are offering.
A year on labor is fine, that's pretty standard across the board for all brands.
So, overall, the warranty on the 14i isn't awful, but it's quite a bit shorter than what the other top brands in this price range are offering.
Final Thoughts
Ok, that's about all I got here.
All things considered, I think the EXP 14i has a lot going for it, especially in the features department.
But it's also packing a very strong motor and some serious incline/decline capabilities.
The only real complaints I've got are regarding the warranty and the fact that this treadmill is a little light-duty for this price range.
I think I've shown that there are certainly heavier-duty, higher performing treadmills in this price range, but few can compete with the 14″ HD touchscreen console and streaming options the 14i has to offer.
So, if you're looking for an affordable streaming treadmill, the EXP 14i could be a great choice.
But…
Before you buy, you might want to check out ProForm's Pro 9000 because it's priced almost identically, comes with a 3.6 CHP motor, the same warranty and iFit features, and comes with an even larger, 22″ HD console.
Plus, it's even a little heavier-duty.
Just sayin'.