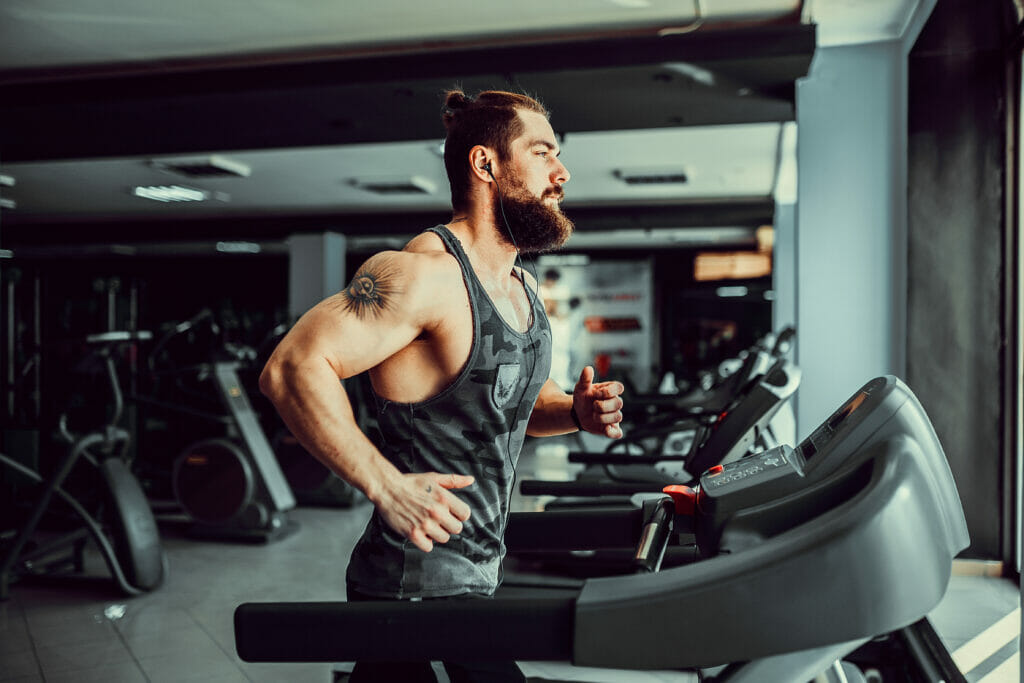 The XT385 is one of Spirit Fitness' higher-end residential treadmills, but with a sales price just under $2000, it's priced effectively for most home gyms.
Especially considering all the impressive performance specs it's packing.
Highlights of this elite treadmill include a 3.5 HP motor, a 22″ x 60″ running surface, 10 workout programs, and a heavy-duty frame.
It's also backed by one of the best warranties in the world.
Put all this together and you've got one of the best treadmills in this price range- but you really shouldn't take my word for it, the numbers speak for themselves.
In this review, I'll go over everything the XT385 has to offer.
After reading, you'll know everything you need to in order to make your own educated decision regarding this treadmill.
Let's get to it, shall we?
The Spirit Fitness XT385 Treadmill
Spirit's a very respected home fitness brand. They've earned a reputation for providing no-BS workout equipment that's built to perform.
As a brand, Spirit is very similar to one of my other favorites, Sole Fitness.
Like Sole, Spirit emphasizes performance specs over higher-tech console features.
You aren't gonna find huge, HD screens or streaming services on most Spirit treadmills (although their ENT models do come with touchscreens), but what you will find are powerful motors and heavy-duty frames.
Spirit is also well-known for their generous warranties, but more on that in a bit.
The XT385 falls right in the middle of Spirit's treadmill lineup, both in terms of features and price.
They also have a pretty extensive lineup of commercial grade treadmills to choose from (which are more affordable than most other commercial treadmills).
Speaking of price, the XT385 comes with a full asking price of about $2200, but you can usually find it on sale for around $2000 through Fitness Factory.
Pros
22″ x 60″ running surface
3.5 HP motor
2.5″ / 2.0″ rollers
375 lb weight capacity
Top speed of 12 mph
15 levels of power incline
Folding frame
10 workout programs
Quick touch speed/incline buttons
Handlebar controls
Chest strap heart rate monitor included
Bluetooth compatible
Amazing warranty
Cons
Dated console
No bluetooth speakers
Running Surface
A treadmill's running surface refers to how big the belt is. In other words, how much room you have to work with during your workouts.
I'm of the opinion that larger is always better- the more spacious the treadmill feels, the more comfortable your workouts are going to be.
This spec is especially important for the taller folks out there- if your treadmill isn't long enough, you could find yourself having to shorten your stride when running at faster speeds.
Which is something I doubt any of us are looking for.
Fortunately, that shouldn't be an issue with the XT385.
This treadmill comes with a running surface that measures 22″ x 60″, which is going to feel great for most users.
A running surface of 20″ x 60″ is the gold standard for home treadmills because at that size, pretty much all folks can comfortably use it.
With a width of 22″, the XT385 provides a little extra wiggle room from side to side, allowing you more room to drift a little during runs (which I find myself doing often).
And in terms of length, there aren't that many residential treadmills that are longer than 60″.
So, when it comes to the running surface, the XT385 scores highly.
This treadmill is spacious, but it's also heavy-duty.
I know that term gets thrown around a lot these days with us fitness equipment bloggers, so I'll try to be a little more specific.
When I say "heavy-duty", I'm referring to the robustness of the frame.
The best way to gauge how heavy-duty a treadmill is without taking it for a test drive, is to look at the assembled weight and the weight capacity.
These 2 specs will give you a good idea of how sturdy and solid you can expect the treadmill to feel.
And as I'm sure you guessed, seeing higher numbers in both cases is a good thing.
The XT385 comes with an assembled weight of 265 lb and a weight capacity of 375 lb, both of which are pretty impressive for a $2000 treadmill.
(For the sake of comparison, Sole's F85 weighs about 300 lb and comes with a 400 lb weight capacity- it's pretty easy to see why that's one of the most popular treadmills in this price range).
Overall though, the XT385 scores highly in this category- it's big enough and heavy enough to comfortably accommodate folks of all sizes.
Motor
I think the running surface is the most important spec to consider when looking at a new treadmill because it instantly tells you whether you'll fit on the machine or not.
But the motor strength is a close second.
Having a stronger motor is usually a good thing because it's going to make for a smoother feel during your workouts.
Stronger motors don't have to work as hard as weaker motors to provide the same output.
Generally speaking, this means stronger motors should work a little more quietly than weaker ones, as well as last longer (since they aren't being stressed as much).
It's true you don't need as much horsepower if you'll be using your treadmill for walking only, but if you plan on running on a regular basis, I encourage you to go with at least a 3.0 HP motor to ensure smooth operation.
With all of this in mind, consider that the XT385 comes with a 3.5 HP motor.
Not only is this strong enough for runners, but it's right in the middle of the expected horsepower range for quality treadmills in this price range (3-4 HP).
Like most home treadmills, the XT385 has a top speed of 12 mph. It also comes with 15 levels of power incline for added workout intensity and variety.
The strength of this treadmill's motor is pretty good, but it also comes with fairly large rollers (2.5″ front/2.0″ rear).
The rollers are the part of the treadmill that allow the belt to glide over the deck. Having larger rollers is a good thing because it makes for smoother operation, while putting less stress on the belt and rollers (and motor too).
Anything above 2″ is pretty good when it comes to rollers, although higher-end models tend to come with 2.5″ – 3″ rollers.
Overall, this treadmill scores pretty highly in the motor department. I like that it has plenty of horsepower and that the rollers are fairly large (although there are models with slightly more impressive specs in this price range).
Features
The Spirit XT385 Treadmill comes with the following features:
7.5″ LCD console- the console on this treadmill is pretty basic, but it's large enough to see all your workout metrics and it's blue backlit, making it easier to see in low light settings.
10 workout programs- this model comes with 10 total workout programs, which include all the standard workout profiles, as well as 2 heart rate guided workouts and 2 custom workouts.
Bluetooth- this treadmill is bluetooth compatible with Spirit's free fitness tracking app, as well as the interactive Zwift training app.
Handlebar controls- you can control both the speed and incline from the conveniently located handlebar controls.
Quick touch speed/incline buttons- you can instantly set your speed and incline using the quick touch buttons on the console (a feature that comes in handy when doing your own intervals).
Chest strap- not only is this model compatible with chest strap heart rate monitors, but Spirit includes one with purchase.
Audio jack- you can plug your mp3 player into the console and listen to your workout tunes through the built-in speakers.
Cooling fan- there's a built-in swivel fan to help keep ya cool during those more strenuous workouts.
Dual storage compartments- there's a large storage compartment on each end of the console, allowing you to store all kinds of small things (including water bottles).
Assembly
I think the assembly process will be pretty straightforward for most folks out there. The procedure itself is fairly simple and the instructions Spirit provides are solid.
That said, the images could be a little larger, but at least they didn't cram a bunch of steps in each one.
Speaking of steps, there's only 6 of them to have the XT385 out of the box and running.
You really only have to attach the console masts, attach the console to the masts, secure a few covers, and then attach the horizontal support bar.
All necessary tools and hardware are included.
If you or a family member/friend are at least a little handy, I don't think you'll have any trouble assembling this model yourself.
Given the size and weight of the machine though, it's a good idea to have at least a second pair of hands available to help- this treadmill is heavy.
Warranty
Spirit backs the XT385 with the following residential warranty:
Lifetime frame
Lifetime motor
Lifetime deck
10 year parts
1 year labor
The warranty department is where Spirit really shines.
The performance specs for this model are good, but there are other treadmills in this price range that can compete or even outshine it when it comes to those.
When it comes to the warranty however, nobody beats Spirit.
You can't beat a lifetime guarantee on the frame/motor/deck- that's as good as it gets.
And when it comes to the parts, 10 years is 2x as long as the 5 year warranty most other high-quality brands are offering.
A year on labor is pretty standard, although some brands will offer 2 years.
Overall, if Spirit bumped their labor guarantee up to 2 years it would be the perfect warranty. That said, this is still easily the best warranty I've seen on any residential treadmill (regardless of price).
Final Thoughts
Well, that's about all I have on the XT385.
I think it's pretty safe to say this is a quality treadmill with a lot to offer, especially in terms of performance.
This treadmill comes with a spacious running surface and a heavy-duty frame. It's also packing a pretty strong motor and larger rollers.
The console features are all pretty basic- nothing too mind-blowing going on there (although it's nice that Spirit includes a chest strap).
Although the performance specs are impressive on the XT385, as I mentioned earlier, there are plenty of similarly priced treadmills with specs just as impressive (or even a little more so).
For example, Sole's F85 comes with a 4.0 HP motor, a 400 lb weight capacity, and costs about $100 less (with both machines on sale).
But what really sets the XT385 apart from any other treadmill in this price range is that warranty.
If you're a stickler for a good warranty (as I am), that 10 year parts guarantee could be the factor that helps you decide between the XT385 or any of the other options in this price range.
Either way, I think the XT385 is indeed a smart investment and easily one of the best treadmills under $2000. Highly recommended.