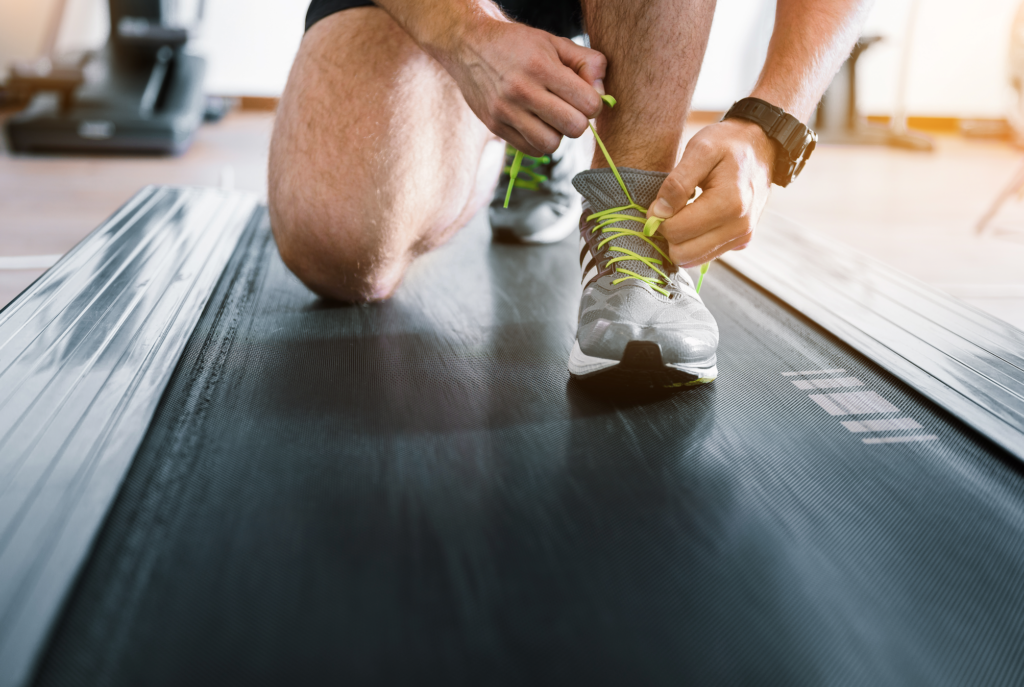 If you're looking for an affordable treadmill, LifeSpan Fitness' TR1200i treadmill is worth checking out. It's a durable and high-performing machine that's perfect for walkers and joggers.
With an emphasis on performance, the TR1200i offers some pretty impressive specs for a treadmill under $1000.
Highlights of this model include a 2.5 CHP motor, 15 levels of incline, and 21 built-in workout programs.
The biggest drawback I see is the rather short deck- with a running surface that's only 56″ long, taller users might find themselves shortening their stride a little.
Otherwise, the TR1200i is one of the best treadmills in its price range. But don't take my word for it, see for yourself.
In this review, I'll go over all the important specs and features this treadmill has to offer. After reading, you'll have a much better idea as to whether or not this is the right treadmill for your home gym.
The LifeSpan TR1200i Folding Treadmill
LifeSpan Fitness is a Utah-based company. They hit the market around 2001 and have built a reputation for themselves for providing high-end, affordable fitness equipment. 
Although the 2 brands sound similar, there's a big different between LifeSpan Fitness and Life Fitness.
These brands carry almost the same name, but their price points tend to differ…a lot.
Life Fitness is a luxury fitness brand, while LifeSpan Fitness is more budget-friendly. You'll rarely see a unit priced beyond $3000 from LifeSpan Fitness, which is very awesome if you'll compare it from other high-end treadmills.
LifeSpan Fitness offers all the usual fitness gear you'd expect, like treadmills, bikes, ellipticals, and more. But when it comes to fitness innovation, this company seems to be the cream of the crop by introducing workplace fitness machines like bike desks and treadmill desks.
If you're a hardcore multi-tasker or you hate the idea of spending so much time seated in front of your desk, LifeSpan Fitness has many interesting options for you. 
Anyways, let's go back to their traditional treadmills with the TR1200i. It's the cheapest folding treadmill from LifeSpan Fitness and is perfect for residential settings with the following offerings:
Pros
Foldable frame

8 individual shock absorbers

2.5 CHP motor

15 incline levels

11 mph max speed

21 onboard programs

7" full-color screen display

Pulse grip sensors

Wireless heart rate capability

Bluetooth-ready

AUX port

Speakers

Downloadable data storage

Front and back transport wheels 

Great warranty coverage
Cons
Running surface a bit short

Low weight capacity
Running Surface
I like starting my treadmill reviews with running surfaces because they help determine the level of comfort a machine offers.
The running surface describes the actual dimension of the belt area used for walking or running. It's measured in inches (width x length).
If a running surface is too narrow, it can make you feel cramped. Too short and you'll likely be conscious with your stride. You'll fear to fall off if you move or stray a little.
Either way sounds awful and can especially ruin your focus and motivation on your workouts.
That's why it's essential to look for treadmills with more legroom. Not only does it improves your comfort as you exercise, but it enhances your motivation and keeps you safe.
But what is the best running surface size?
For home treadmills, the gold standard is 20" x 60". At this size, most people (of varying heights) can safely walk and run safely without having to alter their stride length.
The TR1200i has a running surface that measures  20" x 56". Its length is 4-inches shorter from the benchmark, but it's roomy enough and fairly decent at this price point.
Folks under 6′ tall might not notice the shorter deck, but people 6′ and taller likely will. Walking and jogging will probably be fine, but if you're taller you might find yourself shortening your stride a little when running at faster speeds.
When it comes to frame integrity, at first glance, the TR1200i seems to have a durable build. It doesn't look flimsy, unlike many models in this price range.
Looking at the user weight capacity is a good way to get an idea of how tough a treadmill is. Higher is obviously better.
The 1200i comes with a 200 lb weight capacity (which is ridiculously low for a treadmill like this). I was really surprised by how low this weight limit is, so I reached out to a sales rep just to double check- yup, it's only 200 lb.
I'm not sure why this treadmill comes with such a low weight limit- this might actually be the lowest weight capacity I've ever seen. I guess this treadmill is designed for smaller people in mind.
The deck comes with 8 compression shock absorbers. It's impressive as it gives you softer landing with every step. 
With its safe and responsive cushioning system, the TR1200i goes easy on your joints, making it super ideal for those with arthritis and joint problems. You can enjoy longer workouts with faster recovery periods.
The TR1200i has a compact design of 70.25″ L x 33″ W x 55″ H. When folded, it instantly transforms into a 39″ L x 33″ W x 63″ H machine.
One of the attractive features of the TR1200i is its foldable frame. It has LifeSpan Fitness' EZfold technology that utilizes a hydraulic shock to assist in folding and unfolding the treadmill. 
Although treadmills are often foldable these days, it's still a rare find among cheap treadmills like the TR1200i.
The foldable frame is good because it helps you save space. It's great for those with limited workout space. You can fold it up and out of the way after finishing your workout.
There are 2 front-mounted and 2 rear-mounted wheels for easy forward/backward mobility and storage.
Overall, the TR1200i has a smaller running surface, which could be problematic for taller users, but it comes with a stable frame. Its hassle-free storage is a plus as it makes it very friendly for home use.
Motor
Now, let's start talking about horsepower.
Motor strength lets you know how smooth and quiet your exercise will be. Stronger is better because the motor doesn't have to work as hard during use.
In theory, this gives you a smoother and more fluid operation. The machine won't hiccup especially during more intense workouts.
Quality treadmills usually have motors ranging from 2.0 to 4.0 CHP (continuous horsepower). Price has a lot to do with this, with more expensive treadmills usually coming with stronger motors.
The TR1200i comes with a 2.5 CHP, which is pretty good considering the price range. It has enough muscle under its hood for long jogs without causing the track to stutter during speed changes. 
It has speed options ranging from 0.5 to 11 mph. It can challenge beginners as well as keep pace with seasoned runners. 
Also, there's more to the TR1200i's exercise ramp than its horsepower. LifeSpan Fitness also equipped it with 15 incline levels. You can fine-tune your cardio workout by altering both speed and incline, giving you a lot of workout variety.
If you want a low-impact exercise that lets you burn as many calories as jogging, try walking at an incline.
There are quick buttons for speed and incline options, so you can instantly adjust your settings without losing focus. 
Overall, the TR1200i does a good job with its motor specs. It's very respectable for its price plus it comes with a variety of speed and incline levels to give you more control over your training intensities.
Features
The LifeSpan Fitness TR1200i treadmill comes with the following features:
7″ display: Its large, full-color digital display produces very clear and easy-to-read exercise metrics. The console readouts include time, calories, distance, steps, heart rate, speed, incline level. It also shows your exercise programs and built-in Bluetooth to sync your workout results.
Heart rate monitor: The TR1200i comes with the standard contact heart rate sensors. You just have to grab its handlebar to activate its heart rate monitor. The machine is capable of wireless heart rate monitoring (which is better and more convenient), but the chest strap receiver must be bought separately. Regardless, this is a nice option coming from an affordable treadmill, especially when cardio monitoring is paramount to your fitness routine.
21 onboard programs: There are 17 preset programs (5 for weight management, 5 for healthy living, and 7 for sports training), 2 cardio programs, and 2 user-customizable programs. Having a boatload of training options is great especially for beginners. These programs are designed by professional trainers so you can be sure it's effective.
QuickSet™ buttons: It has large keys to start and operate the machine. You can easily adjust your routine at a specific speed and incline level without pressing so many buttons. It's more convenient and it saves you time.
Intelli-Step™: It's a step counter that works similar to a pedometer. It automatically counts your steps whenever you start working out.
Data storage: You can save your workout data in a USB so you can view your progress reports in full detail online. It's a useful feature when customizing your fitness plans.
Audio entertainment: It has awesome speakers that work well. You can use its AUX port to hook your device or use the Bluetooth to wirelessly access your media files.
Assembly
LifeSpan Fitness does a fantastic job of making their TR1200i simple to assemble. The assembly manual comes with large, easy to see images as well as written descriptions for each step.
The assembly process is pretty straightforward- after you unpack the treadmill, you'll unfold the uprights and make a few attachments (handlebars, covers, console, etc).
All of the necessary tools and hardware are included. 
You could finish this task in an hour, but if you're skilled, you could beat it at 30 minutes or less.
Warranty
LifeSpan Fitness backs their TR1200i with the following warranty:
Frame: Lifetime

Motor: 5 years

Parts: 2 years

Labor: 1 year
Two words: I'm impressed.
I wasn't expecting a warranty offering this sweet from a treadmill this affordable. They usually come with a maximum of 10 years on the frame if you're lucky.
The TR1200i has one of the best warranty at this price point, and it scores highly for me. You can't beat a lifetime warranty on the frame.
Five years on the motor is also very generous. Two years on parts and a year on labor are also good considering the price range. More expensive treadmills will come with longer parts and labor warranties.
Overall, the TR1200i comes with a great warranty.
Final Thoughts
I'm a fan of the TR1200i from LifeSpan Fitness. It's enough for low-impact cardio routines at home, and it packs a punch with its many built-in training varieties. 
I especially like its incline levels and many onboard programs. It makes a big difference if you're burning calories and toning different muscle groups.
The biggest downsides I see is the shorter deck and low weight capacity- larger folks are going to have a hard time using this treadmill.
Actually, if the running surface was 60″ (and the weight limit was 300 lb), this treadmill would've made my list of the best budget treadmills around (although to be fair, this treadmill is about $100 cheaper than most models on that list).
Overall though, LifeSpan's TR1200i exceeds my expectations for a $900 treadmill. Highly recommended.