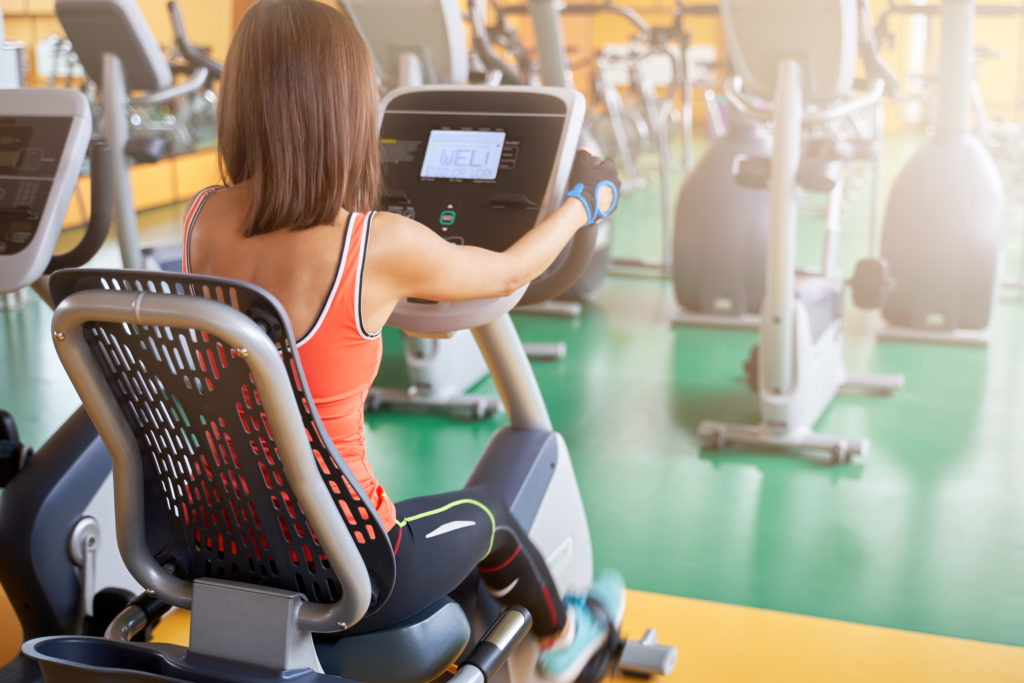 With a sale price of around $1200, LifeSpan's R5i is a fairly budget-friendly recumbent bike with high-quality features like an adjustable back rest, a heavy-duty frame, and tons of workout programs to choose from.
It's also backed by LifeSpan's awesome warranty, making it a smart choice for people looking for a well-made, comfortable recumbent bike.
But with so many options these days, it's important to do your homework before deciding- and that's where we come in.
In this review, we'll go over everything you should know before buying. After reading, you'll be well-equipped to decide whether or not this is the right exercise bike for you.
Let's get started!
The LifeSpan R5i Recumbent Bike
LifeSpan Fitness is one of the more reliable brands in the home fitness world. They've been in the market since the early 2000s and have proven themselves to be at par with the older and more stable names in the industry. 
As a matter of fact, they're quick to catch up with the juggernauts with their high-quality, inventive, and refreshing products year in and year out.
LifeSpan Fitness is often mistaken with Life Fitness, but the latter is a luxurious namesake. LifeSpan is more on the affordable, budget-friendly tier.
I've been reviewing their products for a while now. Their units, although inexpensive, have surprisingly competitive offerings. They're of premium quality and have even earning top regards for their products.
LifeSpan's popularity has increased dramatically for the past few years, especially after building its reputation in residential and commercial markets.
Robust frames, great warranties, strong motors, and solid accessories — these are qualities you can expect from any LifeSpan units. They're not known for hi-tech features, but they focus on the functionality of their products.
LifeSpan treadmills are some of the best products on the market, and they're a favorite by budget-conscious shoppers. They're well-built and affordable. 
Just in case you're interested in treadmills (or might be), you can start your search with the award-winning TR4000i or the cheaper variant TR3000i.
LifeSpan has carried over their same dedication to quality and durability with their other fitness machines, like their ellipticals, cycle boxer, upright bikes, and of course, recumbent bikes.
Ok, I guess that's enough introduction about LifeSpan Fitness.
Let's head back to the R5i recumbent bike.
Pros
18 lb flywheel

16 resistance levels

Self-generating power system

Comfortable seat with a well-ventilated and adjustable backrest

Armrest with heart rate monitoring

400 lb max user weight capacity

2 front-mounted transport wheels

40 built-in programs

Colored LCD

Bluetooth connectivity

Bottle holder

Great warranties
Cons
No cooling fan

Using the tablet holder can block the console display
Flywheel
Flywheels are important in exercise bikes as they're responsible for giving you the resistance during your workouts. 
Heavier flywheels are often preferred for smoother operation too -the extra weight offers more momentum, preventing hiccups or turbulence between strokes.
For residential recumbent bikes, flywheels usually range from 13 to 20 lb. Recumbent flywheels usually aren't as heavy as the ones we see on spin bikes (although Sole's LCR does come with a 30 lb flywheel).
The R5i operates with an 18 lb flywheel, which seems adequate for a low impact workout. 
For comparison's sake, many spin bikes carry more muscle under the hood with flywheels that could weigh as heavy as 50 lb.
These machines are ideal for high-intensity training. So if your cup of tea is more challenging workouts, spin bikes might be a good place to start.
Anyway, the R5i comes with 16 resistance levels. They're great for a more personalized workout, allowing you to find and match your body's training needs. You can start with the easier ones and go harder as you progress.
It's beneficial for those in physical therapy, in muscle toning activities, or in revving up your metabolism. The resistance level can be easily adjusted with its console buttons.
The R5i features an eddy-current Silent Magnetic Resistance (SMR) so it's noiseless when riding. You won't disturb others when using the bike and it can let you comfortably listen to your music or watch the TV for a more entertaining session.
What I especially like about the R5i is its self-generating power system. It's cordless and needs no battery to power up. 
It's ready to roll day in and day out, and all the bike's electronics automatically start whenever you begin pedaling.
The lack of a power cord is fantastic for so many reasons, primarily for its cost-effectiveness and easy storage benefits. It's almost effortless to move it around, and you don't have to place it near your sockets at home.
Overall, the R5i has a pretty good flywheel that can let you pedal with 16 resistance levels. Its self-operating, smooth, and whisper-quiet features have earned a thumbs up for this department.
Seat
Seats are often a dilemma in exercise bikes, especially in upright and spin bikes. They're usually uncomfortable with their narrow and less cushioned saddles to mimic the feel or riding outdoor bikes.
But recumbent bikes are an exception. They have ergonomic and comfortable seats. They're large, well-padded, and with a backrest for lumbar support. Sometimes they're also adjustable for more comfortable riding experience.
That's why recumbent bikes are ideal for those who have medical conditions or are receiving therapy. These machines are gentler for the back and joints.
The R5i has a seat that's ergonomically tuned for comfort. It's oversized with molded-foam seat cushion.
Reviewers enjoyed working out with the R5i because it's super comfortable, especially when the seat allows for enough range of motion. It's adjustable and fits riders whether short or tall. 
Its backrest has good ventilation to keep you cool as you exercise. 
The flexible ergonomic positioning and added chair-style armrest are great features to reduce any stress on your neck and shoulders and limit the chances of dealing with low back pains after exercising.
Plus, its armrests have integrated heart rate sensors. Imagine sitting comfortably in an office-chair-style while pedaling and tracking your cardio health simultaneously. 
You don't even have to grab the handles to check your pulse. Just rest your arms casually and the device gives real-time heart rate monitoring. Such convenience.
Overall, the R5i has a comfortable seat. No matter your size or sitting preferences, this machine can adjust to your perfect fit.
Frame
The frame is important when looking for a quality machine because you won't want it to wobble during your workout. You need something that's sturdy enough to support you and keep you safe all throughout your sessions.
The R5i is designed as a semi-commercial recumbent bike, so it's made of a sturdy steel material that can accommodate users of up to 400 lb.
Yep, it's heavy-duty and has dimensions of 70″ L x 27.5″ W x 44.5″ H. Users of different sizes should feel much safer using this robust machine. 
Other units in this price range could hold up to 300 lb, which I'd consider as the least weight capacity you should look into to ensure a quality frame construction. But then again, sturdier is better.
On a more cosmetic note, the R5i comes with a black and silver finish with a tinge of yellow for highlights. I like how it looks as it's not too robotic if it makes sense. 
It also has 2 front-mounted transport wheels for easy mobility and storage. Simply lift the back-end of the bike and you can move it to any corner of your home.
Overall, in terms of quality frame construction, the R5i checks this box without a problem.
Features
The LifeSpan Fitness R5i comes with the following features:
LCD display: The R5i comes with a multicolor LCD screen display. It shows your workout metrics like program name, speed, date and time, heart rate, resistance level, distance, workout time, calories, and much more.
40 onboard programs: 36 of these programs are designed for sports training, weight loss, and healthy living. There are 4 heart rate training programs and 2 custom user programs. Having a boatload of exercise programs makes every training as interesting as possible. With these offerings, you won't repeat the same routine in a month.
Heart rate monitoring: There are contact heart rate sensors located on its armrest. You can track your cardio health quite efficiently without moving your arms. The R5i supports wireless heart rate monitoring too, but the chest strap is bought separately.
Bluetooth connectivity: There's no port or headphone jack in the R5i so you can listen to your music wirelessly by Bluetooth. It also allows an easy transfer system when integrating your workout data with your fitness app.
Tablet holder: You can watch Netflix or enjoy a video call with your family and friends by placing your tablet in front of your console. The downside is that placing a tablet would instantly block the LCD display. 
Bottle holder: It allows users to remain hydrated while exercising.
Assembly
Assembling the R5i is pretty straightforward. The package comes with all the parts and accessories, together with a manual that is clearly written with large, easy-to-follow images.
The R5i comes with transport wheels so it's really easy to move it around and keep it stationed at a particular location. 
Since it weighs 146 lb, it's wise to have someone else to help you manage and put together the unit correctly.
You just have to follow the manual and you'll likely finish the process in an hour or so. 
Warranty
LifeSpan Fitness backs their R5i up with the following warranty:
Frame: Lifetime

Parts: 5 years

Labor: 2 years
LifeSpan is known for providing generous warranties. You can enjoy a lifetime warranty even from their more affordable units. 
Warranty is a good way to measure up the quality of products you'll be investing in. Companies often place great guarantee offerings when they're confident in their products, like in LifeSpan's R5i.
Quality bikes in this price range will usually offer 3 years for parts and at least a year for the labor. The R5i has exceeded the standards with their 5-year and 2-year warranties respectively.
Overall, because of the fantastic warranties of the R5i, this should make a nice machine to invest in. It can last you a lifetime.
Final Thoughts
The R5i is LifeSpan's popular recumbent bike and it's got a lot to be proud of.
I admire its decent flywheel of 18 lb which is enough for low impact training (as what recumbent bikes are designed for). It can challenge you with its 16 resistance levels and 40 amazing built-in programs to target any of your fitness ambitions.
I also love its office-chair-style that seems ergonomic and comfortable. Its great warranty offerings are a big plus too.
It lacks the many fancy features like a touchscreen LCD and a cooling fan. I don't care about this stuff as I'm more into functionality than style, but other users may.
So unless you're into all the bells and whistles, the R5i has all the basic features covered so it should work just fine. 
To sum it up, the R5i is an awesome recumbent bike. For around $1200, it can provide the resistance necessary for light workouts while making sure your backs and joints remain happy during and after every session.