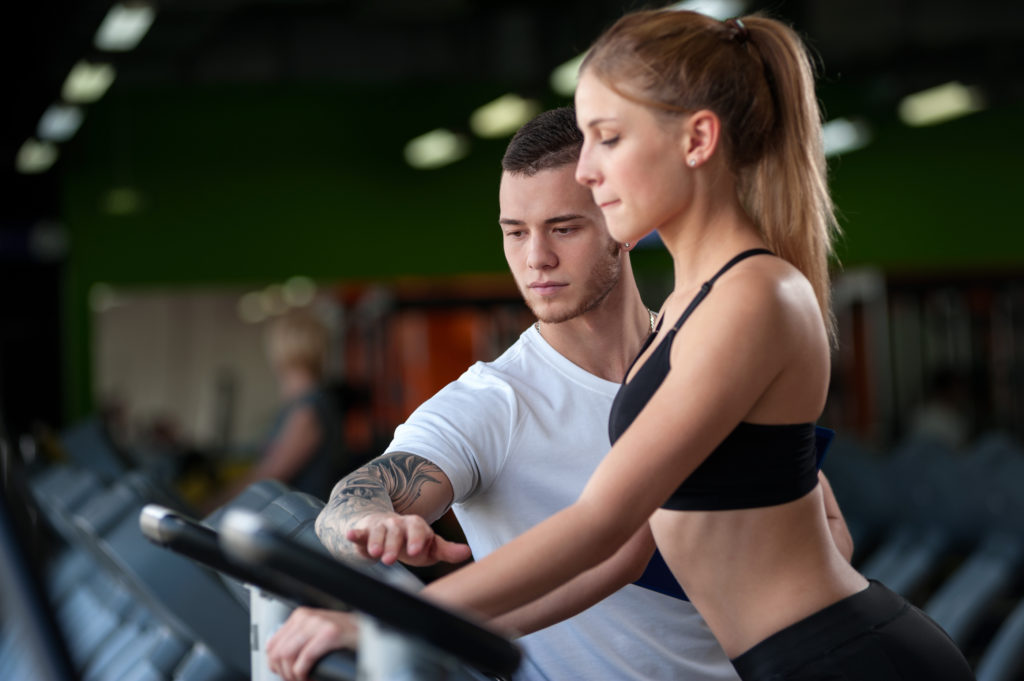 LifeSpan Fitness is serving us another quality machine with their newest elliptical trainer, the commercial-grade E5i.
The E5i comes with several upgrades over their popular E3i model, making it a better choice for advanced users. It's built tough and strong with high-intensity training in mind. 
It also boasts a self-generating power source, which is both unique and great for those looking to reduce their carbon footprint. It also comes with a massive flywheel, an easy-to-use console, and a fantastic warranty.
The E5i can be a great addition to any household, but is it the right model for your home gym? Well, that's what we're here to help you answer.
Get to know the E5i up-close-and-personal through this review. By the time you've finished reading this post, you should have a better idea as to whether or not the E5i is worth investing in. 
The LifeSpan Fitness E5i Commercial Elliptical Trainer
LifeSpan Fitness has earned superlative reactions from the fitness community due to their top-notch products at affordable costs. 
Reviewers have been impressed mostly for their treadmills, but their elliptical trainers have been well received too.
LifeSpan Fitness doesn't offer that many options when it comes to ellipticals though. Their elliptical lineup only sports 3 varieties – the E2i, E3i, and the E5i (the only one currently available through LifeSpan).
LifeSpan Fitness' roster of ellipticals share similar qualities, like closely spaced pedals, a large 20″ stride length, and robust frames that can hold users up to 350-375 lb.
They have quality components under the hood and offer simple yet attractive consoles. Fewer frills, but better operational standards.
If you prefer function to console features, LifeSpan may be a smart choice for you.
Anyway, the E5i is their most advanced elliptical trainer to date. Here's the E5i in a nutshell:
Pros
20″ stride length

34 lb flywheel

20 levels of magnetic resistance

Self-generated power

Cordless

21 built-in workout programs

Pulse grip sensors

Wireless heart rate monitoring enabled

2 front-mounted transport wheels

375 lb weight capacity

Awesome warranty
Cons
Using the tablet shelf can block the console display

LCD is a bit outdated for its price

No incline settings
Stride Length
The stride length on an elliptical is defined as how far your feet move front to back with each step. It's the usable space the elliptical offers during your workouts.
When shopping for ellipticals, checking the stride length should be a priority because this spec directly relates to the level of comfort you can expect when using the machine.
If a stride length is too long for you, you'll feel stretched out. If it's too short, you may feel like you're marching in place. We don't want to experience any of this if we can avoid it.
So what's the best stride length for you?
This is where your height comes into play.
If you're 5'3″ to 6'0″ tall, you should aim for a 20″ stride length. If you're shorter, go for 16″ to 18″.
The E5i comes with a 20″ stride length. This stride size is seen as the gold standard as it can accommodate most users. Walking should feel more natural with this machine.
Many cheaper products have stride lengths in the 12-16″ range. If you're below 5′ tall, you may be able to use them comfortably, but most people are going to feel cramped. 
Besides having a comfortable stride, the E5i comes with a heavy-duty steel frame that is capable of holding people who weigh up to 375 lb.
Most residential elliptical trainers carry a 300 lb max user weight capacity. While that's high enough for most users, it's nice to see higher weight limits because it equates to a stronger frame. 
Not only will you feel safer, but heavier duty machines are less likely to move or wobble during use.
The E5i has the following dimensions: 78″ L x 24″ W x 69″ H. 
This is pretty average when it comes to home ellipticals. If you're looking for a more compact model, check out our guide on folding ellipticals.
The E5i is also easy to store and move around with its 2 front-mounted wheels.
Overall, the E5i has scored well in this department. It has a roomy stride length with a robust frame. Its size is ideal for many home gyms and it's designed for easy forward/backward mobility and storage too.
Flywheel
Moving forward, it's a good idea to check the elliptical's flywheel as well.
The flywheel is important because it is what spins as you pedal, creating the resistance you work against during your workouts.
Heavier flywheels are usually considered better because they give more resistance for you to push against. They also make for smoother acting ellipticals because the extra weight builds momentum and reduces lag between pedal strokes.
It's a good idea to go with an elliptical with at least a 20 lb flywheel to ensure adequate resistance and smooth action. 
Keeping that in mind, the E5i has a 34 lb flywheel. This is significantly heavier than norm and will be more than heavy enough to offer a smoother stride. 
It comes with 20 resistance levels that you can easily adjust with a push of a button. Having this many resistance options is very beneficial, especially when it comes to cardio training and toning specific muscle groups.
One of the good things about the E5i is that it runs entirely off your power charge. It operates on a self-generating magnetic system so you can save tons from your electricity bills. 
It's cordless, which brings us more storage benefits as it can be placed anywhere without worrying if there's a power socket nearby.
Overall, the E5i has plenty of muscle under the hood with its 34 lb flywheel. It's energy-efficient with more storage possibilities due to its self-generated power.  You can start with easy exercises and build your way to higher intensity routines with their 20 resistance levels.
Features
The E5i has amazing stride and flywheel qualities. But what does the E5i offer to keep you engaged in every use? Let's find out:
7.5″ display: The blue backlit display has a similar size to its older sibling, the E3i.
It still shows your progress metrics like distance, time, date, speed ramp, heart rate, calories burned per hour, stride count per minute (CPM), and more.
The console display is easy to read. However, I find it outdated at this price point. Most units already come with touchscreen LCDs or large colorful screens, at the least.
21 onboard workouts: These include 2 heart rate programs, 2 customized user programs, and 17 preset programs (5 weight management, 5 healthy living, 7 sports training).
Contact heart rate sensors: You can monitor your heart rate by placing your hands on the sensors found on the stationary handlebars. You can also track your cardio health wirelessly, but the chest strap is sold separately.
Bluetooth-enabled: It's for an easier and more convenient option when transferring your workout data to your mobile devices.
Built-in jack and speakers: It works well with MP3 players and iPods so you can conveniently listen to your favorite tracks as you sweat.
USB port: It lets you charge your devices while exercising, but it doesn't support most  Apple products like the iPads and the iPhones.
Tablet shelf: You can store your tablet and watch Netflix while pedaling.
Water bottle holder: Hydration is paramount to your fitness regime. Whenever you feel like quenching your thirst, you can easily access water with the E5i.
Assembly
The E5i is a commercial grade elliptical trainer that comes in one heavy box of approximately 231 lb. What you can expect upon unboxing is the pre-assembled body, mechanical parts, manual, and all the necessary tools.
Around 85% of the machine is done for you, so you'll have to put together some cosmetic and protective parts. This includes the pedals, handlebars, and console.
It's pretty straightforward and LifeSpan does a great job with their assembly manual.
That said, there are several attachments that need to be made. I'd guess most people will spend an hour or so getting the E5i assembled.
Warranty
LifeSpan Fitness backs their E5i Commercial Elliptical Trainer with the following residential warranty: 
Frame: Lifetime 

Parts: 5 Years

Labor: 2 Years
LifeSpan also provides a light-duty commercial warranty (max of 4 hrs/day of use)
Frame: 5 years
Parts: 2 years
Labor: 2 years
You can't beat a lifetime guarantee, that's as good as it gets.  The 5-year parts and 2-year labor warranties are great too, as many brands offer less.
If you like investing in machines that can last you a lifetime, LifeSpan Fitness has a catalog for you. They're known for being one of the most generous companies when it comes to warranty offerings. Their customer service reviews are also good too, fyi.
Final Thoughts
The E5i Commercial Elliptical Trainer has a lot going for it, especially when it comes to its performance specs. I like the heavy flywheel and the spacious stride length. 
I also like the heavy-duty frame and high user weight capacity.
The warranty is also great, so no problem there.
The only downside I see is the console- it's pretty basic. For this price range, I'd expect to see bluetooth speakers and power adjustable incline settings.
Otherwise though, I think the E5i is a very respectable elliptical. It's a great choice if you're looking for an easy to use elliptical and you don't want to mess with a complicated console.
If you're interested in a more advanced model, you should check out the Sole E95S– it's priced identically and comes with a power adjustable stride length.