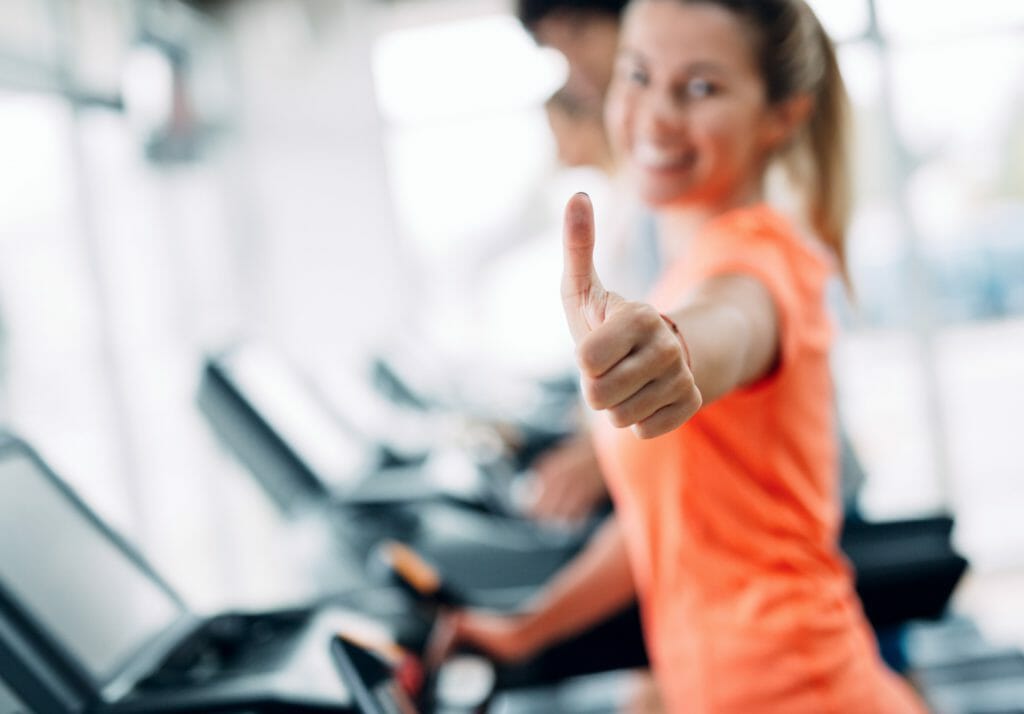 The TR4000i Folding Treadmill from LifeSpan Fitness is a hidden gem in the world of home treadmills.
This treadmill may not have the same level of brand recognition of some of the other popular models on the market, but that doesn't mean this bad boy can't stand toe-to-toe with the best treadmills out there.
It comes with an oversized deck as well as a powerful, 3.25 CHP motor under the hood.
Other highlights include 24 built-in programs, a top speed of 12 mph, and 15 levels of incline/decline. It also happens to be backed by one of the most generous warranties you're going to find on a treadmill in this price range. 
This treadmill also folds away for easy storage, making it more accessible for smaller workout areas.
But with so much competition out there, is the TR4000i really worth buying?
Well, that's what this review is going to help you answer.
In this article, we'll discuss everything you need to know about the mighty TR4000i as well as things you should consider when shopping for treadmills in general.
The LifeSpan Fitness TR4000i Folding Treadmill
LifeSpan Fitness has been a maker of quality fitness machines since 2001. 
Based in Utah, this brand offers a competitive selection of both commercial and residential gym equipment. They have the usual stuff, like treadmills, bikes, ellipticals, and more, but they're selling them for the middle of the road prices.
Unlike the similarly named Life Fitness brand, most of LifeSpan's machines come with prices that range from $1000 to $1500.
LifeSpan Fitness is quite a revolutionary brand in the industry with their under the desk treadmills. This lets you exercise while working on your desks. 
LifeSpan Fitness also offers folding and non-folding treadmills, which are great for any runner's lifestyle preference. They're popular for providing well-cushioned and stylish machines.
Although this brand isn't quite as well-known as some of the other home fitness brands out there, it seems they are gradually building a good reputation for themselves.
And with products like their TR1200i and TR4000i, it's easy to see why. 
Well, let's cut to the chase and take a look at what it offers. Here is what you can expect from LifeSpan Fitness' TR4000i Folding Treadmill:
Pros
Foldable frame

Large workout area (22″ x 60″)

3.25 CHP motor

Top speed of 12 mph

13 incline levels

2 decline levels

24 built-in workout programs

7" touchscreen display

USB charging ports

Dual Bluetooth speakers

3-speed cooling fan

350 lb max weight capacity

Great warranty
Cons
Bad positioning of their media holder
Running Surface
I see running surfaces as the prominent feature you need to consider when buying a treadmill, and that's because they play a large role in how comfortable your workouts will be.
The running surface is the belt area of the machine. It's the space you will use for running, sprinting, or walking. The dimensions are measured in inches (width x length).
The ideal running surface should be spacious. It should offer you enough room to move around and feel extremely comfortable working out. If it's too small, it can make you feel cramped. If it's too short, you may need to shorten your stride when running.
The gold standard for residential treadmills is a 20" x 60" running surface. This is the most sufficient deck size that offers plenty of legroom for pleasant training.
LifeSpan Fitness' TR4000i treadmill has a running surface of 22" x 60". It goes beyond our gold standard deck size, which is a plus for me. 
With this belt area, you can stretch out comfortably while running at top speeds. There's no need to shorten your stride length or train in very limited motions, which is especially great for sprinters. 
This is nice to see because a lot of LifeSpan's treadmills only have a 56″ length. 
A deck size of 22" x 60" should be large enough for users of all heights to use comfortably.
When it comes to its frame integrity, the TR4000i has a robust build that can safely hold users weighing up to 350 lb.
Most treadmills come with a 300 lb capacity. Nowadays, I can see many upgrades with a 400 lb capacity already. Higher weight limits are preferred because they indicate that a machine is more durably built.
Higher weight capacities also mean that the treadmill can accommodate more people safely.
Now I mentioned earlier that LifeSpan Fitness is popular for its cushioned units. Their TR4000i boasts 8 independent compression shocks, giving you a softer landing with every step. 
The TR4000i is gentler on your joints compared with training outdoors, making it perfect for aging trainees or those with joint problems.
The upside of a good cushioning system is that you can enjoy longer training and faster recovery time. It prevents harassing your knees, ankles, and all other joints while working out.
This treadmill also uses hydraulic shock for easy folding. It's equipped with LifeSpan Fitness' unique EZfold™ technology. 
If electronic folding treadmills interest you, you may want to check out LifeSpan's TR2000e treadmill. This unit automatically folds and unfolds itself with the touch of a button.
The TR4000i has a 42″ x 33″ footprint when folded. When unfolded, it takes a floor space of 74″ L x 33″ W. The step-on height is 9″.
It's not really that compact unfolded, but after use the ability to fold it can save a lot of space. It also has 2 Front-mounted and 2 rear-mounted wheels for easy forward/backward mobility and storage.
Overall, the TR4000i does a really awesome job here. It has a roomy deck space for comfortable training. Its foldable and heavy-duty frame makes this machine even more impressive.
Motor
The next important thing to think about on a treadmill is the motor.
Motors (which are usually measured in horsepower or CHP) hold an essential role in a treadmill as they're responsible for providing a smooth and quiet belt motion.
Stronger motors won't be operating as hard during use, resulting in smoother and more lasting workouts. There's no direct correlation between motors and noise levels in a machine, but robust motors are often accompanied by a more fluid and quiet operation as they're less cranky and don't hiccup as much.
How strong is good enough? Kinda depends on what you're planning on doing.
Home treadmill motors tend to range from 2.0 to 4.0 CHP. If you plan on running regularly, it's a good idea to shoot for at least a 3.0 CHP motor; walkers can get away with weaker machines.
The TR4000i has a 3.25 CHP. It has more muscle under the hood to support heavier use. This treadmill offers a consistent, oiled motion whether you're using it for running or sprinting.
The TR4000i has enough motor power to play along with its 12 mph top speed as well as 13 incline levels (and 2 decline levels). 
The decline settings are cool because they let you practice running downhill- something that is actually a little harder than you'd think. This can come in handy if you're training for a race.
Having this variety gives you a lot of speed and training options for sprints, intervals, or steady cardio. The incline and decline levels make the TR4000i great for body conditioning if you're into hiking and trailing activities. 
You can combine different incline, decline, and multiple speed settings to reach your training needs.
Since the TR4000i is capable of providing insane workouts, it makes sense that it offers 2.5″ front and 2″ rear rollers. 
Rollers help decrease the tension to your machine as you exercise. They minimize the wear and tear to the belt to make your unit very durable with prolonged use.
Larger rollers are recommended. They help enhance the grip and reduce noise by making more contact with the belt.
The generic size for most treadmill rollers is 1.9", while the preferred size is 2.5".
So yes, the TR4000i has a great tension support system by hitting the 2.5" roller size benchmark.
Overall, the TR4000i remains very impressive with its powerful motor strength and rollers. It also offers crazy training variables with its speed, incline, and decline settings (but if you're looking for more power, check out LifeSpan's TR5500i).
Features
7" full-color touchscreen: It's large, bright, and features 3 dashboard views. You can check the graph, gauge, or track views. It's nice to look at and monitor your training parameters like speed, time, distance, inclination, and etc. There are units in this price category that offer a large and non-touchscreen LCDs. The TR4000i makes an exception with its sophisticated display.
24 built-in programs: Its boatload of programs will give you loads of fun challenges. To be specific, the breakdown of training programs include 2 heart rate programs, 2 customized user programs, and 20 preset programs (5 weight management, 5 healthy living, 7 sports training, 5k/10k race, Rockport Fitness Test, and Navy Fitness Test).
Rockport Fitness Test: It determines your fitness level by timing a 1-mile walk. It's designed by exercise physiologists and makes a great tool to gauge yourself if you're new to exercising.
Navy Fitness Test: If you're a seasoned runner or an athlete, this test is good for you. It's a timed 1.5-mile run that's used by the Navy (together with push-ups and sit-ups) to determine your fitness level.
Easy usage: It has 5 Quickset™ speed and 5 Quickset™ incline buttons, allowing you to make quick changes of the incline or speed settings with fewer button presses.
Intelli-Step™: It's like a pedometer that automatically counts your steps taken as soon as you step in the deck.
Intelli-Guard™: This is another safety feature by LifeSpan Fitness. It automatically pauses the belt 20 seconds after you step off the treadmill deck.
Bluetooth-ready: Wireless connection is very convenient for many reasons, like listening to music or syncing your fitness data. You can also sync up a wireless chest strap or arm band heart rate monitor.
Dual Bluetooth speakers: Exercising with your favorite feel-good tunes makes so much difference to your motivational levels.
Contact heart rate sensors: It's standard for any fitness machine, letting users monitor their cardio health conveniently as they train. The only downside about contact pulse monitoring is that it can be inaccurate and inconvenient. 
3-speed cooling fan: It can keep you cool and comfortable while exercising.
Media holder: You can place your phone or tablets in its dedicated media holder. But doing so may block the view of your LCD console.
USB charging ports: Yep, you can charge your mobile devices while you're busy running on the TR4000i.
Assembly
The TR4000i comes with easy assembly instructions. They are pretty straightforward and LifeSpan does a great job of making their manual easy to follow. 
The treadmill comes partially assembled. The deck is also attached to the frame already. All you have to do is attach the console, add a few covers, and tighten a few bolts.
All of the necessary tools in assembling the machine are provided with the packaging, as are the tools.
But like all my other treadmill reviews, I'd still recommend everybody to have someone who can help you in this process. The machine is very heavy. While the assembly is easy, the unpacking might not be.
Assembly will probably take most people 30-60 min depending on your skills.
Warranty
The TR4000i comes with the following guarantee offerings:
Frame: Lifetime

Motor: Lifetime

Parts: 5 Years

Labor: 2 Years
Wow.
Looking at these amazing warranties, it's easy to see that LifeSpan Fitness places a lot of confidence in their TR4000i. 
Personally, I prefer machines with really long warranties. It gives me a sense of security knowing that I can enjoy my investment for the long haul.
I'm a sucker for lifetime warranties, so the TR4000i has obviously won me over.
It's tough to beat lifetime warranties on frame and motor. Other brands often offer 10 years, max.
What seems to be a game-changer here is their 5 year warranties on parts and 2 years on labor. I often see lesser warranties under these departments at this price point, so it's nice to see how LifeSpan Fitness goes beyond the average.
Again, the TR4000i is made to last long. It has surpassed the standard guarantee offerings in the market, so it scores highly for me.
Final Thoughts
When you look at the specs and features the TR4000i is equipped with, it's hard to argue that this treadmill doesn't have a lot going for it.
It's equipped with a motor strong enough for running and it comes with a spacious running surface. It scores highly with a fairly sophisticated console with a lot of workout options as well as bluetooth capabilities.
It's also backed by a great warranty and fairly priced.
It ticks off all the boxes we're looking for in a quality machine. It's also cool that LifeSpan Fitness has equipped their TR4000i with new and unique fitness concepts, like their patented Rockport and Navy Fitness Tests. 
With all this in mind, I would indeed consider this treadmill a smart buy.
But as I mentioned at the beginning, this is a very competitive price range for home treadmills with a ton of great models to choose from.
I'm a sucker for Sole and their treadmills because of how heavy-duty they are and how good their warranties are. That said, the TR4000i holds up very well when compared to the similarly priced Sole F80.
The F80 is a little stronger, but the TR4000i comes with a lot more workouts to choose from. Just depends on what you're looking for.
Either way, I think the TR4000i is a great treadmill. It didn't quite make our list for best home treadmills this year, but it's close.