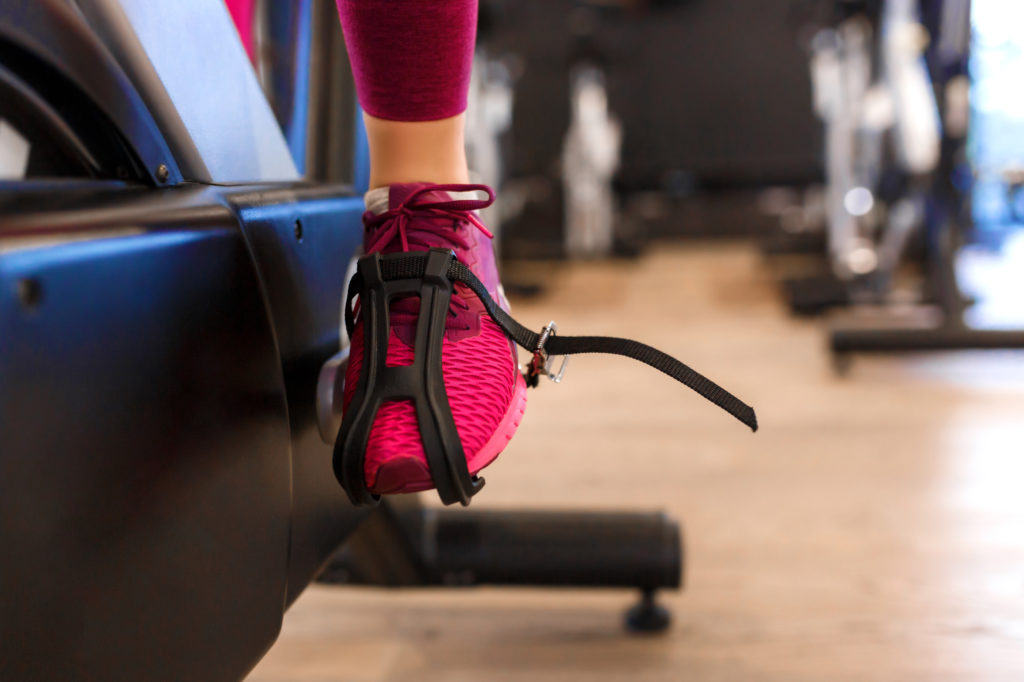 The LifeSpan C5i Upright Bike is a high-quality, semi-commercial machine that offers low-impact routines. It's popular with shoppers who are on a tight budget but would want to enjoy a solid, accurate, and sophisticated bike for the home.
For starters, it's an upgraded version of the C3i, with emphasis on upgraded features like the console and Bluetooth integration. You get the same solid feel of its predecessor but with more programs to choose from.
This exercise bike also offers an impressive level of exercise variety to users, with 16 different resistance options to choose from. 
But is the C5i the right bike for your home gym?
Well, keep reading!
In this review, we'll take a close look at everything this bike has to offer. After reading, you should have a much better idea as to whether or not this is the right bike for you.
Let's get rolling!
The LifeSpan Fitness C5i Upright Bike
LifeSpan Fitness is a Utah-based fitness equipment brand that has been around since the early 2000s.
In 2011, they introduced some revolutionary concepts for exercise machines, like their walking desks that have been warmly welcomed by the fans of ergonomics and some multi-tasker fitness enthusiasts alike.
Although LifeSpan isn't as renowned as Precor or Life Fitness (yes, they sound almost the same so don't be confused!), its brand recognition has reached many top fitness reviewers and magazines in the industry.
And it's all thanks to their treadmill collection that is well-loved by many due to their top-notch offerings and more affordable asking prices.
LifeSpan's products have given some of their predecessors in the market a run for their money and their competitors at bay for quite some time. 
Their award-winning TR4000i (which was hailed as the Best Treadmill by Health Magazine) is one of their most impressive models to date.
They offer all the usual fitness units, like exercise bikes, rowers, and ellipticals, but they also offer some less common machines like under desk bikes, treadmill desks, and a uniquely original Cycle Boxer.
Few brands offer as much fitness equipment variety as LifeSpan does.
OK, enough about that.
Let's get back to their C5i upright bike.
Pros
18 lb flywheel

16 resistance levels

400 lb max user weight capacity

34 built-in programs

Adjustable seat up to 19 positions

Multi-grip handlebar

Multi-color display

Bluetooth integration

Self-generating power system

Compact design

Portable

Self-balancing pedals

Great warranties
Cons
Seat not fully adjustable

No speakers
Flywheel
The flywheel is the part of the bike that spins as you pedal. It's responsible for creating the resistance and giving the bike its "feel", if that makes sense.
Flywheels come in different weights. Heavier is preferred because they give a smoother ride and more overall resistance. That's because the heavier weight builds more momentum as it spins.
The C5i sports an 18 lb flywheel. This is ok for a bike in this price range, but there are certainly heavier flywheels out there (Sole's B94 has a 20 lb flywheel and costs about $200 less).
That said, upright bikes don't always come with massive flywheels and many similarly priced bikes have 15 lb flywheels and lighter.
All things considered, an 18 lb flywheel is fine for light to moderate use and can give you a decent workout.
The C5i is ready to challenge you with its 16 resistance levels. This gives you a fun mix of training intensity options and allows you plenty of room to progress the intensity as you get stronger.
The resistance is magnetic, meaning there is no direct contact- this makes for a smoother, quieter experience.
Overall, the flywheel on the C5i is adequate. Nothing to really brag about here, but it does have enough muscle under the hood to get the job done.
Seat
When reviewing exercise bikes, I'd rather not take the seat comfort into account. It's pretty much a given that upright bikes and spin bikes have really uncomfortable seats as they're designed to mimic the feel of riding an outdoor bike.
There's no way you can get away from it. It is what it is.
If you're new to training with bikes, you'll feel uncomfortable at first. But I'm pretty sure you'll get used to it after some time. If not, you can customize your saddles with some gel-padded versions or more comfortable seats sold in bike shops.
On the contrary, recumbent bikes have seats that are more comfortable than any other bike units. They are larger and come with larger backrests. They have a good lumbar support system and should be super friendly with your backs.
Now the C5i upright bike has an oversized, padded seat. It's molded and contoured which is designed for the user's comfort. But I doubt it makes a significant difference from any other exercise bike seats.
What I like about it is its adjustable seat positioning, which I'm particular about when talking about bike seats. 
The C5i has a vertically adjustable seat up to 19 different positions. 
It's nice having a customizable fit because you can find your most comfortable stance for pedaling. It's beneficial for your ergonomics and safety too.
The C5i doesn't offer fore/aft adjustments (meaning you can adjust it horizontally), which is a shame because a fully adjustable seat gives you more options when trying to find the best fit. 
But most people should be able to find a comfortable position with so many height adjustments to choose from.
Handlebars
All upright bikes have handlebars, but when comparing them to each other, it's a good idea to see if they offer multiple grips and whether or not they are adjustable.
Multi-grip handlebars allow you to change your grip throughout your ride. They provide a more comfortable and balanced experience all throughout your session.
The handlebars on the C5i are multi-grip, but they aren't adjustable.
This isn't necessarily a deal breaker for me, because most people will likely find a comfortable position by simply adjusting the seat height- but it's nice to have that extra customization option just in case.
Overall, the multi-grip options are nice, but it would have been better to see some height and/or horizontal adjustments available.
Frame
The C5i retains the solid feel and sophisticated look of its predecessor.
It's made of steel and is certainly heavy-duty with its maximum user weight capacity of 400 lb. It's very impressive at this price point (most units top out at 300 lb).
The C5i is also great for small home gym spaces with its compact design of 40.5″ L x 28″ W x 56.5″ H. It's portable and comes with 2 rear-mounted wheels. You can easily move it to a corner once you're done.
And since this bike generates it's own power (no need to plug in), you can plop it down anywhere you want without having to worry about cords.
Many folks like the robust frame of this machine, claiming that it doesn't shake or wobble especially when exercising on higher intensities.
Its base levers provide thorough support that you can use the C5i on uneven floorings. 
Word of caution: Exercise only on flat and balanced surfaces for your optimum safety (even when your machine has amazing levers!).
Features
After reviewing several LifeSpan Fitness machines, I can say that this brand is focused on performance and quality. Their machines are certainly not feature-rich, but they've got the basics covered.
Multi-color LCD: One of the upgrades on the C5i is its console. It has a cleaner look overall and provides a nice bright screen. There are easy access buttons to change your program and resistance levels.
Console readouts include the usual parameters like program name, date and time, workout time, calories, RPM, distance, heart rate, speed, resistance level, and watts.
Many bikes at this price category have touchscreen displays already. It would be nice if LifeSpan has adapted the newer technologies instead of clinging on to their usual LED readouts.
34 programs: The previous C3i only has 17 preset workouts. LifeSpan doubled the number of built-in programs with their C5i, and having this many options is fantastic.
28 programs are targeted for weight loss, active living, and sports training. 4 are for heart rate training, while the remaining 2 is for the user's customizable program.
Self-generating power system: The C5i is strong and…independent. It doesn't need any cord or batteries to operate. By simply rotating the pedal, you can jumpstart the machine and enjoy its full experience.
The good thing about the self-generating power system is that it frees you from moving the bike closer to a plug, recharging its batteries, and dealing with additional energy bills. It's simpler and more efficient to use.
Self-balancing pedals: It's a nice foot support design that assists the user in maintaining their foot position on the pedals. The pedals have adjustable straps for a safer ride.
Heart-rate contact sensors: You can monitor your heart rate by gripping its handlebars. The C5i allows wireless heart rate monitoring, but the chest strap needs to be bought separately.
Bluetooth integration: This capability is something we've missed on the older LifeSpan bikes. Having this wireless transmission allows easy sharing and tracking of your fitness results using the Active Trac app. 
Water bottle holder: It allows users to remain hydrated as they exercise.
Assembly
Assembling the C5i is pretty simple.
The package comes with all its pre-assembled frame, parts and accessories, a manual, and a basic toolkit. The assembly guide is straightforward with illustrations for visual references. 
Reviewers didn't have any major problems when they put together their C5i, and they finished it for less than an hour.
The C5i weighs over 90 lb. It's heavy, so it's nice having someone around to help you, especially when putting the console and wires.
When assembling the unit, be sure to tighten all screws. It's also a good idea to check them once in a while or before using the machine. It's a nice safety precautionary measure.
Warranty
Another impressive highlight of the C5i (and in the case with most of the LifeSpan Fitness units) is its warranty. Its residential warranty offers: lifetime coverage on the frame, 5 years on parts, and 2 years on labor.
The amazing warranty speaks volume of the C5i's overall quality. It's difficult finding this kind of coverage on similarly priced units, or even those more expensive machines.
LifeSpan even offers a commercial warranty on this bike: 5 year frame, 2 year parts, and 1 year labor.
Overall, LifeSpan does a great job in the warranty department.
Final Thoughts
The C5i Upright Bike is well-built and well-designed and I think it has a lot to offer.
I like that it has a durable frame and that it comes with so many workout programs to choose from- people who like workout variety will definitely appreciate this.
The flywheel is ok at 18 lb- could be heavier, but this is definitely substantial enough to provide the type of workout most users are looking for.
And I love the warranty LifeSpan backs this bike up with.
Personally, what I think sets this bike apart from most is the self-generating power system. Few bikes allow this type of freedom when it comes to bike placement and portability (you could easily roll this thing outside on a pretty day).
Overall, for roughly $1000, the C5i could make sense. There are nicer bikes out there for this price (I mentioned the Sole already), but the self-generating power source could be worth it depending on where you want to put your bike. Recommended.