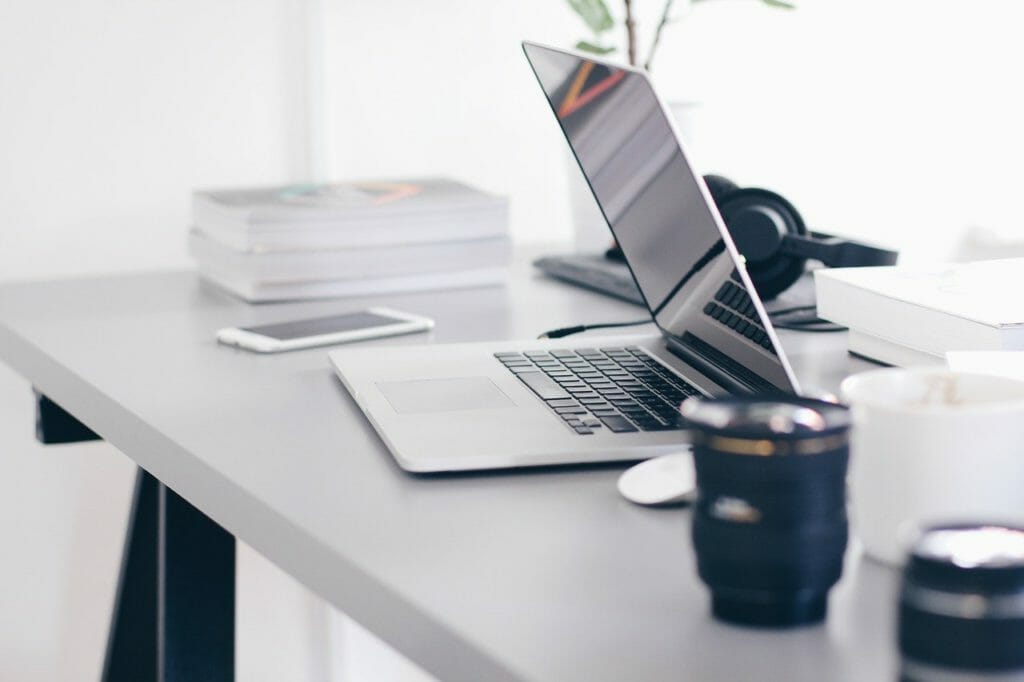 A lot of busy workers have begun looking into treadmill desks. These revolutionary fitness machines can significantly reduce stress, burn calories, and prevent back pains by multitasking at your workstations.
And when it comes to treadmill desks, the TR1200-DT7 from LifeSpan Fitness is one of the most popular units out there.
The TR1200-DT7 is great for heavy walking sessions and users of nearly all heights. It offers a safe, stable walking experience with its wide track size and 6 compression shocks.
It also conveniently comes with an adjustable height desk, so you don't have to worry about finding one separately.
Simply put, if you're thinking about walking while working, the TR1200-DT7 is a smart investment. In this review, I'll go over all the ins and outs of this treadmill desk.
I'll also provide a few helpful tips to help you decide if it's worth investing in or not. 
Let's begin.
The LifeSpan Fitness TR1200-DT7 Treadmill Desk
The market for treadmill desks is growing pretty rapidly, but LifeSpan Fitness got in early on the idea of exercising while you work. The brand has an extensive workplace lineup that can stand toe-to-toe with any in the biz. 
LifeSpan Fitness may not have the same brand recognition as other major players (like ProForm or NordicTrack), but they've been around since the early 2000s and have built a reputation for providing top quality machines at affordable prices. 
LifeSpan Fitness offers the usual equipment lineup, like treadmills, stationary bikes, rowers, and more. But they also have more unusual products like their cycle boxers and treadmill desks that are quite innovative and impressive.
Their machines look ordinary with no striking aesthetic value. But when it comes to quality and performance, you could never go wrong with LifeSpan Fitness.
In fact, they have several award-winning models and many fitness reviews have recognized their impeccable standards.
Their TR1200-DT7 is a huge hit in the treadmill desk category. It has all the qualities you'd want for either home or office. It's more comfortable with many added features.
Here's the TR1200-DT7 in a nutshell that's priced at about $1700:
Pros
Large deck (20" x 50")

350 lb max weight limit

Compact size

2.25 HP motor

4.0 MPH top speed

Low step-up height of 4.6"

Various desk colors to choose from

Various desk sizes to choose from

Whisper-quiet operation

Electronically adjustable desk height

Customizable features

Intelli-Step™

Intelli-Guard™

Bluetooth integration

Awesome warranty
Cons
6-hr continuous usage limit
Walking Surface
If you've read any of my previous treadmill reviews, you know I like to begin each post with a discussion on the running surface. 
Running surfaces are very important for me, and that's because they directly relate to the machine's comfort level. In a way, they help make each exercise safe and secure.
To make sure we're all on the same page, the running surface is the area you use for walking or running. It's sometimes referred to as the belt or deck size, and it's measured in inches (width x length).
You might've noticed that treadmills come in different sizes. Running treadmills are larger and longer than treadmill desks, as you'll need plenty of room for running and sprinting.
Treadmill desks, however, are designed only for walking. They're smaller and more compact because you don't need as much room to walk (especially at slower speeds). 
Treadmill desks usually come with a 16-20" width and 40-50" length. Larger is better as the extra wiggle room lets you walk comfortably and naturally, especially for taller users.
So ideally, a good running (or walking surface in this case) measures around 20" x 50" (although the Unsit Treadmill by InMovement has set the bar higher with its 30″ wide walking surface).
The TR1200-DT7 has hit the mark with its large 20" x 50" walking surface. The TR1200 treadmill desk series comprises models (DT3, DT5, and DT7) that share the same track size and are the largest from LifeSpan Fitness. 
For comparison's sake, the TR800 series (DT3 and DT5) are smaller and more compact. They're ideal for lighter users and those with smaller workstations.
If you're especially tall, the TR1200-DT7 may be a good choice.
And if you weigh less than 350 lb, the TR1200-DT7 really makes a suitable pick.
It's robust and can totally support your daily walking needs in the office. With this max user weight limit, it's ready to hold workers of many sizes.
Its 6 independent compression shocks make this unit super joint-friendly. If you have joint problems, you'll love how soft the TR1200-DT7 feels with every step. You can walk longer on this unit without hurting your ankles, knees, backs, and etc.
The TR1200-DT7 is easy to move around with its 2 front-mounted transport wheels.
Overall, the TR1200-DT7 has one of the largest walking decks in this price category and it's heavy-duty to support users of most sizes. It should be very safe and comfortable to use, especially for taller and heavier users.
Motor
When it comes down to the nuts and bolts of the matter, check the horsepower (HP) in a treadmill motor. 
If you wish to know a machine's operational quality, inspect its motor strength. A motor does most of the work on a treadmill. 
Good treadmills have strong motors. Weak motors will likely overheat during excessive and prolonged use, and they may require unnecessary repairs in the long run.
Powerful motors are more consistent. They should provide a smoother and more natural experience, and that's what we're interested in.
Treadmill desks have motors ranging from 1.0 to 3.0 HP, which are a little weaker than the motors found on traditional treadmills. 
Personally, I like treadmill desks with motors of at least 2.0 HP. At this strength, it should be powerful enough to sustain walking at lower speeds for extended time periods.
The TR1200-DT7 has a 2.25 HP motor which seems great. This unit is also recognized as having a whisper-quiet operation. 
It lets you stay focused and allows any Skype meeting or phone call without interruption. You won't have to worry about disturbing coworkers (or family members) while you're multitasking at your station (which is key).
The TR1200-DT7 has a top speed of 4.0 MPH, however it's very unlikely you'll be getting any word done at such a brisk walk (especially considering most walk-workers maintain a pace under 2 mph).
But, it's nice to know you can speed it up if you want to take a break from work and sneak in a brisk walk.
Unlike the TR800 series that are built for light use (3 hours max operational use daily), the TR1200-DT7 is crafted for the more dedicated walkers with its 6 hours usage per day.
Seasoned trainees and pro athletes can enjoy the longer operational hours. If you're planning on sharing the treadmill desk with your team, this extended usage time will also come in handy. 
However, there are other treadmill desk options that are meant for heavy-duty and prolonged usage. Like for instance, the TR5000-DT5 can keep pace with you and your crew all day.
Overall, the TR1200-DT7 scores highly for me in the motor department. It has enough muscle under the hood to provide many hours of daily use, while maintaining a quiet work environment.
Features
The TR1200-DT7 Treadmill Desk has many added features from its predecessors which makes it more sophisticated, convenient, and fun:
Adjustable desk height: The TR1200-DT7 is ergonomically designed with an adjustable desk height of 27.5″ – 50.5″. 
Electric height adjustment: Not only is the desk height adjustable, but you can do so by simply pressing a button. No need to sweat over the manual stuff like turning some knobs or screws as it's already electronic and automatic.
Desktop weight: Its dedicated desk can support up to 220 lb, which seems enough for most desktop and laptop setups. It's heavy-duty and is made of a 1″ thick composite board with rounded corners on a steel frame. 
Desk height memory: Its memory support allows 2 user settings for a more convenient experience.
Desk options: You can choose whichever desk color matches your personality best. The TR1200-DT7 comes in gray, acajou, and cherry desks in durable laminated material. You also get to choose your desk size:  38″/48″/60″/72″ W x 29″ D. Its white color option is powder-coated and it measures 48″/59″/71″ W x 30″ D. 
Power button: Simply press the button to turn on and off the treadmill.
Console readouts: You get the usual stuff like distance traveled, calories burned, walking time, and step count. 
Personal settings: You can customize and set your preferred speed, silence beeps and alerts, resume previous speed, switch units of measure, and more.
Bluetooth integration: You can connect your devices wirelessly with the TR1200-DT7 to listen to music, podcasts, or movies.
Intelli-Step™: It works like a pedometer that automatically counts your steps as soon as you step into the deck.
Intelli-Guard™: It automatically pauses the belt 20 seconds after you step off the deck.
Low step-up: It measures 4.6" and is much lower than other treadmill desks (6"). Low step-up is nice especially for those with knee problems. They won't have problems stepping into the deck.
Assembly
The TR1200-DT7 comes mostly pre-assembled. You'll only need to attach the desk to its base and adjust the feet and desk height.
The package comes with an assembly manual which seems pretty straightforward. 
The treadmill weighs 114 lb while the desk is 86 lb. Unlike a lot of running treadmills that are super heavy and may often need additional manpower to piece all the parts together, the TR1200-DT7 can be done single-handedly and in a jiffy.
Some users were able to finish the task in about an hour. But if you're skilled, you might be able to beat the record and have your TR1200-DT7 up and about in 30 minutes or less.
Warranty
The TR1200-DT7 comes with the following warranty:
Frame: Lifetime

Motor: 3 Years

Parts: 2 Years

Labor: 1 Year
Warranties are important for me because they give me reassurance that my investment will last. They're also a good way to measure the quality of a machine.
If a company has confidence in their products, they're going to be willing to provide longer guarantees.
And that's what I feel about the TR1200-DT7.
By looking at its warranty offerings, I'm pretty sure that this unit can stay with you for the long-term. A lifetime warranty for the frame is fantastic. 
I've seen longer motor warranties in the market, but 3-years for this price category holds up nicely against the comps. Two years on parts and a year on labor is also fair.
Overall, the TR1200-DT7 scores highly for me in the warranty department.
Final Thoughts
What can I say, the TR1200-DT7 hits a home run in almost all aspects that are important for a treadmill desk. I can see why it's become so popular among workers and dedicated treadmill desk users.
It has a sturdy and roomy deck and a whisper-quiet motor that is powerful enough to support many miles of walking each day.
I love its easy access console, electronic desk height adjustment, and customizable features for a more convenient experience.
It comes in various colors to complement your taste and personality, and this aesthetic option makes it more fun and interesting. It's also nice that this unit includes a desk, removing the need to purchase one separately.
I couldn't really think of any issue for the TR1200-DT7, and so do the many users of this unit. But if I were to really nitpick, its 6-hour operational limit may not be suitable if you'll get this as a shared fitness machine for employees.
Overall, if you want to stop sitting all day at your desk, the TR1200-DT7 is indeed a smart investment.