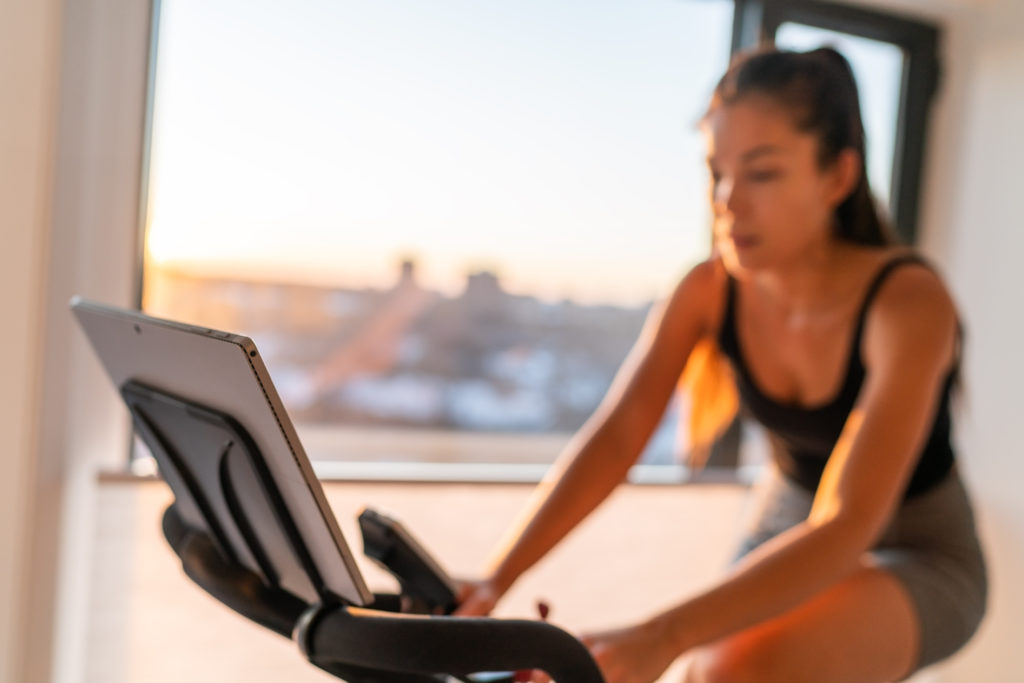 The B94 is Sole's most affordable model in their upright bike lineup. Although don't let the price fool ya, this affordable bike has enough muscle under the hood to give you as much workout as you can handle.
Highlights of the B94 include a 20 lb flywheel, a fully adjustable gel seat, and a generous warranty.
With a sale price well under $1000, it's priced to move- but there happens to be a lot of stiff competition in this price range. To be more specific, we're talking brands like Schwinn and Nautilus.
Does the B94 have what it takes to hold its own against these popular upright bikes? Is the B94 a smart buy?
Well, I'm hoping to answer all these questions and more within this review. If you want to learn everything you need to know about this bike, keep reading.
The Sole B94 Upright Bike
I have to confess that Sole is one of my favorite home fitness brands. I'd say they're an underrated brand, but I don't think that's true. You find Sole products at the top of everyone's "best of" lists year after year.
People that spend a lot of time researching fitness equipment are well aware of the brand. And most of them are fans as I am.
I don't think Sole has the name recognition that Schwinn or Nautilus has yet, but I imagine that's gradually going to change. As more and more folks hear about them and fall in love with their products, I imagine their popularity will continue to rise.
Anyway, I like Sole products because they focus more on function and performance than anything else. You aren't going to find a bunch of fancy features on these machines, but you'll notice that they're build to last.
These fitness machines are build sturdy and they usually come with heavier components than the competition.
You also can't beat Sole's warranties- but more on that below.
The B94 is one of 2 upright bikes currently being offered by Sole. The other is the higher-end LCB, which I consider to be the best overall upright bike on the market.
Pros
20 lb flywheel
20 levels of magnetic resistance
Fully adjustable, gel seat
Multi-grip handlebars
Heavy-duty frame
300 lb weight capacity
9″ LCD screen
Bluetooth speakers
Data tracking
Built-in tablet holder
USB charging port
Chest strap heart rate monitor included
Straightforward assembly
Awesome warranty
Cons
Flywheel
You don't hear as much talk about flywheels when discussing upright bikes, but you really should. Well, if you're looking for an upright bike that can provide a decent workout anyway.
Most exercise bikes and ellipticals use perimeter weighted flywheels to provide the resistance (the flywheel is the part that spins as you pedal).
The general consensus is that when it comes to flywheels, heavier is better because it provides a smoother workout (especially when it comes to spin bikes). The heavier the flywheel is, the more momentum it builds as it spins.
This momentum actually helps the flywheel continue spinning, eliminating any lag during the brief pauses between pedal strokes.
The result is a smoother, more fluid feel. Having a heavier flywheel is also advantageous because it should be able to provide more overall resistance to workout against. Think about it- the heavier that flywheel is, the harder it's going to be to get it moving.
The Sole B94 comes with a 20 lb flywheel, which is pretty impressive for an upright in this price range. For comparison's sake, the similarly priced Nautilus U618 comes with a 10 lb flywheel, which is pretty standard for home models.
The heavier flywheel on the B94 is going to make for a smoother, more substantial workout.
And with 20 levels of magnetic resistance to play with, it should have more than enough muscle to provide a tough workout for even the more advanced cyclists.
Seat
One of the benefits (really the only benefit if you ask me) of choosing a traditional upright bike over a spin bike is the larger, more comfortable seat.
Spin bikes use the same seats road bikes use. They're small, hard, and generally speaking, pretty miserable to sit on.
Upright bikes, though, usually come with larger, softer seats, making them more tolerable to sit on for extended periods.
Comfort aside, the important thing to consider when looking at the seat is whether or not it's "fully adjustable". This means you can control both the height and horizontal position (fore/aft) of the seat.
This is important because it gives you more control over customizing your fit, ensuring you can find the right position to ride comfortably.
The B94 does come with a fully adjustable seat. The seat also has a gel overlay for added comfort.
Overall, this bike scores highly with a comfortable, fully adjustable gel seat.
Handlebars
When checking out the handlebars on an upright bike, I'm really looking at whether they offer multiple grips or not. The B94 does, which is nice because it gives you options on where you place your mitts during your workouts.
I especially like how long the handles are and that they angle up- in cycling, I believe this is referred to as the 3rd hand position and it comes in handy when standing.
Most upright bikes don't have adjustable handlebars like some spin bikes do, so I wouldn't count that against this model.
There are built-in grip heart rate monitors on the handles, making it convenient to track your heart rate during your workouts. It's also easy to access the resistance buttons on the console from the horizontal grip position.
Overall, nothing too fancy going on here, but the multi-grip handlebars are a plus.
Frame
Frame integrity is an important thing to consider when comparing upright bikes, especially affordable ones. Strong frames is something that separates high-quality from low-quality bikes.
After all, nobody wants a bike with a wimpy frame that's gonna wobble and shake during your workouts.
It can be hard to discern a quality frame from a sub-par one without getting on and going for a test spin (luckily a lot of sporting goods stores sell Sole products, I know Dicks's does and they always have models assembled for you to try out).
But the best way to compare frames is to look at the weight capacities and the overall bike weights. Heavier is better for both.
The B94 comes with a 300 lb weight capacity and a total bike weight of 123 lb. The heavy bike weight tells me this bike has got some meat on its bones, which is a good thing because it's going to make for a more stable base to sit on.
The weight capacity is pretty standard for home fitness equipment, but high enough to handle most users safely.
For comparison's sake, the popular Schwinn 170 also has a weight capacity of 300 lb, but a total bike weight of only 62.8 lb. Which model do you think is going to feel more like a bike you'd see at your local gym?
Features
The Sole B94 comes with the following features:
10 workout programs- Sole doesn't cram a ton of workouts on their machines, but they give you everything you need to get the job done. These 10 workouts include 6 standard programs (hill, fat burn, etc), 2 custom workouts, and 2 heart rate guided programs.
9″ LCD screen- the screen on the B94 is bright and large enough to see easily during your workouts. You'll be able to see all of your workout stats at the same time without having to wait for them to scan across as you do on smaller screens.
Bluetooth speakers- you can listen to music from your phone or tablet through the console wirelessly with the built-in bluetooth speakers.
Data tracking- you can also use bluetooth to track your workout data, using the Sole fitness app or one of your other favorite apps on your smart phone.
USB charging port- the built-in USB port allows you to charge your devices while you workout. No need to worry about draining your battery.
Chest strap heart rate monitor- not only is the B94 compatible with chest strap heart rate monitors, but Sole includes one with purchase.
Integrated tablet holder- the built-in tablet holder is conveniently located above the console, so you won't have to block your view of the screen if you choose to watch your tablet or read a book during your workout.
Cooling fan- the fan will help cool ya off during those more intense workouts.
Water bottle holder- the water bottle holder comes in handy for, uh, holding water bottles (hey, hydration is no laughing matter!)
Assembly
Sole's Achilles' heel tends to be their assembly manuals. Simply put, their manual could use some work.
The images are usually too small and jammed with too many things going on at the same time and the written instructions are usually found on a different page all together.
That said, the instructions for the B94 are actually pretty good. It doesn't hurt that putting this bike is easy to begin with, but even so, they did a better job with this manual.
I like that Sole provides a to-scale image of all the hardware being used. They also label everything, making it easy to reference during assembly.
There's only 4 steps to assemble this bike. The majority of the frame comes pre-assembled, you just have to attach the stabilizers, the handlebars, the seat, the monitor, and all the plastic coverings.
All of the necessary tools are included.
All things considered, the assembly process is pretty straightforward. I think most folks will be able to get this job done on their own without paying for professional assembly.
I would guess most people will get the job done in 30-60 minutes, depending on your skill level of course.
Just keep in mind how heavy this bike is, I would settle on a final location before starting.
Warranty
The Sole B94 comes with the following warranty:
Lifetime frame
3 year parts
1 year labor
I think this is a generous warranty for a bike in this price range. You can't beat lifetime on the frame (ps, this is a tell-tale sign of a quality bike) and three years on parts is also impressive for a budget friendly model.
A year on labor is pretty standard for a bike in this class.
For the sake of comparison, the Schwinn 170 comes with a 10 year frame, 2 year parts, and 90 day labor guarantee. The Nautilus U618 comes with a 15 year, 3 year part, 1 year labor guarantee.
As you can see, the Sole warranty beats them all.
Final Thoughts
When you break it down and look at all the key specs, I think it's pretty obvious that the B94 has a lot to offer. I'm most impressed with the heavy-duty frame, the heavy flywheel, and great warranty.
The only department it's lacking in is workouts- if you're looking for a massive workout library, this bike isn't for you.
But if you're looking for a durable upright bike that can deliver a solid workout, this might just be exactly what the doctor ordered.
I didn't mean to keep picking on the Schwinn 170 and the Nautilus U618, but I used them for comparisons because they're 2 of the most popular home upright bikes around.
For the record, I think both of those models are good buys, but as we saw, the B94 kicks their butts in all categories (except for workout selections).
Overall, I think the Sole B94 is one of the most impressive uprights in its price range and more than holds its own against the big names in this category. If you're looking for an easy to use stationary bike that'll last, the B94 is a smart buy.