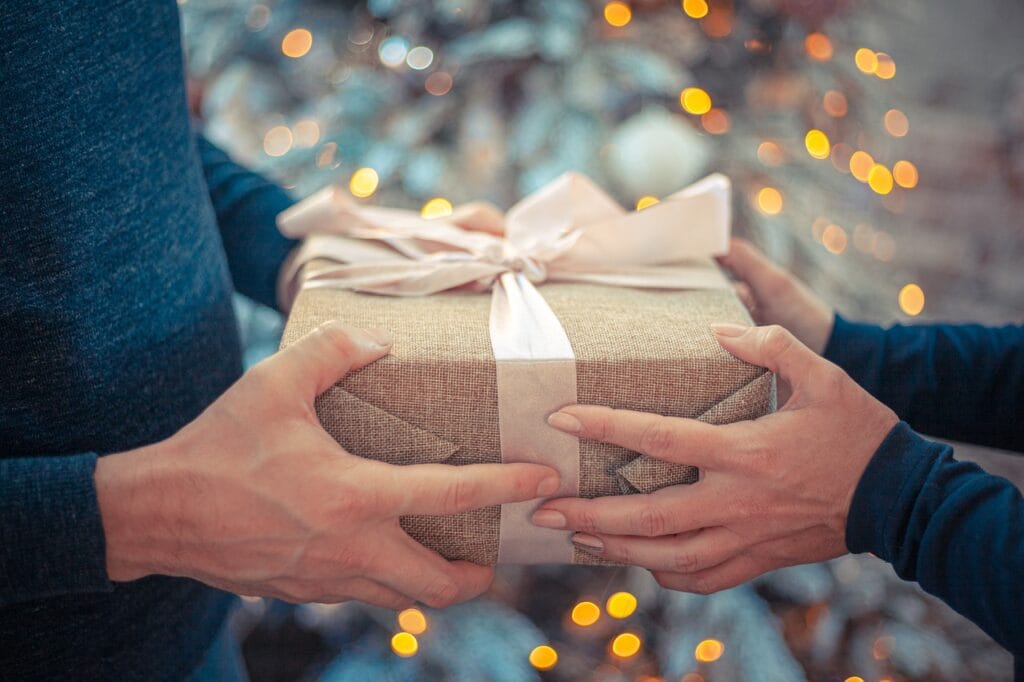 Believe me, I get it – it can be hard trying to figure out what to get those friends and family members who are uber-healthy.
And if you're reading this, you know who I'm talking about here.
These are the people who workout, eat healthy, and don't over-indulge in anything that isn't going to supply their bodies with  nutrients and well-being.
And with these folks, the traditional go-to gifts like fat, carbs, and booze simply won't work, so it can be hard to figure what to get.
And even though it's tempting to just call it a day and go the "gift card to their favorite healthy restaurant route" let's stop and think about this…
We can do better.
This year let's use our imagination, think outside of the box, and come up with some awesome gifts for the health conscious people on our shopping lists!
Well, if you don't have the time or energy to think outside the box, don't worry – I got ya covered.
Here are some great gift ideas that are sure to make the wellness-oriented people on your list happy this holiday season.
AG1
AG1, formerly Athletic Greens, is a dietary supplement that's been around for a long time.
This whole food derived supplement combines 75 different nutritious foods into a single, pleasantly-tasting powder that easily mixes with water.
Full of vitamins, minerals, adaptogens, prebiotics, probiotics, and pretty much any other healthy substance you can ingest, AG1 is one of the most well-rounded supplements on the market.
It's also low sugar, low in calories, and compatible with most diet plans, so most folks can incorporate it into their lifestyles.
AG1 doesn't have much protein or fiber in it, but it is loaded with the energy-enhancing B-Vitamins, as well as a bunch of other great stuff.
And in terms of gift-giving, AG1 comes in either a pouch or individual travel size packets and either option includes a snazzy free starter kit (so you'll have something to wrap).
And if your loved one likes AG1, they can opt for the monthly subscription option to save a little money when purchasing.
Anyway you look at it, AG1 could be a great gift idea for folks looking to incorporate better nutrition into their lifestyle. See full review.

Ka'Chava Meal Replacement Shake
If you think your loved one would prefer more of a protein rich, meal replacement shake, Ka'Chava could be a great gift idea.
Ka'Chava's a plant-based protein shake that comes with a boatload of vitamins and minerals, but unlike AG1, it also comes with a generous portion of protein and fiber per shake.
More specifically, we're talking 25 g of plant-based protein and 9 g of fiber per serving – not bad for a 240 calorie drink.
And unlike most vegan protein shakes, Ka-Chava actually tastes great.
That's actually an understatement, if I'm being completely honest, I'd say Ka'Chava is the best tasting vegan protein shake I've ever had.
With a rich flavor and a thick consistency, this is one healthy drink you can look forward to drinking.
And with 5 flavors to choose from, there's bound to be a flavor for any healthy individual on your list.
The only kicker here is that Ka'Chava isn't cheap – at roughly $70/bag, it's one of the more expensive meal replacements out there (although you can save $10/bag with a subscription).
But again, it's the best tasting vegan protein shake I've ever had (I highly recommend blending it with almond milk and a tablespoon of almond butter).
Oh, and if you don't think your person would be up to mixing a shake on the reg, Ka'Chava also offers healthy snack bars.
Either way, a great gift idea for vegans or anyone simply trying to incorporate more plant-based products in their diets. See full review.

The STEPR+
If you're looking to go bold this year and wanna get your loved one of the hottest new home exercise machines around, the STEPR+ might be what you're looking for.
The STEPR+ is a compact stair-climbing machine that comes with a 27″ HD touchscreen console that not only gives you access to instructor-led workouts, but it also comes with built-in entertainment apps like Netflix.
Yeah, I know, awesome.
I actually got my hands on one of these beasts for a test drive and I can tell you it doesn't disappoint.
The fact that it only takes up a little more space than your average indoor cycle is remarkable enough, but the 5″ high steps make for a lower-impact workout than what most stair climbers are capable of.
And again, there's a 27″ HD touchscreen mounted front and center.
Honestly, the instructor-led workouts and scenic hikes are great, but personally, I prefer to watch movies through the apps and just do my own workouts.
The console lets you see all your stats while you're watching the apps, so you don't have to swap between screens or anything like that.
And the handlebar controls are really convenient.
The STEPR+ is amazing, but with an asking price of around $5k, this would be a great gift idea for someone very special – maybe a spouse or parent.
Either way, who ever gets one of these bad boys is guaranteed to have a very happy holiday season. See full review.
Don't forget to use the promo code 'THEHOMEGYM" at checkout for a free 3 year extended warranty on your purchase.

LyfeFuel Recovery Shake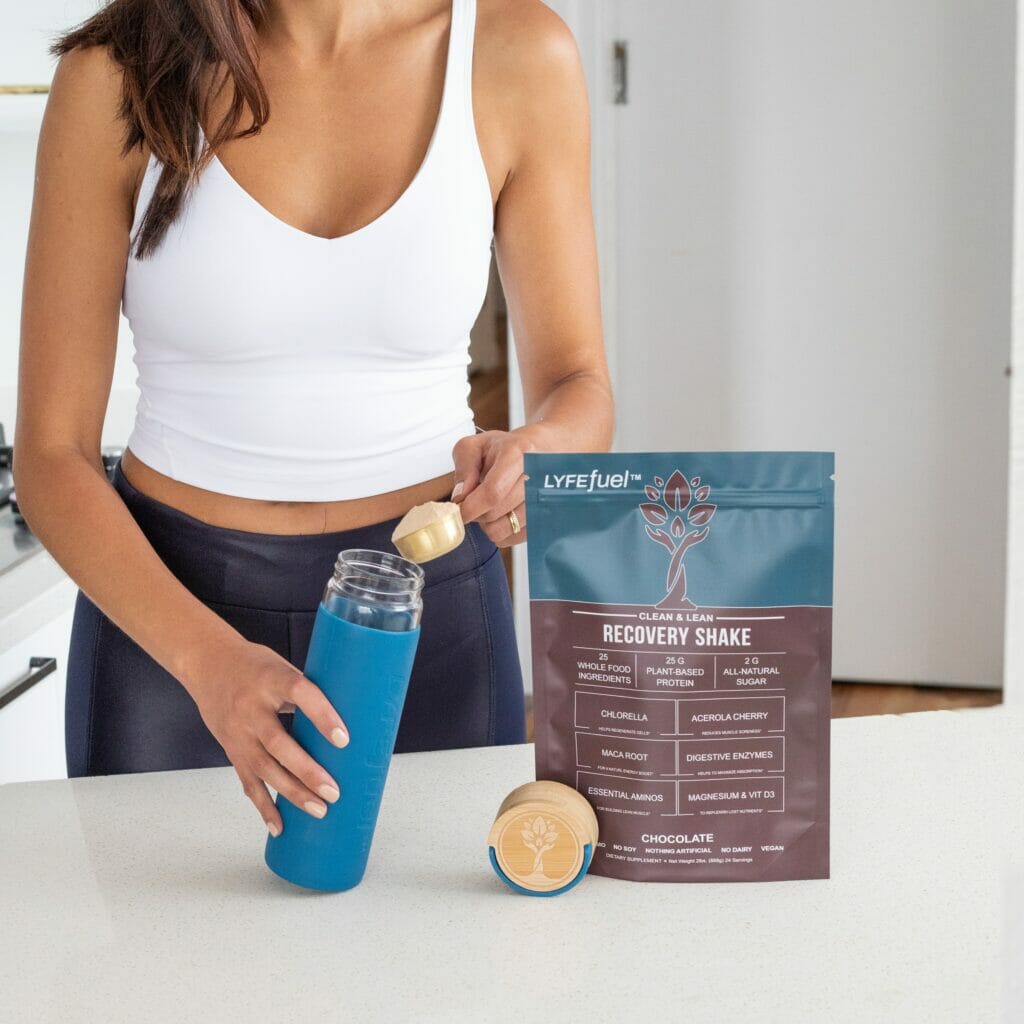 This is another plant-based protein powder and it comes with some great nutritional stats.
Like some of the other shakes mentioned above, it comes loaded with most of the vitamins and minerals you've ever heard of, but it also packs 25 g of protein and 4.5 g of BCAA's per serving.
And at only 140 calories per shake, it's remarkably low-cal as well.
The ingredients for LyfeFuel are sourced from 25 different whole foods, offering a well-balanced mixture of nutrients and it only has 2 g of sugar per serving.
Everything is plant-based, so it should be compatible with vegetarian and vegan diets and it's completely non-GMO.
In terms of price, you can expect to spend around $70 for a 24-serving bag, so it's pretty average compared to the other vegan protein drinks out there.
I'd also like to mention that LyfeFuel actually tastes pretty good and is easy to mix in water (although using almond milk makes for a creamier shake).
Overall, if you're looking for a tasty treat to give to your health conscious person this year, LyfeFuel is a pretty safe bet. See full review.

Bob and Brad's D6 Pro Massage Gun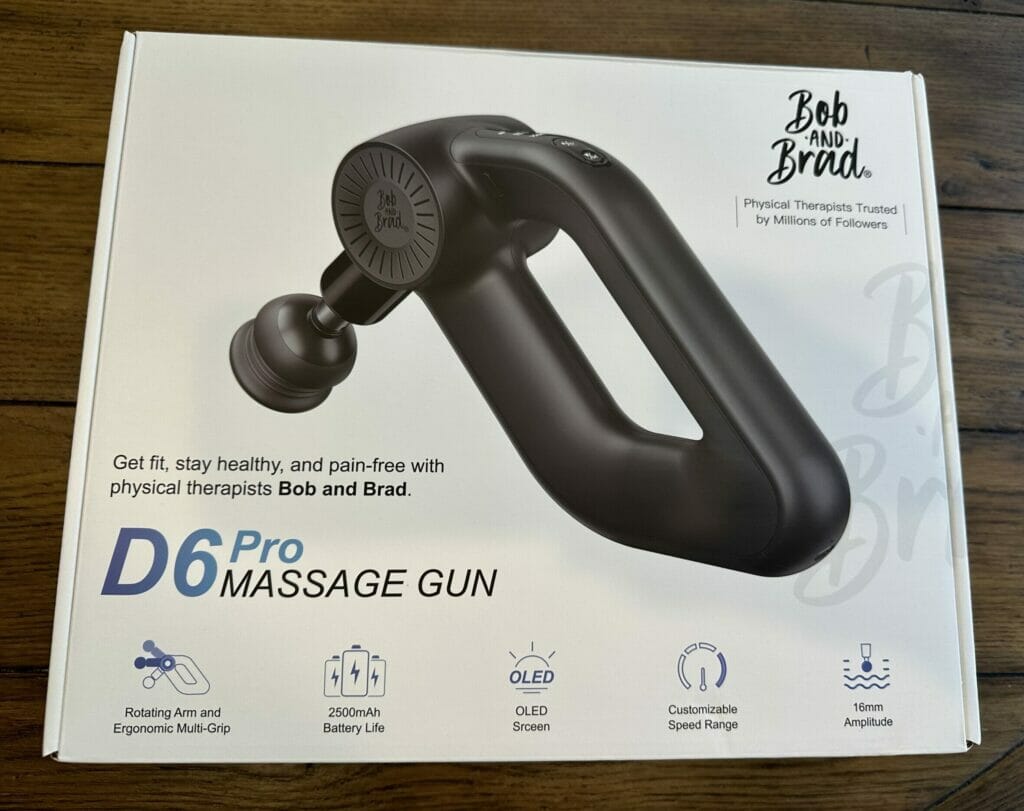 If you're looking for a gift idea for the athlete, weekend-warrior, or anyone else who's often dealing with tight/sore muscles, the D6 Pro Massage Gun would be a great idea.
Designed by a pair of physical therapists, the D6 is a powerful massage gun that's easy to use and reasonably priced.
And the fact that it comes packed in a convenient carry case with all the inter-changeable heads and whatnot makes for an easy to wrap presentation.
The massager itself comes with 6 adjustable speeds (tops out at 2500 rpm) and a stall force of 85 lb, meaning you can apply a lot of pressure without the massage gun stopping.
7 massage heads are also included, as well a charger, a storage bag, and a great rehab guide with stretching and exercise ideas to help treat common conditions.
I got to try out the D6 for a review and I have to say that it puts my cheaper massage gun to shame.
And as a physical therapist (PT) myself, it makes me proud that a couple of PT's came up this product.
Overall, the D6 could be a great gift idea for anyone dealing with achy muscles or living an active lifestyle. See full review.

The Ergatta Lite
The Ergatta Lite is a lighter-duty, more affordable version of the original Ergatta and I have a feeling it's going to be a hot gift this holiday season.
If you're unfamiliar, the Ergatta is a popular streaming rower that combines high-end water rowing with a touchscreen console that gives you access to streaming workouts.
But unlike most, Ergatta doesn't use typical instructor-led workouts, instead they utilize games to make working out more interesting.
Well, the Ergatta Lite comes with the same 17″ HD touchscreen console and uses the same exciting software, but the rower itself is a lot more affordable.
But it still uses a traditional water rower as the base.
Highlights include the unlimited water resistance these types of rowers offer, oak construction, a weight capacity of 320 lb, and free water purification tablets for life.
It can also handle folks up to 6'4″ tall and is backed by a nice warranty as well.
Full retail, the Ergatta Lite goes for around $700 cheaper than the original Ergatta, making it a lot more approachable.
So, if you're looking to give the gift of fitness, this could be a great year to check out the Ergatta Lite. See full review.

The Hydrow Wave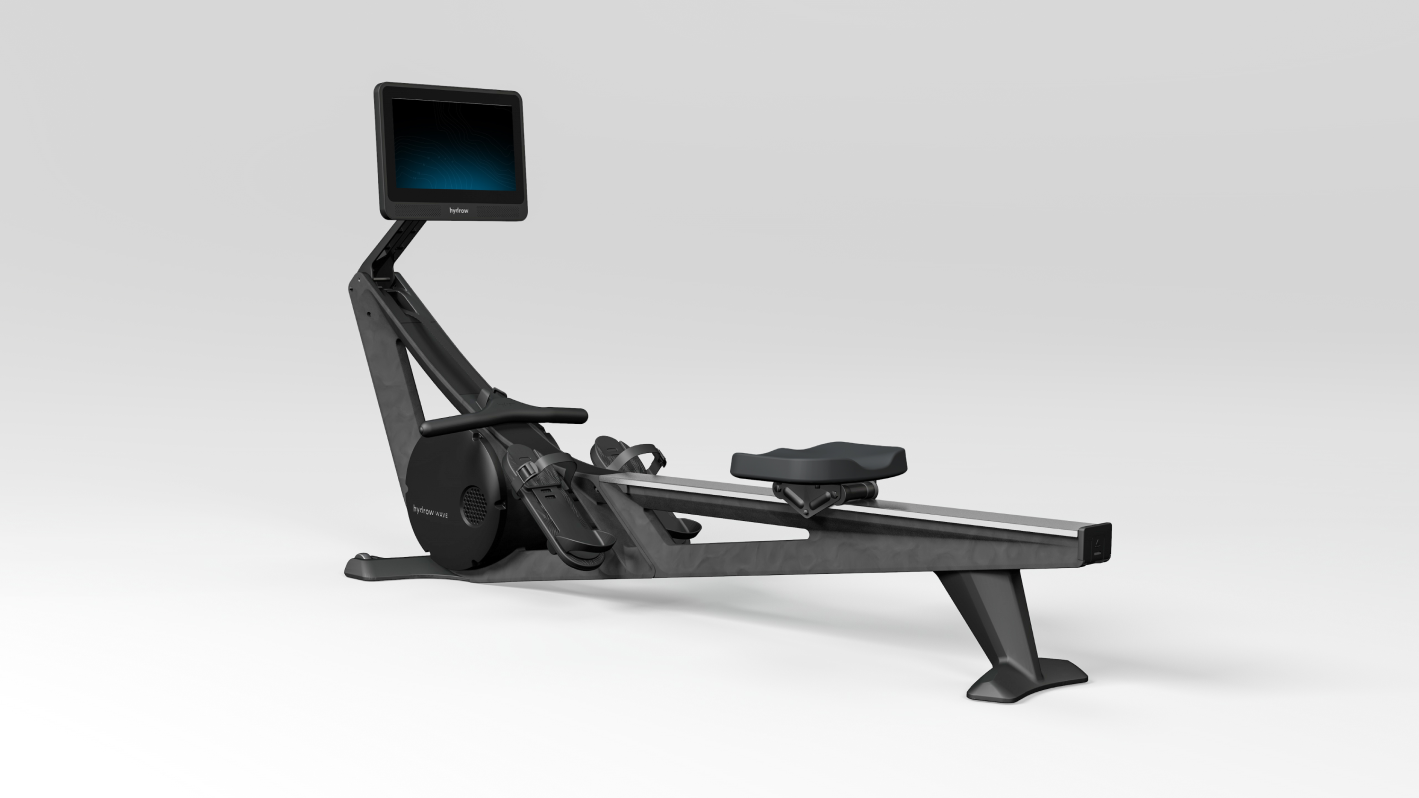 If I mention the Ergatta Lite, it's only fair that I also mention the Hydrow Wave.
The wave is Hydrow's more affordable rower and like the Ergatta Lite, it's basically a smaller, more affordable version of the original Hydrow.
In case you aren't familiar, the Hydrow was one of the first streaming rowers to hit the market.
It offers a sophisticated, computer-controlled magnetic resistance system that mimics the feel of rowing a real boat, which, combined, with the on-location workouts, provides about as close an experience as you can get to the real thing.
Well, the Wave uses the same computer-controlled system and the same streaming system, but it just comes in a smaller package.
The Hydrow Wave also comes with a smaller, 16″ HD touchscreen console.
The Wave's frame isn't nearly as sleek looking as the original Hydrow either, but with an asking price roughly $600 lower, it's more than forgivable.
Now the Wave requires a monthly streaming fee to access all the awesome features, so if you give it as a gift, whoever you gift it too would likely have to be cool with the monthly fee.
But otherwise, the Hydrow Wave would make a great fitness gift for any loved one who you think would be interested in a sophisticated streaming machine. See full review.

MUD/WTR
MUD/WTR (pronounced 'MudWater') is a coffee alternative that tastes great and is supposed to be healthy for ya due to all the mushrooms in it.
FYI, mushrooms have been a tear lately and there's been a lot of talk about all the health benefits these mighty little fungi may offer.
You can do your own research, but basically, the mushroom mix in this stuff is meant to offer a non-jittery source of energy as well as help your body adapt to stresses naturally (adaptogens).
In terms of taste, MUD/WTR reminds me a little of what I would imagine an unsweetened hot chocolate would taste like.
You could also describe it as an unsweetened combination of hot chocolate and chai – which makes sense, since cacao and chai are both components of this concoction.
MUD/WTR comes in a snazzy metal container and is made by mixing a spoon full of powder with a hot water.
You can add any additional mixings you like, but I like to keep it old school and drink it black.
It took a little getting used to, but now I love the taste of MUD/WTR and have been drinking it on the reg for sometime now.
This is another one where you can expect to spend $50 or so for a month's worth, but you can save some cash with an ongoing refill schedule.
Which is great because if your loved one likes it, you can give the gift next year too.
Overall, MUD/WTR would make a great gift for people trying to drink less coffee or who you think may like a new healthy hot beverage in the morning. See full review.

Happy Holidays From The Home Gym!